Carillon Audio Systems AC1 VST Songwriter PC
Carillon Audio Systems' range of specially designed music PCs has been one of the most ambitious product launches in recent years. But apart from their distinctive design, what do these computers offer that other PCs don't? Martin Walker finds out...
The original Carillon was an automated bellringing system using a sequence of pegs in a grid to make music, which dates back to the 13th century. It is therefore claimed to be the world's first digital music production system, and has given its name to a major new company, Carillon Audio Systems. Carillon's business is purpose‑designed audio PCs, and there was a huge amount of interest in their range even before the first models rolled off the production line, reflecting their decision to go much further than most manufacturers in customising their computers for music recording and production. This decision has not only given their computers a distinctive appearance, with their precision die‑cast aluminium alloy rackmount front panels, but has produced several other unique features.
One of the major bugbears of using a computer in the recording studio is acoustic noise. Specialist retailers have incorporated noise‑suppressing tweaks into their computers for some time, but Carillon have made theirs a central part of the AC1 (Audio Computer) design. Their machines have a case made from 2mm thick steel, low‑noise CPU and PSU fans, and all hard drives encased in SilentDrive sleeves as standard. As a consequence, many people witnessing demonstrations have apparently not even noticed that the AC1 was already switched on.
Another perennial problem afflicting PC musicians is that of technical support and problem‑solving. You don't have to look very hard on the web or in the pages of SOS to realise just how many pitfalls there can be in getting a PC to work reliably for musical applications, and the technical support offered by non‑specialist retailers is often useless in this department. One of Carillon's major selling points is their comprehensive support system (see box). A third feature unique to Carillon is the Loopstation, a source of free samples which users will be able to download over the Internet (see box).
The special features of Carillon's music computers were set out in a widely available 32‑page catalogue, which won the company a lot of admirers. With PC component specs and prices in constant flux, some of the prices and fine details were almost inevitably out of date before the ink was dry, but what was important was that it specified a complete range of 16 standard models (see Other Models box), ranging from the VST Foundation System at £1399 to the UltraSynth 8 at £4849, capable of running eight stand‑alone soft synths simultaneously, each with individual audio outputs. Although other specialist retailers have been able to put together systems with similar specifications on demand, the Carillon catalogue allowed potential customers to spend hours poring over the various specs and prices to decide which was most suitable for them. The only remaining uncertainty was whether Carillon could actually deliver the goods, and this is what I'm going to explore in this first review of a specimen Carillon PC.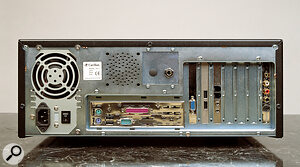 The AC1's front‑panel audio socket is mirrored on the back panel and could, for instance, be set up to route to the soundcard's audio input, or serve as a headphone socket.
I must admit to feeling a frisson of excitement as I opened the boxes containing the Carillon review system (sad, isn't it?). The heaviest one contained the main system case, and the specially designed casing looks just as attractive in the flesh as it does in the adverts. The left‑hand side of the front panel is divided into two areas, one containing a blue illuminated mains power switch and a recessed reset button, the other a hard drive activity indicator and a Neutrik stereo quarter‑inch locking jack socket, internally connected by screened cable to a similar socket emerging from the back panel. You can use this link in any way you wish — it might make a handy front‑panel headphone socket for instance — and Carillon supply suitable adaptor cables for each of their systems so that you can connect your soundcard inputs or outputs to it. This is especially useful if you want to avoid regularly using the phono and 3.5mm jack sockets some soundcards provide, and the two 15‑inch adaptor cables supplied with my VST Songwriter system for its Yamaha SW1000XG were of excellent quality.
Also accessed from the front panel of the review system were a 1.4Mb Teac floppy drive, a 40‑speed Teac CD‑ROM drive, and the one non‑standard extra I'd asked for in the review model — Carillon's RTM1 transport control panel (see Optional Extras box).
The AC1 case can, obviously, be bolted into a rack, and since the front‑panel rack ears are backed with vibration‑absorbing rubber gaskets, external vibration is prevented from entering the computer for greater reliability, while any internal vibration due to disk drives and fans won't be transmitted to the rest of the rack and amplified. For desktop or floor‑mounting use, you can screw squidgy Sorbothane feet to the bottom of the case to achieve the same end.
One of the reasons why the AC1 is so quiet is that its hard drive (top left) is encased in a SilentDrive sleeve.
The 15‑inch monitor in my system was an IBM model, though Carillon are planning to supply equivalently specified unbadged monitors in future, and the mouse was a standard two‑button job. While the entire Carillon range uses a standard Chicony keyboard, each system is enhanced by the addition of self‑adhesive stickers listing shortcuts attached to those keys that provide important functions for the main software application in the bundle. In the case of the review system this was Cubase 5.0, so the keypad displayed shortcut commands to launch the Channel and Master mixer panels, carry out transport functions, and use the locator and cycle functions, while the majority of letter and number keys on the main part of the keyboard also displayed command options. Shift, Control, and Alternate key labels have different colours that link with additional command options on other keys, and the shortcuts are marked clearly and comprehensively enough to help both novice and professional. Although they seemed to be stuck onto the key tops, rather than being part of the mouldings, the labels had all been attached squarely and looked capable of withstanding heavy‑duty use. My only reservation was that in the subdued lighting of many studios it's often difficult to see the controls on any black keyboard, and I did find it slightly less easy to use than my standard beige one for this reason.
The one optional extra fitted to the review AC1 was the dedicated front‑panel transport control.
My next task was to find out what electronic components Carillon had used in their design, and to do this I needed to gain access to the interior of its case. A total of seven screws needed to be removed before the 2mm thick steel cover could be slid rearwards, and of course you would need to unbolt the AC1 from a rack to do this. Once inside I was pleased to find an Asus CUSL2‑C motherboard, already widely recommended by many industry experts for various applications including music. It uses the Intel 815EP chipset, provides one AGP and six PCI slots, and three slots for installing up to 512Mb of RAM. In the VST Songwriter review system a single 128Mb strip of PC133 SDRAM had been fitted, along with a Pentium III 866MHz processor — thanks to continuously falling PC prices, all models specified in the catalogue and current ads as 800MHz now feature an 866MHz processor for the same price. Carillon use only Intel processors and chipsets in their range, mainly because they are compatible with more soundcards and give consistently good floating‑point performance. The processor had been fitted with an efficient radial‑fin heatsink and low‑speed fan for reduced noise.
Two of the PCI slots were already occupied by a Yamaha SW1000XG soundcard and internal Conexant modem, while the AGP slot contained an ATI Rage graphics card with 8Mb of video RAM — once again, this replaces all 4Mb models specified in the catalogue but with no price increase. One of the remaining PCI slot positions was unavailable due to the installation of a backplate housing two additional USB sockets, but I doubt that anyone would complain at this, since a total of four USB sockets and three spare PCI slots is likely to be more than adequate for any musician.
The single Quantum Fireball 20Gb hard drive had been fitted into a SilentDrive sleeve, while even the PSU featured low‑hum transformers and a low‑turbulence fan for lower noise. The internal wiring loom was extremely neat, so much so in fact that you would need to cut some of the clips if you wanted to add another hard drive in the future. Overall, the internal construction was to a very high standard, but with easy and unobstructed access to both PCI and RAM slots for possible upgrading.
The back‑panel motherboard socketry was fairly standard, consisting of a pair of colour‑coded PS/2 mouse and keyboard connectors, the two USB sockets already mentioned, a 25‑pin D‑type parallel port for printer or dongle, and a single 9‑pin serial COM port. The second COM port is used internally if you take advantage of any of the panels described in the Optional Extras box, but it would be possible to bring it out via a bracket if you ever needed a second rear‑panel COM port. Thankfully, the optional AC97‑compliant onboard game audio support components were absent from this version of the motherboard, so the associated Mic In, Line In, and Line Out sockets were missing from the back panel as well. While having such facilities may initially seem a good idea for the musician, they nearly always end up being disabled to avoid problems when using professional soundcards.
The AC1's keyboard is customised by Carillon with the keyboard shortcuts appropriate to your choice of software.
Carillon currently install Windows 98 SE on all their systems, and sensibly include the original CD‑ROM and printed manual as well, since it's almost inevitable that you'll need these at some point in the future. They were supplied in a handy transparent holder that also contains support CD‑ROMs or floppy disks and manuals for the motherboard, graphics card, monitor, and modem. Each system also contains a small bundle of additional software comprising Cakewalk's Pyro CD‑burning application, Emagic's Zap! lossless audio compression utility, and a bonus pack of shareware and freeware VST Instruments and plug‑ins. The bundled VST Instruments include Fxpansion's DR002 Drum Player and Mysteron, MDA's DX10 and JX10 synths, a virtual Stylophone, and (my personal favourite) Big Tick's Rainbow synth, while the bonus plug‑ins include a Distortion and Equaliser from D‑Sound, and 30 from the MDA collection. Although there's nothing here that you couldn't download yourself for free, it's a nice touch to have them installed and ready to use.
Also supplied with my particular system were the full packaging and printed manuals for Cubase 5.0, and the original box containing support material for the Yamaha SW1000XG, although both were already installed and ready for use.
Once I'd reassembled the case, connected up the keyboard, mouse, and monitor, I was ready for one of the most interesting parts of the proceedings — powering up and listening to the AC1. As I expected, the background noise levels were a great deal lower than those of standard PCs, and at switch‑on I could scarcely hear any noise at all apart from the 'snark' of the floppy drive being accessed during boot up and the one‑off 'beep' of the built‑in speaker. There was also a small amount of drive noise when accessing data, but due to the SilentDrive sleeve, this was again much lower than average.
Once the AC1 started to warm up, the thermostatically controlled PSU fan did speed up and become somewhat louder, but the overall noise level was still considerably lower than that of any other desktop production PC I've ever heard. Once bolted into a rack it would of course be further reduced, since this fan exhausts from the rear of the casing. I've installed nearly all the available noise‑reduction options on my own PC over the last year or so, and this proved to be slightly quieter than the AC1. However, this is mainly because I use an even slower power supply fan, and accept that the exhaust gets quite hot. With my engineer's hat on I wouldn't be happy to do this as a matter of course on every model emerging from a production line, and on this basis I think the Carillon AC1 won the contest. To my knowledge it's certainly the quietest production PC available, which should make a lot of musicians very happy.
The RK8 MIDI Controller is another optional front‑panel extra, and provides eight assignable knobs which transmit MIDI Controller numbers to your sequencer or soft synths.
On bootup, the AC1 took about 45 seconds to reach the desktop, which turned out to be awash with helpful shortcuts to all the main applications and Carillon‑specific information (see Support box). The screen display was set to 1024 by 768‑pixel resolution, and looked crisp and clear, with no obvious geometric distortion. There was initially a fairly wide border around the periphery of the 15‑inch display area, but it only took me a couple of minutes to tweak the monitor settings and gain almost an inch on the diagonal measurement. I was a little surprised that 32‑bit True Colour had been selected, since many music developers recommend 16‑bit for reduced overhead, but it's easier enough to change on the fly, and I had no video‑related problems during the review.
The Task Manager had been suitably disabled, as had the Active Desktop, Power Management, System Sounds, Windows animation, and screensavers. Auto Insert Notification was correctly disabled inside System, while DMA is automatically enabled for hard drives using this motherboard. A fixed swap file of 512Mb had been created, and in fact I could find nothing that hadn't been correctly set for musical purposes — this should save a lot of hassle for the novice in particular. During my time using the AC1 I became increasingly impressed by the manufacturer's attention to detail. For instance, when I opened Internet Explorer I found that a large number of shortcuts had been added covering Internet music, magazines and forums (yes, SOS was included), media contacts, comprehensive lists of manufacturers and developers of music equipment, plug‑ins, and soft synths, as well as the Carillon and Turnkey home pages.
The soundcard specified in the review system was Yamaha's SW1000XG.
With an 866MHz Pentium III processor, there's plenty of power under the bonnet for music applications, and the Asus CUSL2‑C motherboard is also a good performer. I was pleased to see that Cubase 5.0 had already had the most recent revision 3 update patch installed, and that the Yamaha SW1000XG drivers were also the latest version 2.50. However, in an entry‑level system like the review model with a single hard drive, audio performance can be significantly affected by how this is set up, so I was keen to examine this aspect.
The 20Gb Quantum Fireball hard drive had been divided into a C partition of about 4Gb labelled System, formatted as FAT32 with 4K clusters, and containing Windows 98SE and all the applications. The remaining 15Gb in the D audio partition was again formatted using FAT32, this time with 8K clusters, and is intended for audio recording, playback, and sample storage. Splitting the drive in this way is the most sensible approach, and although the audio partition didn't have 32K clusters as most experts recommend, the difference in write speeds between 8K and 32K is often marginal. I was more concerned to see how much audio performance was lost by Carillon's splitting off the faster outer section of the drive for Windows and applications — some hard drives (notably the IBM Deskstar range) provide considerably higher sustained transfer rates at the outside than further in.
However, I needn't have worried: the Dskbench utility reported the read and write speeds for the Quantum Fireball drive's C partition at about 34Mb/second and 33Mb/second respectively, while those for the D partition were 33Mb/second and 32Mb/second — excellent figures capable of running over 100 44.1kHz/16‑bit tracks, with a difference of just 3 percent between the two partitions. If you wanted to tweak this you could use a utility like Partition Magic to resize the C partition to about 2Gb, since 4Gb is quite generous (as supplied, only 1.3Gb of it was being used).
The Carillon range is an ambitious new approach to designing a complete PC system that should appeal to quite a few musicians. There's no denying that the AC1 looks good, sounds quiet, performs well, and, for possibly the first time in the chequered history of music PCs, makes owning a PC desirable. There's not a large premium to pay compared to a bog‑standard high‑street model either. For many people, however, it will be the added value provided by the LoopStation, along with the safety net of Carillon Help, How, and Fix that may tip the balance when choosing a new music PC. If every manufacturer provided such a comprehensive support package, my regular postbag of reader problems might be considerably smaller.
The only aspects of the philosophy that I couldn't check out in detail were the Internet end of Loopstation, which is expected by early summer, and the product information and ordering web site, which should be online by the time you read this. Some potential customers have also been frustrated by the wait before the first systems rolled off the production line, but I do find it encouraging that Carillon refused to ship anything until they were sure that everything worked correctly. I had absolutely no operational problems during the course of my review, and can see why many professional studios as well as individual musicians are seriously considering the purchase of one or more Carillon systems. Even Mac‑based studios are apparently interested in the UltraSynth 8 system as a stand‑alone soft‑synth workstation. What more can I say?
Case: Carillon AC1, 4U rackmount, with die‑cast aluminium front panel, 2mm thick steel sleeve, and low‑noise PSU.
Processor: Intel Pentium III 866MHz with radial‑fin heatsink and low‑noise fan.
Motherboard: Asus CUSL2‑C with Intel 815EP chipset.
System RAM: 128Mb PC133 SDRAM.
Hard drive: 20Gb Quantum Fireball, 7200rpm, Ultra ATA/100, mounted inside SilentDrive sleeve.
Floppy drive: Teac 1.4Mb 3.5‑inch.
Graphics card: ATI Rage 8Mb AGP.
Monitor: 15‑inch IBM 6333 E51.
CD‑ROM Drive: Teac 40‑speed.
Modem: Conexant SoftK56 data, fax, speakerphone internal modem.
Keyboard: Chicony with custom‑coloured key caps to match system audio software.
Mouse: two‑button PS/2.
Installed soundcard: Yamaha SW1000XG.
Installed software: Cubase VST 5.0, Cakewalk Pyro, Yamaha TWE Wave Editor, XGedit95 (unlicensed), extensive Carillon help files, Fix, and Loopstation.
Many of the standard Carillon systems can also be purchased as a 'Plus Pack', which includes extras such as a MIDI controller keyboard, monitor speakers, microphone, synth, and all essential cables. Prices are competitive, and Carillon supply quality gear such as Rode NT1 mics, Roland keyboards, and speakers ranging from Yamaha's low‑cost YSTM8 active models through to others from Genelec and Quested. Each of the standard systems can also be supplied with a selection of recommended upgrades such as a CD writer, a more advanced version of the main music software, or additional soundcard I/O, again at fairly competitive prices.
For the review PC I asked to try out the RTM1 transport control panel. This is included in the higher‑end Pro Tools LE and Nuendo Workstation systems, and is an optional extra for the others. It has backlit buttons for Play, Stop, Record, Rewind, and Forward, along with a latching On/Off button for the metronome. It connects to the system using the COM2 port which is not available on the back panel, and appears to software as an emulation of the JL Cooper CS10. Once I had Cubase 5.0 up and running I could use the transport panel instead of its PC keyboard shortcuts. It worked beautifully, and its buttons have a far more positive action.
The metronome had also been carefully designed, with an upper metronome symbol that flashes once per beat, while the latching on/off button also flashes on the first beat of each bar. You have to enable the Click function inside Cubase, but once this has been done the transport metronome on/off button enables and disables the flashing indicators.
The other panel currently available is the RK8 MIDI Controller (shown above), which is pre‑installed in the VST Native Workstation and UltraSynth 8 systems. This provides eight rotary knobs that by default send out data for controllers 7, 10, 14, 15, 16, 17, 18, and 19. The first four functions are therefore Volume, Pan, Cutoff, and Resonance — the most sensible choices for most musicians. An XG/GS mode is also available on bootup, which changes the Cutoff and Resonance parameters to suit these standards. These controls can be accessed from inside most music applications, and a floppy driver and template disk is included providing scripts to be used within Cubase to map the default controller settings to any other function, including EQ and effects send/return duties. Logic users can use the Environment window to perform similar allocations.
I was impressed by both the RTM1 and RK8, and although they are a hefty £99 each when bought as accessories, they cost a more affordable £69 each when bought at the same time as an AC1 system. My only disappointments were that the AC1 front panel has only space for one or the other, but not both, and that unless you work with your PC at arms' distance, they would be far more convenient in cased form on the end of a flying lead. Unfortunately, due to their COM port connection they would then need a separate PSU, but I still feel that many musicians would then find them more useful and desirable. However, Carillon tell me that desktop versions are a strong possibility for the future.
The basis of Carillon's sales philosophy is that they manufacture a limited, though varied, range of standardised systems, which can be chosen from their catalogue. However, I also had various discussions with Carillon to establish the options available to those who may not want a standard system.
For obvious reasons Carillon won't sell DIY PC‑builders their case on its own, but for those already with a soundcard and audio software, they will supply two bare‑bones PC systems starting at £1099 — one with a Pentium III 866MHz processor and 128Mb of RAM, and the other with a 1GHz processor and 256Mb of RAM. This allows them to supply a full working system that comes with a guarantee, and you still get the same basic software bundle as their standard systems. Carillon are also happy to custom‑build a system to your specification, although you won't get the same in‑depth custom help files, and it is likely to cost slightly more.
If you have existing software protected by a dongle, they will happily install it on a new machine if you provide them with the serial number and version details. It's not practical for them to install your existing hardware, and if you subsequently install other hardware and software then the situation will be much the same as with any other vendor — Carillon can only really sort out any problems due to or caused by the parts of the system under their guarantee. However, you always have the option in extreme cases to run the supplied recovery disk to restore the system to its original configuration (see Carillon Support box for more details).
I did query why a multi‑boot option wasn't installed as standard, but agree with Carillon that this approach can be daunting, especially since you may need to install applications twice — once in each Windows partition. They also pointed out that the Windows end‑user licence agreement only permits one copy of the operating system to be installed on a computer. However, they will offer dual‑boot capability as an option for about £99, to cover the cost of a second Windows licence.
Carillon's tech support has been carefully thought out as part of their package. The usual telephone support lines are available, but there are also various other features already installed in every computer. The first is a comprehensive help system called Carillon How, which is customised to each specific package. This covers the basics of connecting up your chosen system, including all the things that people often forget, such as installing the dongle, how to test both MIDI and audio aspects of your software and hardware, and how to get started with audio and MIDI recording, mixing, adding effects, and mastering. It answers the majority of questions musicians tend to ask, and should save quite a few tech support calls. Carillon Help adds to this with a comprehensive FAQ section and a link to the Carillon web site to read the latest information about drivers and so on.
If you still can't sort out a technical problem after reading the tutorials and FAQs, Carillon Fix is an altogether more sophisticated approach to fault finding. You log onto the Carillon support web site and book a suitable 45‑minute time slot with an engineer, and then a few minutes before the allotted time launch the Carillon Fix Remote software. When the engineer phones, this software answers automatically and checks the agreed password, whereupon your PC can be remotely interrogated to track down the fault. A chat window is available so you can have a 'conversation' with the engineer to help narrow down the problem, and you can even ring a mechanical bell in the Carillon offices to attract attention!
I had a trial session hosted by Carillon's Robin Vincent, and it was most impressive, although a little spooky to see my mouse pointer moving by itself. He tracked down a small fault very quickly, and then used the Fix software's graphic overlay and pen facilities to jot down notes on my screen as he demonstrated various features of Cubase, and even wrote a short section of music for me by remote control. Although this sort of technique isn't totally new for music PCs (Red Submarine started a similar system a couple of years ago), it can help to sort out a wide variety of software and hardware problems, and in most cases will avoid the frustration of sending your PC back to Carillon to have it returned with 'no fault found'.
If the worst happens and the Remote Fix approach can't find the problem, or it diagnoses your PC as having a faulty component, Carillon will arrange collection of your machine and aim to have it fixed and back with you within three working days. Even if you've managed to completely scramble the contents of your hard drive, a recovery CD‑ROM and support floppy are provided with each system containing a complete hard drive image taken from your particular serial‑numbered PC. You'll lose any additional data stored on your C drive since you first ran your Carillon PC if you run them, but at least you'll return to a clean system.
Another string to Carillon's bow is the Loopstation. The system was originally designed as a 'Sample Jukebox' for musicians to audition sample CDs in music shops, most notably in Turnkey's Charing Cross Road store in London, but Carillon have now incorporated a new online Loopstation application into their AC1 range. It's designed to search and preview from a selection of 5000 samples available free of charge from the Carillon web site, which they hope to expand to 50,000 by 2002. Third‑party samples will also be offered at a substantial discount to Carillon owners.
The idea is that you narrow down the sound you are looking for through a series of choices, such as 'by instrument' or 'by style', and then further refine your selection to, for example, 'Ambient', then 'downbeat chillout', and so on. At the end of your search you'll be able to preview whatever fulfils your full list of criteria, and then download it to store on your hard drive.
Carillon provide around a thousand WAV files on your hard drive with the system, along with the Loopstation software, and very good they sound too. However, the web site still wasn't up and running by the time I finished my review, although Carillon hope that it will be by the time you read this. Assuming that this is the case, it should be a valuable asset to owners, and although the Internet is not the ideal delivery medium for samples I still anticipate that lots of musicians will want to take advantage of this ambitious scheme.
Carillon's brochure currently lists 16 packages of computer, soundcard and software, tailored for specific needs and budgets. For instance, the £3299 UltraSampler 160 is designed as a high‑powered sampling workstation based around Nemesys' GigaStudio 160, and provides suitably impressive amounts of RAM, hard disk space and individual outputs. Serious scorewriters are catered for by the £2999 Sibelius Symphonist system, while those looking for more conventional recording and sequencing systems will find a wide range, from simple setups offering stereo I/O to a powerful Nuendo‑based workstation.
Of course, some compromises are always necessary to reach the right price points. In most cases, Carillon's choice of cards and software seems eminently sensible, but one could raise doubts about the soundcards specified in a couple of their systems. The Audiotrak Maya card supplied with the most basic VST Foundation system offers good driver support and latency figures, for example, but may represent a false economy as its 18‑bit audio quality is significantly inferior to the likes of the only‑slightly‑more‑expensive, 24‑bit Marian Marc 4 and M Audio Audiophile. Carillon's £1599 Emu Sampling system is based around Emu's APS card. Although popular, this card is looking a bit long in the tooth now, and Emu announced some time ago that they would undertake no further driver development — so while I have no doubt that it works perfectly well in the system as Carillon supply it, buyers may find themselves in a hole when it comes to upgrading their software or operating system. Sam Inglis
Pros
Good performance and looks.
Very low acoustic noise as standard.
Excellent support package and remote fix facilities.
Good value for money considering all the extras.
Cons
Loopstation not functional at time of review.
The AC1 only has enough front‑panel space for one built‑in control panel.
Summary
The Carillon AC1 is an extremely impressive PC range, designed from the ground up for music, which has been very carefully thought out from start to finish to provide high performance, low acoustic noise, and long‑term reliability.