With so many modules on the market, how do you make the right choices?
There are, fittingly, more than five hundred 500‑series modules to choose from. The format is best known for its preamps, EQs and compressors, and there's a huge number of them, ranging from the clinical to the characterful, the simple to the feature‑laden. You'll find miniature versions of studio stalwarts and out‑of‑production classics, as well as new designs that aren't available in other formats.
But there are plenty of other modules, including other dynamics processors and some seriously high‑quality effects. You'll find handy utility devices such as reamp 'boxes', reverb‑tank drivers, headphone amps, Bluetooth receivers and audio interfaces. There are Mid‑Sides encoder/decoders, parallel processing mixers and distribution amps, and more besides. Bereich03 Audio even make a full mastering console, with everything including meters, faders and monitor controllers delivered as 500‑series modules. And taking modularity in the opposite direction, DIYRE's Colour format comprises a range of miniature modules which sit in a host that is itself a 500‑series module.
Where do you start? Well, first, remember that you don't have to fill your rack right away. We might joke about Gear Acquisition Syndrome, but although there are some temptingly affordable modules, there's little point snapping up 'bargains' that merely replicate what's already offered by your audio interface and plug‑ins. Part of the beauty of this format is that you can approach investments in piecemeal fashion, adding the next part of the jigsaw only when you need or can afford it. For some, that allows access to the sort of processors they wouldn't normally contemplate: big‑name channel strips, made of modules that tend to hold their value pretty well. That said, price (whether high or low) isn't necessarily linked to quality, so don't overlook things simply because they're inexpensive.
Ask yourself what you really want from your system. For example, if your aim is to build a portable recording channel with a preamp, EQ and compression, can it be mono or should it be stereo? If stereo, is a single set of controls better, or a dual mono strip with switched controls for easy matching and linkable compressors? Also consider whether versatile modules are desirable, potentially saving you space and money, or if it's more important that each module does one thing perfectly.
Part of the beauty of this format is that you can approach investments in piecemeal fashion, adding the next part of the jigsaw only when you need or can afford it.
For the majority who invest in a 500‑series system, the sound character is all‑important. More specifically, it's about being able to achieve that sound quickly and easily. Whatever marvels are offered in the plug‑in world, I've used plenty of hardware preamps, EQs, compressors and various other 'vibe' boxes whose sound I just couldn't replicate quickly or easily in the box. The longer you fiddle around to achieve a sound, the longer you keep artists waiting, and the less point there is in coming out of the box when mixing.
As you whittle down your choices, consider the layout, and particularly how much space is left for your fingers to access controls. An overcrowded front panel makes modules almost unusable for me. I much prefer it where a manufacturer either keeps things simple, trusting that their sound will win me over, or they find neat ways to simplify the control set without compromising the performance. 
The AEA RPQ500 preamp offers bags of clean gain, as well as some useful tone‑shaping facilities.The preamps in most interfaces are well capable of providing clean gain but they rarely offer musically pleasing colour, and can be lacking in other ways too. Phantom power might not be switchable individually per channel. Some functions may be controllable only in software. The useful gain range might be bunched in a fraction of the gain knob's rotation. Continuous controls can make gain‑matching for multimic arrays tricky. And there might simply be insufficient gain for some mics. So there are plenty of valid reasons to consider adding external preamps. 
If you need lots of gain for passive ribbons or moving‑coil dynamics, there are several options. Most preamps based on the Neve 1073, even 'affordable' models such as Golden Age's Pre 573 MkII, offer ‑10 to 80 dB of gain in total, which will meet most needs. Most have switched gain controls, too, making it easy to match different channels. But this design will impose a certain sonic signature on the signal, which may or not be desirable. If you just want bags of clean gain, perhaps consider AEA's RPQ 500 (up to +81dB) or True Systems' P‑Solo Ribbon (+76dB). 
Almost all 500‑series mic preamps can be used as line‑level processors.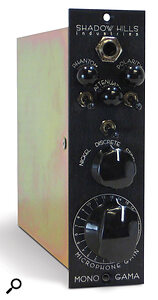 The Shadow Hills Mono Gama offers a range of 'flavours' courtesy of its switchable output transformer options.The 1073 is far from the only preamp that can add 'colour', and there are two broad approaches. With some, typically those which employ transformers, discrete op‑amps and/or valves, you just crank the input gain to reveal the circuitry's particular flavour of distortion. Others are essentially clean‑sounding preamps coupled with saturation circuitry, which allow you to 'dial in' the desired amount of character, and sometimes its nature. For example, the Mojo control on Cranborne's Camden 500 makes what's already a technically brilliant preamp much more interesting by providing two different coloration options. Looptrotter's SATurAMP and Elysia's Skulpter 500 are similarly versatile. I've used and enjoyed all three of them.
The API 512v is just one of the many 'console' preamps available for the 500‑series. In this model, API added an output level control for the first time, making it much easier to drive the preamp in search of added character.That said, none will convincingly impersonate a 1073 or an API 312, or... you get the picture. If a specific 'console sound' appeals, preamp modules are offered by most big‑name console brands, including API, SSL, Neve, Rupert Neve Designs and Tonelux. There are recreations of other famous console preamps too, such as the Helios Type 69, the DAV BG501 (based on the preamps in London's Decca Studios), the Sunset Sound S1P Tutti, the Electrodyne 501, and Chandler's EMI/Abbey Road germanium preamps.
There are also countless modules which clone famous designs or build on them, as well as new characterful creations based on yesteryear's technology (AwTAC's Awesome Channel Amplifier, Burl's B1, and Retro Instruments' 500Pre all spring to mind). Others marry vintage operational simplicity with tonal options. With Shadow Hills' Mono Gama, for instance, you can switch between nickel and steel output transformers, or a transformerless output. 
If you opt for a 'drive‑for‑colour' preamp, an output level control makes it easier to achieve the desired effect without overloading your audio interface. On a mixing console, the channel fader takes care of that, but such a control hasn't made it into every module; I know engineers who were overjoyed when API released their 512v, simply because the earlier 512c lacked this feature. If you choose preamps that lack an output level control, you might want to budget for a balanced line‑level attenuator; something like Little Labs' eight‑channel Redcloud could be a handy partner for an eight‑slot rack.
It's a similar story with EQ and compression. There are so many great options in software that unless you want to do all your processing in the analogue domain, it doesn't make sense to choose modules for their functionality alone; they need to sound interesting. That is, unless you wish to process sounds while recording. In that case you might find a clean‑ish EQ or compressor handy, and they needn't be expensive: tickling the meters of a dbx 560A VCA compressor, for example, might help when recording multitrack drums. (Drawmer's DS101 gate and SPL's Transient Designer could also come in handy.) Similarly, a de‑esser, offered by Empirical Labs and SPL among others, might be useful on a vocal.
Many modules take a classic design and build upon it. This one, the Serpent SB4001, is one of many to augment the classic SSL bus compressor with useful features such as a wet/dry blend control and front‑panel side‑chain input.As with the preamps, there are plenty of big‑name EQ modules. API, Neve, Rupert Neve Designs, SSL and Trident all offer variations on their most popular designs, and Great River make a lovely version of the Harrison 32c's filter and EQ section. Passive versions of the famous Pultec EQs are available too and, again, there are also clones and 'enhanced' versions of these and other classics at a range of prices. 
Similarly, with compressors, you'll find many takes on the LA‑2A, LA‑3A and 1176, the dbx‑ and SSL‑style VCA compressors, as well as Neve's 2254 and the API 525. Chandler again offer options inspired by the Abbey Road gear. There are replicas of more quirky famous units out there too, such as the Valley People Dyna‑mite and Standard Audio's Level‑Or. But it's not all about replicating past classics. Some, such as Chandler's Little Devil, are essentially 'mash‑ups' of multiple designs. You'll also find uncompromising tube compressors from IGS and Crane Song, PWM compressors from Great River and MC AudioLab, plug‑in remote‑controlled options from Wes Audio and a whole lot more. As with preamps, some (such as Looptrotter's Emperor) offer controllable character alongside the gain reduction. 
The Avedis E27: a great example of clean, accessible interface design within the confines of a 500‑series module front panel.I talked earlier about the need to make sure that the controls are easy to use, and this is particularly the case for EQs, which tend to have more rotary controls. These are somewhat easier to accommodate on 'doublewide' modules (which can be mono or stereo devices), but some manufacturers have been able to leave space for your fingers without taking up that second slot. I reckon Avedis Audio's E27 is a great example: it offers three bands, with nine switchable frequencies and ±16dB of boost/cut per band. The 'outer' two bands are switchable between bell and shelving types, and each of the three bands is controlled using its own dual‑concentric knob, with colour‑coded legends. This offers plenty of control, while leaving generous space around the controls for your fingers, and it's as easy on the eye as it is on the ear.
API also make great use of dual‑concentric controls, including on their 550B EQ, but their 565 filter sports another useful space‑saving feature: the notch band has two control knobs, one for Q and one for frequency, but the latter is accompanied by a small Range toggle that scales (x1, x10, or x100) the selected frequency. The result is a nice, roomy layout, with plenty of useful range on the frequency control. In some units, such as Roger Mayer's 58LM, internal jumpers allow the front‑panel controls to access different settings.
The ultimate space saver? TF Pro's 505 is a stereo three‑band EQ and stereo‑width processor that fits in a single slot of any rack with aux in and out sockets.Speaking of space‑saving features, TF Pro's 505 stereo EQ and width processor occupies only one slot; it requires a rack that has auxiliary inputs and output. With these, you could host 20 channels of analogue EQ in a 10‑slot rack!
Don't overlook the saturation modules that are designed to add character to line‑level signals. Pair these with a cleaner‑sounding preamp or EQ module, or even just use them as an 'external effect' in your mix, and some might very well contribute all the 'vibe' you want. I can't list them all, but personal favourites include Rupert Neve Designs' 542 and Roger Mayer's 456 HD, both of which aim to deliver the sound of open‑reel tape machines; neither sounds like anything I've heard in software. I'm also partial to a dash of distortion from Bereich03 Audio's Density, Elysia's Karacter 500 and Looptrotter's SAT500.
The Rupert Neve Designs 542, like the Roger Mayer 456 HD reviewed in this issue, aims to deliver the sonic characteristics of an open reel tape machine. Such devices can be great for adding character while tracking or mixing.For compressors and saturators, a wet/dry mix control can be useful when using the module as a 'hardware insert' at mixdown, as it makes parallel processing less complicated for your DAW's plug‑in delay compensation.
Finally, when thinking about EQ, compression and saturation, don't overlook some of the options hiding in the 'preamp' category of retailers' websites: most 500‑series preamps can accept line‑level sources. Many already feature high‑pass filters, several include other EQ options, and some even boast a compressor. For instance, AEA's RPQ 500 has their high‑frequency CurveShaper EQ and low‑frequency proximity control, while Rupert Neve Designs' RND 517 has both a compressor and a vari‑phase control. Maag Audio's Pre‑Q4 couples a mic preamp with the company's famous Air band EQ. Elysia's Skulpter 500 features both a Shape control (an EQ and harmonics generator) and a one‑knob compressor. And La Chapell Audio's 583E valve preamp includes a three‑band EQ. There are also several devices offering the 1073 preamp and EQ stages. 
Sadly, our mini module tour is at an end. There's only so much I can cover here and, notably, I've given the utility modules short shrift: there are some excellent offerings from Radial, Meris, Bereich03, JLM Audio and TK Audio (amongst others) that I'd encourage you to check out. But your first steps are likely to be all about choosing characterful modules. What sounds good is such a subjective thing, so do read our reviews and, if at all possible, try before you buy. But hopefully I've been able to give you a useful primer on what's out there, and useful pointers on what to consider when choosing your modules. 
There are various modules that are now out of production but might crop up on the second‑hand market, so here are a select few personal highlights. British company Safesound Audio made a couple of really nice modules: a version of their popular P1 preamp and the excellent Stereo Toolbox. Aphex launched several modules (as well as a four‑slot rack with USB audio interfacing), including their famous Aural Exciter and a full channel strip in a single‑slot module. Another interesting channel strip came from Lindell Audio: co‑designed with Paul Wolff, the doublewide, transformer‑laden WL‑3 R includes a preamp, an EQ, a compressor and an output fader.
Synth legends Moog made a bucket brigade delay and an envelope‑modulated ladder filter. And until recently JHS Pedals, better known for their guitar pedals, made five effects devices for the 500 series, including analogue tremolo, modulation and delay modules. Last, but certainly not least, Bettermaker's excellent C502V stereo/dual‑mono Mid‑Sides compressor is automatable using a DAW plug‑in.
If the idea of high‑quality modules for less cash appeals, there are plenty of DIY projects, including complete kits, and preamps in particular can be beginner‑friendly builds. Some kit suppliers also offer useful gadgets: Sound Skulptor and JLM, for example, sell extender cables that allow you to hook your project up to a rack for power, without slotting it in; and Empirical Labs and SSL sell prototyping modules with solder pads and holes for through‑hole components. Visit the links below for more information.
You can also find details of several slightly more involved DIY builds, where there's no kit, but just a design (or maybe an unpopulated PCB), and a bill of materials at https://groupdiy.com.
AMS's RMX16 digital reverberator.
Bereich03 Audio Delay.A handful of companies make 500‑series effects processors. AMS released their famous RMX16 reverb processor as a doublewide, mono‑in, stereo‑out module. Meris make 500‑series versions of some of their digital effects pedals: the Ottobit bit‑crusher, the Mercury 7 reverb, and the Hedra three‑voice pitch‑shifter.
Audified's Synergy R1 is a lovely, quirky, plug‑in‑controllable device that combines an analogue saturation circuit with a unique‑sounding digital reverb. Eventide's DDL‑500 is a digital delay line with some analogue extras, while Bereich03 Audio's Delay is an analogue bucket‑brigade type. There's also a painstaking recreation of the original BEL BF‑20 flanger, seemingly only available on the Reverb online marketplace.
Both Moog and JHS Pedals briefly offered a range of 500‑series effects, but these are now out of production, though at the time of writing some resellers do still appear to have stock.