Revolutions in music technology have always gone hand in hand with changes in the way records sound. To mark our 25th anniversary, we list the most influential productions to emerge during SOS's lifetime.
Ask us tomorrow, and we'd probably come up with a completely different list. And if we ourselves were reading this one, we'd probably be grumbling about its glaring omissions (no Nine Inch Nails? No film scores?), its biases — towards British music, arguably — and perhaps its undeserving inclusions. There is, of course, no scientific way you can measure the influence of a production, nor narrow down the millions of records, CDs and digital downloads that have been released over the last quarter‑century to a mere handful. But the point of lists like this is to provoke discussion, not to end it — so here, in all its subjective and skewed glory, is Sound On Sound's run‑down of the 25 productions that have had the greatest influence over the way music has been produced during this magazine's existence...
King Jammy.Photo: David Corlo / Redferns
Probably even Casio never thought the MT40 was all that great.
'Sleng Teng' (1985)
Though you may not know this instrumental by its proper name, anyone familiar with reggae and dancehall music, and all the genres derived from it (including grime, dubstep and jungle) will instantly recognise the simple four‑note bass line and somewhat naff electronic drums. Both come courtesy of a Casio MT40, which now commands grossly inflated second‑hand prices for such a primitive keyboard, thanks entirely to this song. Indeed, the song itself is largely comprised of one of its presets.
Though the practice, in Jamaica, of cutting instrumental tracks for MCs to sing over had been around for quite some time before its release, 'Sleng Teng' was the first such track, or 'riddim', to be produced entirely electronically. As such, it can be regarded as the precursor to modern dancehall and ragga. It has been used as a backing by many of reggae's most influential vocalists, and can still be heard today, in either sampled or reworked form, in genres spanning hip‑hop, garage and drum & bass. Chris Korff
Moving Hearts still reform sporadically for live shows.
The Storm (1985)
Moving Hearts' valedictory 1985 all‑instrumental album The Storm defined the sound that went on to world domination as the soundtrack to Riverdance. With folk instruments such as uilleann pipes, whistle, bodhran and bouzouki sitting alongside saxophone, electric guitar, bass, drums, percussion and keyboards, Moving Hearts built a seamless fusion of jazz, rock, funk and Irish traditional music that reflected their growing musical confidence.
The Storm was produced by the band's leader, Donal Lunny, whose light and agile production positioned a combination of electric and traditional instrument over keyboard pads and up‑front bass lines. Driven along by acoustic guitar, bodhran, bouzouki, percussion and drums, the production brought traditional Irish music onto centre stage as though it had always belonged there.
At Eurovision 1994, the Riverdance orchestra (featuring several Moving Hearts alumni) brought the uniquely Irish sound pioneered on The Storm to a worldwide audience, and the rest is history. Bob Thomas
'Walk This Way' (1986)
Through the '70s and early '80s, rock music acquired a strangely conservative fan-base. Men in denim jackets twitched warily at acoustic guitars, and gratefully swallowed reassurances that "no synthesizers were used in the making of this album". In such quarters, the first hit rap‑rock hybrid was greeted with spluttering outrage. Drum machines? Black men shouting? It was a crime against music.
To overcome such resistance, 'Walk This Way' had to be good, and it was. Jam‑Master Jay and producer Rick Rubin insisted on re‑recording the entire song, instead of using a sample, and somehow persuaded Aerosmith's Steve Tyler and Joe Perry to contribute. The resulting track was a perfect fusion, distilling the catchy bits of the original into a bed for Run‑DMC's energetic rapping. Equally instrumental to its success was a memorable video in which the walls between rap and rock were literally torn down. MTV was conquered, Aerosmith's career was rebooted, and even the most grudging denim‑clad die‑hards would have to admit that things were going to be very different from now on. Sam Inglis
Producer Roy Halee: "Baghiti [Khumalo] is now world famous, but back then he was just a kid from Soweto. He played a fretless Washburn bass in tune — recorded with a combination of direct and amplifier, picked up by a dynamic mic — and talk about spot‑on. He was unbelievable."
Graceland (1986)
The critical and commercial success of the highly eclectic Graceland, released in 1986, came as something of a surprise. Paul Simon's creative juices seemed to have run dry over the preceding few years, and the mid‑'80s mainstream music market in the US showed little sign of being open to radically different flavours. Yet Graceland was almost universally applauded. Somehow, the upbeat, exuberant context created by his black South African collaborators made Simon's laconic, understated vocal performances sound fresh and contemporary, and took his songwriting into new territory.
As well as reviving Simon's career, the success of Graceland helped to create new audiences for some of the performers, such as the Ladysmith Black Mambazo vocal group, and fretless bass star Baghiti Khumalo. Graceland won the 1986 Grammy for Album of the Year, with the title song winning Record Of The Year in 1987, and went on to sell in excess of 14 million copies worldwide. It may not be the archetypal world‑music collaboration, but it is undeniably one of the most successful. Dave Lockwood
The Japanese have long taken game music more seriously than us heathen Westerners. This 1989 album features music from the first two Final Fantasy titles, arranged for full symphony orchestra.
Final Fantasy (1987)
In 1987 I wrote a computer game, which limped into shops on the newly obsolete BBC Micro and Acorn Electron. The sonic highlight was an almost recognisable interpretation of a song my friend Allan had written for our sixth‑form band. This alone took weeks to program, and my 16‑year‑old self was very proud of it, so it played over and over again during the eight minutes or so it took the game to load from cassette.
The same year, Squaresoft released the first in the Final Fantasy series for the Nintendo Entertainment System. Final Fantasy had a proper musical score, exploring a variety of genres and moods, arranged with a composer's ear and played on recognisable instruments. Suddenly, it no longer seemed ridiculous to refer to video games as having a "soundtrack". Within two years, Uematsu's work would be available to his countrymen as an audio CD, not only in its original form, but arranged for symphony orchestra.
No wonder so many Japanese regard us Westerners as barbarians. Sam Inglis
The KLF: pioneering new techniques on electric guitar.
'What Time Is Love?' (all versions) (1988)
Situationist art pranks aside, the KLF brought an intelligence and imagination to the dance music scene of the late '80s and early '90s that has rarely been seen in any genre. Ever.
Beginning with 1987: What The Fuck Is Going On?, an album that sampled so liberally that they were later forced to delete it by Abba, Messrs Drummond and Cauty (under a variety of pseudonyms) went on to have a number one hit single; publish a book about how to have a number one hit single; invent ambient house music; coin the phrase 'trance music' (there is fierce debate about this among such people who care); create some genuinely wonderful and forward thinking house music; and become the biggest selling singles band in the world by 1991. This, of course, was before they left the music business in a hail of (sadly blank) bullets and dead sheep in 1992, and subsequently deleted their entire back catalogue.
They remain, as far as we know, the only group ever to have burned a 60‑foot‑tall wicker man at a press conference. David Glasper
The dark quality of Metallica's music has always been tempered by their light‑hearted public image.
...And Justice For All (1988)
Thrash metal was never meant to be popular. Pretty much everything about it, from the awkward time‑signature changes to the abrasive guitar sounds, seemed designed to make the music inaccessible, but that didn't stop stalwarts of the genre Metallica getting to the top 10 of both the UK and US album charts with their thrash metal LP, ...And Justice For All.
The album's hit single, 'One', also charted highly, in spite of its macabre subject matter, musical complexity, distinctly un‑radio‑friendly duration (over seven minutes), and the fact that it received practically no radio airplay.
Production‑wise, ...And Justice For All was ambitious and modern, with aggressive EQ techniques being used to make bass, guitars and kick drums work together well, even during the faster passages. Earlier thrash albums tended to lack separation, but Justice arguably pioneered the 'smile curve' kick-drum sound that allowed all the individual elements to be heard clearly, a technique that was later refined by artists such as Pantera, Machine Head and Fear Factory. Chris Korff
Primal Scream's Bobby Gillespie on the band's Japanese tour to promote the Screamedelica album. Photo: Masao Nakagami
'Loaded' (1990)
In the late '80s, indie also‑rans and occasional MC5 tribute act Primal Scream had an epiphany. Actually, when I say 'epiphany', I mean they went clubbing, where they found that they liked the drugs and the music. They also met a kind man called Andy Weatherall who agreed to save their career for them. The philanthropic Weatherall took a little‑known song from the band's second album and, digging beneath its Stones‑pastiche surface, uncovered a hit single. All he had to do was completely rework the track to the point where it was only barely recognisable, remove the lead vocal and add a drum beat, and Primal Scream were in business again.
The single, 'Loaded', established an unofficial entente between the indie and dance scenes, and set a standard for crossover records that has rarely been equalled. Meanwhile, Primal Scream were so taken with Weatherall's approach that they adopted it for much of the rest of their seminal Screamadelica LP, thus freeing up valuable time for recreational drug‑taking. David Glasper
Future Sound Of London (and friend): "We work together but we don't necessarily work at the same time. There's the push and the pull and then the exhaustion, and when I exhaust, Brian's strong, and vice versa. That's how all good couples collaborate."
'Papua New Guinea' (1991)
Garry Cobain and Brian Dougans are pioneers. So much so, in fact, that it's almost difficult not to picture them loading a covered wagon with audio and video gear and setting off into the great unknown. Putting overblown metaphors to one side for a moment, it's fair to say that everything they did, from 1988's Stakker Humanoid onwards, was both uniquely their own and often extraordinarily progressive.
Without meaning to paint them as peyote‑chewing techno‑peasants, FSOL ploughed their own furrow through the dance landscape of the '90s, embracing audio and video in almost equal measure. Their contribution to modern electronic music has been enormous. Having hopelessly entangled my metaphors it only remains for me to praise their superlative proto‑jungle track 'Papua New Guinea'. Nineteen years after it was released, it remains a truly beautiful and astonishing record. David Glasper
Producer Butch Vig: "[Kurt Cobain] didn't know what the hell he was trying to say, but he was definitely trying to get it out."
Nevermind (1991)
Nevermind was one of the great turning points in rock music, kicking Michael Jackson's Dangerous off the Billboard top spot and returning punk attitude to centre stage after years of big‑haired guitar crime. Lead single 'Smells Like Teen Spirit' pulled off one of those classic 'almost too simple to be true' riffs, combining it with truly explosive dynamics, and buckets of indulgent self‑loathing. And, of course, it was also most people's first exposure to the astonishing voice of Kurt Cobain. Yet despite all the angst‑filled on‑stage kit‑wrecking, an important factor in the mainstream success of the album was arguably the polishing treatments it received at the hands of mix engineer Andy Wallace — triggered kick samples, splashes of REM‑flavoured chorusing, additional ambience and subtle cymbal pushes, to mention just a few. Mike Senior
The Chronic (1992)
Few hip‑hop albums can lay claim to having as profound an effect on popular culture as Dr Dre's The Chronic, not least because it established Dre's own Death Row Records as the leading force in West Coast rap music. Sonically, its jazz‑influenced grooves and synth lead lines popularised the G‑funk sound (without which Warren G would surely never have Regulated), while his lyrics challenged the outdated notion that calling women 'hos' or 'bitches' was in some way rude or unacceptable.
Indeed, so popular was the pot‑smokin', gun‑totin' lifestyle portrayed in The Chronic that a video game (Grand Theft Auto III: San Andreas) allowing children the opportunity to experience it for themselves was released in its honour. Chris Korff
Debut (1993)
Some music one can easily pigeonhole, but not Björk's. With Debut, which she co‑produced with Nellee Hooper, she carved out a genre for herself. The album includes achingly beautiful down‑tempo material like 'Venus As A Boy', as well as joyful high‑energy tracks like 'Big Time Sensuality', which hinted at the dance/electronica styles that she'd blend with other styles in her later work. Though the artist has reportedly said this was far from her best material, you can clearly hear the foundations of her sound here — and it still feels fresh today.
Debut seems also to have had a marked influence on Hooper's career. He'd already had huge success with Soul II Soul and Massive Attack, but having worked with one prodigious female talent, he went on to work with many more: he has had hits with Sinead O'Connor, Madonna, Gwen Stefani and Tina Turner, to name just a few, and in the process has played a significant role in shaping the contemporary female pop vocal sound — which might not have been the case had it not been for his work on Debut. Matt Houghton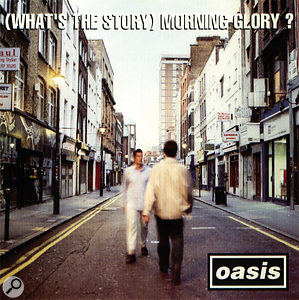 (What's The Story) Morning Glory? (1995)
As we all know, Blur won the initial skirmish in the Battle of Britpop, but Oasis won the war, and ownership of their second album would soon be obligatory throughout the civilised world. Its recording was more notable for sibling violence than studio experimentation, but at the mastering stage, producer Owen Morris introduced a devastating new weapon. As mastering engineer Barry Grint recalls, Morris had mixed hot to a DAT recorder with a built‑in peak limiter. "See how the top three LEDs only light up sometimes?" he told Grint. "By the time you've finished, I want them lit up ALL the time!"
In the days before Finalizers, this required plenty of resourcefulness. Grint eventually achieved the requisite loudness by passing tracks repeatedly through the compressor on the Abbey Road cutting desk, before applying the finishing touches with a Junger digital processor. When the masters eventually made their way to the US, they were almost rejected. "They said, 'It looks like a square wave. Does this guy not know what he's doing?'" laughs Grint. "Two weeks later, they were all doing it."
Fifteen years later, they're still doing it. Despite protestations from audiophiles and mastering engineers alike, few major labels since have been brave enough to release albums that don't look like a stick of rock when loaded into Wavelab. They haven't all gone four times platinum in the UK alone and sold millions more worldwide, though. As Barry Grint was later told by Creation Records supremo Alan McGee: "You mastered that? You're a bloody genius!" Sam Inglis
Timeless (1995)
Goldie's Timeless may not have been the first drum & bass record on the scene, but having reached number seven in the UK album charts and met with success on the other side of the Atlantic too, it was one of the first to take the genre into the mainstream. Along with releases from LTJ Bukem, this album paved the way to commercial success for a whole host of jungle and drum & bass artists such as Photek and the Mercury prize-winning Roni Size.
Sonically speaking, the album may not have been timeless: it's still a rewarding listen, but some of the samples and chopped breakbeats were very much born of the technology of the day. However, the marriage of lighter elements of the emergent genre — the complex breakbeat rhythms that changed subtly in almost every bar, the time‑stretching, filtering and so on — to more traditional jazzy, chordal and melodic components, was undeniably and pleasingly fresh. Few 'pure' drum & bass tracks seem to enter the charts these days, but the genre still has a healthy following, and its legacy in other productions has remained strong in the decade and a half since Goldie broke onto the scene. Matt Houghton
Endtroducing... (1996)
In 1996, Josh Davis, aka DJ Shadow, crawled bleary‑eyed out of the second‑hand record shops of California, clutching an album that reinvented the sampler so completely it was almost as though he'd somehow managed to make a helicopter from a wheel. The album, Endtroducing..., did things even Roger Linn didn't know you could do with an Akai MPC60, and invented instrumental hip‑hop in the process: a blessing for those who wanted to listen to hip‑hop without having to listen to men shouting about crime. Much beloved of BBC drama producers and the sort of people who serve cocaine at their dinner parties, Endtroducing... was made almost entirely out of samples from Davis' vast record collection (said to have passed the 60,000 mark in 2007) and spawned a legion of imitators; for example, the Avalanches, who simply added more horse noises to the formula and instantly had a hit record. David Glasper
The Fat Of The Land (1997)
By the time The Fat Of The Land was released, the Prodigy had already gained a large following in the UK, thanks to their first two albums, Experience and Music For The Jilted Generation. But it was with their third LP that they managed to export their very British style of dance music to the States.
While the Prodigy's earlier material was clearly written with the rave and free party scenes (and their attendant drugs) in mind, The Fat Of The Land had a feel much more akin to a rock album, which, along with the newfound 'frontman' status of erstwhile Bez‑a‑like Keith Flint, goes a long way to explaining its wider appeal. It's probably fair to say that every rock/dance music crossover act of the last decade owes The Fat Of The Land a debt of gratitude, as does the BBC's Person In Charge Of Choosing Cool Music That Young People Like. Chris Korff
Come To Daddy EP (1997)
Bearded Cornish savant Richard D James spent the '90s inventing new genres of electronic music in his sleep — sometimes quite literally — before retiring to a gentle life of mental acid freakery. I like to imagine him capering in a lovely green pasture with a home‑modded 303...
Beginning with the annoyingly precocious Selected Ambient Works 85‑92, James has gone on to release a baffling amount of records under an equally baffling number of aliases — rather like a techno Frank Zappa, except that his music, unlike Frank's, is often very good.
Describing music like James' without being pretentious is very difficult, so I'm not even going to try. Bear with me a moment: 1997's Come To Daddy EP perhaps best summarises the Aphex idiom, ranging as it does from the wantonly brutal to the singularly sublime via mangled breakbeats, delay experiments and samples of his mum. (Ahem. Sorry.) But it also passed the test of any great band — it inspired thousands upon thousands of spotty bedroom‑bound teenagers to do the same. Or at least to try to.
It is also rumoured that Richard D James owns a submarine. God bless him. David Glasper
Come On Over (1997)
For many people, Come On Over is the album that really marks the start of the current country/pop crossover genre. That's not strictly accurate, of course, but you can't argue with "the biggest‑selling record of all time by a female artist" for making a dent in public consciousness. Rock producer Robert John 'Mutt' Lange — AC/DC, Foreigner, Def Leppard et al — co‑writes every track with then-wife Shania, and deploys the guitars of country heavyweight Dann Huff and Nashville session star Brent Mason to great effect, but everything else about Come On Over is pure radio‑friendly AOR. Even the fiddles are so tightly multi‑layered that they could have come off a sampler, and there isn't a single acoustic guitar bed to be heard. Slick, glossy vocals devoid of Tennessee twang (logically enough for a Canadian), combine with Mutt's characteristically crafted arrangements to make a smooth, easily digestible package that gathered four Grammy Awards over the next two years, including Best Country Song and Best Female Country Performance, with most of the tracks on the album also being successful as singles. Dave Lockwood
Homework (1997)
Daft Punk claim that in 1999 their sampler exploded, and when they came round they found they were robots. (A similar thing happened to my friend Matt, although he was merely very badly burned.) It would be nice to think that this accident precipitated Daft Punk's move from French house music to the synth‑pop disco extravaganza that made their name, but sadly this began a couple of years before, with 1997's Homework album, which was not, as far as we know, the result of any sort of studio catastrophe.
Their influence since has been vast. Indeed, if one were looking for someone to blame for the numerous synth‑pop revivals of the last decade, Daft Punk, and specifically tracks like 'All Around The World', would be a good place to start. It's hard to see them as being anything other than directly responsible for the electroclash likes of Felix da Housecat, Goldfrapp, LCD Soundsystem, and, eventually, chart‑bothering acts such as Lady Gaga and Kanye West. Also, they're French and they're robots. Personally I don't see how anyone could help but like a band of French robots. David Glasper
Clandestino (1998)
Multilingual songwriter Manu Chao expected that his first solo album would not be a great success. Since its release in 1998, however, Clandestino has gone on to sell over five million copies worldwide and has launched Chao from his musical career into a (reluctant) role as a poster‑boy for political activism.
The album's unique quality — sampled 'found' sounds, reggae and Latin rhythms and a one‑finger guitar style — is imparted through lo‑fi production values; the album was recorded, predominantly, on a portable eight‑track recorder while Chao travelled all over the world. Arguably, this approach brought out the message of Manu's music in a way that higher production values may have lost: songs use local non‑musicians in spoken and musical parts, the album is peppered with often‑reused samples of local life and local media and one of the most appealing aspects of the recording is its rough‑and‑ready approach.
Fundamentally, the album represents the start of Chao's improbable progression to becoming one of the most popular artists of the non‑English speaking world. Nell McLeod
'Baby One More Time' (1998)
This song not only rocketed Britney Spears to stardom, but also ensured producer Max Martin's place on pop's 'A' list, where he remains to this day. It was a great crossover moment, repackaging hip‑hop elements into a bubblegum format that somehow appealed both to the pre‑teens and to their parents. It was also a wake‑up call to overdub‑happy musicians, showing just how big you could sound on the radio if you were sparing with your arrangement resources: a beat, a bass, and some vocals could knock people's socks off pretty much on their own. But simplicity was only one aspect of the appeal — the startlingly dry backbeat, distorted piano hook and thick‑textured backing vocals (featuring Max Martin himself) were a breath of fresh air and had a unique character that ensured instant listener recognition. Even repeated listening doesn't take the shine off the superbly understated bass part, clever use of harmony (particularly in terms of the rhythm and rate of the chord changes), and perfectly judged arrangement drops at the start of the second verse and outro choruses. Mike Senior
'Believe' (1998)
Cher's 1998 single 'Believe' was the first commercially successful recording to feature the tone‑mangling side‑effects of Antares' Auto‑Tune pitch‑correction software used as a deliberate creative effect, giving rise to the term 'Cher effect'. Despite being in every other way an entirely unremarkable pop/dance crossover track, it became one of the biggest‑selling singles of all time. Over the following decade the effect has been used ad nauseam in contemporary pop and R&B, and even the more subtle side‑effects of its 'proper' use — a brief, unnatural coloration around rapid pitch transitions — are all too evident to the trained ear in many recordings of all genres.
As an interesting aside, when Sound On Sound covered 'Believe' in our regular Tracks feature in Feb 1999, the producers successfully misled us into publishing an article that attributed the effect to a Digitech Talker vocoder pedal, helping to add to the confusion surrounding the effect's origins. Rarely in the history of popular music production can an innovation of such little artistic worth have had such a lasting legacy [but see the Oasis entry for an even more blatant example — Ed]. Dave Lockwood
As Heard On Radio Soulwax Pt 2 (2002)
Imagine the disappointment of Belgian indie group Soulwax when their band was entirely eclipsed by a mix CD they made in their spare time. The CD, As Heard On Radio Soulwax Pt 2, did much to launch the mash‑up genre — arguably more than any other release — and by 2002 it was completely impossible to go to a party without hearing it. Richard X's bootleg of Adina Howard's 'Freak Like Me' and Tubeway Army's 'Are Friends Electric' gave the Sugababes their first number one hit, and suddenly the SOS forums were inundated with people asking how to extract the vocals from a track. Mash‑ups have since become a chart staple and made copyright lawyers everywhere enormously happy. And all because of a Belgian indie band. David Glasper
Boy In Da Corner (2003)
If you thought grime music was just angry people shouting postcodes over crudely programmed drum beats like a horde of deranged mailmen, well, you'd basically be right. But until 2003's Mercury Prize‑winning Boy In Da Corner, this distinctly British style was largely confined to pirate radio stations. Musically, Dizzee's approach to the genre was fairly typical: the heavily syncopated rhythm parts owe much of their sound to the budget drum machines used, while the aggressive synth bass lines borrowed heavily from garage and dancehall. But it was his immediately recognisable delivery that set him apart from his contemporaries, while his lyrics encapsulated such great British values as patriarchy and civic pride.
The sudden popularity of the genre that came about after Boy In Da Corner also had a profound cultural, as well as musical, effect in the UK, spawning its own traditions, such as infuriating fellow users of public transport by playing shouty postcode music from your mobile phone, or pretending to have a Caribbean accent despite being born and raised in Berkshire. Chris Korff
Back To Black (2006)
You may have noticed that the last 10 years are somewhat under-represented in this list, and the general consensus in the SOS office is that while there might have been a lot of innovative and good new music made in that time, it hasn't yet had the chance to become influential. Or, alternatively, that the last decade just hasn't been very good. It's fitting, then, that one of the few inclusions from the '00s is basically a highly accomplished pastiche of soul music from a musically richer time.
Back To Black not only ensured international fame for Winehouse, it also sparked a new retro trend for Motown‑style soul and R&B, a bandwagon that has since been jumped upon by artists such as Duffy, Adele, Gabriella Cilmi and, more recently, Plan B. The album's producer, Mark Ronson, even released an album of covers performed in a similar style, entitled Version, in which he employed many members of the Dap Kings, who also provided the music for Back To Black, and who accompanied Amy Winehouse on her US tour. Chris Korff