Cubase offers various options for comparing your mixes with reference tracks.
When Sample Magic announced that they'd soon stop supporting their Magic AB plug-in, some of you asked me to recommend other mix-referencing tools. Several plug-in options exist, including Mastering The Mix's Reference, Melda's MCompare, and ADPTR's Metric AB, but you may be able to do what you want using Cubase alone...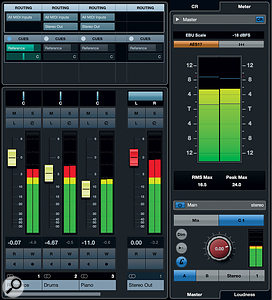 Cubase's Pro's Cue Sends can be used to monitor your reference tracks via the Control Room without the signal flowing through your project's master stereo bus — but while this side-steps any bus processing, it also skips the loudness metering, and it uses up one of only four available Cue Sends.An obvious approach is to put references on a track in your mix project and align the clips with the relevant parts of the arrangement. If you don't use master bus processing, this can work well: keep the reference track muted, and when you solo it, it will play and all the other tracks will be muted. But if you use master-bus processing, as many of us do, you don't want to apply this processing to your references. There are a couple of ways around this.
One is to create a second stereo output in the Studio/Audio Connections window and route your reference track to that. This bypasses the processing but now your references aren't reflected on the master-bus loudness metering. If that's important to you, you could use a Group track as your master bus, and route that and your reference track to the default stereo output (on which you put no processing).
Cubase Pro's Control Room offers an...
You are reading one of the locked Subscriber-only articles from our latest 5 issues.
You've read 20% of this article for free, so to continue reading...
Buy & Download this single article in PDF format

£1.00 GBP

$1.49 USD


For less than the price of a coffee, buy now and immediately download to your computer or smartphone.

Buy & Download the Full Issue PDF
Our 'replica SOS magazine' for smartphone/tablet/desktop. More info...