Secrets Of The Mix Engineers: Frank Wolf
Frank Wolf at his own Studio F facility.
The resurgence of film musicals continues, with Disney's Beauty And The Beast the most successful yet. Hollywood veteran Frank Wolf oversaw the complex recording and mixing process.
In an era where album sales are declining, movie soundtracks seem to be bucking the trend. In 2017 alone, Trolls, Moana, Fifty Shades Darker and La La Land have all yielded hit albums, and the latest to do so is Disney's Beauty And The Beast, a live-action remake of Disney's own 1991 animated film that has already become the highest-grossing live-action musical of all time. Both versions feature the same songs by composer Alan Menken, famous for countless theatre productions and classic Disney movies like The Little Mermaid (1989), Aladdin (1992), Pocahontas (1995), and Tangled (2010). The 2017 version of Beauty And The Beast contains a new underscore (the instrumental music that supports the on-screen action) and three new songs composed by Menken, with lyrics by Tim Rice.
All songs are sung by the cast members, such as Emma Watson (Belle), Dan Stevens (the beast), Luke Evans, Kevin Kline, Ewan McGregor, and so on, with orchestral accompaniment, sometimes reinforced with a rhythm section, all in a romantic and theatrical musical style heavily influenced by Broadway and French music. Three of the songs appear twice, during the end titles and on the soundtrack album, the second time recast as pop songs, sung by Celine Dion ('How Does A Moment Last Forever'), Ariana Grande and John Legend ('Beauty And The Beast'), and Josh Groban ('Evermore').
Beauty And The Beast has become the highest-grossing live-action musical movie of all time.
Both the film and the soundtrack versions of the song 'Beauty And The Beast' were mixed by Peter Mokran, while Celine Dion's song was engineered and mixed by Humberto Gatica and Martin Nessi. The remainder, including all the songs that appear in the movie, the underscore and the rest of the soundtrack album, was recorded and mixed by Frank Wolf, a music industry veteran with an enormous amount of experience — Allmusic.com lists more than 400 credits! Wolf has long-standing working relationships with Disney as well as with Menken, also having worked on the latter's scores and/or soundtrack albums for Hercules (1997), Home On The Range (2004), Tangled (2010) and Mirror Mirror (2012).
Work began in London in the Spring of 2015, with discussions between Wolf, director Bill Condon and music producer Matt Sullivan. "I knew that Bill really did not want to do simply a remake of the 1991 version," recalls Wolf. "The first major change, obviously, was that it's a live-action movie, and it was going to be darker and more emotionally intense than '91. All the arrangements were new, and while they were in some cases similar, they tended to be a lot bigger. We wanted the orchestra to be big and dramatic and sweeping and fully of action. And we knew that the songs that have a rhythm section needed some kick.
"We also did not want the vocals to be as far up front as they were in '91. The balance between music and vocals always is a fine line when you are working on a theatrical project, because you want to be able to hear every word, and when you look at the character on screen you want to feel that he or she is singing to you, but you don't want them to be so loud that they're no longer supported by the music. We watched the '91 versions of 'Belle' and 'Gaston' and, particularly in the latter, you can hardly hear the music. It really comes across like slapstick, but in the new version it is not. We wanted the vocals loud enough to take command, but for them to be surrounded by the music at the same time."
The decision to work with new arrangements, and also the fact that these had to be tailored to ongoing picture edits, led to an amazing number of people being credited on each of the songs — in many cases, an arranger, four orchestrators, four orchestral MIDI programmers and two composers of additional material. Wolf: "In the beginning, Disney and Alan Menken assumed it'd be like every other Menken project, where he just comes in with his team and takes control. So he brought in his arranger, Michael Kosarin, nicknamed Koz, and his orchestrators, Danny Troob, Michael Starobin and Doug Besterman.
"But Matt Sullivan was in close contact with the director, and has many strong opinions, which he is able to communicate with a great degree of knowledge and focus, articulating what kinds of feel they're trying to accomplish. That often took things in different directions. Also, Chris Benstead was originally hired as a music editor and to play back the music on set, but he's an arranger in his own right, and as the director asked for changes, Chris would modify the MIDI arrangements, changing sounds, writing an extra bar of music, whatever was needed in that moment. James Shearman also worked as an orchestrator and also was close to the director. All this steered the music in a different direction. But they worked well together, and Chris and Matt are now on Alan's team working on the next project."
True to Wolf's statement, the 2017 soundtrack has a lot more presence than the 1991 version, with big bass and hard-hitting drums and percussion, and an orchestral sound that indeed is big and sweeping. The foundations for this achievement were laid during the first recording sessions, which took place in April 2015, at Mark Knopfler's British Grove Studios in London.
Nearly all of the soundtrack recording took place in the UK, beginning at Mark Knopfler's British Grove Studios in Chiswick.Photo: Hannes Bieger
"We started with recording the rhythm section parts," Wolf elaborates, "and almost all of the actors came in to record their vocals. We also recorded first passes of most of the backing vocals. We did this at British Grove because it's one of the coolest studios you can find anywhere. It is beautiful, has great gear, a wonderful Neve 88R console, and a nice large recording room with five overdub booths, which is great for the work we were doing, as we wanted to be able to separate things.
"Michael Kosarin conducted the entire process. He is like a human metronome. He either waved the tempi imagining how the songs were going to go or he played the piano parts for each song in the tempo he imagined, and then the rest of us, particularly Matt [Sullivan] and Chris [Benstead], would later massage these tempi in MIDI and create a tempo map with all the rubatos and accelerations we imagined were appropriate. However, not all songs have a rhythm section, in which case singers sang to an orchestral MIDI demo.
"The rhythm section parts were overdubbed individually, with the musicians playing to the tempo maps. I recorded drums, bass, guitar and piano, in the same way as I would do for a pop record, so where needed I applied EQ and compression on the way in, using GML EQs and GML and 1176 compressors, and Neve and API mic pres. I also used the mic pres on the studio's Neve desk. We recorded some other things as well, like accordion and fiddles, and we pounded on boxes trying to illustrate the footstomping and table dancing that we knew would happen in the song 'Gaston'.
"After that we recorded all the cast vocals, apart from those of Emma Thompson, because she was not available and was recorded later. We recorded in sections, and with some of the rubato songs, like both versions of 'How Does A Moment Last Forever', it was a matter of play a piano chord, sing a line, play a piano chord, sing a line, and so on. In general I used either Neumann U47s, U67s or AKG C12s on the vocals, as well as a shotgun mic three feet away to emulate what they would be doing when recording dialogue on set. This was to make the hand-off from dialogue to singing and back sound more coherent. We always were very conscious of trying to get that handover to sound as seamless as possible.
"We also had a professional group of singers come in to do the crowd vocals and who would sing individual step-out parts [when a singing extra briefly comes into focus on screen] in the booths. The Neumann mics usually went through Neve mic pres, with very little EQ or compression. In the film world you want to be really careful with compression. If you're watching a singer in the middle of a big screen singing with a pop vocal sound, it takes you out of the movie because it does not sound honest to the environment they're in. So while recording you don't want to commit to anything you can't undo later. Having said that, many of the vocal recordings we did in March 2015 actually held until the very end."
After the rhythm section and vocal recordings at British Grove Studios, Wolf continued to work at the same studio to mix all the recorded material and MIDI orchestra parts in order to prepare the songs for playback during filming and editing, all of which also took place in London. "While they were shooting," he recalls, "they would re-record a line here or there, because they thought they could improve it, or that it would fit better with the visuals. As a result, there were many different bits and pieces that were done at different times, and at different places. I wasn't there for all these recordings, as I had returned to the US. But, for example, Matt [Sullivan] recorded a couple of vocal lines in a back office on his laptop with an AKG C414 in the middle of one film shoot. They sent all these things to me, and I then worked them into the sessions at my home studio."
Wolf has his own facility in a room at his house in Los Angeles, featuring a Pro Tools system with a 24-fader D-Command and five "original, unmodified" Tannoy SRM 10B speakers. "I sent the new playback mixes to London mostly as stereo," he continues, "and with separate music, vocals, and background vocals stems, so they could edit these, or change the timing for lip sync, and so on. Over the entire one-and-a-half-year project there was a lot of different stuff that was handed back and forth between a lot of people. Because Beauty has been so successful, we're doing another live-action remake of a movie Alan wrote the music for, Aladdin, and for that I intend to streamline the hand-off of the vocals a little bit more in terms of who is comping and who is tuning and in what sequence, and so on. It is complicated keeping track of who does what, who tuned and/or comped something, and what the purest and the latest approved version of a certain vocal is. It gets re-comped, re-Melodyned, re-lip-sync'ed, again and again, and it gets incredibly complicated. An entirely new element of complexity comes into play when preparing for the CD soundtrack mix much later; as much as possible, we want to remove any lip-sync'ing and return to the vocal rhythms as originally preformed."
Most of the orchestral recordings used on the soundtrack took place in Abbey Road Studio One.Photo: Hannes BiegerWolf returned to London in March 2016. With the film shoots done and the edits by and large complete, it was time to do the final recordings, including choir and background vocals, and the orchestral recordings for the songs and for the underscore. "It's a costly undertaking to record 100 people in an expensive studio, so the orchestral sessions usually are done once the film edits are complete, or nearly so, and you can be pretty certain you don't have to change them any more. The first session in March 2016 was at Abbey Road Studio One, where we recorded full orchestra to the two versions of 'How Does A Moment Last Forever' and to 'Beauty And The Beast', 'Belle', 'Belle Reprise' and 'Days In The Sun'. We then went back to Abbey Road in June to record the full orchestra for the other songs, and some choir and background vocals. In August we recorded the underscore and the final choirs at AIR Lyndhurst.
"Koz was conducting the orchestras, using clicks and streamers, which he had set up with Chris Benstead. In a couple of places where the singing was really rubato, he just listened to the recorded vocal and conducted along as best as he could. He's really good at that. We recorded the orchestra mostly in sections. Every song had a detailed MIDI orchestra mock-up, and when we recorded strings and winds, we would switch the MIDI strings and winds off, but keep the brass and percussion playing, so you could hear the entire arrangement. When we recorded the brass, we'd turn the MIDI brass off, but played back the rest. We generally recorded the orchestral percussion last. Because the songs are the most important aspect of the score, everyone was there, including the director, and wanted to hear everything at the same time, even if it was not played at the same time.
"We did record some of the songs with the entire orchestra playing. If the tempo map was too crazy, it was not possible to do it in separate passes and have everybody lock. You may afterwards go: 'Oh, that timpani is too loud.' But boy is it exciting and does it sound more organic! It's one of those things that I am always at odds with, because while I am a fan of the control that playing things in passes gives you, I am also a fan of the excitement you get when everyone plays at the same time. A lot of people seem to have forgotten that when you have 100 musicians playing together in the room, there is an additive gestalt that is not the same as when they are playing separately. People want perfection, but how do you define that in an artistic genre? Is Picasso perfect? Was da Vinci perfect? And the answer is, they both are."
The quest for more control and perfection continued, however, because after the orchestral recordings there was yet more seemingly endless work in finessing the recordings. "We'd correct and move timings in Pro Tools," says Wolf. "Robin Morrison and Robin Baynton did a lot of the music editing and massaging timing and performances. We had a tricky moment in 'Belle Reprise', for example, where Belle runs up that mountain side, and where her singing and the tempo map of the orchestra were not quite comfortable together. Every time she turned round and you could not see her mouth we moved her vocals a bit to make it sit better with the orchestra. We did things like that right up until the final mix."
Elaborating on the more technical aspects of his vocal and choir recordings, Wolf explains that his orchestral recording approach was "very traditional. I have a Decca Tree above the conductor with three Neumann M50s, and a couple of AKG C12 wide mics, maybe 10 metres out in each direction. I also have a couple of B&K 4006 room mics high up in the wings and some medium-close mics on the sections. For the strings, I reach as high as I can with my hand, and that's as close as I like the mics to be. My violin mics were the C12 and [Neumann] KM84s, and I had two U67s on the violas, and Neumann U47s on the 'cellos and basses. On the woodwinds I had [Neumann] KM86s as close mics and two C12s for the entire section. The horns had SM69s, M49s, and I had KM54s [all Neumann models] on the trumpets, and U47s on the trombones. I had seven Neumann KM84 microphones on the percussion, and a tube U47 on the timpani.
"I hardly EQ the orchestra mics on the way in. I might EQ the Decca Tree just a little bit, but I don't do anything radical, unless I hear something very specific. I generally rely a lot on the Decca Tree and wide mics. If it is a sweeping orchestral song I would say that the Decca Tree and wide microphones, plus the close mics on the harp, piano and percussion, give me 90 percent of the mix. For the piano I often put up two different sets of microphones, one for a more orchestral sound and one closer to the hammers, and I record those on separate tracks. In an orchestral setting I want there to be a little bit more room on the sound, and for that I use a pair of C12s or [Neumann] KM88s placed a bit further away, and on the hammers I'll have Neumann KM86s or again C12s."
Completing a tour of high-class London studios, recording concluded with sessions at AIR Lyndhurst. Photo: Hannes BiegerAfter the Abbey Road orchestra recordings there were more sessions, at AIR Lyndhurst in London in June and August 2016. These involved underscore recordings with orchestra, and more vocal sessions. Wolf: "With the vocals, the director, Matt, Disney and I wanted to have one more shot at improving some particular parts. But by and large vocals were done, apart from the two Robins spending days on lip-sync'ing, making sure that the words were exactly in everybody's mouths. There were a few spots where the pre-recorded vocals were so far away from the lip-sync that we ended up using on-set vocals — actors are always encouraged to sing while lip-sync'ing, otherwise it doesn't look like you're singing, and this was recorded. The whole of 'Music Box' was an on-set vocal, because it was so personal and intimate. But working with on-set vocals is a real challenge, because you have to match the vocal sounds, and also there always is extraneous noise."
The last recording sessions took place at AIR Lyndhurst in August 2016, when more underscore parts and the final choir were recorded. "The room at AIR is a bit dryer than in Abbey Road, which some of the guys involved prefer, because it gives us more control. Again, I sit squarely on the fence here!" comments Wolf. His orchestral recording set up at AIR was more or less the same as at Abbey Road. He also relied strongly on a Decca Tree and the wide mics for the choir recordings, augmented by "half a dozen close mics over each vocal group, maybe a metre away. If you see mouths moving on the screen you want to be able to understand what they are singing, and I push up the close mics a bit more."
Immediately after each of the Abbey Road and AIR Lyndhurst recording sessions, Frank Wolf returned to British Grove to continue with the mixes. Each set of mix sessions involved integrating the newly recorded material into what was already there, and refining everything. "After the last recording sessions, Matt [Sullivan] and Chris [Benstead] and I went to a dub stage outside of London in Twickenham, where we played all the songs back and made some final notes. No matter what studio you are working in, once you are in the theatre, it just sounds different. The speakers are 50 feet away, and they are behind a screen and you are looking at a big picture. In general you can't afford to mix an entire project like that on a dub stage, because it is ridiculously expensive. But we spent two days listening and that provided us with some really valuable lessons."
Finally, in September 2016, Wolf arrived at something close to the final music mixes. Yet he still was not finished. Over several months he continued to tweak the music mixes at his own Studio F, and then sent the results over to London for the final picture editing sessions, and eventually for the final sound dub, performed by Michael Minkler, who mixed all sonic elements, the dialogue, sound effects and music. Unsurprisingly, because of all the endless tweaking that movie-making involves these days, almost everything in the film world is now done in the box.
"I knew I had to be able to open the sessions at any point and in any place, including at my house, so there was no way around it," says Wolf. "If I had a choice I'd mix with an analogue/digital hybrid, with some outboard. There's a certain ease you get from being able to grab knobs and faders. I like the physicality of working with analogue gear. But it simply is impossible with a project like this. Imagine also, for example, that I want to use 1176 compression or a Pultec EQ on all tracks. Just my orchestra mix consists of a strings and wind stem, a brass stem and a main percussion stem. That's three 5.1 stems, totalling 18 tracks, so I'd need 18 1176s and/or Pultecs. No studio has that. For this reason plug-ins are critical to me. I use the UAD card, and their Pultec, 1176 and Massive Passive plug-ins all sound great."
High track counts are normal for soundtrack projects, and Frank Wolf's Pro Tools session for 'Be Our Guest' totalled well over 400. A detailed analysis of a mix session like this, which has taken months to build, could easily fill dozens of pages of this magazine, so Wolf chose to highlight a number of the most important aspects and sections of his mix, and supply the corresponding screenshots.
The topmost section of the Pro Tools session for 'Be Our Guest' shows Frank Wolf's distinctive way of making large projects navigable. Each section has its own VCA track, with a single audio track serving to indicate where on the timeline that section contains audio.
Wolf has evolved a neat way of organising large sessions and retaining an easy overview: VCA tracks that control different sections of his session are all at the top, accompanied by one audio track each that represents an entire block of audio tracks further down, as a visual reminder of where the audio occurs. "Track 3 contains 5.1 mixes of the vocals and the music. Below that is track 4, called '_Big Dude', which is a master of everything, just in case music and vocals are too loud or too soft. Track 5, '_Mstr', controls all the music, and '_L Vox' all the lead vocals and '_VocEFX' all vocal effects. I indicate VCA tracks by putting an underscore in front of the track name. Also, I like to keep track numbers on, so I can always tell where I am in the session. A lot of people switch track numbers off — I don't know how they manage!
"The four tracks below that, in the puke-y yellow, are the lead vocals, with Ewan McGregor's on track 8 the most important. My vocal chain on his vocal starts with the Massey De-Esser, then a beta version of George Massenburg's new MDWDRC2 compressor, then the FabFilter Pro-Q2 EQ, the Waves C4 multiband compressor, and finally another Massenburg EQ. The Q2 is just doing a bit of corrective EQ, and the Massenburg EQ takes out a bit at 2k. The C4 pulls out a little at 4k in loud sections, just because the sound can get really edgy in the theatre around that range and hurt your ears.
"The most interesting thing here is George's MDWDRC2 compressor, which is very fancy, and very complicated! There's 12.3dB gain going into the compressor, and below that, where it says 'Rot Point', which is set to -6.5, is the point at which the compressor section compresses, ie. not the peak section. Under the Peak section you can set the Attack and Release, but both move together to minimise potential distortion, though it allows you to reset the attack if you don't mind a little more harmonic distortion. At the bottom is a box called Auto Release which allows you to set how quickly the compressor releases based on how quickly the input fades away. The compressor sounds great on vocals, but I've asked George to supply it with a block diagram to make it easier to understand!
Midway down the session are the stem tracks that Frank Wolf delivers to the dubbing mixer.
"The other lead vocals have plug-ins like the Waves Renaissance Vox and De-esser, and again the Q2 and the C4. All lead vocals have sends to reverb aux tracks. I generally set up a palette of aux tracks that consists of a UAD 140 Plate, a Lexicon Vintage Plate, a Revibe Hall, a Waves IR1 short room (about 1.3s), and an Altiverb for a similar, but different, short room environment. I mix and match these using different amounts from song to song and environment to environment. As with most aspects of my mixing, I try not to get locked into one way of doing things. It gets stale for me and doesn't challenge me to try new things. In this case I have three sends on Ewan's vocal, with one going to a UAD EMT 140 plate, the second to the Waves IR reverb and the third to a longish hall reverb from Revibe.
"Moving further down the sessions, track 12 is a VCA called '_B Vox' for all backing vocals and 13 is' _New B Vox', and below in purple is an audio track, which shows me the placing of all these new backing vocals that appear further down the session. The same happens with track 15, with a VCA called '_Old B Vox', and track 16, 'BogM1T19T', which also has a corresponding audio track, and so on. These single audio tracks are there for visual reference, so I know when the group that's controlled by the VCA sings. It gives a far easier overview than having to look at blocks of 100 audio tracks or so."
Just over halfway down the session, tracks 254 to 275 are the prints of all the tracks Wolf sends to the re-recording (aka dubbing) mixer. They consist of 17 5.1 stems, three mono lead vocal stems, and a stereo fold-down stem and a stereo instrumental stem. These print tracks are fed by a collection of master tracks, 232-252, on which Wolf has some of his more important sonic treatments. While his lead vocal tracks often have elaborate effect chains, as described just above, the individual orchestral and choir tracks are mostly untreated, with the heavy lifting executed for the most part on the master tracks.
Powerful but challenging: Frank Wolf's mix made use of a beta version of a new compressor plug-in from George Massenburg.
"As I mentioned before, I treat the rhythm tracks as if they are for a record, so they may have quite a few plug-ins, but the orchestra tracks, apart from some EQs to gently brighten the bass and the room mics here and there, are not laden with plug-ins. I'll also add some brightness to the percussion room mics, but the close mics are flat. With the vocal ensembles we recorded in March 2015 I did have some compression and EQ on each track, but the choir recordings were recorded flat, with no plug-ins at all.
"I like to use VCA tracks as visual delineators in a session, and track 231 is there for that reason, though if for some reason I want to pull all the music down relative to the dialogue, I can do it with that VCA. But mostly it indicates where the audio in the sessions end and the master tracks start. The next four tracks are the orchestral masters: 'Orch 1', 'Orch 2', 'Harp' and 'Percussion'. All the orchestral recordings go through those. 'Orch 1' is strings and winds, and has a Q2, the UAD Massive Passive, the Pultec EQP-1A, the PSP Vintage Warmer, the Avid Pro Limiter, the C4 and a Trim. The fact that two of these plug-ins are purple means that they work on just some of the 5.1 tracks, and not on all. In this case the EQP-1A is brightening up the LCR channels a little bit.
"The Pro Limiter is there purely to prevent sudden peaks. If it hits more than twice in a song, I've set it too tightly. The Vintage Warmer adds a little bit of size and brightness without making things harsh. None of these are doing anything extreme. The other orchestral stems/master tracks have fewer, but similar plug-ins. There are three instances of Avid's Trim plug-in on the orchestra tracks because I wanted a little more signal in the surrounds. Just putting the Trim on them was the easiest way of doing it.
"The next track, number 236, is a side-chain with the Metro Halo Channel strip, set pretty aggressively but mixed quite far down, and affecting track 237, which is the drum master. Next are three 'Else' master tracks, containing piano, accordion and a solo, and they have the Pro Limiter, the Vintage Warmer, and in one instance the Waves JJP version of the EQP-1A. If I run out of horsepower on my UAD card, I sometimes use that one. The next six tracks, in purple, are the backing vocals, split in two each of tutti, men and women. These are aux tracks and not masters. The first three have the Waves IR, because the early vocals recorded at British Grove are dryer than those that were recorded at AIR, so I added some additional reverb. They all have the Sonnox Oxford EQ. I like to change the EQs I use and not do the same thing all the time. The Oxford takes 1dB down at 200Hz, and pushes 0.8dB up at 3.6k, so, obviously, very subtle. Several of the backing vocal tracks also have the Metric Halo Channel Strip, brightening and compressing things a little bit, and again the C4.
"Next are three 'Lead Vocal' master tracks, which have just the Avid Peak Limiter, again just to prevent unexpected peaks. I don't actually limit. The 5.1 comp track of everything has the Pro Limiter for the same reason. The two stereo mixes of all tracks also have the Peak Limiter, and the Downmixer plug-in, which is a very easy way to mix from 5.1 to stereo. You can set the levels of the individual channels that you want to fold down to stereo. There's also a Massey 2007 Limiter on each of these two stereo tracks, squeezing maybe 1-1.5 dB and making things a bit brighter, as it's set to 'Vibrant'.
"So all these are printed on my final stem tracks, 254-275, in bright blue, which is what I deliver. 'Orchestra 1' is strings and winds, 'Orchestra 2' is brass, then there's harp, percussion, and the 'Else' tracks have whatever other elements we wanted to keep separate. The background vocals usually are split in tutti, men, women, and children. We tried to keep all these tracks the same for each song, but sometimes I had to add extra channels if there were too many overdubs. There are several things to note here. There's another delineator track at the top, 253, called 'MT Stems', aka multitrack stems, and at the bottom, 276, which is called 'AllEfx', which is the master over all effects in the session, but which I never use. There are dry lead vocals in mono, and for each of them a corresponding 5.1 effects track, to show how I think the lead vocal should sound. Similarly they can put the 5.1 comp of everything at the bottom and the stereo downmix up at any time for reference."
Finally, because of the enormous complexity of these sessions, Frank Wolf was forced to take shortcuts when creating the final stereo mixes for the soundtrack album. "I tried as best as possible to unravel the timing of some of the vocals that had been lip-sync'ed to something more natural. I also took off the C4 everywhere, which was there purely to compensate for theatres. And I pulled down the vocals a little bit, because intelligibility is not quite as crucial on a soundtrack album. For the rest, by and large, I simply put the 5.1 stems in input, mixed through them and folded these down to stereo. The sessions were too complicated to try to undo the 5.1 and create new stereo mixes. That would have added weeks of work. Gavin Lurssen and Reuben Cohen did the mastering. We never tried to make it sound like a pop record, so even though I may have been riding some dynamics during the mix, most of the dynamics are still there!"
Frank Wolf is hired because of his capacity to combine classic romantic Hollywood lushness with modern edge and directness. As a teenager he listened to lots of orchestral music as well as to pop, and learned to play classical piano. He also joined a pop band, but during a recording session with them, he found what the guys on the other side of the glass were doing far more interesting. Wolf went on to study music at the University of California in Los Angeles, and engineering at the Institute for Audio Research. He also spent a while working in the maintenance department at one of LA's top studios, The Village Recorder, and he set up a small studio.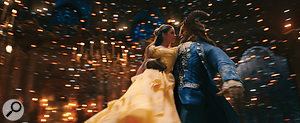 "For $35 an hour I was an engineer, a mixer, and a producer," Wolf recalls. "I had a four-track half-inch Scully tape machine and a Revox two-track, and I would fill the four tracks on the Scully, bounce that down to the Revox, bounce it back and keep recording. I learned how to make do with not very much. Still today I think that has an impact on my way of working and on what sounds really good to me, which is something that is a little larger than life, but still organic and honest. When I record a rhythm section, I want it to sound like the guys that are playing, and not conform to some sort of pop ideal. I generally also don't go for today's orchestra-on-steroids sound."
While at the Village, Wolf did lots of engineering during downtime. He ended up working closely with a band who got a record deal, and left the studio. The band didn't go on to great things, though some of its members became well-known musicians, and through one of them, keyboardist and songwriter Robbie Buchanan, he ended up recording Johnny Mathis at George Massenburg's studio. The connection with Massenburg led to Wolf mixing part of 10,000 Maniacs' classic In My Tribe album (1987), which was produced by Peter Asher. Wolf subsequently recorded and mixed a whole swathe of Asher-produced albums, by the likes of Neil Diamond, Diana Ross, Cher and Randy Newman.
Wolf's first foray into soundtrack recording occurred when Newman asked him to record his score for the movie Avalon (1990). Wolf had never recorded a 100-piece orchestra before, but managed to achieve results that were impressive enough for him to be asked to record and mix the songs Menken wrote for Hercules. Since then, film score work has become his mainstay. He has recorded, mixed and co-produced the soundtracks for many movies, including classics such as Toy Story (1995) and Monsters Inc (2001), while also still occasionally continuing to be active in the world of rock and pop.
One detail that leaps out when looking at the screenshots of Frank Wolf's mix of 'Be Our Guest' is the extensive and very complex title at the top: '3M28S_BeOurGuest_R3v29.15-fw48-PrintMix04'. Elements of this row and letters and numbers also appear on some of the tracks. Wolf calls it "nerd ho", and explains: "'3' refers to Reel 3 and 'M' means music; '28' means it's the 28th piece of music in the film. You start with '1M0', which would be the Disney logo; '1M1' usually are the opening credits, and then you get '1M2', '1M3', and if the last piece of music on the reel would be '1M9', the next would be '2M10'. 'S' means it's a song. Next up is the song title. 'R3v29.15' comes from the edit room and informs what version of film edit this timecode start refers to (29), and how many versions of editing where the timing was not changed (15)! 'Fw' are the initials of my name, and tells me that I did not start that mix at my studio. If I had started the mix at Studio Frank Wolf, I'd have written 'sfw'. '48' means I incremented and saved my mix 48 times, and finally, 'PrintMix04' means I printed this mix three times before this one, so this is the fourth iteration.
"I am very specific where I use an underscore, or spaces or dashes, because the Mac OS sees an underscore as a continuation of a word and a hyphen delineates two words. So for example, the above is all one word until '29.15'. The stem print tracks have similar nomenclature, and my 5.1 mix at the top of the session on track 3 is marked 'TEMP7', which refers to the amount of temp screenings they had. They give me that as a reference, so I can always refer back to how they liked the vocals at that point. The main thing is to keep everything really consistent, and use agreed-upon nomenclature that everyone can understand."