Secrets Of The Mix Engineers: Sir Nolan & Tony Maserati
Sir Nolan, aka Nolan Lambroza, who co-wrote and co-produced 'Rare'.Photo: Matt Maltese
Working with ace mixer Tony Maserati taught producer Sir Nolan that hit-making is as much about what you take away as what you add...
Released in January 2020, Selena Gomez's third solo album has been her most successful to date. The single 'Lose You To Love Me' was her first US number-one single, while Rare itself also topped the US Billboard 200.
'Rare' - written by Selena Gomez, Madison Love, Brett McLaughlin, Nolan Lambroza & Simon Rosen. Produced by Sir Nolan & Simon Says.Most of today's pop tracks have numerous credits, and Rare is no exception. The 13-track standard edition lists over 40 writers and producers, dozens of engineers, and four main mixers: Tony Maserati (six songs), Serban Ghenea (four), Manny Marroquin (two) and Jon Castelli (one). One of the most prominent producers was Sir Nolan, who co-wrote and co-produced three tracks, including title track and third single 'Rare', which was mixed by Maserati.
Sir Nolan, aka Nolan Lambroza, is a 29-year-old American who grew up in the UK, and since his 2012 breakthrough with co-writing and co-production credits on Justin Bieber's Believe, has had an impressive impact on the charts. As writer musician and producer, he's contributed to hits by Nick Jonas ('Jealous'), DJ Khaled ('No Brainer'), Pitbull ('I Feel This Moment'), Shawn Mendez ('Youth'), and many more.
Lambroza first worked with Selena Gomez in 2015, co-writing and co-producing 'Good For You', the biggest-selling single from Gomez's album Revival. With A-list artists and their teams receiving pitches for thousands of beats, Lambroza notes that even someone in his position still has "a 95–percent failure rate with pitching songs". Artists he's already worked with naturally figure higher in his awareness, and so it was in 2017, when he started work on a song that he thought was "Selena Gomez all the way".
"I was driving back to Los Angeles from a writing camp in Palm Springs, where someone had shared his pool vibe playlist full of 1950s Hollywood songs, which naturally had a very old-school kind of feel. That gave me the idea of doing this organic, 1950s kind of song, and I took that straight into a writing session at my studio, with Madison Love and Brett Leland McLaughlin present. My Mellotron has this great, sampled guitar sound, and I started messing with that, and it became the main bass in 'Rare'. As I added the chords on the Mellotron, Madison and Brett started singing at the same time, and came up with the vocal melodies and the lyric concept for 'Rare'.
"I built up the track further with a snap, and what sounds like a slide guitar but also comes from the Mellotron, using the pitch knob. I sometimes grab a collection of sounds that feel like they are from one era, a place you can instantly identify, and that draws you in. Everybody uses 808, kick and snare and so on. You need something that's recognisable and that puts you in a different universe.
"We wrote the entire song more or less in one session, and that became the first demo. We then pitched that to Selena. I was certain it was a fit for her. But she passed. We then pitched it to other artists, and two of them cut it, but in 2018 we got a phone call from Selena's A&R, saying that she wanted the song after all.
"When it became clear that Selena was going to cut the song after all, I reworked the production. A large part of that was about getting it to sound more three-dimensional, and adding better fills and more moments. The drum sounds in the chorus were all programmed, and I wanted a more humanised feel. So I went into sample libraries to get old and raw-sounding snare drums and kick drums from the 1950s and '60s, and I made them play the same pattern as the programmed drums, and then I blended the sounds together. The combination of the newer and older drum sounds took the drums to a new level and opened the track up and made it sound wider. All the instruments were played by me or Simon Says, who is a signed producer to my publishing company Deep Cuts Music Publishing. Simon Says co-produced 'Rare' with me. These bridge synth sounds were done on his phone with the great Moog Model 15 app, which is amazing.
Sir Nolan: "Simon Says co-produced 'Rare' with me. These bridge synth sounds were done on his phone with the great Moog Model 15 app, which is amazing."
"I cut Selena's vocals. She added a few different melodies to make it hers, like some of the ad libs at the end, and some of the lyrics were changed to make it a better fit for her. Simon and I went through her vocal takes a million times, comped them, Melodyned them, and went over the timing a trillion times. When it's an artist this big, you don't want to take any risks. Someone once said to me, 'Don't skip the details.' As you get busier, you are tempted to do exactly that, but with these kinds of songs, I like to double down, because nothing is worse than a song not being a success, and then going to bed thinking that you could have improved something."
With her third solo album Rare being her biggest hit yet, Selena Gomez's star continues to rise.
Next up, Lambroza finished the rough mix of the track, and he sent the session to Tony Maserati for final mixdown. "I added vocal effects, like a doubling effect from the SoundToys Crystallizer, which added some slapback and width, and also applied the Valhalla Room and Valhalla Vintage verbs, which I use a lot. I also like the Waves Manny Marroquin Hall, and for delays the SoundToys EchoBoy and EchoBoy Jr, and the UAD Precision Delay Mod. Simon is obsessed with delays, more so than me, and many of the delay throws in the rough mixes are his. I printed almost all effects on separate tracks, so Tony was able to hear exactly what I was doing, and he can either use that, or try something different. When you print effects, you also make sure they don't change. I get paranoid about plug-ins resetting when a session gets opened on a different system.
"I will sometimes book myself a day to do a mix, but in general I mix as I go along, and I don't always go in to do a separate rough mix. I didn't in the case of 'Rare'. The demo was pretty much my rough mix. Even though my mix may not be perfect, if it got the attention of the artist, and he or she wants to cut it, I must have done something right. If someone says, 'I love the song but am not sure about the production,' I tend to ask, 'Are you sure?' Because if you love the song, perhaps the production is what it needs to be. My mix of 'Rare' was pretty close, with the right space, using subtractive EQ to get things out of each other's way and give each instrument its own space and moment to shine, and a lot of processing on the kick and snare. There was a lot of stylisation on the keyboard parts. Tony did not need to go deep into treating the instruments.
Sir Nolan: "If someone says, 'I love the song but am not sure about the production,' I tend to ask, 'Are you sure?' Because if you love the song, perhaps the production is what it needs to be.
"Because you're mixing as you go as a producer you end up with millions of tracks and plug-ins, and it's hard to be objective. A big part of getting someone to mix your track is to have another pair of ears. With regards to 'Rare', when I sent the Pro Tools session to Tony, the discussion was that I felt that I had done a good job to create a sonic palette and presenting Selena's vocals. To me it all made sense and the rough mix was pretty cohesive. What I wanted Tony to do was to elevate the different sections, so that the first chorus felt above the verse, and the second chorus is another step up, and it reaches a climax in the last chorus. I also asked him to focus on making sure Selena's vocal is right in the middle, and up-front, clear, and precise, so you can understand every word she sings. I wanted her vocal to sound present, but still soft. Tony did an incredible job with all that."
Tony Maserati is one of the world's leading mixers, with credits ranging from Beyoncé to Shawn Mendez, and he has already featured twice in the Inside Track series, in March 2007 and October 2013. Maserati cut his teeth in the New York hip-hop and R&B scenes of the 1980s, and moved to LA about 10 years ago. One of a dwindling band of mix engineers holding out against the general tendency to go fully in the box, he mixes at his Mirrorball Entertainment facility with a hybrid analogue-digital setup, Apparently, his setup and approach in 2020 are largely the same as they were in 2013, though there are some differences.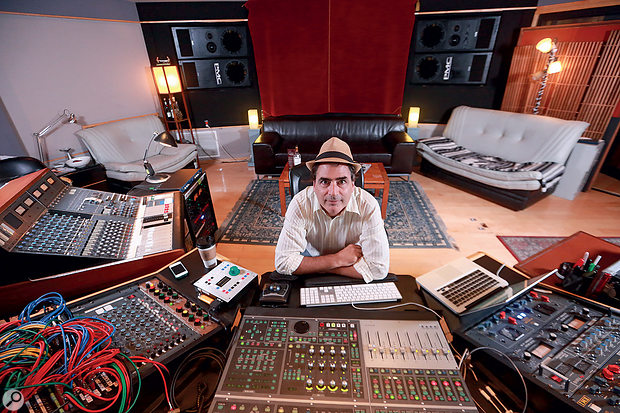 Tony Maserati at his Mirrorball Entertainment studio.Photo: Brian Paterson
"Because my mix work is taking so much of my time," explains Maserati, "Mirrorball spends less time and energy on developing young talent, and we now only rent two rooms in the building, one of them being a writing and production room, the other my mix room. On the analogue side I work very similar to in 2013, still with 32 hardware inserts that allow me to connect my analogue EQs and compressors, and I can sum externally with my Neve Melbourne and Chandler EMI and Chandler Mini Mixer analogue mixers. It's a great system, fast and flexible, and I am not changing it. The idea that you can only do things in analogue, or in digital, is crazy to me. I have the best of both worlds.
"What is new is that I am constantly getting new plug-ins. The amount of new plug-ins that comes out is actually ridiculous, and I spend maybe two to three hours every week investigating them. The business is forever changing and you have to keep moving. There's no way you can stick with just the same things. In addition to the plug-ins, I have bought some new outboard equipment like the DW Fearn VT5 EQ and VT7 compressor, and the McDSP APB‑16 Analog Processing Box. I bought Andrew Scheps' house, and because my wife and I are expecting a baby and I want to spend more time at home, I'm setting up a mix room in there as well. It will have the same monitoring system as at Mirrorball, Tannoy DMT12s and ProAc Studio 100s, but for the rest that studio will be 100-percent in the box, apart from the McDSP APB‑16, which is fantastic. It offers 16 channels of analogue compression, via Thunderbolt, so you don't need interfaces to get in and out. It's a terrific and very innovative idea, and I'm helping Colin McDowell [McDSP founder] develop it."