PreSonus Studio One Tips & Techniques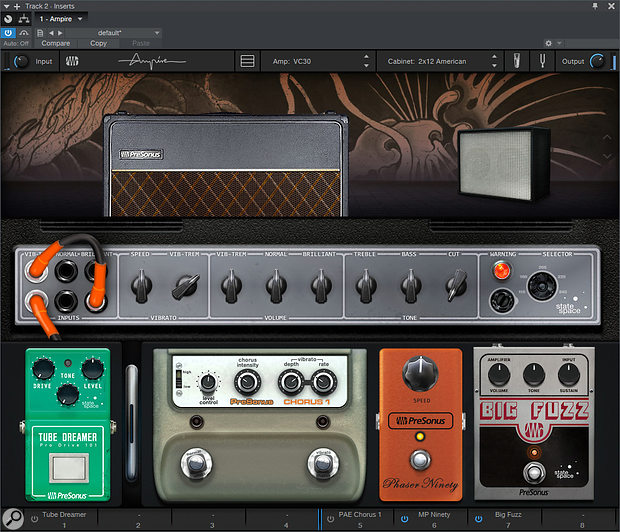 The new Ampire.
PreSonus gave Studio One users an early Christmas present in the form of a free upgrade. Their main focus in v4.6 has been reworking the Ampire amp simulator plug-in, but there are incremental improvements in other areas too.
Ampire used to be one of those handy little plug-ins that you'd drop onto a guitar track for a bit of beef while working on other things. You'd return to it later and replace it with something meatier once the guitars came into focus. Well, PreSonus are not going to stand for that sort of behaviour, and so for version 4.6 they've completely re-engineered the Ampire plug-in to make it far more versatile and full of protein.
PreSonus have gone to town on this plug-in, and it's a huge upgrade on the original. All that seems to remain from the first version is that the mouse cursor still changes into the 'sign of the horns' heavy metal hand gesture when you hover over the Ampire logo (nice). Otherwise, it's almost all new code and far superior graphics.
Five new amplifiers have been modelled using PreSonus's 'State Space Modeling' technology, which captures the behaviour of circuits right down to component level. PreSonus don't like to mention them by name, but it doesn't take a genius to work out that the MCM800 is a Marshall JCM800, the VC30 is a Vox AC30, the Blackface Twin is a Fender Twin, the Dual Amplifier is a Mesa Boogie Dual Rectifier and the Amp STV is an Ampeg SVT bass amp.
The look, features and controls of each amp are fully realised within Ampire, even down to the separate input jacks for different channels. The VC-30, for instance, has Vib-Trem, Normal and Brilliant channels, each with separate low- and high-sensitivity inputs. You can plug into whichever channel you wish, giving a broader choice of authentic tones, and you can also patch the Vib-Trem channel into the Brilliant one as you might on the real thing. Click and hover on input 2 of the Vib-Trem channel and a little patch cable appears — nice!
PreSonus have also added new cabinets, with the total now reaching 16. There's every combination from a 1x12 British or Boutique American through twins up to 4x10s and 4x12s, and a couple of 8x10 monster bass cabinets. But what's more unusual is the rather ordinarily named User Cabinet, which lets you load impulse response files for up to three microphone positions in order to build your own custom cabinet. I was surprised at how many IR files are out there, taken from a huge range of cabinets and other spaces and often downloadable for nothing. There's also plenty of experimentation to be had by dragging in reverb impulses from the Studio One Impulse Responses collection.
The microphone section of Ampire is simple but effective. The available mic options are an SM57-style dynamic mic, a Royer-style ribbon, a Neumann-style large-diaphragm condenser and a crossed stereo pair of small-diaphragm capacitor mics. A setup of three of the four mics is configured for you for each cabinet. You can't change these, but you can mix between them, either relatively or independently, you can invert the polarity, and mics B and C have a Delay parameter that lets you vary their respective distances from the source. I know that for some other software guitar plug-ins microphone placement is a big thing but, frankly, I'm relieved that I don't really have to worry about it. This is more than enough control for most people.
PreSonus have also incorporated a useful tuner. It's a prettied-up version of the existing Tuner plug-in, with a standard and strobe mode along with a calibration knob in case you want to deviate from 440Hz.
The revamped Pedalboard can be employed as a plug-in in its own right.
The bottom section of Ampire is your pedalboard, which offers 13 badly disguised pedals to choose from. Five of these are newly modelled classics using the same 'State Space' technology as the amps, and are based on a Big Muff, a RAT, Tube Screamer, MXR Phase 90 and a Boss CE1 Chorus. There are eight slots on the pedalboard and you can arrange your pedals in any order. A metal bar on the pedalboard can be dragged left and right; every pedal on the left of the bar is in the signal chain before the amp, as if you are plugging your guitar directly into the pedal, while every pedal on the right is, in effect, in the amp's effects loop. This changes how the amp/cabinet combination reacts to the effects, and the response is different enough to make you feel that PreSonus did a really good job. Best of all, the Pedalboard is also available as a separate plug-in effect for easy use on non-guitar tracks.
Even better, Ampire itself is available as a VST3, AAX and AU plug-in for other DAWs, though you have to jump through a few hoops to achieve this. The PreSonus Hub application manages the use of compatible Studio One plug-ins outside of Studio One: go to your My Presonus account online, select 'My Products — Software' and click on 'Studio One 4 Professional'. You'll find Ampire in there next to a big green Redeem button. Once redeemed, head over to the Add-ons section, click on 'Ampire' and you'll find an option to download the PreSonus Hub. With this installed, you'll be able to activate the VST/AAX/AU versions, and you'll get both the Ampire plug-in and the separate Pedalboard to use in the DAW of your choice.
The PreSonus Hub application lets you authorise and install Ampire and Pedalboard for use in other DAWs.
The Pattern editor that was such a revelation in version 4.5 has had a couple of tweaks in response to customer feedback. Patterns are step sequences that you can paint onto the timeline. With a couple of clicks, you can convert a Pattern into a conventional MIDI part containing all the MIDI data of the Pattern. This can then be edited using the piano-roll editor and treated like any independent part. In Studio One 4.5, however, you could not do the opposite — there was no easy way of turning a part into a Pattern. It seemed like a no-brainer, but I guess you can see that it might be difficult to find a way to convert long-held and expressively played notes into the fiercely strict grid-based structure of a Pattern.
The conversion of MIDI drum loops and other parts into the Pattern format throws up an enormous range of possibilities.
PreSonus have now got around these issues by introducing tied notes in Patterns. Yes, I know, I can't believe it wasn't there either. This works in both melodic and percussive modes: simply click and drag to tie notes across multiple steps — easy! So, now chords and complex arrangements can be messed about with as Patterns. They've also added a Delay tab to the Automation Lanes, which lets you push or pull a step a percentage amount out of time.
The conversion of MIDI drum loops and other parts into the Pattern format throws up an enormous range of possibilities, not least thanks to the randomisation, repeat and probability tools. I can see the Pattern mode becoming the default MIDI editor for many people.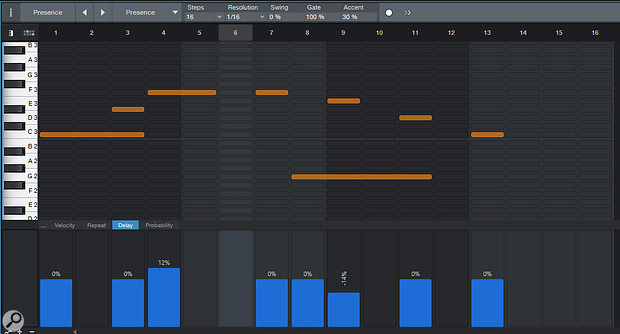 Patterns can now contain tied notes, and there's an easy way to convert MIDI parts to Patterns.
Version 4.6 also brings some cosmetic changes to the browser. Firstly, PreSonus have brought the Shop more prominently into the mix, with its own tab, so if you need additional loops, plug-ins or content, you no longer have to find them via the Cloud tab.
Navigation is also improved, with a 'breadcrumbs' bar at the top of the browser so you can move in and out of folders with ease. This is especially useful if you're browsing in the new Gallery view. An alternative to the folder tree view, Gallery view gives us a dynamically resizing grid of thumbnails. It is particularly applicable to the Shop, but also gives Instrument and Effect browsing an attractive new look. Do remember to update the thumbnails on your third-party plug-ins if you'd like them to appear nicely in the Gallery.
Exchange is an inbuilt platform where users can share and swap Studio One content. That could be effect chains, presets, drum maps, grooves, extensions, soundsets or macros. The new Exchange 2.0 reawakens this idea with a new online custom browser where you can create your own profile and landing page for anything you want to offer up to the community. You can still browse and install things directly within the browser in Studio One but the online experience in a standard Internet browser is bigger, livelier and more interesting. It's an element of Studio One that feels under-utilised and, hopefully, this revamp will encourage more sharing.
And as a final note, PreSonus have said that version 4.6 will be the last version to support Windows 7/8 and Mac OS 10.11 'El Capitan'/10.12 'Sierra'.