PreSonus Studio One Tips & Techniques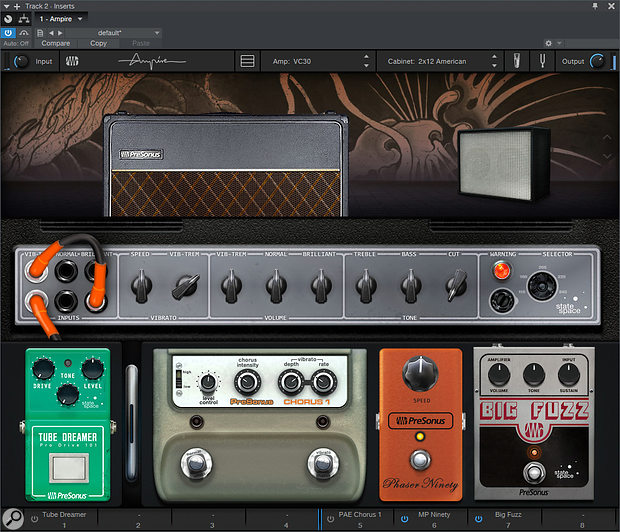 The new Ampire.
PreSonus gave Studio One users an early Christmas present in the form of a free upgrade. Their main focus in v4.6 has been reworking the Ampire amp simulator plug-in, but there are incremental improvements in other areas too.
Ampire used to be one of those handy little plug-ins that you'd drop onto a guitar track for a bit of beef while working on other things. You'd return to it later and replace it with something meatier once the guitars came into focus. Well, PreSonus are not going to stand for that sort of behaviour, and so for version 4.6 they've completely re-engineered the Ampire plug-in to make it far more versatile and full of protein.
PreSonus have gone to town on this plug-in, and it's a huge upgrade on the original. All that seems to remain from the first version is that the mouse cursor still changes into the 'sign of the horns' heavy metal hand gesture when you hover over the Ampire logo (nice). Otherwise, it's almost all new code and far superior graphics.
Five new amplifiers have been modelled using PreSonus's 'State Space Modeling' technology, which captures the behaviour of circuits right down to component level. PreSonus don't like to mention them by name, but it doesn't take a genius to work out that the MCM800 is a Marshall JCM800, the VC30 is a Vox AC30, the Blackface Twin is a Fender Twin, the Dual Amplifier is a Mesa Boogie Dual Rectifier and the Amp STV is an Ampeg SVT bass amp.
The look, features and controls of each amp are fully realised within Ampire, even down to the separate input jacks for different channels. The VC-30, for instance, has Vib-Trem, Normal and Brilliant channels, each with separate low- and high-sensitivity inputs. You can plug into whichever channel you...
You are reading one of the locked Subscriber-only articles from our latest 5 issues.
You've read 20% of this article for free, so to continue reading...
Buy & Download this single article in PDF format

£1.00 GBP

$1.49 USD


For less than the price of a coffee, buy now and immediately download to your computer or smartphone.

Buy & Download the Full Issue PDF
Our 'replica SOS magazine' for smartphone/tablet/desktop. More info...

Published March 2020