Doug Rogers of EastWest celebrates 25 years at the top
Founded in 1988, Doug Rogers' EASTWEST company pioneered the creation of realistic, playable sample-based instruments — 25 years on they remain the undisputed market leader.
Every time you hit a key on a controller and hear a snare drum, flute, piano or oboe, you can thank Doug Rogers and Adam Smith. Smith because the classical economist so elegantly elucidated how the market will organically find the solutions it needs, and Rogers because he equally elegantly not only figured out how to get those instruments into your computer but also realised that you wanted them there in the first place.
Rogers settled his family in the States in 1984, mostly in Los Angeles where they live now, after a few years of really, really long back-and-forths between there and his native Auckland, New Zealand's largest city, where he worked in his Harlequin Studios engineering and producing hits for local artists who managed to break through the distance Down Under, like Split Enz. It was an era before computers were commonplace in studios and sampling was both a complicated affair and regarded as a bit of a dodgy practice, as well.
Released in 1990, EASTWEST's first 'celebrity engineer' collaboration was an instant hit.
'People were sampling bits of records and it was looked down upon by a lot of people as a kind of stealing,' he recalls of sampling's early days, when riffs and vocal bits were grabbed onto tape, digitised and triggered from early playback devices from companies like Akai and Emu. But I could see it coming,' he says of the looming shift to digitised instruments. 'It was as clear to me as the shift from typewriters to computers. That's where instruments were headed, too.'
Before EASTWEST was formed, Rogers and a few other engineers and producers were collecting their own sample reels of drum sounds on an ad hoc basis, largely using original recordings of their own that sidestepped copyright issues. But it occurred to him that if he found a need for such sounds, others likely did so, too, and what had been a cool trick could become an equally cool and profitable product. EASTWEST was formed in 1988, 25 years ago, around a single product, The Pop/Rock Drum Sample Collection, the world's first commercial drum samples collection, on the then still-relatively new Compact Disc format.
The idea of commercialised drum sounds was in fact so novel that no one knew quite how to market it. 'Music stores told me that they don't sell CDs and record stores said they didn't sell professional audio products,' Rogers remembers. Finally, after marketing them through the classifieds in local L.A. music papers, he went into the Guitar Center store in Hollywood and asked them to let him leave a box of the CDs on their counter. 'They said, fine, we'll call you in week or so and you can pick up the ones that are left over,' he says, fully expecting that to mean most of them. Instead, he got a call later that afternoon telling him they had already sold out, at $99 per disc. Along with a positive experience at the 1990 AES Show in Los Angeles where he sold out of his first run of CDs, he says, 'That told me that there was a real market for this.'
Doug Rogers in the studio with Ken Scott (top) and Mark 'Spike' Stent.
But the idea really took off when Rogers realised he needed some star power to take the concept to the next level. He made a list of engineers whom he considered the best in the world at getting drum sounds, a list headed by the producer/engineer Bob Clearmountain. 'I figured I'd start at the top of the list and work my way down,' Rogers says. 'I never thought I'd get a yes on the first try.' But he did. Clearmountain loved the idea and started working with Rogers recording sounds, working mainly at A&M Studios with some side trips to Bearsville Studios in Woodstock, New York. Released in 1990, it went on to become a best seller in a burgeoning industry sector. Rogers and Clearmountain followed the first release with two more that were equally successful; the third release included multiple velocity drum samples for the first time.
It was also the beginning of the 'celebrity' sound products and led to collaborations over the years with producers/engineers including Mark 'Spike' Stent, Joe Chiccarelli, Ken Scott, David Fridmann, Keith Johnson, Shawn Murphy, and many artists including members of Prince, Aerosmith, Cars, Steely Dan, Journey, Billy Idol, BT, Public Enemy, Grateful Dead, and Porcupine Tree's eclectic Steven Wilson. At the same time that Rogers was ramping up his business, the technology of sampling was rapidly evolving. When he started out, affordable samplers offered only low resolution; the alternative were dauntingly expensive machines like the Fairlight and Synclavier, which, he notes, often required a second mortgage on a home, 'And that's something that more than a few people did,' he adds. In 1991, Rogers released the first sample collection to include MIDI-driven loops, which enabled users to adjust each loop tempo in their sequencer without adjusting pitch or decreasing the quality of the samples. Subsequent products introduced new concepts such as construction loops, released in 1993 and which enabled users to mix and customize the components of each loop to fit their music. With sampling technology continuing to improve, Rogers released the Ultimate Piano Collection in 1995, the first multi-velocity sampled piano collection, which received numerous industry awards including Sound On Sound's own 5 Star Award.
The technology was changing quickly but so was the business of sampled instruments. But instead of jumping into a kind of tech-and-market-share war that has led other technology sectors into unfortunate races to the bottom, Rogers made deals early on with developers in other regional markets, such as Zero–G in the UK and Best Service in Germany, distributing their sample products in North America and letting them distribute his in their markets. In the case of both Zero G and Best Service, the relationships with EASTWEST are still in place.
But competition was also a way of monitoring the evolution of sample libraries as the market began to fragment along genre lines. For instance, Rogers noticed that Zero-G was moving into what he calls 'crunchy dance licks,' the forerunners to what we now recognise as beats, the building blocks of urban music. Meanwhile, he kept his company focused on stretching where the technology would let him go. As the technology improved, he shifted his carrier format to CD-ROM, which paired well with the emergence of more affordable CD quality playback units from Akai, Emu, Kurzweil and Roland that could play the samples back directly from the CD-ROM, with added programming options.
EASTWEST had their own genre–based products, but as with his distribution strategy, Rogers used relationships to broaden his product range. In the early 1990s, he worked with engineer David Frangioni with his Dance/Industrial loops collection, which was the first sample library to include an additional floppy disk of sequences to trigger the samples. 'I asked David to not just sample conventional drums, but to go and sample actual industrial machinery in factories that had rhythm to get those kinds of sounds,' Rogers recalls. Trent Reznor and Nine Inch Nails was just coming on the scene at that time and industrial sounds were on the rise. The timing was very good.'
One of the biggest breakthroughs in sampling technology came in the mid 1990s, also as a result of a creative partnership. Rogers got a call from Jim Van Buskirk, at the time a software engineer working for American aerospace contractor Rockwell in Texas. 'Jim called me and said I've got something really interesting to show you,' Rogers remembers. 'I was getting calls like that often so I said tell me more about it.' Van Buskirk demurred, saying Rogers had to see it to believe it. 'I said I'm not flying all the way to Texas to be disappointed.' Instead, Van Buskirk sent Rogers a video that showed how he had developed a way to stream samples using a combination of RAM and hard drives. 'RAM is tiny compared to hard drives for storage, but hard drives have inherent latency issues (the delay between when a key is hit and the sample is reproduced),' Rogers explains. 'What Jim did was load enough of the sample into RAM to overcome latency, with the rest of the sample data streaming from the hard drive. I knew this was a huge breakthrough and got on a plane to Texas the next day.'
Nick Phoenix (left), with whom Doug Rogers has collaborated, under the Quantum Leap banner, since 1997.The trip resulted in an exclusive relationship between EASTWEST and Van Buskirk's company Nemesys, which in 1997 produced the GigaSampler software and pioneered the use of what Rogers describes as 'streaming from hard drive technology,' which he says created the basis for the virtual instrument business to move to its next level because of the far greater level of detail and expression it enabled.
Also around 1997 Rogers was approached by Nick Phoenix to distribute a Guitar and Bass CD-ROM Phoenix had produced. Rogers was very impressed with the quality and this led to a 16-year relationship that continues today. The products produced by Rogers and Phoenix under this relationship were released under the Quantum Leap brand, an imprint owned by EASTWEST, and the resulting collection of products are the most widely used by professional composers and the recipient of more international industry awards than all competitors combined.
As sampling technology continued to improve, Rogers and Phoenix were able to tackle increasingly complex instruments, particularly orchestral instruments, choirs, and pianos, which he says are the most difficult to sample with enough realism to fool the average listener. In 2003, he co-produced with Phoenix the first surround-sound virtual orchestra, Symphonic Orchestra, engineered by 11-time Grammy-nominated classical recording engineer Prof. Keith O. Johnson, and recorded in a 2500 capacity concert hall in Seattle, which garnered more accolades, including the Game Audio Network Guild's 'Best Sound Library Award.' And Sound On Sound's 'Readers Choice Award' plus numerous other awards.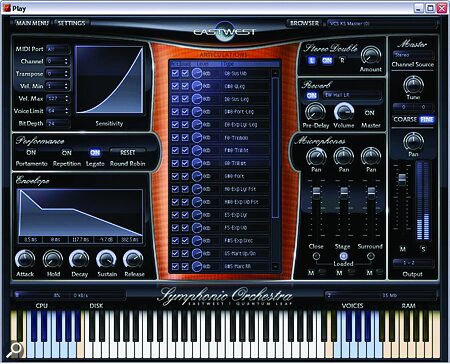 2003's Symphonic Orchestra was the first surround-sound virtual orchestra.
Then came the human voice, perhaps the most complex instrument of all. Symphonic Choirs and its predecessor, Voices Of The Apocalypse, were the first music software products to enable users to type in words for the choirs to sing in any key, and remain the only products capable of this innovation today. This was followed with EASTWEST/Quantum Leap Pianos, the most detailed virtual piano collection ever produced. In 2005, Rogers also established a software development division for EASTWEST and released the first 64-bit software to play virtual instruments, which once again raised the bar.
Quantum Leap Pianos — the most detailed sampled piano collection produced so far.
Around the same time Rogers says it was getting increasingly expensive to create the detailed virtual instruments that met his and Phoenix's expectations of quality. When multi-velocity virtual instruments are combined with a lot of articulations and true legato (connecting notes), the scale of the projects became massive; for instance, he estimates that EASTWEST's Hollywood Strings collection is comprised of over 800,000 individual samples -- a single instrument will have many dynamics and articulations and up to 5 user controllable microphone options. (An interactive example of microphone placement options can be found at www.soundsonline.com/Symphonic-Orchestra) He was camping out for months at a time in recording studios around Los Angeles and became concerned that he might have to limit certain types of particularly ambitious projects because of the cost.
As Rogers mulled these issues over during his commutes to work, he would drive past 6000 Sunset Blvd, the site of Western Recorders, an iconic studio complex originally founded in 1961 by Bill Putnam, who also founded Universal Audio and developed celebrated products like the Urei 1176LN limiting amplifier and Urei Time Align monitors. The facility had fallen into bankruptcy after undergoing a series of other identities under several owners. In 2006, Rogers bought it, equipment included, for $4.9 million, then put what he says was at least that much again into restoring it, a process guided not by one of the usual brand names in studio architecture but by noted interior and industrial designer Philippe Starck, best known for his work on hotels like the Mondrian and SLS in LA, the Royalton and Hudson in New York, the Delano and SLS in Miami, and the Sanderson in London, plus literally dozens more.
Rogers says the project was perhaps the most daunting of his career. 'I owned studios in New Zealand for more than 10 years so I knew what I was getting into, but it was still just such a huge undertaking,' he says, citing massive flood damage to the interior (though not to the studios) and current building codes that required huge capital outlays to conform to. He even had to doggedly pursue Starck, who had never done a recording studio project before (or after) and initially seemed puzzled by the idea of it.
EASTWEST products have won a host of awards over the years — this one, presented to Doug Rogers by video-game composer Tommy Tallarico, is for Symphonic Orchestra.But the effort was worth it. The real estate alone justifies the entire investment, raised in value by the post-recession recovery of the property market and by Technicolor, Emerson College, and other major media companies locating their new facilities next door. Plus, the studio is available for rental when EASTWEST projects are not going on, and those clients combined for a total of 16 Grammy nominations during the last awards cycle. And, says Rogers, there's more than a little satisfaction in having rescued one of the last great Hollywood recording studios. 'It's definitely a good feeling,' he says.
However, the irony of having rescued one of the 'temples of sound' as described in the book of the same name, to house an enterprise that arguably contributed to the demise of the big-studio culture is not lost on Rogers. 'I understand the argument that [virtual instruments] may have put some musicians out of work, as all advances in technology have a human impact on all industries, but my experience is that if budgets allow for the use of live musicians, producers still prefer that,' he responds, adding that there is reciprocity here: no matter how many awards clients may win, their revenue alone could never support the studio operation – it's the virtual instrument recording sessions and the resulting products that actually accomplish that.
Doug Rogers: Our strategy could be boiled down to a few phrases -- find what's missing in the market as music changes, then do it first or do it better.
But perhaps as virtual instruments continue to improve they are approaching an inflection point of their own. Rogers says the mandate from the market is to make virtual instruments ever more realistic, with even more detail. 'There are people who are getting quite amazing in their ability to use these, and they place greater demands on what the instruments can do,' he marvels. 'And we can do that, as computers become more powerful and we move to devices like solid-state drives. We're approaching the point here where we can do whatever we want technically.'
In fact, Rogers continues, our strategy could be boiled down to a few phrases -- find what's missing in the market as music changes, then do it first or do it better. 'That's the criteria, it's that simple,' he says. 'You're only restricted by the technology and your imagination...'
Doug Rogers was talking to Dan Daley