BandLab Machines division created, launches affordable Link series
The people behind the BandLab online music creation platform are launching their own range of affordable USB audio interfaces under the new BandLab Machines brand. With prices starting at just $39.99, the BandLab Machines Link series features three entry-level interfaces designed to be reliable, ruggedly built and easy-to-use. 
The three new devices are have been made to let you immediately start recording into your phone or computer without any hardware installation or set-up required. The initial product lineup consists of three audio interfaces: the BandLab Link Analog (a single input analogue audio interface), the BandLab Link Digital and the BandLab Link Digital Duo (digital USB audio interfaces with single and double inputs respectively).
These new devices have some nice touches. They're designed to sit on a table and don't slide off due to a "carefully balanced weight slug and proprietary rubber foot". The higher models also feature a Neutrik Combo input for jacks or XLR and 48V phantom power.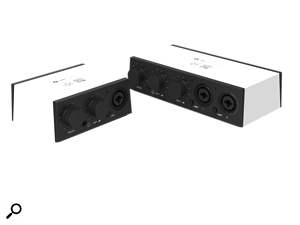 The BandLab Link Digital and Link Digital DuoDescribing itself as an all-in-one social music creation platform, BandLab combines a web browser-based DAW with a range of social tools for sharing and discovering new music and collaborating with other musicians. Just two years old, the platform already has 1.5 million registered users, with six songs apparently being created every minute. The launch of complementary hardware is an indicator of the Singapore-based company's ambitions, though these USB interfaces will naturally work with any DAW. The simplest of the three, the Link Analog provides a single combi XLR/instrument input and gain control, with a stereo headphone out, stereo line out and stereo aux in, all via mini jack sockets. The single-input Link Digital and dual-input Link Digital Duo add phantom power and a master monitor out level control.  
BandLab have been busy in other areas too. A new feature called Tip Jar allows users to support their favourite music creators with voluntary payments or 'tips'. BandLab doesn't take any cut of these payments, which is commendable, though Stripe, the online payment system used to facilitate these user-to-user donations, does extract a small processing fee.
BandLab have also recently incorporated time-stretching functionality into BandLab — using the algorithm from AudioStretch, the company's music transcription and learning tool. AudioStretch is an app for iPhone and iPad lets you slow down audio without altering the pitch and boasts an array of handy features to aid transcription. You can freeze the track at 'zero-speed' for particularly tricky chord voicings, scrub the audio back and forth using your finger to listen note-by-note and shift the pitch up or down by as much as 36 semitones. Other features include video file support and the Spectrum Keyboard, which analyses the audio and displays all notes detected. The AudioStretch iOS app costs $9.99, with a free lite version also available.
http://www.bandlab.com