Featuring analogue synths, piano & 'GuitarViol'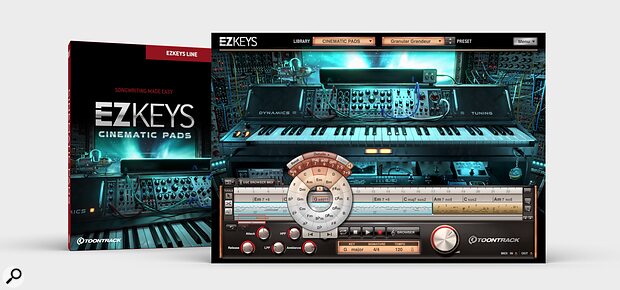 Toontrack have just released a new expansion for their EZkeys virtual keyboard instrument. Cinematic Pads combines a range of sources — from analogue modular synths to acoustic pianos and even a 'GuitarViol' (a bowed electric guitar/cello hybrid) — to provide textures, soundscapes and pads suitable for use by composers, pop and electronica producers, and sound designers.
Included are over 70 'mix-ready' presets, all devised by Toontrack co-founder and Head Of Sound Design, Mattias Eklund. About the new sound pack, Eklund says: "Pad sounds have always intrigued me and been something I've reached for when writing or producing music. That's why I figured it would be an interesting and challenging task to make my very own library from scratch using some of my favorite instruments and synths. With these sounds, just using minuscule musical ideas, simple chord sequences or melodies, you can create huge soundscapes and open doors to your creative self you didn't know existed."
Cinematic Pads for EZkeys is available now, and costs £47 for existing EZkeys owners. As a special introductory offer, you can pick up EZkeys Cinematic Pads, plus one more EZkeys expansion of your choice, for just £129 (offer ends 31st July).
Check out the video below to hear Cinematic Pads in action.
https://www.timespace.com/products/toontrack-ezkeys-cinematic-pads