Aimed at immersive audio monitoring setups
IsoAcoustics have announced the release of the V120 Mount, bringing the benefits offered by their popular isolation stands to wall and ceiling mounting applications such as height channel speakers in immersive audio monitoring setups. The mount features a new patented design based on the technology used in the company's existing product range, which reduces the energy transfer between the speaker and its supporting structure, resulting in improved imaging and clarity.
The V120 is compatible with a wide range of adaptors, offering compatibility with most professional speaker models that are fitted with either side or rear threaded connection points. A standard top plate is included which can be used to fasten the mount directly to a ceiling, or can be removed and replaced with a variety of different optional fixings, allowing the V120 to be mounted on walls, truss systems, or integrated with third-party mounting hardware.
The mount is capable of supporting speakers weighing up to 18.1kg, and offers 360 degrees of rotation along with up to 90 degrees of tilt adjustment via an insertable sliding bracket. A Product Selector application on the IsoAcoustics website provides customers with an easy way to determine which combination of brackets and adaptors they require to configure their specific speaker model for wall or ceiling installation.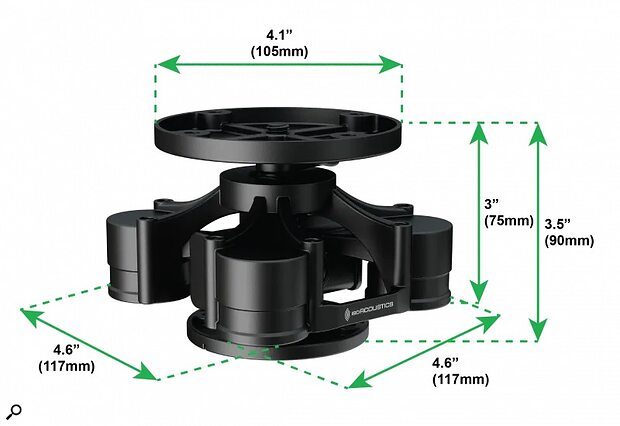 IsoAcoustics V120 Mount dimensions
Pricing & Availability
The V120 Mount is available now, priced at $159.99. Brackets and adaptors are available to purchase separately.
https://isoacoustics.com/pro-audio-isolation-products/v120-mount/