Volca Kick, MicroKorg S & ARP Odyssey Module announced
Korg have announced a swathe of new products: the microKorg S, the ARP Odyssey Module and the Volca Kick.
The first of these is an update to the company's small but powerful synthesizer, the microKorg. Apart from a change in colour, the microKorg S ($499) now sports a set of built-in speakers — a stereo pair plus a woofer. On top of that there's also memory for 64 extra user patches and the preset patches have been updated for more contemporary styles. Finally, there's a useful live-focused 'Favorite Select' function that gives you quick access to eight of your favourite programs.
Following last year's well-received recreation of the legendary ARP Odyssey, Korg have also announced a new version of the synth, packing all the same circuitry and functionality into a tabletop module. 
The ARP Odyssey Module ($599) is, as you might expect, a keyboard-less version of last year's reissue. The big difference is that the module supports MIDI pitch bend input, a notable omission on the keyboard version. While the original synth's PPC (Proportional Pitch Control) pressure pads are still present, users will also be able to use the more familiar pitch bend wheel on a MIDI controller keyboard. Available in white MkI or black-and-orange MkIII livery, the module promises to deliver the same authentic duophonic sound and wealth of modulation options. Once again it offers the choice of three low-pass filter types, based on the MkI, MkII and MkIII revisions of the original synth, with the addition of an optional drive circuit to add more aggression to the Odyssey's traditional palette of sounds. The module features a steel chassis with plenty of connection options at the rear, including MIDI in and USB MIDI ports, an external audio input and CV, Gate and Trig input and output jack sockets.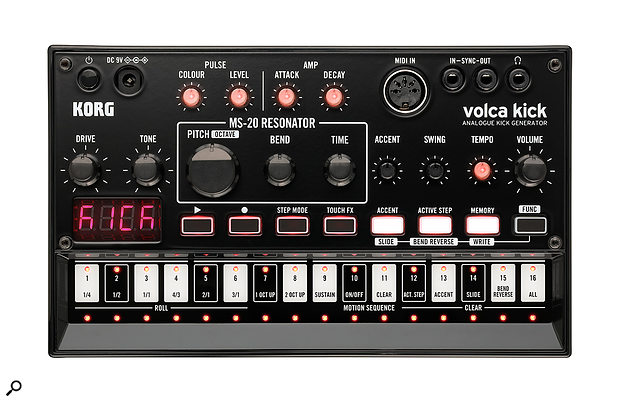 Meanwhile, the new Volca Kick ($159) promises powerful kick drum and kick bass sounds, generated by analogue circuitry based on the original Korg MS-20 filter. Instead of a sine wave, the basis of the kick sound is the self-oscillation of the filter when the resonance is increased to the maximum. Attack and decay controls let you adjust the amp envelope, while pulse colour and level controls and a separate analogue distortion circuit with drive and tone knobs let you shape the sound. This pocket-sized synth packs a lot into the now-familiar Volca form factor, including a surprisingly sophisticated 16-step sequencer that offers pattern chaining up to 256 steps, control automation and a variety of tools designed for live performance. Naturally, the Volca Kick can be sync'ed with the rest of the Volca range and other Korg synths and grooveboxes or controlled via the MIDI input.
http://www.korg.com/uk/