Build your own oscilloscope
Korg have announced the release of the Nu:Tekt NTS-2 kit, a DIY pocket-sized four-channel oscilloscope that also features a waveform generator, spectrum analyser and tuner functions. Bundled with the kit is a new Patch & Tweak with Korg book from Bjooks, a guide to semi-modular synthesis with tips, tricks and more than 25 new exclusive interviews with Pete Townshend, Jean-Michel Jarre, Richard Devine and more.
The NTS-2 comes in kit form, and can be built with no soldering. Dual stereo inputs allow four signals to be studied at once, with users able to compare and overlap them. A variety of display modes allow data to be viewed in colour, with a clear interface and dedicated menu buttons aiding quick and simple operation. An FFT (Fast Fourier Transform) mode powers the on-board spectrum analyser, providing users with real-time analysis without the need for a computer or expensive hardware. A Wave Generator mode features two oscillators with dedicated outputs, each capable of generating a variety of waveforms - sine, square, triangle, sawtooth pulse and noise - with adjustable shape and phase. These oscillators can either be used in the audio range or as control voltage sources, and are able to cycle continuously or act as one-shot impulses, allowing them to be used as LFOs, envelopes, triggers, and control voltage generators in addition to sound sources. Lastly, the device is also equipped with a precise tuner with multiple display modes.
Power is provided either via a USB-C connector, or two AA batteries.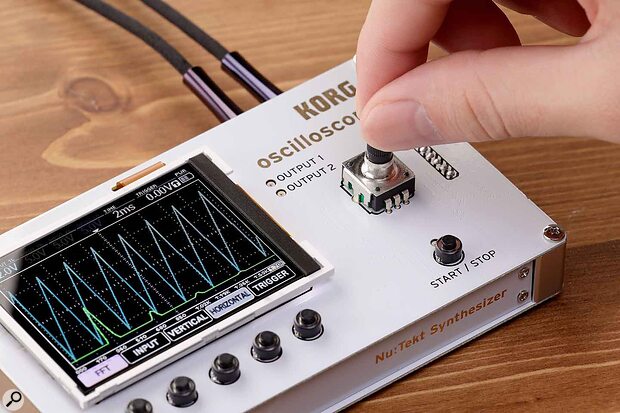 The Nu:Tekt NTS-2 kit will be priced at £165, with availability yet to be announced. More information can be found over at Korg's website.
https://www.korg.co.uk/nts2