Enhancements to flagship DJ gear
Rane Seventy-Two MkII DJ mixer.
US company Rane has announced significant updates to its flagship Seventy-Two MKII DJ mixer that include adding an external adjustment for crossfader tension and switching the standard faders to three new ultra-light Mag Four faders. These refinements improve the tactile feel of using the controller while DJs can further customise the parameter controls to act as either Silent Cue, Instant Doubles or Sync control. Additionally, the DVS input option has been expanded to now include an Aux input as well as a Phono/CD input for more flexible set ups. In other respects the build and feature set adhere to the original with an all-steel chassis and 16 MPC-style trigger pads.
The 4.3-inch Touchscreen display shows a moving wave display, FX control, song selection and user settings. Inside there are dual Flex FX engines, one for each channel. There's RCA Phono and balanced XLR connectivity, dual balanced mic preamps and USB controller inputs that allow hook-up to the Rane Twelve Battle Controller. Included with the Seventy-Two MKII are licences for Serato DJ Pro DVS, Pitch 'n' Time and Serato DVS Vinyl. The updated features can be added to older machines via the next firmware update and the new Mag Four faders may also be purchased as a retrofit, if required.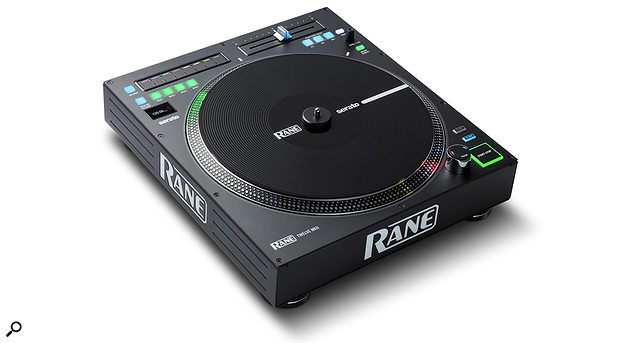 Rane Twelve MkII turntable controller.
Also the recipient of an update, Rane's popular Twelve MkII controller still has a full-size, 12-inch turntable-style interface that aims to replicate the physical characteristics of a traditional turntable, but without the need for vinyl or pickup arms.
Offering a choice of two torque settings, the deck supports 33 1/3 and 45 rpm platter speeds and allows pitch control of 8/16/50% via a precise dual resolution slider. A Motor Off switch allows for authentic slow-down and speed-up effects and the resolution of the turntable is to one tenth of a degree of rotation. In addition to supporting the original Serato DJ Pro, the Twelve MkII's control capabilities can now also be used with Traktor and Virtual DJ via USB MIDI or DVS Audio or a combination of both. There's also a new plunger-style Start/Stop button, plus the capability to implement instant doubles and Scroll/Load. Other highlights include a new OLED screen, a Dual Mode Strip for Track Search and eight Hot Cue triggers. Finally, a USB MIDI interface supports connection to the Seventy-Two MKII or a computer. 
https://www.rane.com