Flagship audio interface upgraded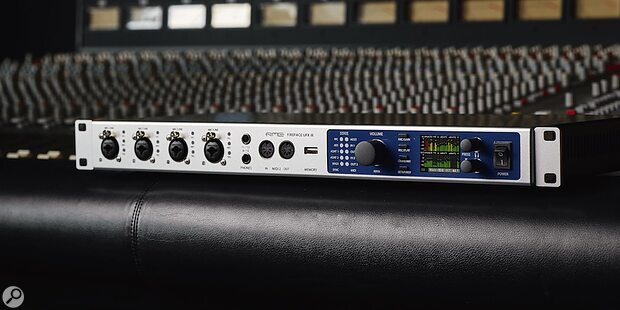 RME have announced the launch of the Fireface UFX III, a new 24-bit/192kHz USB 3.0 audio interface that offers a total of 94 inputs and 94 outputs. The successor to the Fireface UFX+, this latest device boasts a range of enhancements including improved A-D and D-A converters and DC-coupled analogue outputs, as well as utilising SteadyClock FS, the company's latest digital clocking and jitter suppression technology.
I/O
The Fireface UFX III extensive collection of I/O. Four XLR/TRS combo sockets on the front panel provide connectivity for analogue microphone, line-level and instrument signals, whilst eight analogue line-level inputs and outputs are available on the rear panel, all utilising quarter-inch TRS sockets with the exception of the first two outputs, which are provided on XLRs.
Each of the line-level outputs are DC-coupled, allowing them to be used to send CV and Gate signals to equipment such as modular synthesizers. An additional pair of quarter-inch TRS sockets on the front panel offer a pair of stereo headphone outputs, and also double up as unbalanced stereo line-level outputs, with a maximum signal level of +19dBu.
A wealth of digital I/O is available, with the interface boasting two pairs of optical ADAT I/O on four Toslink connectors, an AES/EBU input and output on a pair of XLR sockets and 64 channels of MADI Optical I/O. The ADAT connections can also be configured to accept optical S/PDIF signals, and a pair of BNC connectors are also capable of offering either Word Clock I/O or a redundant Coaxial MADI connection. Both the front and rear panels also house separate MIDI inputs and outputs, all of which are provided on five-pin DIN connectors.
Connection to a host computer is provided over USB 3.0 via a USB-B port, and a USB 2.0 mode is available, which supports the transfer of all of the analogue and digital connectivity with the exception of the MADI I/O. a USB-A connector is also present, and can be used to connect RME's optional ARC USB remote control unit. The device features a built-in PSU, and accepts mains power via a standard IEC inlet.
In addition to its driver-based USB and standalone operation modes, the device is the first RME interface to offer full class-compliant USB 3.0 support, and is capable of providing all 94 channels of I/O to Windows, macOS and Linux systems without the need for a driver. It can also be used with an Apple iPad, where the class-compliant mode will allow the interface to be controlled via the TotalMix FX iPad app.
The Fireface UFX III's rear panel.
DURec & TotalMix FX
The Fireface UFX III is equipped with RME's DURec (Direct USB Recording) feature, which allows up to 80 of its inputs and outputs to be recorded directly to, and read from, a USB storage device connected to a port on the front panel of the interface. This makes it possible to create simultaneous backups whilst recording to a computer via USB, make standalone recordings of live performances or rehearsals, and carry out virtual sound checks at live venues. Track names can be assigned via TotalMix FX, simplifying the process of transferring the files to a DAW for editing.
The interface comes supplied with RME's popular TotalMix FX control software, which offers comprehensive control over all of the unit's inputs and outputs, offering features such as channel routing, zero-latency monitoring of inputs during recording and the creation of unlimited submixes. On-board DSP powers a range of effects and processors, with every input and output channel able to utilise a range of EQ and dynamics processors, as well as reverb and delay send effects. a Loopback function also allows any output or submix to be rerouted internally as a new audio input.
Specifications
A-D Line Inputs
Frequency response 44.1kHz: -0.1dB at 8.9Hz & 20.4kHz
Frequency response 96kHz: -0.5dB at 4.3Hz & 45.2kHz
Frequency response 192kHz: -1dB at 3Hz & 89kHz
THD+N @ -1 dBFS: < -110 dB, < 0.00032 %
Signal to Noise ratio @ +4dBu: 115 dB (AES17), 117 dBA
A-D Microphone Inputs
Input impedance @ 1 kHz: 3.4kΩ
Gain range: 75dB
Frequency response 44.1 kHz: -0.1dB at 10.7Hz & 20.3kHz
Frequency response 96 kHz: -0.5dB at 5.1Hz & 45.0kHz
Frequency response 192 kHz: -1dB at 3.5Hz & 88kHz
THD+N @ -1 dBFS, Gain 20dB: < -110 dB, < 0.00032 %
Signal to Noise ratio @ 0dB Gain: 117dB (AES17), 119.5dBA
D-A Line Outputs
Frequency response 44.1kHz: -0.1dB at 0Hz & 20.2kHz
Frequency response 96kHz: -0.5dB at 0Hz & 44.6kHz
Frequency response 192kHz: -1dB at 0Hz & 77.5kHz
THD+N: < -110dB, < 0.00032 %
Signal to Noise ratio @ +4dBu: 116 dB (AES17), 118dBA
Pricing & Availability
The Fireface UFX III is available now, priced at $3199£2727 including VAT.
https://www.synthax.co.uk/rme/firewire-usb/rme-fireface-ufx-iii