Birmingham festival welcomes Thomas Dolby, Scanner & more
Richard Barbieri gives a presentation at The Seventh Wave Festival of Electronic Music #2On July 7-9, Birmingham will welcome The Seventh Wave Festival of Electronic Music for their third outing. The festival has a very limited capacity — only 100 —  yet manages to attract some big names in electronic music. Previous guests include Wolfgang Flür (ex-Kraftwerk), Andy McClusky of OMD and Martyn Ware (Heaven 17), making this a fantastic opportunity to actually meet electronic music masters.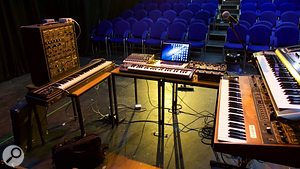 Richard Barbieri's live rig. He's been gigging with the Roland System 700 for 41 years.Festival of Electronic Music: Number Three will see Thomas Dolby making the UK launch of his new memoir The Speed of Sound, and give a reading from it. Taking place on July 7th, you can expect an evening of stories and music. 
The following evening, is An Evening with Richard Barbieri. The synth and keyboard master, formerly of Japan is an active member of Porcupine Tree and has recently had critical success with Planets + Persona, an album released under his own name. The evening will comprise a live performance followed by a masterclass and Q&A session.
The final night of the festival sees Robin Rimbaud (aka Scanner) give a live performance followed by a presentation and Q&A. Scanner, of course, gets his name from the use of cells phones and police scanners in his performance, so this will certainly be one to catch. 
Tickets can be purchased for individual events from theticketsellers and Skiddle.