Longest distance offered by a digital wireless system
Sound Devices have announced the launch of two new additions to their Astral series of wireless audio systems, the A20-Nexus Go receiver, and the A20-TX transmitter. Packed with a range of the company's proprietary technology and offering global tuning capabilities, the system is said to offer a portable and rugged solution for live and recording applications anywhere in the world.
A20-Nexus Go
The A20-Nexus Go is a portable four-, six- or eight-channel wireless receiver that has been designed specifically for mobile rigs and fast-moving productions. Sound Device's SpectraBand technology allows users to quickly locate clean frequencies, and a tuning range of 169 to 1525 MHz allows it to be operated anywhere in the world. An AutoAssign function makes it simple to assign transmitter packs to available frequencies, whilst the company's GainForward system allows transmitter gain to be controlled remotely from the receiver.
As with all of the company's equipment, the A20-Nexus Go has been designed to offer outstanding technical performance, and offers a full 10Hz to 20kHz audio bandwidth. It is also said to offer the longest transmission distance of any digital system on the market, as well as boasting excellent rejection of interference.
A DB25 connector provides eight channels of microphone, line-level or AES outputs, and an A20-QuickDock system allows the receiver to be quickly attached (and removed) from the company's 8-Series mixer/recorders with no tools or additional hardware.
A20-TX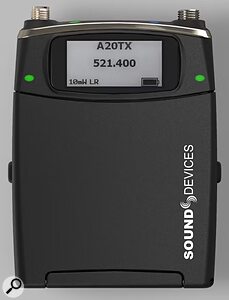 The A20-TX has been designed specifically to integrate with the Astral series receivers.The latest transmitter to join the Astral series has been designed to work seamlessly alongside the range of receivers. It is powered by three AA batteries, offers up to 12 hours of operation on a single charge, and features a built-in charger with a USB-C connector to allow the use of rechargeable batteries. An ePaper screen provides a clear display that can be read in sunlight, and can remain functional when the transmitter is powered off.
A LEMO input connector supports a range of connections including two- and three-wire mono lavalier, balanced microphone or line-level, AES3 and AES42. It can also accept instrument signals via an optional Smart Guitar Cable. The A20-TX features a built-in 8-Series microphone preamp that boasts a dynamic range of 140dB, and an ultra-quiet lavalier preamp with a 134dB dynamic range figure. The unit can also provide either 12 or 48 V phantom power.
In addition to its functionality as a transmitter, the device is also kitted out with an onboard 32-bit floating point recorder, allowing it to record 48kHz audio files directly to a micro-SD card.
Pricing & Availability
Both new units are available now, with the A20-Nexus Go priced from $8495 and the A20-TX costing from $2450.
https://www.sounddevices.com/astral/