Granular ambient reverb effect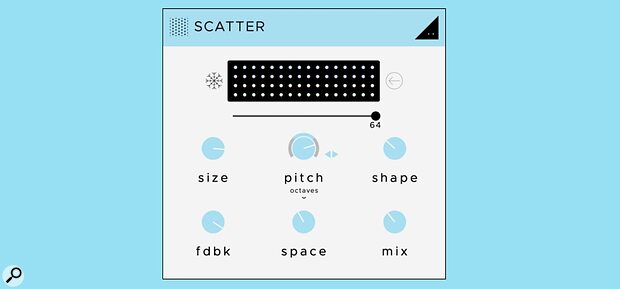 SoundGhost have announced the release of a new effects plug-in which they describe as a 'granular cloud generator'. Dedicated to creating atmospheric soundscapes, Scatter is capable of generating up to 64 individual loops from an incoming audio signal which are then subjected to a range of processing in order to create a variety of reverb and freeze effects.
The amount of loops (or 'grains') generated can be controlled by a slider, which is placed below a visualiser that displays each individual grain as a dot, with the brightness of the dot representing the grain's amplitude. SoundGhost say that a higher number of grains will produce smooth reverb sounds, whilst a lower number will result in Scatter creating sporadic randomised patterns.
Some pitch-shifting of the processed sound can be introduced with the plug-in's Pitch parameter, which allows the grains to be locked to specific pitches (with chromatic, octaves, fifths, major, and minor transposition modes available) or randomly modulated, and manipulation of the grains' amplitude can be achieved via a Shape knob. A Space parameter then provides an additional reverb which can be applied to the processed sound, whilst a Feedback control routes the grains back into the plug-in's audio buffer to facilitate longer decay times.
Check out the video below to hear Scatter in action.
Compatibility
Scatter is supported on PCs running Windows 8 and above, and Macs running macOS 10.12 and higher, with both Intel and Apple Silicon chips natively supported. It is available in VST3 and AU plug-in formats. There is no AAX version, meaning that the plug-in cannot be used within Pro Tools.
Pricing & Availability
Scatter is available now, and is currently (30 January 2023) being offered for an introductory price of £39 including VAT, reduced from £49 including VAT.
https://soundghost.net/product/scatter/