The MPC Studio provides an affordable middle ground between Akai's software and hardware MPCs.
The MPC has reclaimed a lot of lost ground in the last four years, thanks to the excellent standalone workstations, MPC X and Live. More recently, a very capable free version of the MPC software, dubbed MPC Beats, has brought new users to the MPC platform. This may have been an effective gateway drug strategy: if you've been hooked into MPC as a plug‑in, the natural next step would be to add a dedicated hardware controller.
Studio is Akai's next‑generation hybrid MPC, a pure controller that acts as a hardware front end to the MPC desktop software and plug‑in. MPC and MPC Beats actually have generously open MIDI control mapping capabilities, and factory templates for other popular controllers, but it's always hard to match the integration of a purpose‑designed tactile surface with control sets, workflows and visual feedback aligned with software.
My first impressions of the MPC Studio were really positive, it's an attractive and low‑profile slab, it feels really good and seems solid and well built. It has my favourite set of physical properties for a hybrid controller: it slots tidily between a keyboard and computer display, is powered by USB, and fits in a bag. It made me excited to get stuck into playing it.
The MPC Studio comes as a combined hardware and software package, with the full version of the MPC software, a library of kits, instruments, loops and samples and the complete suite of virtual instruments you get with any other MPC. In fact there are a number of tasty new instruments and effects since the last time we reviewed an MPC: see the 'Force 10' box. The hardware will automatically spring into life any time the MPC app or plug‑in is running on your computer. The Studio relies on your computer system and other peripherals for audio I/O, but it does act as a single‑port MIDI interface via a pair of mini‑jack connectors.
It's a perfectly sized addition to a laptop setup, and the drum pads are the usual MPC quality.
To recap what MPC has to offer, it's a multitrack workstation offering drum kits, sampled and synth instruments, loop launching and sample chopping. It's also a MIDI sequencer, VST plug‑in host and audio recorder! Projects are structured around multitrack song sections called Sequences, which roughly equate to Patterns on a traditional drum machine, but without the length restriction. This is all backed up by a modern, flexible mixing environment that makes MPC a DAW in its own right, even if you only use it as a drum machine plug‑in.
The Software Manager gets all your ducks in a row, including a nice collection of sound packs.Although the MPC Studio is not trying to be an immersive hardware experience in the same way as the standalone MPCs, I thought I'd see how far I could get before I reached for the mouse. The display is small, but it's high resolution and colourful and manages to pack a reasonable amount of information in. I could see I was in Track Select mode and the big data wheel moved me through MIDI tracks. The Browse button is front and centre, and tapping that put me into the Media Browser, showing a scrollable list of all Drum and Keygroup Programs in my library. I discovered that pushing Browser again toggles to a file browser for loading individual samples.
Like all MPCs, the Main button got me back to the default position, and it was pretty easy to figure out that Program Select would let me assign the kit I'd just loaded. Having done that the pads lit up and I could get finger drumming. The pads feel the same as the current standalone MPCs, which is to say excellent, and the whole unit is very stable on the desk when played. Note Repeat of course gets a dedicated button, with repeat rate controlled from the touch strip — a nice innovation compared to the standalone MPCs.
Holding the Tap Tempo button let me set a tempo with the encoder. Next I wanted to set the length of my first sequence, and enable the metronome, but at this point I had to look to the software, as there doesn't seem to be a way to do either of these things from the controller. As you might expect, without the large touchscreen interface of its bigger siblings, the MPC Studio primarily focuses on all things related to performance, with settings and options accessed on the computer.
The transport controls are laid out like on other MPCs, and it's easy to record and build up a beat, overdubbing on to a single drum program track. Browsing the rest of the control layout is kind of interesting, perhaps revealing what Akai believe are the priority controls for a modern MPC user. There's now a Quantize button, giving you direct access to post‑record quantisation in addition to the traditional Time Correction toggle. Pad Mute/Track Mute modes get a dedicated panel button now, which I guess recognises the fact that many people work by building up patterns in a single program and bring channels in and out, more often than arranging with multiple Sequences.
Frustratingly there's little consistency at all between any of the current MPCs with regards to what operations and modes get buttons, and where those buttons go. The Studio does away with Mode buttons altogether apart from Main and Pad Mute. Instead Modes are selected with a modifier and the drum pads. The three standalone MPCs share a shortcut system for accessing modes from the pads, but the MPC Studio assignments are different, which just seems crazy. My muscle memory for jumping to Prog Edit and Sample Edit views now takes me to the Sampler and Looper instead.
For sample editing the MPC Studio provides three dedicated buttons that switch the encoder between Sample Select, Start and End. Control resolution defaults to coarse, but holding Shift allows for fine adjustments. Chopping a sample is handled in the usual way from the pads, with slices edited like any other samples, but if you want to process a sample, assign it, or convert slices to a new kit you'll need to take care of that from the software side.
The MPC software Tracks view, with one of the new Vocal effects.
The most notable things missing on the MPC Studio panel are encoders, or Q‑Links as Akai call them. All other MPCs have four or 16 knobs that can be used for controlling and automating plug‑in and mixer parameters, or for things like sample editing. Even the original MPC Studio had four (as well as a rather more functional screen interface).
On the MPC Live, I tend to use the main encoder more than the Q‑Links, although that's because it's easy to target a parameter on the screen. I definitely missed having the bank of knobs for controlling instruments and effects, and for sample editing.
Instead of encoders, the MPC Studio offers a Touch Strip. A mode selector switches the functionality of the Strip away from its default Repeat Rate to other functions like Pad or Program level, Pitch and Mod Wheel. A Notes mode lets you play notes from the strip, and you can define a root, scale, and range. It could be improved by allowing you to hold notes on the pads to strum, as you can do on the Arturia Keystep 37 or NI Maschine.
The strip can also stand in for a single Q‑Link. MPC always manages Q‑Link assignments in chunks of 16, either pinned to a particular function, or fluidly following the current mode or view. Choosing which of the 16 the Touch Strip is controlling is a bit awkward: you need to go into a config mode, pick the encoder, then close an on‑screen dialogue with the mouse. The touch strip works well for most parameters, but when I tried it for sample editing the tracking was too accurate and jittery.
What the strip is really great for are the Touch FX: the MPC Studio equivalent of the X‑Y FX, reworked with new interfaces for single‑axis touch control. Here you can play a suite of MPC performance effects, with the strip both activating and modulating the effect. There are versions of the classic X‑Y effects like Beat Repeat, Beat Sync Filter and Tape Stop, but also some new additions such as Granulator and the excellent Washout.
Without the touchscreen or encoders of the larger, standalone MPCs, you'll need to be comfortable with using the software side to make the most of the MPC Studio. However, the Studio makes a lot of sense if you're already using the MPC/MPC Beats software, or if you mainly want to use MPC as a source of kits, instruments and samples in your DAW projects rather than as a dedicated workstation.
As well as providing a tactile focus of performance and navigation of the MPC software, you can toggle to a customisable general‑purpose MIDI mode for playing other plug‑ins in your DAW. It's a perfectly sized addition to a laptop setup, and the drum pads are the usual MPC quality.
Software development for the MPC platform has been gaining momentum in the last year or so, benefiting all users whether working standalone, hybrid or in the app or plug‑in. We are now up to 2.10, edging close to the big 3.0, which I suspect will bring more parity with the Force, which was running a 3.x numbered OS from launch.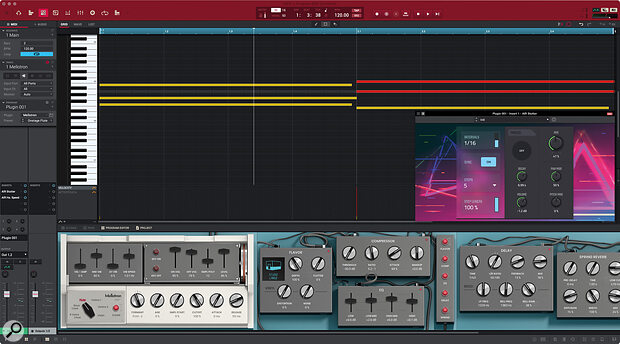 MPC 2.10 adds new instruments and effects, like the Mellotron and AIR Stutter.
The standalone controllers got a great boost with the ability to connect USB audio interfaces, but the main meat of the update is a suite of new internal synths and effects. Adding to the drum synths that arrived in the previous release, there are four completely new instruments. Hype is the huge hybrid synth that powers Force, and has now finally come to the MPC. This is a super‑versatile preset synth which combines virtual analogue, wavetable and sample sources with modulation and effects. Solina is a sample‑based recreation of the classic string synth. Mellotron is what it says it is, combining the classic tape loop instrument with a variety of pedal‑style effects. Finally, Odyssey is an emulation of the much‑loved ARP synth.
Yes, the new vocal tuner plug‑in does THAT effect.There are also new audio effects, mostly from AIR, but also some Akai ones including a cool granular effect. Akai Pro know their market, and have hit on a winner with the new AIR vocal suite, which brings a doubler, harmoniser and a tuner to the MPC. Yes, the tuner will do the now obligatory hard auto‑tune effect that at this point may never go out of fashion.
With the MPC Studio you are, of course, missing out on the hands‑on experience of the custom touchscreen and Q‑Link UIs that Akai Pro have created for all these instruments, but you do get to enjoy them as they are integrated into the MPC software. The MPC can host VST plug‑ins too, in their own pop‑out window, but the native devices have their own panels embedded in the lower pane of the MPC window.
Pros
Great pads and overall build.
Compact and USB powered.
Touch FX.
Cons
No Q‑Link Encoders.
Layout and Mode shortcuts inconsistent with other MPCs.
Summary
A very desirable little hybrid MPC and desktop controller.