If you want an education in all things audio, could you ask for a more qualified teacher than Alan Parsons?
Instructional videos covering studio techniques aren't rare, but The Art & Science Of Sound Recording (ASSR), has generated an unusual level of buzz, due at least in part to the involvement of co‑writer and presenter Alan Parsons, the engineer behind Pink Floyd's Dark Side Of The Moon and a producer of celebrated records from Paul McCartney, Al Stewart, The Hollies and The Alan Parsons Project.
Parsons has secured supporting interviews from industry big shots including Chuck Ainlay, Erykah Badu, Jack Douglas, Jimmy Douglass, Sylvia Massey, Jack Joseph Puig, John Shanks, Elliot Scheiner and Allen Sides, as well as voice‑overs from Billy Bob Thornton. You may recognise the other co‑writer too: even if you don't know Julian Colbeckr's name, you may be aware of the Keyfax synth guides, the Twiddly Bits MIDI performance files, or the Phatboy MIDI controller, all of which he was instrumental in developing. He's now the CEO of Keyfax New Media, who continue to market the Twiddly Bits libraries, distribute Yamaha's Tenori‑On, and provide instructional books and videos — including ASSR.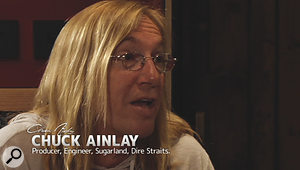 Numerous leading lights in the industry are interviewed as part of The Art & Science Of Sound Recording, not only 'A'‑list producers such as (from top) Chuck Ainlay, Sylvia Massey, and Jimmy Douglass, but also artists such as Erykah Badu.
The 24 video presentations that make up ASSR's 10‑hour duration are available in three forms: web‑based streaming (at $1.99 each); downloadable MP4 files (at $4.99 each); and a complete three‑disc DVD box set (at $149£99) with accompanying leaflet — the last of which I used for this review. The first DVD starts with some recording history and discussion of acoustics, before introducing an array of important studio gear: mics, consoles, control surfaces and computer DAWs. Monitoring is given its own 25‑minute slot, and the DVD is rounded off with a brief overview of MIDI for music work.
A large chunk of DVD two focuses on the theory and application of important signal‑processing tools (EQ, dynamics, delays, reverb), followed by over an hour's coverage of full‑band tracking approaches and vocal recording techniques, as well as a 15‑minute epilogue on the hot topic of Internet‑based recording. Techniques for capturing a wide range of instruments are spotlighted on DVD three: the usual band instruments (drums, bass, acoustic/electric guitars, piano, keyboards, Hammond) are accounted for, and there's a section dedicated to recording a singing acoustic guitarist. The demands of making recordings on location and at gigs are also touched on, before we get stuck into the 50‑minute mixing section. To close, we're treated to some of Parsons' top tips on studio etiquette, session troubleshooting, and disaster management.
Overall, then, ASSR promises a one‑stop music production course, and is clearly aimed as much at the education market as at the general punter. Many of the videos follow the real‑world production process of Parsons' latest commercial single, a song called 'All Our Yesterdays' — you can hear a preview on Amazon if you want to know what it sounds like.
Central to this whole edifice is, of course, the multi‑platinum touch of Alan Parsons himself. Despite his unassailable professional credentials (including seven Best Engineered Album Grammy nominations!), he's a little self‑conscious in front of the camera, but once you get used to this, what shines through is his cheerful pragmatism and willingness to express forthright, and occasionally iconoclastic, personal opinions. No beating about the bush here! To take just one sample from the Microphone section: "There's nothing worse than disrupting a session because of indecision over a mic choice. I've certainly spent many hours with finicky artists trying different vocal mics, all of which sound remarkably similar, and all I have to say is that I felt it was a waste of time. Some feel they need to go through every mic available — ridiculous!"
It's also great that he personalises many aspects of the discussion, sprinkling in hints on mic models and studio setup tips, and generally drawing on his wealth of experience. Choice anecdotes are dropped in, too: studio stories from classic productions; tricks of the trade learnt from legendary engineers such as Geoff Emerick and Glyn Johns; and the odd studio horror story. Despite the famous friends, he avoids taking himself too seriously: he pokes fun at himself throughout, lightening the mood of what is, at heart, fairly technical material.
The interviews are another great strength, partly because they cover a lot of interesting and varied territory: arrangement techniques, vocal coaching, studio etiquette, mixing to stems, the 'loudness' wars... and that's just off the top of my head! However, it also offers great perspective for anyone getting started with production, demonstrating the wide range of personalities and approaches even amongst the most successful professionals.
One good thing about this video series is how it puts many modern recording techniques into a historical perspective, drawing on many archive images of classic sessions and equipment.
Even with the stellar cast, though, there's no escaping the fact that trying to do ASSR's title justice in 10 hours is a tall order: as a developer you either have to start from scratch and assume nothing of the viewer, sacrificing depth of coverage, or you have to assume some background knowledge to focus on in‑depth concepts, at the risk of losing the beginner. For the most part, the former approach has been taken here.
On the plus side, this makes ASSR well targeted for those needing a general‑purpose introduction to the subject — for example, for ab initio recording courses, or for musicians considering recording their own band for the first time. The overviews of each subject area are fairly well‑judged and easy to digest, and frequently touch on important real‑world issues that amateur engineers tend to overlook, such as monitoring technique and session psychology. Regular SOS readers may find the large sections of entry‑level material rather unrewarding, but it wouldn't be true to say that ASSR has nothing to offer more proficient operators.
Keyfax New Media have gone to great pains to spruce up the basic script with all manner of multimedia adornments. I particularly liked the many archive shots of audio pioneers and classic recording equipment, which really brought to life the origins of different processes and techniques. Supporting images of many current products are also wheeled in on cue, and there are numerous digitally‑rendered graphs and 3D diagrams to illustrate more technical aspects of the voice-overs. Animated subtitles occasionally pop up too, adding supporting points or clarifications, and audio examples are, of course, another prominent explanatory tool.
Beyond these educational devices, there's a great deal of post‑production jiggery‑pokery, flipping between different camera angles and introducing visual imagery, presumably in order to retain the attention of those brought up on a diet of fast food and MTV. On the surface level, I felt that the video editors were trying too hard to create visual diversions just for entertainment value, which grated on me after a while, especially because on some occasions where a well‑judged graph/diagram would really have helped, it was too often given insufficient care and attention — the picture wasn't properly explained, it wasn't visible for long enough to take in, or it was simply confusing.
Here, Alan Parsons gives an insight into session planning using a studio floorplan. At the bottom of the screen there's an example of one of the supporting on‑screen captions, in this case defining the studio meaning of the word 'separation'.
I was frequently frustrated by the audio demonstrations. Some are great: the gating and delay examples, for instance, or the individual mic signals showcased in the choir and singing‑guitarist features. But others are compromised on a technical level. For example, when Parsons is sitting at the console building a mix balance and commenting on it at the same time, the spill from his live voice-over mic combines nastily with the monitoring signal from the console. A similar problem occurs when session guitarist Tim Pierce talks about guitar tones, and the sounds in question are swamped in mechanical noises picked up acoustically from his electric guitar through his voice-over mic. More planning would have been needed to avoid things like this, but it's a shame it wasn't done.
I was also a little disappointed by the patchiness of the audio examples. Delay is better demonstrated than reverb, for example, despite the latter's greater complexity. Similarly, gating gets much better illustration in audio than compression — so Parsons spends time explaining the effects of attack time on percussive sounds, when a few audio examples would have made the points more eloquently.
The situation is no better when it comes to mic technique: there's careful isolation and dissection of two different stereo rigs in a location choir recording, but practically nothing on different mic positions for acoustic guitar, drum overheads or piano. You get a little mic action with electric guitar, but no real comparison of different mic sounds, despite a long discussion of combining dynamic mics with ribbons/condensers — even though the subtext of ASSR is clearly 'get things right at source' and there's little advice on fixing dodgy recordings at mixdown. Underwhelming audio examples on a studio‑techniques DVD constitute a bit of an own‑goal, so I hope Keyfax will try to compensate by adding to their supporting web‑based resource pages.
One of the most enlightening things when watching ASSR is experiencing at first hand the way Alan Parsons runs a session, whether full‑band tracking with seasoned pros or vocal overdubs with inexperienced student singers.
Many tutorial videos are no more than the sum of script and presentation, but this isn't true of ASSR. What separates this series from the pack is what emerges from between the lines of the script, by virtue of the viewer effectively being a fly on the wall during real Alan Parsons sessions. We get to see how he deals with his musicians, how he prioritises different studio activities, how long he spends on different tracking tasks, how he does vocal comping, how he builds up a mix and so on. This is the kind of thing that books (and indeed video scripts) usually struggle to convey, so it's great to be able to see it first‑hand as a kind of 'virtual tea‑boy'. The professionalism and personal skills of the session musicians and engineers Parsons works with are also an excellent model for any student of recording. With work experience in professional studios becoming ever scarcer, the next generation of up‑and‑coming engineers need as much of this kind of stuff as they can lay their hands on.
The decision to structure the videos around a commercial production has clear educational benefits, but it's not without problems. The first is that the song choice stylistically biases proceedings in favour of pop and rock; urban, metal, and electronica are pretty much swept under the carpet. It also feels like there's something of a gulf between what Alan Parsons does with a bunch of decent gear and top session musicians, and the everyday realities of the cash‑strapped recording enthusiast. What really brought this home was watching how little processing was applied to the final mix of 'All Our Yesterdays' — a testament to Parsons' tracking skills, but it bears little relation to most amateur recordings I've heard, where more EQ and dynamics control may be required. Clearly, the lesson is that you should get things near perfect while tracking.
One excellent device during the band tracking‑session videos is the use of an on‑screen clock to indicate the session time, giving a realistic impression of studio timescales and priorities.
As you can probably tell, ASSR left me with mixed feelings. The pricing is reasonable as instructional videos go, and the full ASSR package represents fairly good value for anyone taking their first steps into the world of studio production: given the lack of direct competition, many colleges will consider it a no‑brainer purchase. However, if my review has left you undecided about your own buying decision, why not stream a handful of the most interesting‑looking videos first to make sure they deliver what you're hoping for?  
To my knowledge, there's no other self‑contained video series available that can match both ASSR's sleb‑count and its broad subject coverage. The closest thing you'll find is probably the Secrets Of The Pros titles (www.secretsofthepros.com), and while the one I saw seemed meatier than ASSR in terms of content, it's nowhere near as star‑studded. Groove3 (www.groove3.com) provide a range of instruction video titles too, including some from engineers and producers with impressive credits. Although there is a wider range, many of the titles appear to be essentially screencasts, with nothing like the amount of live‑action video content as ASSR.
If you're strapped for cash, why not try the streaming video versions? I'd recommend trying these first:
• Monitoring: Includes some nice bits of history, a look at moving‑coil speaker design, and a good overview of studio monitoring; discussion of stereo imaging and panning; revealing interviews with Allen Sides and Sylvia Massey; some hi‑fi myth‑busting; and some extremely funny 'voxpop' interviews.
• A Band Tracking Session: Probably the best fly‑on‑the‑wall moments. Four great session musicians work with Parsons to develop the arrangement, choose sounds, and record a full backing track.
• Vocals: Excellent advice on session psychology, cue mixing, double‑tracking, and backing vocals, with lots of tips for working with inexperienced singers. Brilliant session footage of recording and comping, as well as lots of great interviews with singers, vocal coaches, and producers. And Erykah Badu: "if you squeeze your ass‑cheeks together the pitch is usually good." Unmissable.
• Guitar: Lots of good basic information about guitars and amps, mic techniques, amp modelling, and guitar arrangement. This is fleshed out by interesting interview material from session guitarists and producers, as well as some nice sections of the 'All Our Yesterdays' overdubbing session.
• Mixing: There's not much specific processing advice here, but it's very revealing observing Parsons' workflow, hearing soloed moments of individual tracks, and realising just how little he's actually needing to do at the mix, due to the work he put in at the tracking stage!
Pros
Alan Parsons and his friends are pros!
Accessible presentation and broad scope well suited to newbies.
Some excellent real‑world 'fly on the wall' scenes give real insight into the professional mind-set.
Lots of great supporting interviews with other high‑profile musicians, engineers, and producers.
Cons
A few technical issues with some audio demonstrations.
There's a pop/rock bias.
Summary
This DVD sets is a good introduction to the enormous subject of music production for those starting out. More experienced studio users working outside the pop/rock remit should probably sample individual downloads in the first instance.