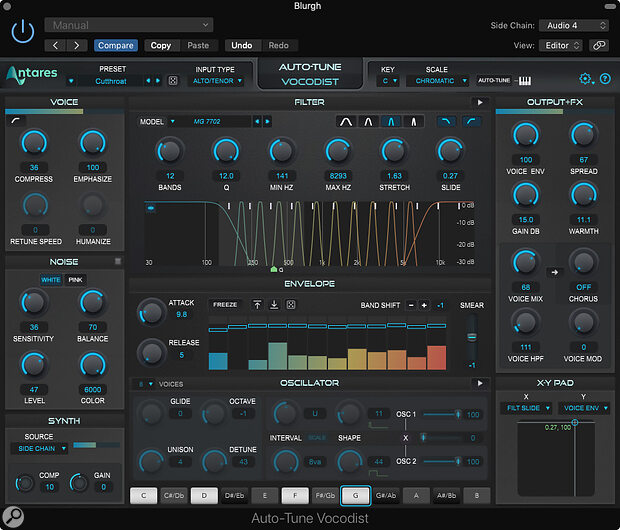 Combining the classic vocoder with Antares' popular pitch processor, this plug‑in is capable of some pretty 'out there' effects.
Antares are famously the inventors of Auto‑Tune, the world's first real‑time vocal pitch‑correction system, and they now produce a range of different plug‑ins that incorporate that technology. Most recently, the company announced the release of Auto‑Tune Vocodist, a seriously comprehensive vocoder plug‑in that incorporates Auto‑Tune, to ensure that the vocal input is optimised for pitch, whether for subtle correction or to use Auto‑Tune as an overt effect. Vocodist is also compatible with the Auto‑Key plug‑in for detecting key and scale.
Vocoders are able to produce an instantly recognisable 'talking instrument' effect by using a voice input to modulate a series of filters which process a musical input. The result is the sort of robotic effect you've doubtless heard on recordings by artists including Daft Punk, Kraftwerk and ELO, not to mention the voice of the Cylons in the original Battlestar Galactica TV series!
Vocodist includes filter models derived from 20 different vintage hardware vocoders, as well as offering a useful degree of largely intuitive user adjustment. It has an internal, MIDI‑playable synth section that can be used as the musical component or carrier signal, or it can accept external sounds via its side‑chain input. The internal synth can also track the incoming voice pitch, if desired. Over 125 artist presets by the likes of P‑Thugg and producer Buddy Ross are included, and there are plans to add more over the next few months. Currently, Auto‑Tune Vocodist is only available as part of Auto‑Tune Unlimited, a subscription service that covers all current versions of Auto‑Tune plus all 11 AVOX vocal effects. (Auto‑Tune Unlimited costs $24.99 monthly, or an annual subscription works out at $18.74 a month, but a free 14‑day trial is available.)
Vocodist goes beyond the classic vocoder sounds — actually, it's capable of some very radical transformations and the only competing product that I've tried which offers similarly 'out there' vocal treatments is Waves Ovox, though the two are pretty different. The vocoder section allows the user to change the number of bands, to set the minimum and maximum frequencies of the bands, to choose from one of four filter shapes and to adjust the Q of the filter response with further controls for Stretch and Slide.
The Envelope section is where the voice is analysed and turned into control signals for the filter bank, and here you can adjust the level of each band, shift the bands up or down and change the attack and release time of the envelope response. A Smear control is also provided, along with a random dice button.
The synth includes an oscillator scale‑transpose function for creating three‑part harmonies.
At the bottom of the GUI is the synth, which can have up to eight voices and two oscillators per voice. The waveform for each can be either sawtooth or a variable mark/space‑ratio pulse wave, with controls for Glide, Octave, Interval and Detuning. The synth control source can be set to MIDI, to follow the pitch of the voice input, or you can use a side‑chain input with the option of adjusting compression and gain. Furthermore, the synth includes an oscillator scale‑transpose function for creating three‑part harmonies — very unexpected in a vocoder, but a pleasant surprise and a useful facility.
A noise section with a choice of white or pink noise and controls for Sensitivity, Balance, Level and Color allows noise to be added to the carrier sound, which can sometimes improve the intelligibility of unpitched fricatives. The voice input, meanwhile, can be compressed, its emphasis can be adjusted and the familiar Auto‑Tune parameters adjusted to change the Retune Speed, Humanize amount, voice type and to select the musical key.
There are also adjustments and effects that can be applied to the vocoder section's output, affecting the envelope, tonality and mix of the signal as well as adding in some chorus. Tools include saturation and ring modulation. An automatable X‑Y pad can also be assigned to various functions such as Filter Slide or Vocal Envelope, to add some in‑flight variation to the sound. If you select MIDI as the pitch‑track source, you can assign any pair of MIDI CC numbers to the X and Y axes. While any of the parameters can be automated within your DAW, Vocodist's X‑Y mapping capability provides a quick and easy alternative.
When you first launch Vocodist, you're offered a walk‑through of its three modes of operation: synth controlled over MIDI, synth controlled from a voice, or external synth source; once you've grown familiar with Vocodist you can switch this feature off, but it does help when starting out, as it takes you through each step of setting up. The user manual is also very detailed and clearly written. Note that Logic users will have to play the now‑familiar MIDI Controlled Effect game via an Instrument track and side‑chain input if using the MIDI input facility, but otherwise Vocodist can be instantiated on an audio track.
It doesn't take long to get to grips with the controls, but you can get an idea of the breadth of sounds available just by exploring the presets. The conventional vocoder sounds range from blurry vintage models with relatively few bands to high‑definition contemporary effects using the maximum number of bands, all of which capture the essence of a traditional analogue vocoder but each with a unique character. The change in sound that can be achieved simply by changing the Q of the filter bands is surprising too. Once you get into special‑effect territory, all bets are off and you can go as far down the rabbit hole of the alien, robotic, mangled and strangled as you like.
Vocodist is a fabulously creative tool, but don't take my word for it — I highly recommend downloading the demo and checking it out, along with Antares' other apps.
Pros
Excellent sound quality.
Can emulate traditional vocoders as well as producing special vocal effects.
Auto‑Tune is built‑in.
Cons
Subscription‑only package won't appeal to everyone.
Summary
A hugely flexible vocoder that doesn't let its enhanced capabilities get in the way of intuitive operation.
Information
Available only in Antares subscription service, from $24.99 pcm or $224.90 per year. (Free 14‑day trial.)
Available only in Antares subscription service, from $24.99 pcm or $224.90 per year. (Free 14‑day trial.)