Wireless Microphone System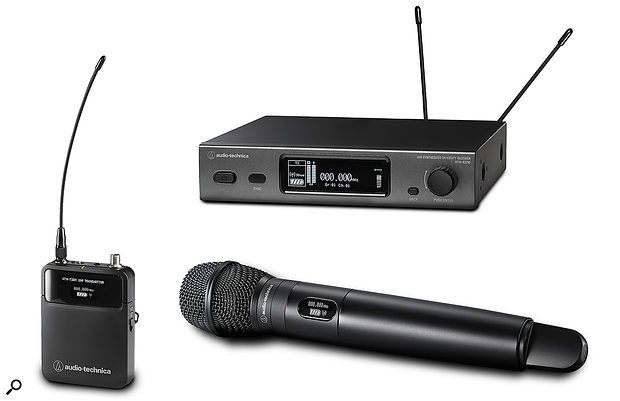 Digital wireless systems are all the rage these days, but good old UHF still has some unique advantages.
Many radio systems are now digital, some working on the licence-free 2.4GHz (WiFi) band, including systems made by Audio‑Technica themselves. However, there are some benefits in using UHF systems, the most often cited being the lack of latency — which is particularly important when in-ear monitoring is being used. Licensed systems also mean less likelihood of conflicting frequencies in the area. As a general rule, digital systems have the edge over analogue on audio quality, but while an analogue system will warn when you are moving out of range by becoming noisy, digital systems either work or they don't.
Audio-Technica are among the manufacturers who still see new UHF systems as worthwhile, and for this review I was sent the...
You are reading one of the locked subscriber-only articles from our latest 5 issues.
You've only read 10% of this article, so to continue reading...
Option 1: Buy and download this single SOS article in Adobe PDF format
Buy this article now and immediately download the PDF file to your computer.
Single article PDFs look identical to the printed magazine layouts (but exclude advertisements).
Note: Some shorter articles don't always have a PDF version.
Option 2: Buy the Full Issue PDF **NEW**
From the January 2018 edition onwards, it is possible to buy a Full Issue PDF 'replica magazine' (with adverts) for the price of a handful of single PDF articles, and instantly download it. More info...
Option 3: Buy a Digital subscription from our shopstore
A Digital sub can be bought from our online Shop

Store

and used immediately, or contact our Subs staff to discuss an upgrade price to add Digital access to your existing Print subscription.