Wireless Microphone System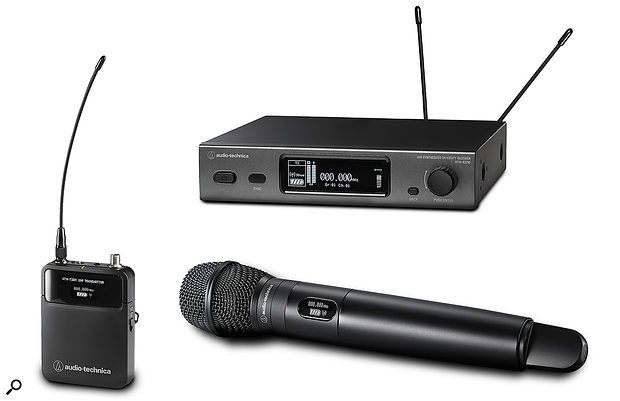 Digital wireless systems are all the rage these days, but good old UHF still has some unique advantages.
Many radio systems are now digital, some working on the licence-free 2.4GHz (WiFi) band, including systems made by Audio‑Technica themselves. However, there are some benefits in using UHF systems, the most often cited being the lack of latency — which is particularly important when in-ear monitoring is being used. Licensed systems also mean less likelihood of conflicting frequencies in the area. As a general rule, digital systems have the edge over analogue on audio quality, but while an analogue system will warn when you are moving out of range by becoming noisy, digital systems either work or they don't.
Audio-Technica are among the manufacturers who still see new UHF systems as worthwhile, and for this review I was sent the ATW-3212-510 system, which comprises an ATW-T3202 handheld radio transmitter (fitted with ATW-C510 moving‑coil capsule) and the ATW-R3010 receiver. A compatible ATW-T3201 belt‑pack transmitter was also supplied for us to look at. Supporting four frequency bands spanning 470.125 to 699.875 MHz, there's a 60MHz UHF tuning bandwidth available in each band (minimum 25kHz steps) to allow the user to avoid parts of the spectrum where other radio systems are operating. There are two preset scan groups and two user groups, each of which can be set with up to 32 frequencies. A frequency scan mode and IR (infra-red) sync functionality for pairing the receiver with an ATW-T3201 or ATW-T3202 transmitter make setup straightforward. The IR windows of both devices need to be pointed at each other for the process to complete when sync'ing; once the receiver is set, the sync process transfers the relevant settings to the transmitter.
A backup frequency can be set to allow a quick change in the event of interference problems. It's important to check with the licensing authorities in your region to see if a licence fee is required to use any or all of the available frequencies. Note that in the UK, the licence‑free UHF range is 863.100 to 864.900 MHz, so this particular system is designed for licensed use only.
The technical specifications show a dynamic range of between 112 and 115 dB (A‑weighted), depending on which transmitter is used, with less than 1 percent distortion at 1kHz. An audio frequency response of 31Hz to 15.5kHz is quoted for the ATW-T3201 belt‑pack transmitter, and 25Hz to 16.7kHz for the ATW-T3202 handheld transmitter. Though the operating range varies with conditions, it can be up to 100 metres.
The ATW-T3201 belt pack has the usual flexible antenna fixed to a screw connector at the top edge, with a second connector designed to accept a wired input. Also on the top edge are a mute button and a Function button. The latter is used to wake the Screen display or, when held, to perform a pre‑selected function — such as muting, switching to a backup frequency or killing the RF output. Two sprung slide catches on the side of the body reveal a battery compartment that takes two AA batteries, as well as a small control panel inhabited by five buttons and a power switch. The button to the left is Sync, while the others are used for parameter navigation and setting. A high-pass filter is included in the menu options. A small display is built into the top of the case above the battery compartment. A wire clip on the back secures to a belt or pocket in the usual way, and the IR sync window is located in the centre of this rear face.
The handheld ATW-T3202 transmitter features a screw thread for compatibility with alternative capsules. In addition to the standard ATW-C510 dynamic cardioid capsule, we were sent an ATW-C5400 cardioid capacitor capsule to try, which is essentially the same capsule as the studio AT4050 microphone (in its cardioid mode). There's a battery compartment inside the mic body, exposed by unscrewing the lower half of the body shell, again revealing space for a pair of AA batteries and a similar set of controls to the belt pack (with the exception of the IR window, which is located alongside the buttons). The display is a similar size to that on the belt pack, and is recessed into the upper half of the body shell. As is typical for wireless systems, the mic is longer than its wired equivalent, but it is comfortable in the hand and feels substantial without being over-heavy.
Housed in a 1U deep metal case (with a rackmount kit included), the receiver has a nicely uncluttered front panel with a power switch, Sync IR lens, display, 'back' button and a data encoder with an integral push‑switch. Two coaxial BNC antenna sockets are located on the rear panel and these can each supply 12 Volts for powering active antennae at up to 80mA. Two audio outputs are provided, one a balanced XLR with a ground‑lift switch and the other an unbalanced quarter‑inch jack. Power comes from the included 12V PSU, which plugs in using a conventional barrel connector, above which is a cable hook to help avoid accidental disconnection during use. The display is switchable between standard view or a performance view showing key metering by turning the dial. Parameters and settings are also shown on the display when setting up.
The display on the receiver provides battery condition for the transmitter, RF signal levels for each antenna, the selected frequency, the audio level, group and channel designation, mute status, and antennae power on/off. Note that the battery type needs to be entered in the settings menu for the battery life indicator to behave correctly. The expected battery life is typically in excess of eight hours for the high‑power setting using alkaline or Ni-MH (1.9AH) batteries, and around an hour longer on the low‑power setting. A padlock icon syndicates that the settings have been locked, and there's an indicator that shows when the backup frequency mode is turned on.
The transmitter's display is more economical, showing lock status, HPF on/off, RF output power (selectable from 30mW or 10mW), battery level, mute, input overload and loss of communication. Battery levels of 100, 75, 50 and 25 percent are shown. If the battery indicator in the display flickers, the batteries need replacing ASAP!
To set up the system it is first necessary to select the operating frequency on both the transmitter and receiver. Quick sync makes this easy, as long as the transmitter and receiver are close enough for the IR link to work. Of course you can set everything manually if you prefer. Using the Group Scan option in the receiver menu it is possible to find unused channels in your area. There are three setting options optimised for maximum number of channels, normal operation or lower number of channels but with more stability. Available channels and frequencies are listed and then selected by pressing the dial switch.
If sync'ing has been done correctly, speaking into the mic should show up on the AF meter on the receiver. The output level from the receiver can be adjusted in 2dB steps. UHF radio systems can produce spurious noise in the presence of strong interference or if the transmitter moves out of range, so a Squelch control is included to gate out the noise should this occur. The Squelch threshold can be set manually or automatically.
As expected from anything with the Audio‑Technica name on it, the system worked without fuss, delivering a clean and reliable signal. Sync'ing proved to be just as simple as the manual suggested, and while the audio bandwidth is a hint below that of digital systems, there's really no audible difference in a real-life live‑sound scenario. Both mic capsules turned in a creditable performance with a decent resistance to popping, sensibly low handling noise and a good tonal balance, with the capacitor capsule having just a bit more high-end sizzle.
Ergonomically, the displays are clear and bright, the menu system none too arduous and all the buttons are safely tucked away during performance to prevent accidental operation. However, the small buttons on the transmitters have very small black legending embossed directly into the black plastic, and I had to dig out my magnifying glass to read it — reading glasses just didn't cut it. Of course it doesn't take long to remember which button does what, but it is still worth mentioning.
Whether you are in the market for a digital or UHF analogue microphone systems, Audio‑Technica have something to do the job, and if a simple-but-solid UHF system is what you need, this one has much to commend it both operationally and in terms of audio quality.
Pros
Solidly engineered.
Well thought-out controls.
Clean audio quality.
Cons
A licence may be required in some areas.
Summary
A professional‑quality radio mic package for those wanting UHF operation.
information
ATW-3212-510 (dynamic mic and receiver set) £579; ATW-T3201 (belt-pack transmitter) £299; ATW-C5400 (cardioid capacitor capsule) £399. Prices include VAT.
Audio-Technica +44 (0)1132 771441.
ATW-3212-510 (dynamic mic and receiver set) $599; ATW-T3201 (belt-pack transmitter) $299; ATW-C5400 (cardioid capacitor capsule) $379.
Audio-Technica US +1 330 686 2600.