Fostex's new digital mixer sports ADAT I/O and a feature set which belies its price. Derek Johnson & Debbie Poyser trip the lightpipe fantastic.
Having built up several years of experience in creating digital recorders, gaining themselves a reputation for solid performance and stability, Fostex have fairly recently turned their attention to digital mixing, releasing their first digital mixer, the VM200, in late 1999 (reviewed SOS October 1999) and going on to incorporate a digital mixing section into their VF16 and VF08 hard disk recorders (reviewed SOS October 2000 and April 2001 respectively). So far it's probably fair to say that Fostex's digital mixing implementations, though cost‑effective and functional, haven't quite lived up to the standards of their recorders. Will their VM88, which we're about to look at, break the mould?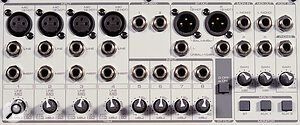 All the audio socketry of the VM88, with the exception of the digital I/O, is layed out at the top of the front panel for easy access.
Fostex's new baby is an eight‑channel, stereo output device offering built‑in effects and a basic Scene recall facility, and it has a tiny footprint, little bigger than a closed copy of Sound On Sound. Both analogue and digital inputs are available to its eight channels, and they may be used in combination, but only to a maximum of eight at a time. ADAT inputs are available to the channels in pairs, in groups of four, or all eight simultaneously. Analogue inputs comprise four offering both XLRs (with globally switchable phantom power) and balanced jacks, plus four with balanced jacks only — the former also provide analogue insert points on TRS jack sockets. The latter four inputs are configured as stereo pairs, though there's nothing on the front panel to tell you this — a special mode does allow mono use, but using this effectively disables two of the inputs, making the VM88 a six‑channel mixer. The inputs all have a Trim pot, offering a gain range suitable for most mic and line sources, so no doubt people will plug in active guitars, but it would have been nice to see a dedicated high‑impedance guitar input.
Digital I/O comes in the shape of an optical connection switchable for the eight‑channel ADAT protocol or stereo S/PDIF. It's good to see an ADAT interface, which would indicate that the VM88 can be used for basic multitrack studio recording with a compatible recorder — certainly while tracking, as each VM88 input has a direct pipeline (bypassing the mixer's channel facilities) to its equivalently numbered ADAT track. Unfortunately, at mixdown the stereo linking of the last four inputs again comes into play, and means that any audio on ADAT channels five to eight is not independently pannable.
Turning to outputs, we have a pair of XLRs and a pair of unbalanced jacks as choices for sending out an analogue stereo mix, while a digital mix would obviously go out via the S/PDIF port. There's no insert point on the stereo output, though, for patching in external dynamics processing, and the built‑in effects lack dynamics. You'd thus have to compress a mix in the analogue domain, connecting the compressor in line between VM88 and the mastering recorder (unless your compressor has digital I/O, that is, in which case the whole chain could be kept digital).
A separate unbalanced stereo Monitor Output is provided, along with a Phones socket. Both monitor and headphone outputs have their own level controls, and the user is offered a choice of what's to be monitored: the main stereo mix, or either of the two aux sends. Fostex have also specified a stereo Monitor Input, with input gain control. This is fed directly to the monitor and headphones output, alongside the main mix: it doesn't mix the audio with the other channels in any way except through the monitor section. In the absence of a dedicated 2–track return facility, this option could be used to audition a mix you've just made, from the analogue outputs of your mastering machine, without having to repatch.
The output complement is concluded by two external Aux Send jacks, which are provided in addition to two sends for the internal effects. No effect returns are provided, though, so returning external effects uses up precious mixer channels — significant when there are only eight to start with!
In by‑now‑familiar digital style, many of the VM88's channel facilities are accessed via the small backlit display, rather than having physical front‑panel controls. There's a real 60mm fader for each of the first four channels, plus one each for 5‑6 and 7‑8, a master fader, and a mute button above each fader, but all other facilities are virtual. These comprise pan, three‑band EQ, the aforementioned dual sends to the two internal effects processors, and the two external aux send controls. All the sends can be selected for pre‑ or post‑fade operation. The EQ is simple — all bands have fixed frequencies (10kHz, 1kHz and 100Hz), with 18dB cut/boost in each band — but it works fine for basic tone tweaking. It's nice to see that there's the same three‑band EQ on the master channel.
Fostex products aren't known for their generous displays, and the VM88's is no departure from this norm. Display contrast in particular is problematic, and you find yourself tweaking the contrast control frequently as you use the VM88 in different lighting conditions and in different seated and standing positions. However, given the display's small size and other limitations, the simple graphic pages for pan, effect sends and EQ are actually quite clever and certainly clear enough. Channel metering, also provided by the display, is in the form of small mono bargraphs, which are not brilliant, but there is a rather better LED stereo output meter on the far right of the display.
Accessing the various display pages is quite straightforward, with the channel mute buttons also doubling as channel select keys (for choosing a channel to edit), and dedicated front‑panel buttons to select edit pages for Pan/EQ, Eff/Aux, and the effect processors. Parameter changes are made with a large, slightly wobbly data dial.
The effect editing pages are text‑based rather than graphic, but are very easy to use — pretty much inevitable, given that there is a maximum of four editable parameters per effect. There are two processors provided, one a dedicated reverb processor offering 28 algorithms (including a few reverb‑delay combinations) and the other offering the same reverbs as the first, plus 10 delay, modulation and pitch‑shift algorithms. To take the reverbs as an example, you can edit reverb time (0.1‑9.9S), pre‑delay (0‑100mS), high‑frequency damping, and early reflection level. It's nice to see that the second processor offers a tempo‑sync'able delay, but since the VM88 doesn't have MIDI you need to either input the desired tempo manually or use a footswitch to tap it in. Effects quality is pretty reasonable, especially with the chorus, flange and delay programs, but the reverbs have a metallic, ringy edge if you're not careful with them.
The VM88 doesn't really offer true automation, even though it will store up to 20 mixer Scenes, each of which captures level, mute, pan, EQ, aux/effect send and effect parameter settings. They have to be selected manually with front‑panel controls, or can be stepped through with a connected footswitch. In addition to the user Scenes, there's also a single preset Scene, called Initial Mix, which returns all parameters to their default settings and could be useful as a starting point.
If you're nimble, you can choose and load Scenes on the fly from the front panel, but this is a little awkward, since a Scene has first to be selected with the data wheel and selection then confirmed with a press of the Enter button. Scenes are not chainable in a user‑definable order, and since there's no MIDI they're not remotely selectable either. Nevertheless, in the absence of any other form of automation, you could certainly perform a more complex mix with it than you could achieve entirely manually. In live performance too, you could use it to instantaneously make very complex changes of set‑up.
The VM88 has apparently been designed to be put to a number of different uses — if you go by its slim user manual, these include live performance keyboard mixing, small PA mixing, and multitrack recording with an ADAT‑compatible recorder. For on‑stage use, the mixer can be conveniently clamped to a mic stand, which can be really handy in such a context, though Fostex don't make the clamper assembly themselves, recommending Roland's APC33 as being suitable. Keyboard players might be scratching their heads as to why they'd want to spend over £550 on a digital submixer, the output of which is most likely going to get routed to an analogue front‑of‑house desk — the only advantages of the digital design would be the effects and the mixer Scenes, but these can't be recalled or archived via MIDI. On the plus side, the VM88's S/PDIF output would allow a live digital recording to be made to DAT or some other digital medium if required, and this would also be a point in the mixer's favour if it were used as a small PA mixer, though you'd have to be sure that you wouldn't need more than four mic inputs. The internal effects processors would be welcomed by any live band on a budget, but of course many dedicated analogue PA consoles, including some powered models, also offer on‑board effects. And, as for Fostex's exhortation to "hook your boards and decks up to the new VM88" in at least one of their PDF brochures, the lack of a proper turntable input might restrict this use a little!
The VM88's ADAT interfacing could make it attractive for those engineers doing location recording using an ADAT‑compatible recorder, but again the complement of XLR mic inputs might be an issue if more than four condenser mics were required on a job, as extra mic preamps would then be needed. Also bear in mind that the way the VM routes incoming audio to its ADAT output means that the mixer channel's facilities are bypassed — even though one probably wouldn't want to use channel facilities such as EQ during tracking, the VM88 doesn't even give you the option.
In the studio, the VM88 could be used for digital multitrack recording, but a lack of subgrouping during tracking, no way to bounce audio, and the fact that there's no independent panning of channels 5‑8 all get in the way fairly rapidly. In fact, in all applications it's a bit of a disappointment that a mixer that purports to be eight‑channel collapses so easily into a six‑channel device (if you need independent mono inputs) or even a four‑channel one (if you want to return two stereo effects processors). In its favour, the VM88's compact size means that it could be accommodated in the most cramped conditions, and the nice illuminating buttons would be helpful on stage in particular.
Although it's not that aesthetically pleasing to have all the connectors mounted on the top panel, as they are on the VM88, this certainly is the most convenient and useful location for them, and ergonomically the mixer as a whole is well conceived. Neither is the VM88 expensive for a digital mixer with dual built‑in effects processors, and it's fairly easy to use. It could also make itself useful providing extra analogue inputs to an ADAT‑equipped digital mixer or soundcard — it worked successfully in this way with our Digidesign Digi 001 system.
Fostex seem to have intended the VM88 to be a useful digital problem‑solver that could be pressed into service in a number of situations. You might take a look at its features and find specific personal applications springing to mind immediately, and if so they've obviously succeeded. Those with simple requirements in the studio or on stage (or both) may see the VM88 as being just what they've been looking for. It's ruggedly built, compact and physically attractive, it sounds just fine, and it offers ADAT interfacing.
There are not many low‑cost digital mixers on the market, but anyone who needs more inputs than the VM88 offers could consider the Roland VM3100, which goes for about the same price in the UK at the moment, but has 12 analogue inputs, four of which are presented as two stereo pairs. It lacks multi‑channel digital interfacing, but does have dual S/PDIF I/O, and its single effects processor benefits from Roland's effects expertise. The VM3100 offers its own set of compromises, though (such as having no insert points), as seems to be the norm at this end of the digital market!
The fact that the VM88 can be used in various situations means that it's difficult to pin down a single target user group for the unit. We can't help thinking that the lack of a strong vision as to where and how the VM88 will be used means that although it could work in various applications, it won't be perfectly suited to any of them. However, it will be up to the individual consumer to decide whether they see this as the mixer's main weakness, or as something which widens its appeal.
Four balanced mic/line inputs (on XLRs and quarter‑inch TRS jacks) with insert points; two stereo balanced line inputs on quarter‑inch TRS jacks.
Balanced stereo analogue output on XLRs and quarter‑inch TRS jacks.
Eight‑channel ADAT or stereo S/PDIF digital I/O.
20 mixer Scene memories.
Dual effects processors.
Internal processing and digital output at 44.1kHz sampling frequency, 16‑bit resolution.
20‑bit A‑D and 24‑bit D‑A converters.
273 x 95 x 299mm (whd)
2.9kg
The VM88's digital input accepts digital audio at 44.1kHz or 48kHz; internally, audio is handled at 44.1kHz, so incoming audio needs to be converted to that rate. With ADAT audio, the incoming rate is selected manually, but the mixer converts incoming 48kHz S/PDIF audio automatically whenever that rate is detected. Audio at 44.1kHz passes straight into the mixer with no conversion. Digital output signals from the VM88 are strictly 16‑bit, 44.1kHz.
Pros
Robust metal casing.
Switchable ADAT or S/PDIF interfacing.
Four phantom‑powered mic inputs with insert points.
Compact enough for even the most cramped of conditions.
Suitable for stage and studio applications.
Cons
Input configuration fixed as four mono, two stereo.
Returning effects uses up precious inputs.
No dedicated guitar inputs.
No subgrouping capability.
No MIDI functionality.
Summary
A bit of a jack of all trades that's in danger of being a master of none, the VM88 is nevertheless a cost‑effective way of getting various jobs done and has enough strengths to make it worth a look.