Virtual Guitar Instrument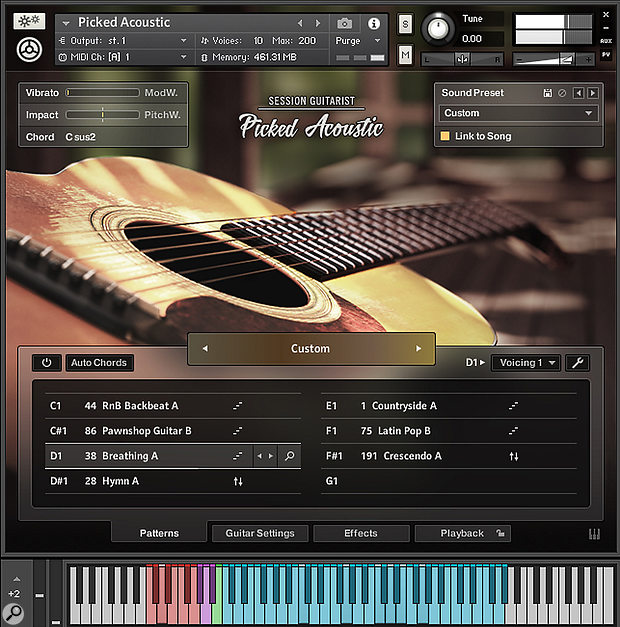 The Picked Acoustic instrument has eight pattern slots, into which complete Song suites in specific styles can be loaded along with an associated Sound Preset, or a mixture of patterns from different Songs, as shown here.
Is Native Instruments' virtual picked acoustic guitar better than the real thing?
Picked Acoustic is the latest in NI's Session Guitarist series of virtual guitar instruments. For those unfamiliar with the range, let's begin with a quick recap. Winding the clock back to 2015, Daniel Scholz and Samuel Dalferth teamed up with Native Instruments to release Session Guitarist Strummed Acoustic, a Kontakt instrument comprising a collection of strummed guitar performances played in different styles, with various patterns provided for each style. Featuring a sampled vintage Martin D‑35, its patterns are derived from real-life performances, accurately transcribed into MIDI data. Chords played on a MIDI keyboard are converted to guitaristic voicings and tempo-sync'ed to the host DAW. Up to eight patterns can be mixed and matched from any of the styles to create custom 'songs' and triggered by keyswitches. Additional touches such as doubling, string squeaks, fret noises, body slaps, endings, low and high voicings and effects bring further realism. The key benefits of the concept are quick and easy arranging of guitar parts, with consistency of sound and performance, the latter often being time-consuming to master on virtual guitar instruments that require manual input of the strumming movements.
The original Strummed Acoustic was reviewed in SOS January 2016 issue. Strummed Acoustic 2 followed, featuring two guitars: a small-bodied Martin O-17 mahogany six-string, and a Guild F‑412 12-string, each with their own 'suites' of song styles and patterns.
Session Guitarist Picked Acoustic (henceforth referred to as PA) takes a similar approach, this time focusing primarily on a finger-picking playing style. This library offers several enhancements over its strummed predecessors, the most significant being control over the harmonic content of patterns, and the freedom to play exactly the melodic parts you want. PA achieves this with two separate NKIs, Picked Acoustic and Picked Acoustic (Melody); both feature a beautifully recorded vintage Martin 00-21 steel-string — clean, clear and full-bodied with bags of sustain and detail. From their specially developed miking techniques to the amount of vintage and high-end gear involved in the sampling, the developers have clearly put a lot of effort into getting it right.
The Picked Acoustic.nki instrument operates similarly to the Strummed Acoustics, having 37 Song styles and up to six patterns for each style. Selecting a Song loads its associated pattern variations (up to six of them); eight pattern slots are provided, each slot...
You are reading one of the locked Subscriber-only articles from our latest 5 issues.
You've read 20% of this article for free, so to continue reading...
Buy & Download this Single Article in PDF format

£1.00 GBP

$1.49 USD


For less than the price of a coffee, buy now and immediately download to your computer or smartphone.

Buy & Download the Full Issue PDF
Our 'full SOS magazine' for smartphone/tablet/computer. More info...