Notation Software For Mac OS & Windows
With development accelerating under new ownership, Notion continues to challenge the established names in the notation market.
Good notation software ranks alongside your typical fully fledged DAW in terms of complexity. Aside from the compulsory page–layout and publishing abilities, it has to understand music theory, respect the countless conventions of centuries of traditional music engraving, and know the ins and outs of notation for classical and pop instruments alike. As if that wasn't enough, we then expect it to be perfectly conversant with our MIDI gear, play scores back to us, have a big multi–purpose sound bank of its own but to also work with our specialist sound libraries, load up video, and to offer a mixing environment with plug–in hosting for generating good–quality audio demos.
Even a big, well–funded company can't just dream up this sort of software overnight, and so it makes sense to take on a going concern instead. That was what US developers Avid did with Sibelius back in 2006, letting them bring a notation package into their product range, but also buying them expertise and code to incorporate notation into Pro Tools. And now the same thing has happened to Notion, which was snapped up by PreSonus in September 2013.
At that stage Notion was already a mature product, developed by US/UK–based Notion Music. Available for both Mac OS X and Windows, it was generally very capable, and offered great value for money, as I discovered in my review of it for the April 2013 issue of SOS (www.soundonsound.com/sos/apr13/articles/notion–4.htm). Notion Music also offered an iPad version, along with a specialist guitar notation product called Progression.
Notion 5 retains the same efficient single–window design of its predecessors, but has had a lick of predominantly grey paint to make it a bit more mean, moody and PreSonus–like. In this screenshot, the fretboard virtual instrument and chord library are visible, together with the palette, revealing its complement of guitar tab symbols.You can see what was in it for PreSonus. They didn't already have a notation product in their line–up, and perhaps more tellingly, their fast–developing DAW, Studio One, had nothing to offer in that area either. In effectively 'doing an Avid', PreSonus have acquired not one but several complementary new products, and are obviously laying the groundwork for the inclusion of notation in Studio One. We're yet to see the fruits of that, although the inter–application links are already starting to be established, as we'll discover. And it seems Notion can only benefit from its new ownership, with PreSonus a notably vigorous company with broad market penetration. Is this the start of something really important in the notation software world?
When I looked at Notion 4 a couple of years back I found it to be a very likeable and easy-to-use scoring package, with one of the best bundled sound libraries in the game. It lost out to the big–money options, Finale and Sibelius, in sheer flexibility of layout and print–oriented 'engraving' features, but was streaks ahead of typical open–source, DAW–based and lite–version alternatives — completely in keeping with its asking price and market position.
As you might expect, Notion 5 introduces a slew of new features. At the same time, the developers have addressed quite a few of the specific weaknesses I wrote about back then, and there are dozens of little improvements to different aspects of notation, handling of scores and parts, and the user interface. It's far from being a ground–up redesign, though, so for a full discussion of Notion's basic modus operandi — its single–window design, palette, note entry methods, 'virtual instrument' views and NTempo playback feature — see my Notion 4 review. Here, we'll dig straight into the new stuff.
Heading up the list of the brand new in Notion 5 are several features related to video handling, designed with composers of music for picture in mind. Most notably, there's a video window that handles MP4, H.264, MPEG, MOV, AVI, M4V, 3GP and (on Windows only) WMV movie files, which then play back sync'ed to Notion's playback position. In a Video Setup dialogue box, simple frame and score timecode offsets can be defined, so it's easy to align your score with the middle of a long movie, for example. A slider there also sets playback volume for the movie soundtrack.
A new video setup dialogue box lets you associate movie files with your score. The video window itself is a simple affair, without controls or data overlays, but a new timecode video staff keeps things informative, and allows you to add hitpoints, as here.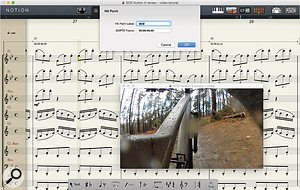 Complementing all this comes a new video staff, which appears next to your conventional instrument staves and carries a timecode stamp next to each bar line. A hitpoint feature lets you mark and label other important video events — explosions, alien invasions, destruction of the universe, that sort of thing — and a Fit In Time command takes selected regions of your score and does the necessary tempo juggling to stretch or compress them to a duration or end frame of your choice. The required tempo difference for the region is shown in the video staff in percentage terms. All the while, the various timecode labels and main playback counter can be made to converse in frame rates from 23.976 to 30 fps, including both drop and non–drop 29.97 options.
There's no question that these features all work well, and have the Notion hallmark of being startlingly clear and easy to use. I liked the option to display the video staff on screen only in the endless left–to–right Continuous view, and didn't encounter any problems with the wide range of video formats I dug up and tried out. It handled a 60fps MP4 no problem, too, even though a matching timecode format is not offered for higher frame rates.
Some niceties are missing. It'd be great to see a timecode display and playback position indicator (preferably draggable) on the video itself, but currently it's entirely unadorned. Notion isn't brimming over with video transport features either: keystrokes let you shunt playback position with ±1 or ±10–frame accuracy, but otherwise it's over to using the main score transport, which is a blunter tool. Nor can you locate direct to a hitpoint by clicking on it; Notion will locate to a nearby musical event, but if your hitpoint is in the middle of a series of empty bars, you're stumped. Odd behaviour I encountered where timecodes on the video staff sometimes overlapped and became illegible was apparently a bug, and should be history soon. None of these are deal–breakers, though, and the new functionality is essentially solid.
Going hand in hand with a makeover for the Notion 5 mixer are several new audio handling features. As well as whole–score mixes, Notion users now get to export WAVs of mixer stems or buses (of which there are eight, up from the previous four), and instruments. I hesitate to write 'individual instruments' because in fact there's no way of actually choosing which instruments you want: you'll get the whole lot on each Export. Thankfully, an offline bounce option means these exports are quick, and you also get to choose 16–, 24– or 32–bit resolution and optionally upload to a SoundCloud account.
The Spartan Export Audio window allows real–time and (faster) offline bouncing of whole scores, mixer buses and instruments as WAV files. A new PreSonus Capture Session option is the first indication of compatibility between Notion and the Studio One DAW.
The first signs of Studio One intercompatibility are present in another export option labelled PreSonus Capture Session. This bounces out a set of WAVs along with a '.capture' document that opens natively in Studio One, with ready–named audio tracks, rehearsal marks (as markers), initial tempo and time signature, plus mixer pans and gains. It's not quite the same as having Notion in Studio One, but it's a sign of things to come, and saves some donkey work for certain kinds of jobs.
The PreSonus influence is also felt through a handful of new audio plug–ins for the Notion mixer. A four–band EQ, straightforward single–band compressor and a one–knob limiter add to the rudimentary Reverb, Amp Simulator and 'iPad Distortion' that were already there. Apparently taken from Studio One's plug–in line–up, these don't look like their DAW counterparts and are conspicuously devoid of preset recall or saving facilities, but they're certainly effective. I'm also pleased to see the simple Notion Reverb is now available in instrument channel strips and not only in the master channel.
Notion 5's mixer really benefits from its new, cooler, cleaner look. It has more buses now too, and a trio of better plug–ins derived from Studio One, including this simple four–band EQ.
VST plug–in hosting continues to be offered, and proved robust with all third–party effects I tried, but there's still no sign of Audio Unit hosting on the Mac.
Further significant improvements in Notion 5 include localisation in US and British English, French, German, Japanese and Latin American Spanish. It plays nicely with Mac Retina and Windows 8 touchscreen displays, although there's no full–screen support on Mac. And there's built–in support for even more third–party VST Instrument sound libraries: now LA Scoring Strings and Virtual Ensemble Trilogy, Impakt, Rumble and Fanfare join the likes of Vienna Symphonic Library in having Notion score instructions pre–mapped to sample articulations and playback behaviour. It's even now possible to roll your own mappings for any hosted sample library using a 'ruleset' editor, which lets you trigger a wide range of MIDI messages and other events when certain conditions are met. Not a sexy feature, nor one that'll have particularly broad appeal, but for those that need it, absolutely invaluable. It's neatly done too, with all 'programming' done intuitively via pop–up menus.
Then there's some new keyboard shortcut schemes. Anyone who has ever undertaken note entry for a really long, complex score will know how important keyboard shortcuts (and indeed any labour–saving measures) are for chewing through a large amount of material quickly and accurately. Whilst Notion 4 certainly had its share of step–time note–entry keystrokes, I wasn't a great fan of the way note durations were selected, with 'Q' for quarter–note, 'H' for half–note, and so on. In Notion 5 you can opt to select those same durations with a numeric keypad, with emulations of both Sibelius and Finale's way of doing things. And even keypad–less laptop users aren't left out, thanks to a new 'International' main keyboard layout that puts note durations on the 'number row' keys.
As well as easing migration for users of competing products, these alternative keyboard layouts can genuinely let you work more quickly during non–real–time note entry. For one thing, they provide a way to add rhythmic ties as you go along, which is a small but crucial improvement over Notion 4. They also make other markings such as accents and articulations more accessible too, which can only be a good thing. There's still currently no way in Notion to abandon both mouse and MIDI controller and enter both durations and pitches from the computer keyboard (as is so effective in Sibelius, for example), but something along these lines is said to be in the pipeline. I also experienced some problems with the way Notion interacts with different computer keyboard designs — it had some difficulty with the keypad on my standard British Apple extended keyboard, and some of my keystrokes were misplaced compared to what was printed in Notion's help documents. The same thing had never been an issue in Sibelius, Finale or any DAW, so I hope PreSonus can clear up this little anomaly quickly.
Aside from all the headline new features, it's actually the accumulation of many little things that can really make the difference in a notation application. Thankfully, PreSonus have been busy in this respect too. For the first time, Notion 5 offers cross–staff beaming for 'grand staff' instruments such as piano; a single keystroke shunts a selected note from one stave to the other. Arpeggio and glissando symbols can also now span the two staves.
The chord library, a counterpart to the piano and fretboard virtual instrument views, offers even more chord types now, improving what was already a very strong feature. Meanwhile, 'slash' notation — often used to suggest rhythmic content for chords without fixing its voicing — now doesn't have to have stems, which makes for much neater parts.
I was really pleased to see huge improvements in Notion's 'spelling' of notes entered from a MIDI controller, something I'd identified as a major weakness in Notion 4. Version 5 is much more aware of the current key, avoids obvious no–nos like flat–heavy notation in sharp keys, and presents chords in easily recognised triad–based structures. In those situations where manual intervention is still necessary the Enharmonic tool is improved too, though it has a strange limitation: it'll turn double sharps or flats into something more simply spelt, but never go back in the other direction.
On a slightly different note, a good deal of effort has gone into some aspects of page layout and management. Fonts can now be directly manipulated for text annotations in the score. Titles sync between the score and its dynamic parts, and those parts can have separate formatting and layout. Lyrics get melismas (those lines extending from words showing that syllables are held over many notes). Many more score markings are draggable too, and it's now possible to fine–tune the placing of dynamics, for example. Notion still isn't perfect in this respect, though: symbols dragged and dropped more than a short distance away sometimes jump to seemingly random positions, and too many things still aren't draggable at all. Also, inter–stave spacing within systems isn't within the user's control, and neither is spacing and placing of individual notes within bars.
Finally, the last few improvements I'll mention here are support for cautionary clefs and key signatures, the ability to copy and paste phrases from and to individual parts in a single stave, and a useful bright red warning colour for notes outside an instrument's normal range (which can be disabled).
While by no means a complete overhaul, Notion 5 is a significant and worthwhile update to an already capable notation application. Core abilities have been further honed, several obvious gaps plugged, and the whole thing made that bit more slick and attractive.
There are still weaknesses, the most obvious of which are related to handling of niche notation types, and fine control of score appearance and page layout. There still isn't a soprano clef, let alone any historical clefs, mensural time signatures or figured bass. Only 'slashed' grace notes seem to be available and there's no support for partial cue and ossia staves and other obscure (but sometimes necessary) stuff like dashed, dotted slurs, or multi–arc slurs. More control over slur shape generally would be good, too.
You currently can't have more than two 'repeat endings' (like first and second time bars) next to each other. Graphics can't be imported, nor subsections of pages exported in a graphics format, which would be useful for putting together music examples for essays and worksheets. Overall, all finer points of spacing, layout and design are more or less out of reach, so Notion still isn't the application anyone would seek out as a platform for professional publishing, despite its printed and PDF output looking perfectly good for many jobs.
However, PreSonus know that professional publishing isn't the first concern of many of Notion's target users. Most of us just want an easy, unfussy experience in working out musical material on the page and getting it looking good. For this, Notion's various input methods, friendly interface and largely automated approach to layout and symbol placement are positive benefits. And in fact it can cope with the vast majority of typical scoring demands, from advanced guitar tab, through jazz lead sheets, to full–on big orchestral scores. All this, combined with the modest price tag, improved audio functionality, excellent sound library and burgeoning Studio One integration could make Notion irresistibly tempting for composers, students, studios and schools alike. Notion's new association with PreSonus has value of its own too, and suddenly Notion seems mainstream, going places, a safe bet. Many of the original Notion Music team are still central to the application's development, but PreSonus's involvement can surely only strengthen the arrangement.
So it's another strong recommendation for Notion. It's significantly less costly than the big players in the notation market, but matches much of their core functionality and is notably easy to use and live with. It's not a publisher's tool, but provides all that many musicians and educators will need. And while already capable, it looks destined for even greater things in the future.
Only the much more costly Sibelius 7.5 from Avid and Finale 2014 from MakeMusic really compare to Notion 5 when you take into account cross–platform compatibility, breadth and quality of sound library, and a feature set that isn't deliberately limited in some way. Doremir's Scorecloud offers a distinctive alternative and has the remarkable advantage of being free (at least initially), but it's an idiosyncratic little number, and the quality of its printed output isn't up to what Notion can achieve.
To run Notion 5 you need a Mac running OS 10.7 or later with at least an Intel Core Solo 1.8GHz CPU, or a PC with Windows 7 or 8 and at least a 2GHz Pentium 4. Either way, 2GB RAM and 8GB free hard-disk space are the minimum, and Notion is equally happy in 32– or 64–bit systems.
As of version 5.1 (which I received just as I was wrapping up this review) you'll be able to try out Notion as a demo, for new users and owners of older versions. After purchase, activation is done online, via the PreSonus web site, and is a pain–free process. The sound library remains available to download at any time, too, and additional expansion sounds can be purchased from shop.presonus.com. These add–on sounds include extended string techniques (harmonics, col legno and so on), wind and brass sections and duos, more percussion, folk and jazz instruments, and classical saxes, ranging in cost from £30 for individual offerings to a £236 10GB mega–bundle.
For an application that's otherwise so open and intuitive, Notion 5's new Express Entry Mode is surprising. After hitting the single–quote (') key, typing a short mnemonic code loads up the mouse pointer with a marking ready to be clicked into the score. For example, 'fgt' gets you the word 'fingertips', and 'tb' a symbol for 'trill from below'. Close on 100 words and short phrases can be entered this way, along with 10 ornament signs. It's all very well, but not all the mnemonics are intuitive, some are almost as long as their resulting words, it all has to be committed to memory, and there's no 'free choice' alternative to type an instruction that isn't already programmed into the feature. I also truly believe that the ornament signs should have gone in that nice, intuitive, graphic–driven palette, which generally looks so ripe for further expansion. I'm all for making notation as fast as possible, but I'm not sure this preset, non–programmable, faceless entry scheme is the optimum solution!
Pros
Easy to learn and use.
New video support and better audio mixing and export features.
One of the best sound libraries of any notation product.
Overall notation capabilities and note entry generally much improved.
Excellent price/performance ratio.
Cons
Only limited control over some aspects of layout and score appearance.
Several niche areas of notation entirely unsupported.
Summary
Now owned by PreSonus, Notion 5 adds some important new features, polishes what it already did well, and is more likeable than ever. It's still not a replacement for Sibelius or Finale but, with a few provisos, should be considered a direct competitor. One to watch.
information
£119.91; upgrade from Notion 4 
£39.43 including VAT.
Source Distribution 
+44 (0)20 8962 5080
$149.99; upgrade from Notion 4 $49.99.
Presonus +1 225 216 7887
sales@sourcedistribution.co.uk
Test Spec
Notion 5.1.367.
Apple MacBook Pro with 2.2GHz Intel Core i7 CPU and 16GB RAM, running Mac OS 10.10.2.