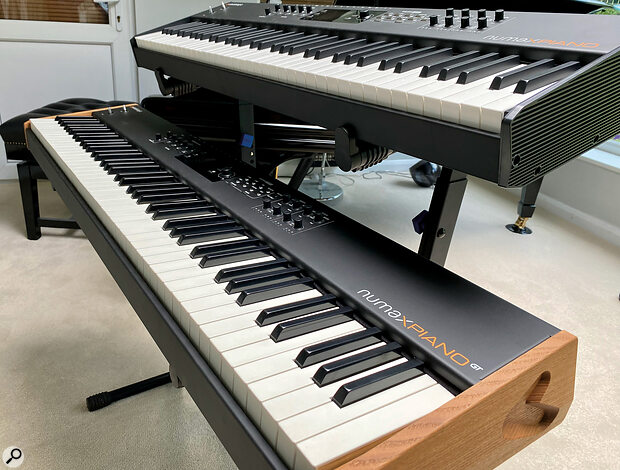 Studiologic bring their A‑game with a seriously capable new stage piano.
On several occasions, I have found myself taking a tape measure with me to a car showroom, specifically to establish whether my 88‑note keyboard will fit in the back of a prospective new car. Of course, that's only part of the 88‑note journey; as any keyboard player will tell you, the more realistic the action of the keyboard, the heavier the beast becomes, and that's no joke when you're traversing from one gig to another on a weekly, or even daily basis. Feel free to speak to my sore back for confirmation.
Over the last 20 years, keyboard technology has marched on, with ever‑better and realistic keyboards which don't necessarily weigh more than the UK National Debt! Take a bow Fatar, the Italian company that have kept many of the World's finest electric pianos and synths populated with top‑quality keybeds. Studiologic are effectively Fatar by stealth, the major difference being that the Studiologic brand is more commonly associated with full‑blown controller keyboards, synths and pianos. It's the piano angle that we're interested in today, with the Numa X Piano range, but as we'll discover, there's far more on offer than a basic stage piano.
The review model is a pre‑production Numa X Piano GT, which is the upper‑most model in the range. There are also two smaller models, which drop in size, weight and price (see the 'Little Brothers' box). This top‑of‑the‑range model is an 88‑note workhorse, weighing in at 21kg. The chassis is metal, and as solid as they come, with a full‑sized keyboard action. Moreover, given the association between Fatar and Studiologic, this is the first outing of their newly designed action, which is known as the TP‑400. This is an update to the previous and much‑lauded TP‑40 bed, found in many other high‑end keyboards.
For some years, I have been a Studiologic Grand controller user, which employs the older TP‑40 keybed. This became an instant favourite with me, but with a newly sharpened focus, the difference between older and new actions is relatively pronounced. The TP‑400 feels less spongy to play, with a greater degree of assurance if playing softer or more sympathetically. The keys go down relatively easily, but there is enough resistance there that you have to work. As your fingers move toward the fulcrum point, there's a nice balance; keys still go down easily, but like a piano, you'll need to work a tad harder.
Part of the reason for this overall sensation is to do with the introduction of an escapement component, which counterbalances the key over the fulcrum point. It's a very realistic concept, with roots based in acoustic piano designs.
It's important to point out that with any keyboard of this kind, it far extends the mere scope of a stage piano. It's a perfect controller keyboard, and it'll perform brilliantly at home or on stage. Realistically, taking it to a stage setting means that you'll be more reliant on its core sound engine, which is our next port of call.
The Numa X Piano sound engine is pretty easy to grasp. In essence, it's all about sample playback. As a starting point, 220 Factory patches are included, constructed from a vast number of sampled instruments, which at the time of review were still being added to. There are Steinways, Yamahas and even a Fazioli, alongside contemporary instruments such a models of Rhodes, Wurlitzer and electric grand. There are also upright pianos, some in a state that could be regarded as slightly out of tune, along with synths, incredibly realistic Hammond organs, string and orchestral sounds, accordions and choirs. In fact, it's probably easier to list the category of sounds which aren't included.
Sticking with the more common stage piano instrumental sounds, there is a striking contrast across models. While the German (Steinway) sounds rich and full toned, the Italian Grand (Fazioli) is very striking in the lower mids. They offer what I would call an assured depth of tone, with a lovely sense of strike, as the hammer hits the virtual string. The vibrancy of the Japanese Grand (Yamaha) cuts through the mix brilliantly, with a sharpness of upper timbre that is also exhibited in the lower note range too, as Yamahas do! Overall note tuning is equally tempered, but there are moments of organic reproduction, such as the main Upright sample. This feels slightly 'twangy', but is characteristic of a particular flavour of upright, and perfect for more modest musical outings.
Meanwhile, the Rhodes, Wurlis and Clavs are all exemplary, with plenty of model versions to audition. There's even a great sample of the Yamaha CP‑80, as well as numerous synths, string machines, pseudo‑acoustic ensembles and instruments. It's very comprehensive indeed!
Sample selection and audition takes place within a patch, with category buttons guiding your path. Loading is pretty instantaneous, which is both helpful at the editing stage, and for live, where milliseconds count if switching patches mid‑song. Studiologic have created a Favourites section too, so you can place your preferred patches in close reach, via the dedicated Favourites button.
The keyboard is impeccable. It feels natural and, surprisingly for a fully weighted keyboard, rather effortless to play.
Prior to review, Studiologic went to great lengths to point out that the Numa X Piano factory patching only soaks up half of the on‑board memory. There is plenty of capacity to load future sounds, after initial purchase, through the use of their free Numa Manager editing and librarian software. This will make light work of patch organisation, as well as allowing further samples to be uploaded to the piano itself, which will be available from the SL website. There is no provision for user sample import just yet, but there are plans for plenty of other sounds to be available, drawn from pianos to synths and acoustic instruments.
Another point that Studiologic were keen to highlight is the economic way that the samples are used. There is some very clever technology in the Numa X OS which takes full advantage of sample compression, meaning that even the most comprehensive of instrument samples is relatively lean. This is excellent news, as it's pretty unlikely that you're going to fill the vacant 1GB of capacity anytime soon, and even if you did, the software will allow for a form of library handling. Let's be honest though, I can't see that happening!
Numa X Piano patches consist of four different samples, which can be layered or zoned across the keyboard. You could have a Yamaha Grand along with a Rhodes, across the entire keyboard, with a bass sound in the lower two octaves of the keyboard. It's flexible, but navigating the OS does take a little bit of time to get used to, although SL say that they are working on further shortcuts to make the process more streamlined.
The central OLED coloured display is the source of all operational information, presenting values succinctly, while reacting to any button press or pot‑turn that you perform. To the left of the display, four infinite pots and accompanying buttons provide quick access to the editing process. At the upper‑most editing level, these provide a route to select the part you want to edit, while pressing the associated pot down toggles the part on or off. This means that you can add or mute parts on the fly, which could be really handy for, say, adding strings mid‑performance. The rotary element of the pots relates to part volume, so you have all four sample parts immediately open to switching and volume change, direct from the panel.
Pressing and holding the button that relates to a part immediately moves you into the next layer of editing, which provides the most useful and commonplace parameters. These change according to the current sample, so while a piano sample allows for alteration of tone and string resonance, a synth sound will offer filter cutoff and resonance. It's all very logically applied and very easy to access.
I tried my utmost to exhaust the polyphony on this instrument. The number of notes which are available at any one time is dependent on the number of samples in play, so if you're using a two‑sample patch, polyphony halves. Having said that, Studiologic tell me that the total note count is well in excess of 200, so it's very unlikely that you'll be note‑stealing any time soon.
The Numa X Piano GT's back panel is generously equipped with three quarter‑inch pedal inputs, four quarter‑inch audio inputs, quarter‑inch stereo output and headphone port, full‑size MIDI I/O sockets plus a USB port.
The team behind the Numa X Piano are highly competent musicians, who understand what it's like to play in live settings, and are clearly well versed with some of the issues that confront performing musicians on a day‑to‑day basis. Hence, the range is equipped with many useful features, such as a four‑channel, on‑board mixer, with the added ability to function as a USB MIDI and Audio interface. So if you want to drive, say, an outboard synth module without an additional mixer or interface, the Numa X Piano solves this problem immediately by allowing a module's audio output to be routed back in, blended at source, before heading back into the real world via the piano's main audio outputs. The capacity is also available for applying effects at this stage, and there's also a three‑stage EQ, for basic tone‑levelling adjustment.
The four audio physical inputs are accessed from the rear panel as unbalanced quarter‑inch jacks, which may also be paired in stereo. This means that it's a total cinch to adjust while playing, or indeed mute up a channel on the fly. Another party trick allows the connection of a dynamic microphone, just like a mixer. As the audio inputs maintain access to the master effects section, you could feed a vocalist or even other instrumentalists through the piano, balancing levels, tone and effects on board. The signal sum then arrives at the stereo output from the keyboard. Genius!
If you also factor in the class‑compliant USB audio element, this piano perfectly complements laptop use in a live setting too, with its own dedicated level control. Once you've finished your gig, take the Numa X Piano home, and you've got yourself a beautiful controller keyboard with audio interface capability, for a small home studio experience.
During my brief time with the Numa X Piano GT, I had to conclude that this is a very desirable multifaceted powerhouse. Firstly, and quite importantly for any serious player, the keyboard is impeccable. It feels natural and, surprisingly for a fully weighted keyboard, rather effortless to play. The sample content is generous in the areas that you might expect, with beautiful acoustic and electric pianos at every turn, and a huge collection of other sounds which are very usable. It's got substantial capacity to effect samples on board, with all the associated effects one might associate with a Rhodes, Hammond or synth — and the flexible interfacing and patch assignment that allows any serious live player to set up patches to suit their way of working, adding signals externally, if so desired. The only element that didn't quite gel with me is the use of joysticks, for pitch, modulation or MIDI CC control. These take a little getting used to, and are a departure for players who may be used to pitch and mod wheels. Practice, as they say, makes perfect, and with more samples to follow very soon, the Numa X Piano GT has plenty of capacity for now, and the future.
Studiologic Numa X Piano 88.
While Studiologic were kind enough to send me their flagship Numa X Piano GT, which benefits from their top‑flight weighted action, they are also producing the exact same piano in two lighter versions: the 88‑note Numa X 88 (£1439$1499) and the 73‑note Numa X 73 (£1139$1299). These lighter models employ Fatar's new TP‑110 action, which is in turn an improvement on the older TP‑100 action, found in many other high‑end keyboards. Being lighter in weight, the action also benefits from a slightly speedier response.
Studiologic Numa X Piano 73.
Other than the action, the functionality remains identical, with the only aesthetic difference being the absence of the wooden end‑cheeks included on the GT model. All of the same benefits, but in an altogether lighter keyboard for easier transportation and gigging. And to further aid transportation, Studiologic make keyboard cases on wheels to accompany each model, available at an additional cost.
Pros
The new Grand Touch keyboard action is sublime.
Extensive selection of all the pianos and electrics you could need.
Plenty of additional sample content.
The audio I/O capability is exceptionally useful.
As a playing experience, it's nothing short of a delight.
Cons
Like all 88‑note weighted keyboards, it's fairly heavy!
Pitch and mod joysticks won't appeal to everyone.
Menu navigation takes a little getting used to.
Summary
This is a beautiful keyboard which will appeal to any keyboardist or player with pianistic tendencies. The extensive included sample collection, with options for audio I/O, provides a comprehensive feature set within a tidy and uncluttered stage‑piano format.