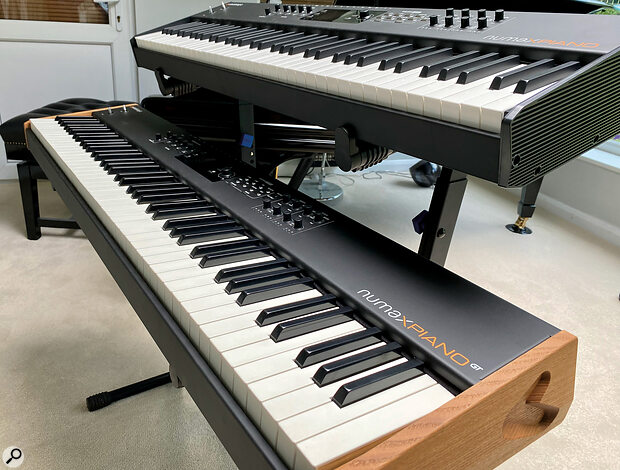 Studiologic bring their A‑game with a seriously capable new stage piano.
On several occasions, I have found myself taking a tape measure with me to a car showroom, specifically to establish whether my 88‑note keyboard will fit in the back of a prospective new car. Of course, that's only part of the 88‑note journey; as any keyboard player will tell you, the more realistic the action of the keyboard, the heavier the beast becomes, and that's no joke when you're traversing from one gig to another on a weekly, or even daily basis. Feel free to speak to my sore back for confirmation.
Over the last 20 years, keyboard technology has marched on, with ever‑better and realistic keyboards which don't necessarily weigh more than the UK National Debt! Take a bow Fatar, the Italian company that have kept many of the World's finest electric pianos and synths populated with top‑quality keybeds. Studiologic are effectively Fatar by stealth, the major difference being that the Studiologic brand is more commonly associated with full‑blown controller keyboards, synths and pianos. It's the piano angle that we're interested in today, with the Numa X Piano range, but as we'll discover, there's far more on offer than a basic stage piano.
The review model is a pre‑production Numa X Piano GT, which is the upper‑most model in the range. There are also two smaller models, which drop in size, weight and price (see the 'Little Brothers' box). This top‑of‑the‑range model is an 88‑note workhorse, weighing in at 21kg. The chassis is metal, and as solid as they come, with a full‑sized keyboard action. Moreover, given the association between Fatar and Studiologic, this is the first outing of their newly designed action, which is known as the TP‑400. This is an update to the previous and much‑lauded TP‑40 bed, found in many other high‑end keyboards.
For some years, I have been a Studiologic Grand controller user, which employs the older TP‑40 keybed. This became an instant favourite with me, but with a newly sharpened focus, the difference between older and new actions is relatively pronounced. The TP‑400 feels less spongy to play, with a greater degree of assurance if playing softer or more sympathetically. The keys go down relatively easily, but there is enough resistance there that you have to work. As your fingers move toward the fulcrum point, there's a nice balance; keys still go down easily, but like a piano, you'll need to work a tad harder.
Part of the reason for this overall sensation is to do with the introduction of an escapement component, which counterbalances the key over the fulcrum point. It's a very realistic concept, with roots based in acoustic piano designs.
It's important to point out that with any keyboard of this kind, it far extends the mere scope of a stage piano. It's a perfect controller keyboard, and it'll perform brilliantly at home or on stage. Realistically, taking it to a stage setting means that you'll be more reliant on its core sound engine, which is our next port of call.
The Numa X Piano sound engine is pretty easy to grasp. In essence, it's all about sample playback. As a starting point, 220 Factory patches are included, constructed from a vast number of sampled instruments, which at the time of review were still being added to. There are Steinways, Yamahas and even a Fazioli, alongside contemporary instruments such a models of Rhodes, Wurlitzer and electric grand. There are also upright pianos, some in a state that could be regarded as slightly out of tune, along with synths, incredibly realistic Hammond organs, string and orchestral sounds, accordions and choirs. In fact, it's probably easier to list the category of sounds which aren't included.
Sticking...
You are reading one of the locked Subscriber-only articles from our latest 5 issues.
You've read some of this article for free, so to continue reading...
Log in - if you have a Subscription you bought from SOS.

Buy & Download this Single Article in PDF format

£1.00 GBP

$1.49 USD


For less than the price of a coffee, buy now and immediately download to your computer or smartphone.

Buy & Download the Full Issue PDF
Our 'full SOS magazine' for smartphone/tablet/computer. More info...

RECORDING TECHNOLOGY: Basics & Beyond
Claim your FREE 170-page digital publication
from the makers of Sound On Sound — CLICK HERE