Telefunken's newest range of mics combines vintage sound with modern styling.
Based in Connecticut, Telefunken began producing microphones in 2001 after acquiring the rights to use the Telefunken name for their products. The original name, which we might associate with what are now quite rare (and very valuable) microphones and preamps, dates back to pre-World War One Berlin, and if you're interested in a little more info about this heritage, Paul White explained more in a review back in 2007 (www.soundonsound.com/reviews/telefunken-usa-ak47). The modern incarnation of the company are best known for their Diamond series of mics, which are meticulously accurate reissues of classics such as the ELA M 251, the U47/48 and the C12. These are serious microphones that come with price tags to match, towards the very top end of the new microphone market. The company have, however, long been keen to introduce some more accessible options to the modern engineer and until recently had a range of more affordable options that went under the umbrella of the RFT series. These are now discontinued, however, and have been replaced by a range of four new microphones, collectively known as the Alchemy series. By not being tied to having to exactly replicate classic designs, Telefunken have been free to strike a balance between cost and performance that brings the price of this new series more into range for us mere mortals, who might wish to add a high-quality tube microphone to their collection.
I was lucky enough to have three flavours from the Alchemy range to review — the TF39 Copperhead Deluxe, the TF47 and the TF51 — and I was looking forward to seeing how the microphones performed on some upcoming recording sessions I had at my studio. I was also keen to hear what sonic differences there were between the three models. I'll be going into more detail on the individual models, but all the mics in the series come with the same style package and are all aesthetically the same except for the colour of the mics themselves. This is, I suspect, one of the reasons Telefunken have been able to bring the mics in at the price they have, as it means they can keep manufacturing variables to a minimum between the various models in the range. We will, of course, be talking mostly about how they sound, but the package you get with each mic has been nicely conceived and manages to strike a great balance between 'retro' and 'modern'. Each mic comes with a smart-looking American–made power supply, which is more compact than you might find with a vintage tube mic, but feels and looks very solid, with high-quality Neutrik input connectors along with controls for selecting your required polar pattern.
There's a seven-metre–long cable to connect the mic to the power supply, and a newly designed shockmount, which allows for the mic to be positioned close to a sound source if needed. Also included is a standard mount for when a shockmount is not necessary, and everything is housed in a modern-looking padded case, which I think works great and is a more practical solution than a traditional wooden box.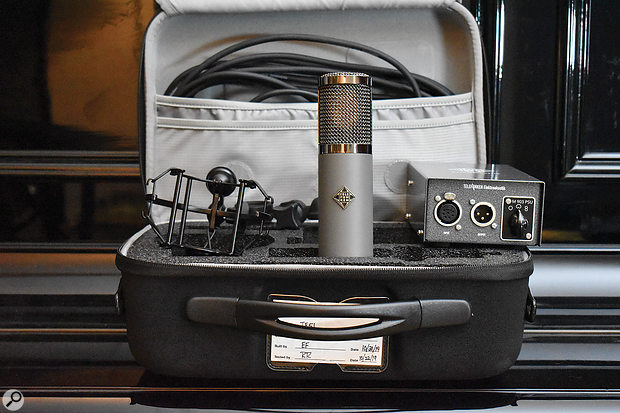 All the Alchemy-series mics ship in padded cases, along with a seven-metre XLR cable, a shockmount, a mic clip and a PSU.
Everything about the package is well thought out, and as well as looking nice, it's quick and easy to set up and pack away. You would rightly expect for mics in this price range to feel solid and well made, but it is still refreshing that so much thought and care has gone into the product as a whole.
There are actually two mics that bear the Copperhead name: the Deluxe TF39 version, reviewed here, has a dual–membrane capsule which allows for cardioid, omni and figure-8 polar patterns. They also offer a simpler version, the TF29, which is cheaper and has a fixed cardioid pickup pattern. Sonically, and component-wise, the two microphones are the same. Features include an all–brass K67-style capsule, new old stock (NOS) 5654 vacuum tube and a Swedish–made Lundahl output transformer. The Copperhead has been available for a while now as part of the RFT range, but Telefunken are keen to point out that it's been reworked slightly, including a new head grill, before being incorporated into the new Alchemy range.
When I'm reviewing a microphone, I like to look at the stated frequency response only after I've judged it for myself on a few sessions, so that I don't let my opinion get steered in any way. I was quite surprised when I did finally have a peek though, as there's a shallow, but quite broad, low boost that doesn't come down until close to 1kHz! There's then a peak at around 3kHz, and then a relatively big boost around 15-16 kHz. I say I was surprised, as my perception of the mic after using it for a while was that it was quite a neutral–sounding studio all-rounder.
This makes me think, however, that the Copperhead has been really cleverly voiced, as that little low bump is useful on a great many sources, such as capturing all the available weight on the snare drum, when used above a drum kit, or used on a guitar cab to capture a clean guitar tone. On acoustic guitar, it can be a little much if you stray too near the soundhole, but it's often not a bad option to have a little too much low-mid, as this can be very easily nudged out with some EQ later. It's harder to add in what isn't there in the first place! The top-end boost is also really useful as it's high enough on most singers that it won't hit the sibilance region, but will add a nice feeling of air on a female singer. There's a male singer I've recorded many times, for example, and I can often struggle to get his sibilance under control come mix time. When I recorded a recent session with him using the TF39, however, it was a breeze to mix and the sibilance just wasn't an issue. Used on a female vocal, the top end has that extended, modern feel, along with a very tasteful amount of bottom end.
As well as using the TF39 on several singers during the review period I got great, detailed results on acoustic guitar and in front of a guitar cab. I also liked the full sound I got from it as a mono drum mic, and I think a pair of these would make great overheads if a brighter cymbal sound was appropriate. I'll talk a little more about the differences between the three mics in the Alchemy range, but the Copperhead TF39 was a very useful mic indeed to have around the studio. Calling it an 'all-rounder' is a bit derogatory too, as on the right singer it can be a whole lot more than that.
The TF39 and TF51 capturing vocals and guitar, respectively.
Telefunken refer to the TF47 as the 'German–style' mic in the collection, and it draws its inspiration from the classic U47 and M49 microphones. The TF47 features an all-brass K47-style capsule, NOS 5840W vacuum tube, and a custom–made and historically accurate BV8 transformer — as found in the U47. The TF47 has a quite pronounced mid-range peak between 3-5 kHz which, not surprisingly, makes it a little fussier than some other microphones. On the right voice or instrument, this forward–sounding mid-range can be just what is needed, however, to help something cut through a mix. It also has a softer top end than the other mics in the Alchemy range — rolling off very slowly above 5kHz — which makes it less modern sounding, but which also seemed to draw my attention to the low-mid range on sources such as acoustic guitars and vocals. As with a U47, the TF47 works great as a mono drum room mic or overhead, where that softer top end pushes the cymbals back slightly and the mid-range boost can focus the snare. With the vocalists I tried it on over the review period, however, I didn't get a huge amount of success. I didn't like it on female vocals as it just sounded a bit 'unbalanced', and despite it sounding good on the same male vocal I tried the Copperhead on, I found myself preferring the Copperhead as it was less sibilant. I'm not the most qualified engineer to say how it compares to a U47 — although I have used a couple of vintage ones and plenty of clones over the years — but I don't recall the mid-range being quite so forward. I was also expecting maybe a touch more help with the low end, but that might just have been down to the singers I recorded over the review period. Perhaps because the top end is softer it felt a bit flat compared to the other two mics. On the right singer it would work well — I just don't think I had that singer through the studio whilst I had the microphone to hand!
This was the microphone that I was most excited to get my hands on, as its inspiration — the ELA M 251 — is not a mic you get to use very often, let alone entertain owning! The TF51 is a stunning–looking microphone that is, I think, a perfect balance between retro and modern, with its grey body and chrome metalwork. It features the same 6072A tube that Telefunken use in their 251 recreation (and their version of the closely related C12). This is combined with an edge-terminated capsule that closely resembles the original AKG CK12 capsule. The output transformer is also supplied by the same original German supplier for Telefunken.
The TF51 on room-mic duty for a piano recording.
In use, the TF51 has a noticeably different character to the other mics in the range, feeling a bit leaner and with a more pronounced top end. With peaks at 3 and 10 kHz, you get a feeling of presence that nearly always feels smooth and musical, and it sounded excellent on a few different acoustic guitars I tried it on. On the two female vocalists I used it on over the review period it sounded wonderful: perfectly balanced in the mid-range and with a bright but silky top end. It's not a mic to bring out, or exaggerate, the body of a source, however, and was less well suited to the male singers I tried it on. With that sense of presence or 'air', the TF51 seemed to offer me something I didn't have in my mic collection already, and I would love to try a pair as drum overheads as I think they would bring out the good parts of cymbals, while not clogging up the low–mids. It also sounded excellent as a mono mic on an upright piano, and used in its omni setting it had a lovely sense of space for a group backing vocal session.
In the Alchemy series, Telefunken have released a range of microphones that strike a great balance between vintage and modern, in terms of both looks and sound.
Before finishing off my review, I set up a session with a female folk singer I know so that I could directly compare the three models. The files for this session are available on the SOS website. During this session, I employed a technique I like to use when recording someone singing and playing an acoustic guitar at the same time. This involves using two figure–8 mics positioned so that the deep nulls help prevent sound from the voice and guitar spilling into each other's mics too much. I make a point of mentioning this, as how a mic performs in a setup like this — and how the mics' non-direct, off-axis sound performs — can be a good indicator of its quality. All three microphones worked wonderfully in this setup and also seemed very unfussy about positioning. That's the thing with high-quality studio equipment — it can just make your life a bit easier!
The same singer was also kind enough to sing an a capella track for me, which enabled me to position all three mics closely together and judge them from a single take. For this recording, all the mics were in their cardioid polar position, and it was a great way of observing both the similarities and differences between the three models. Perhaps not surprisingly, they all have a broadly similar feel, while still offering different perspectives on whatever it is you're recording. All three mics sound excellent and all give you that sense of confidence you get from using a high-quality valve microphone in a session. I honestly felt spoilt at times during this session, as having all three mics up on stands gave me such a useful set of options around the same high-quality theme.
In the Alchemy series, Telefunken have released a range of microphones that strike a great balance between vintage and modern, in terms of both looks and sound. All three of these models can seem quite forward–sounding when listened to in isolation, as they all have varying degrees of presence peak around the upper mid-range. The proof is always in how they come together in a mix, however, and once I had done just a little basic mix work on a vocal, like compression and a touch of reverb, they sounded fantastic. I was very impressed with the Copperhead, and if you're looking for your first mic at this level, but want some flexibility, then the TF39, or TF29, would make an excellent choice. It's also the cheapest of the three models.
The TF51 has got me thinking seriously about using my credit card, based entirely on how good it sounds on female vocals, and will for me be the hardest of the three to give back. I've been more critical of the TF47, but I think it should still be on your list of 'German–style' tube mics to audition, and its softer top end will appeal to some. Thinking about the pricing of the Alchemy range, I think you perhaps need to put it into context of Telefunken's other products — and the fact that these are all, largely, being put together in the same factory with some similar key components and the same quality control. You might be able to find equally good mics for a bit less by looking around and auditioning other options, especially in the case of the TF47, but the fact that these mics are so tastefully and well put together — along with the heritage of the Telefunken name — means these models have a better chance than most of proving a good investment for many years to come.
There are numerous valve mics available now around this price, with options available from Neumann, Mojave, Golden Age, Flea and sE/Rupert Neve to name but a few.
I've prepared a number of audio files from the session I described at the end of this review, which you can hear for yourself at www.soundonsound.com/techniques/telefunken-alchemy-series-audio-examples. Or download the hi-res WAV files in this ZIP file: 

telefunkenalchemyseriesaudio.zip
Pros
Great-looking mics that manage to look both vintage and modern.
Not cheap but the pricing is fair. The TF39 is excellent value.
TF51 model is excellent for female vocals.
Solid and stylish package including a case, mic holders and cables.
Cons
None if you have the budget!
Summary
Free from the shackles of having to create precise replicas of rare and classic mics, Telefunken have released a striking range of valve microphones that are well worthy of attention. The TF51 and TF47 offer a modern twist on vintage classics, whilst the Copperhead is a great all-rounder that can really shine on the right source.
information
TF39 £1495, TF47 £1895, TF51 £1895. Prices include VAT.
SX Pro +44 (0)800 6522 320
T39 $1495, T47 $1895, T51 $1895.