Virtual Guitarist was a landmark product in 2002 and now it's back, reborn in a new ferric guise.
In a recording world now dominated by the computer-based project studio, 'virtual' musicians are a fact of life. The attractions of virtual drummers are obvious: pick a kit, assemble some MIDI parts and, in less time than it might take to get a kick drum sound on a real kit, your drum track is sorted. Other virtual musicians have also become common; if you cast your mind back to the early 2000s, you may well remember Steinberg's Virtual Guitarist (reviewed by SOS in 2002), perhaps the best known of these early efforts to turn a guitar player into software. Well, the Virtual Guitarist brand is now back, bought right up-to-date with Virtual Guitarist Iron. So what's changed over the last 14 years? Let's find out...
As a VST plug-in developed by Wizoo with support, branding and distribution by Steinberg, the original Virtual Guitarist offered both electric and acoustic options. Provided your song suited one of the plug-in's built-in musical styles, and because the very clever sample playback engine allowed the plug-in to follow whatever MIDI-generated chord sequence and tempo your DAW/sequencer happened to throw at it, this was a very easy way to create credible guitar parts. It was most certainly more suited to backing parts — solid strumming and the occasional riff were where it excelled — but for 2002 the results were very polished.
However, the original VG products have long since been discontinued and Wizoo were eventually acquired by Digidesign/Avid. However, Peter Gorges, Wizoo's original founder, subsequently left Avid to establish a new business venture in 2010 called UJAM. The UJAM team have some serious backers (including Hans Zimmer and Pharell Williams), and were responsible for the first cloud-based recording studio called UJAM Studio (and still available as a public beta). The UJAM team also include a number of the key Wizoo personnel who were involved with the original Virtual Guitarist product, and UJAM's first plug-in release is Virtual Guitarist Iron. While the interface is very much refreshed, and the underlying sample engine rebuilt from the ground up, if you have pined for the original Virtual Guitarist since its demise, then Iron is going to feel instantly familiar. The 'Iron' label might suggest that this release is aimed at those with a metal fetish but, while Iron can do a decent turn at metal styles, both in terms of sounds and performance options, it can actually cover a pretty broad palette of rhythm-based electric guitar duties. UJAM also have other guitar styles in the pipeline — Iron is the first release in what is planned to be a series of themed virtual guitar players built around the same basic engine. An acoustic player is scheduled for release around mid 2016.
As mentioned above, the underlying concept with Iron is the same as the original VG. As such, the plug-in provides you with sample-based rhythm guitar performances in a number of different musical styles. Within each style — and the plug-in ships with 100 of these — a number of different performance options are provided that fit that style and, in general, range from simpler through to more complex playing.
VG Iron ships with 100 different styles organised into a number of musical genres.
The interface has, of course, also been restyled from the original. A more modern approach is adopted, but users of the original VG will quickly spot familiar elements. The style selector, options for triggering specific performance styles via the interface, adding swing and 'feel' to the performance, and the various amp/effects options for tweaking the sound of the guitar, were all part of the original. In Iron, however, those options are expanded and, of course, benefit from more up-to-date sample technology and computer hardware.
When triggering VG Iron from your MIDI keyboard, the MIDI note range is split around C4. Above this, combinations of notes define the chord that VG Iron will play using the currently selected style/phrase combination, while beneath this, each MIDI note selects a different performance phrase within the current style. VG Iron's very clever sample playback engine then ensures that the currently selected phrase is played using your chosen chord and at whatever tempo is set by your host DAW. Depending upon exactly where you trigger the chord within the MIDI note range, you can get low, normal or high chord voicings.
The chord selections available perhaps wouldn't satisfy jazz producers but, for less harmonically challenging pop and rock duties, the options for major, minor, sus2, sus4, 5th, 6th, 7th, 9th and major 7th are going to be sufficient. And while you can play full chords on your keyboard while triggering VG Iron, as described clearly in the PDF manual, in fact only two notes are required to define the chord selection. This does take a little getting used to but, for those with less than stellar keyboard skills, does make chord selection easier.
One useful change in this updated take on the VG concept is that alongside the 11 style-specific performance options within each style, you also get 20 or so 'general' performance options. These common phrases are of the bread and butter variety — simple 8th-note strums or sustained chords, for example — but extremely useful to have available.
As well as playing any of the style phrases using a range of basic chord types, you can also adjust swing, feel, or choose double/half-time options.
Back in the day, the original Virtual Guitarist shipped with around 25 preset styles. The 100 of VG Iron therefore provide a much broader palette of options to work with. The documentation describes these styles as Iron's 'rhythmic vocabulary' and that's a helpful concept. The styles are, however, all given very pragmatic names and these take out much guesswork as you try to pick something suitable for your musical context. Styles such as Funk Rock, Fast Punk, Alt Rock, Disco Rock, Modern Shred and Classic 80s Rock make their intentions pretty clear.
While Iron is all about the electric guitar, you do get a choice of four guitar 'types' — Twang, Bite, Soft and Fat — and these take you from out-of-phase Strat-a-like through to a more saturated bridge humbucker. Equally, you can then treat those basic guitar tones to five different amp models — Clean, Crisp, Cream, Crunch and Metal — each of which gradually delivers additional gain. However, you can dial in just as much overdrive as you like with any of the models via the Drive control and, as with all the other controls in the VG Iron interface, the easy-to-use MIDI Learn facility means you can automate changes in your guitar tone if required. Of course, there is also nothing to stop you keeping things clean and sending Iron's output through your guitar rig plug-in of choice.
Iron also includes reverb, chorus and delay effects. These do a decent job, with the delay being the standout option for me; you can get very rock & roll with this. That said, you might well have more comprehensive options available within your standard plug-in collection. The Drop D option tunes the whole guitar by two semi-tones (that is, it's not really drop D but down-tuned), and consequently provides a somewhat heavier sound; great for a metal styles. Perhaps the most addictive option — as in the original Virtual Guitarist plug-in — is provided by the Doubling switch. This brings an instant dose of wide, stereo, doubled-tracked guitars. It sounds great and you can easily fill your sound stage with this. The difficulty is forcing yourself to turn it off after you have turned it on!
A combination of the Thrust control (by default linked to MIDI aftertouch although you could re-assign this if your keyboard doesn't have aftertouch) and the mod wheel allow you to add some additional variability to the performances generated by Iron's collection of phrases. Thrust adds harmonics to the sound of the guitars strings and, while the PDF manual is perhaps a little vague as to how this works, the effects seems to mimic some of what happens when a guitar player plays a little harder. The effect is quite subtle with cleaner tones but more obvious at higher gain settings.
If you define a specific key, VG Iron will confine its chord choices to that key.
Personally I found the mod wheel more interesting as this essentially acts as a variable amount of palm muting to the strumming. This is really effective and can easily allow you to change the dynamics of a phrase by palm muting beats that you don't wish to emphasise. Add in some volume variations via MIDI (this worked great using an expression pedal) and things can get really interesting. In addition, if you need to get the preset performances swinging — or to push or pull them against the beat to change the feel — the Swing and Feel controls give you those additional options.
I did the bulk of my testing within Cubase Pro 8.5 and, from a technical perspective, VG Iron performed flawlessly as a VST instrument. AU and AAX plug-in formats are supported though so it ought to function happily with any of the major desktop DAWs. Incidentally, if you happen to use any of NI's NKS hardware controllers, Iron will map to them automatically. The interface is slick, easy to follow, and offers enough features without presenting a difficult learning curve. This is a deliberate design choice by UJAM so users can get at instant results with Iron.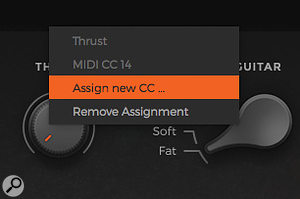 The plug-in includes a very easy-to-use MIDI Learn system.
So, technically Iron performed well and it offers a fairly painless new user experience, but, in the role of a virtual session guitarist, how does it perform and sound? Well, that's actually a very interesting question. Words like slick, polished, tight and well-produced perhaps sum this up. Indeed, sloppy triggering aside, I'd go so far as to say that it's almost impossible to get a bad sound out of Iron.
Do expect to spend some time exploring the preset performances, and learning how to trigger the supported chord types and to fully exploit the expression options offered, but, even with just a little practice, it is very easy to create a polished rhythm guitar track to sit in your project. Yes, as with the original VG, you have to work within the included styles, but this time around there are more of these to choose between, and Iron has additional expression options (the mod wheel/palm muting being the most useful of these).
The range of electric guitar tones spans super clean through to overdriven metal and covers most stops in between.
For a 'quick fix' of well-produced electric guitar to sit within a mix — rather than being the dominant element of a mix — VG Iron is very effective indeed. Where the plug-in is perhaps less successful is when you know you want your rhythm guitar to stick out from the mix in a more characterful way. Whether that's because the playing needs to be more dynamic, contain more playing variation, or perhaps be a little less polite or more obviously ragged (human?), then that's harder to conjure. For those kinds of 'featured' guitar performances, then keep your favourite session player's contact details handy. For everything else, Virtual Guitarist Iron might well give you a rather good first pass.
While Virtual Guitarist Iron might not persuade a rock, indie or metal band to dispense with their guitar player when recording, I can see media producers and composers finding it a very useful tool indeed; well-produced electric rhythm guitar parts in (pretty much) an instant. It might not have styles for every project but, when it does suit, it can do a very slick job. At the €99$99 asking price, it is also a pretty inexpensive option. And, as UJAM offer a 30-day trial version, if you are in need of a session guitarist, you have nothing to lose by auditioning Iron for yourself.
Personally, I'm rather glad to see the VG brand back, and UJAM have done a great job in retaining the original ease of use while bringing the plug-in up to date. Here's hoping the acoustic version follows shortly.
Perhaps top of the 'playable' virtual guitarist tree would be products such as the RealGuitar series, Acou6tics and Electi6ity and, between them, they cover acoustic and electric guitar sounds. All of these products are more flexible than VG Iron in terms of the performances you can coax from them but, equally, all come with a steeper learning curve, more effort required by the user, and a higher price. Perhaps a more obvious comparison in terms of approach and price is NI's Strummed Acoustic although this is, of course, a virtual acoustic guitarist rather than an electric one.
Pros
Very polished sound.
Wide range of preset styles provided.
Easy to use once you have grasped the basic operational features.
Cons
Yes, you are still limited to the provided playing styles/phrases.
Perhaps a little too polished/polite for some guitar part duties.
Summary
VG Iron brings the original Virtual Guitarist concept up to date, with improved sound, more presets and more features. It might not beat a really good session guitar player for expression and feel, but media composers will undoubtedly find this a very useful tool.
information
Test Spec
Apple iMac running OS 10.10.5, 3.5GHz Intel Core i7, 32GB RAM.
Steinberg Cubase Pro 8.5.
Focusrite Scarlett 8i6.