Second-order Ambisonic Microphone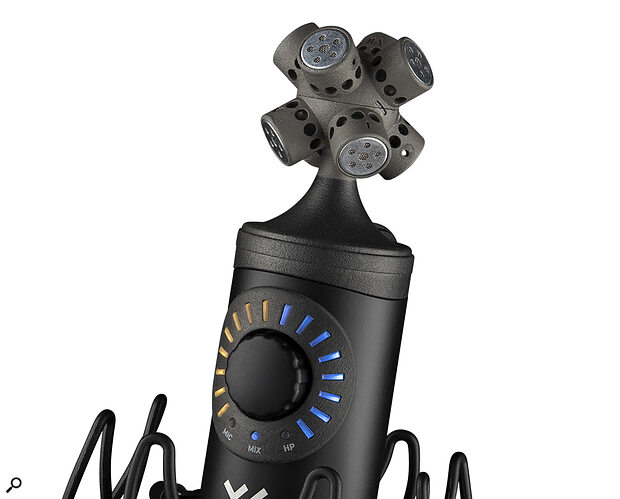 The Spatial Mic with basket removed, revealing its array of eight capacitor capsules.
This debut mic from Voyage Audio combines the power of Ambisonics with the convenience of direct USB connectivity.
Quadrophonic stereo was an expensive failure in the '70s. Music-industry money was thrown at 5.1 surround in the early 2000s, but it never caught on. Is it third time lucky for surround sound, and what's changed?
The current interest in surround formats is driven less by the music industry, and more by film, TV and gaming. One thing that's changed is that it's now practical to stream the large quantities of data involved in real time, but probably the biggest development is that distribution formats are no longer tied to a specific listening format.
Quad and 5.1 systems delivered a single channel of audio for each speaker. If you invested in the appropriate four, five or six-way speaker and amplifier setup, you could enjoy surround sound. If you didn't, or you wanted to listen on headphones, tough.
By contrast, modern formats such as Dolby Atmos and Ambisonics don't care what system you're listening on. They describe a 360-degree soundfield in a signal that can be decoded to suit any playback system, whether that be a mono phone speaker, a pair of cheap earbuds, a home stereo, a small surround rig or a full-blown cinema system.
I've described these formats as 'modern', but in reality, that adjective only really applies to Dolby Atmos. Ambisonics, the brainchild of British audio genius Michael Gerzon, has been around since the '70s — it's just taken the world that long to catch up with its possibilities. And, unlike Atmos, Ambisonics is a capture format as well as a delivery format, and its first practical application was in the groundbreaking Soundfield microphone.
The four-channel 'B‑format' Ambisonic signal from a Soundfield mic can be decoded to a surround speaker array, bu
t it can alternatively be decoded to one or more 'virtual microphones'. This means that you can record the output of a Soundfield mic and decode it later to recreate any coincident mono, stereo or surround mic array, pointing in any direction. In other words, an Ambisonic microphone is an incredibly useful tool for music recording, even if the results are only ever going to be released in stereo!
All of which brings me to the subject of this review: the Voyage Audio Spatial Mic. This, too, is an Ambisonic microphone, but whereas the Soundfield mic has four capsules and outputs a four-channel signal, the Spatial Mic doubles this count. It is, in other words, a 'second-order' Ambisonic microphone.
To offer a crude analogy, the move to higher-order Ambisonics is the sonic equivalent of moving up from DVD to 4K TV, at least in theory. A second-order Ambisonics signal describes the 3D soundfield in more detail than does a first-order signal, allowing the...
You are reading one of the locked Subscriber-only articles from our latest 5 issues.
You've read 20% of this article for free, so to continue reading...
Buy & Download this Single Article in PDF format

£1.00 GBP

$1.49 USD


For less than the price of a coffee, buy now and immediately download to your computer or smartphone.

Buy & Download the Full Issue PDF
Our 'full SOS magazine' for smartphone/tablet/computer. More info...