Virtual Studio Monitoring Plug-in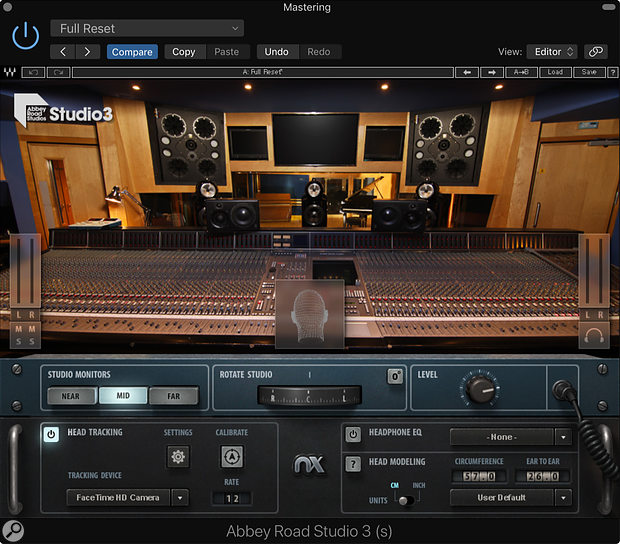 Waves bring one of the world's most famous mix rooms into your DAW.
Waves' Abbey Road Studio 3, created in collaboration with Abbey Road Studios, is a system that allows anyone mixing on headphones to feel as though they're mixing on world-class loudspeakers in an excellent control room. Designed by celebrated acoustician Sam Toyoshima, Studio 3's control room is the most sophisticated room at Abbey Road and is kitted out with high-quality nearfield speakers, a superb midfield 7.1 surround system and a large soffit-mounted stereo system. Waves have used their Nx technology to recreate Studio 3's acoustic space, converting either a stereo or surround audio input into a binaural headphone monitoring signal that sounds as though you're sitting in the sweet spot at the console.
To create this plug-in, Waves took precision 360-degree impulse response measurements of the Studio 3 control room for all three sets of monitors. Then Waves' own approach to binaural processing was used to recreate the way the ear perceives sound in a real space: adjusting the frequency spectrum of sounds coming from different locations, synthesizing inter-aural crosstalk, delay and head-masking effects. The icing on the cake is the incorporation of the Waves Nx head-tracking technology, which follows the listener's head movement and adjusts the headphone mix accordingly so that the effect is just like turning your head in real space. If you're working in surround, Waves Abbey Road Studio 3 can operate in 5.1 or 7.1 modes, so if you turn right round, you can focus on what is coming out of the rear speakers, even though you are still wearing conventional stereo headphones. The result, in theory, should be a far more three-dimensional listening experience than a standard headphone mix, making it easier to judge how much front-to-back perspective your mix has, how the reverb sits in the mix and what effect panning has for listeners who use loudspeakers for playback.
The head-tracking aspect of Waves Abbey Road Studio 3 can make use of the built-in camera in any recent Mac OS or Windows computer or the wireless Nx Bluetooth Head Tracker, an inexpensive gadget that clips into the top of your headphones. However, the Nx Bluetooth Head Tracker uses Low Energy Bluetooth 4 so older computers that don't support that will need the addition of a USB Bluetooth 4 dongle to work.
Because no two people have exactly the...
You are reading one of the locked Subscriber-only articles from our latest 5 issues.
You've read 20% of this article for free, so to continue reading...
Buy & Download this single article in PDF format

£1.00 GBP

$1.49 USD


For less than the price of a coffee, buy now and immediately download to your computer or smartphone.

Buy & Download the Full Issue PDF
Our 'replica SOS magazine' for smartphone/tablet/desktop. More info...