Digidesign (Avid) Pro Tools Tips & Techniques
If you've time enough to install it all, the extra software bundled with new Pro Tools systems has a lot to offer — particularly if you have the Pro version of Digidesign's Ignition Pack 2.
For many years now, new Pro Tools systems have included a bundle of cut–down versions of other software and plug–ins called the Ignition Pack, and Digidesign have recently done a major overhaul to create the Ignition Pack 2. There are now two versions, and which one you get depends on what Pro Tools package you have bought. In this month's Pro Tools feature we'll go through this pack of software to find out how easy these packages are to install, how easy they are to use, and whether they are any use in their own right, or just a clever marketing trick to get you to buy the full versions.
The first stage in installing the Ignition Pack is to follow the instructions on the Activation Card that you get with your system. Enter your Activation Code and fill out an on–line form on the Digidesign site, and you will get a page full of serial numbers, which is also emailed to you. If your system comes with the Pro version of the Ignition Pack you'll have to do the activation process again, whereupon Digidesign will place the appropriate 'assets' into your iLok account for you to download.
You'll need to set aside a few hours to install the entire bundle, as each application has a separate installer with different instructions, some of which are downright confusing. Most use Installer applications, but some are drag and drop, and they all use the Activation Code in different ways and at different times in the install process. Some, like Reason Adapted, require you to visit the manufacturer's web site as part of the authorisation process. Others, again including Reason Adapted, also recommend downloading updates to the latest versions, which can mean a lot of time on–line. It is a shame that there couldn't be some kind of global installer for the entire Ignition Pack.
The main limitation of Reason Adapted, compared to the full version, is that it has a fixed number of units in the 'rack', and unlike the full version, you cannot have more than one of each. This is a significant limitation: for example, you only get one Dr REX loop player, so you can only play one loop at a time.
A very useful introductory video on the installation CD gives you an overview of how Reason works and how it connects to Pro Tools through a simple Rewire plug–in, which locks the application together with the PT timeline and routes the audio into the PT mixer. Propellerhead have released a special Refill for Reason Adapted; all the other Refills need the full version of Reason to work. For more info on the full version of Reason 3.0 see the review in the May 2005 issue and the regular Reason column in SOS.
Lite versions of three Izotope plug–ins are included, but no instructions.
I was very impressed with the performance of Izotope's Ozone 3 when I did the mastering shoot-out back in SOS May 2006. With the Lite version, you only get access to a restricted range of presets, and none of the controls are adjustable except for the input and output level controls. You can't even view the settings for individual parameters, which is extremely restrictive for a mastering plug–in, and basically turns it into a demo.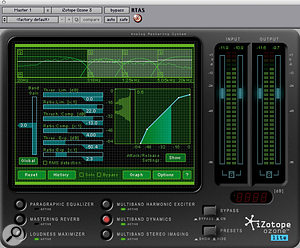 Trash Lite is also limited to a small number of presets, but these are much more usable; for example, the 'Just Run Them Through the Stack' preset is brilliant at recreating the sound of running music through a PA system. I will definitely be using this one in my post–production work. Likewise, the Spectron Lite 'spectral effects' plug–in offers a useful range of modulation effects, mostly at the more extreme end of the processing spectrum. You can at least adjust the wet/dry control here, but it's a shame Izotope couldn't have unlocked at least a couple of parameters.
The Lite version of the BFD drum instrument only offers three kits, instead of the nine you get with the standard version, but contains a kit from each of the BFD expansion modules, and so gives a real flavour of the full version while being a very useful plug–in in its own right. With the full version you also get 24–bit samples, multiple outputs and other plug–in formats besides RTAS, but FXpansion have struck an excellent balance of facilities with this Lite version, and the Pro version of Ignition Pack 2 includes three further kits. The tutorial video on the installation disc gives an excellent overview of how BFD works, and it will save you loads of time. For more details and a review of the full version, see the February 2005 issue of SOS.
Ableton Live Lite Digidesign Edition
Ableton Live is an excellent multi–layered loop-, sample- and sound-playback package for manipulating sounds in a live environment. For more details, and reviews of the full version, see the November 2005 and November 2006 issues, as well as the regular column in SOS. Like Reason, Live links to Pro Tools via Rewire, and once again there are some fairly major restrictions on what you can do in the Lite version. For instance, I couldn't make the Software Instruments tutorial work, as the instruments referred to in the tutorial didn't seem to be available to me.
IK Multimedia Amplitube LE
Amplitube is one of the best–established software guitar-amp emulators, and appears as an RTAS plug–in in Pro Tools. There is a useful set of presets, and even though this is a 'lite' version, all the settings are variable and you can save new presets.
I was able to create a very useful range of guitar-amp sounds with the settings available, and was in no way aware of any LE restrictions. There is even a guitar tuner built into the virtual amp!
Celemony Melodyne Uno Essential
When it comes to pitch–shifting and time–stretching, I am a Pitch Doctor man, so was interested to see if I could get to grips with Melodyne easily or not. Having eventually succeeded in installing it, after much trouble, I was offered an Experience Tour, through which I could learn with enclosed examples how to use Melodyne. This is an excellent introduction to the Melodyne interface and how it works.
The Uno Essential version enables two functions. One is the ability to manually re–pitch whole notes, quantised to the closest note or to the nearest note in the scale of the piece; the other is to change the length of each note manually, again quantised to the nearest beat or sub–beat. In both cases, holding the Alt key down bypasses quantising, allowing you to move notes freely. There's no access to features such as formant and volume editing, macros for automatically correcting pitch and timing, or the Expert toolbar where you can adjust pitch within a note. Nevertheless, if you are happy to work manually through a song, you can perform serious magic. For more on the full version see the March 2006 review, and a comparison with Auto–Tune 5 in March 2007.
Xpand! was the first plug–in instrument from Digi's AIR group, and was covered in our review of the Music Production Toolkit in SOS June 2006. The Xpand! engine consists of a sample playback, FM, wavetable, and virtual analogue synth architecture, and is capable of creating complex sounds easily, with the option of having up to four different sounds layered up together. It comes with around 1000 patches built in and ready to go. Given that so many other plug–ins in the Ignition Pack are limited in some way, it was very refreshing to play with a plug–in where everything works; not only that, but support for a range of control surfaces is available too!
There is far too much to go through here, but do take the time to read the PDF manual to appreciate the range of options offered by this free plug–in. A few highlights from my brief play with it included the 'Natural Percussion' patch, which has GM mapping already set up. With one instance of Xpand! you can build up a kit using three of the layers and, somewhat unconventionally, use the rotary controls to select different drum sounds for each element of the kit. I also love the Underwater Cave preset in the Ambience + FX group; together with 'Ambient Droplets' used sparsely, it will be great for creating tension in radio documentaries and dramas. Xpand! is a goldmine of sounds, and it's free, so even if you haven't got this as part of your Ignition Pack you can order it from the Digistore, and all you pay is the postage.
Arturia Analog Factory SE
This is an excellent retro keyboard emulation plug–in. The SE version has 200 non–editable presets, based on a range of analogue synths including the Yamaha CS80, ARP 2600 and Minimoog, covering string pads, percussion, bass, brass, lead and piano sounds. The filter section on the left–hand side of the window is very useful to help narrow down your options for presets to chosen groups. All are very playable. The full version includes 2000 presets, the ability to create your own, and sounds from the Sequential Circuits Prophet range of synths. For more information see the review in the January 2007 issue.
Way Out Ware Timewarp 2600 Lite
This is another analogue synth emulation, this time emulating only one machine. The Lite version is a preset–only plug–in with a selection of the presets from the full version. I found the range of sounds disappointing compared with Analog Factory, but of course that may have as much to do with the limitations of the original synth as with its plug–in implementation. The one sound that immediately connected with me was the 'Birdland Bass' preset, which immediately reminded me of the famous song of the same name — there I am showing my age! For more information see the review in the August 2006 issue.
M Box 2 Pro Factory, 003 Factory, 003 Rack Factory and HD systems come with the more substantial Ignition Pack Pro 2, which includes extra plug–ins and sound libraries: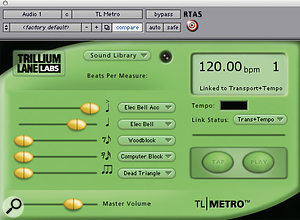 TL Utilities is a suite of three plug–ins comprising a metronome, a metering plug–in and a tuner. The first of these, TL Metro, comes with many more sounds and options than Digidesign's basic Click plug–in, and has the bonus that you can import your own sounds as well. You can configure Metro to play different samples for different types of notes. In the screenshot below, the Elec Bell sample will play for the crochet beats, with an accented sample on the first beat of the bar, while a Woodblock sample will play on the quaver beats, a Computer Block on the semiquaver beats and a Dead Triangle on the triples. Metro comes with 39 factory samples and 11 slots for your own samples. Each sample has its own volume control. You can use the usual Pro Tools presets to save a Metro configuration once you are happy with it.
Metro can be unlinked from the Pro Tools timeline, so that it free–runs whether Pro Tools is playing or not. You can set the tempo in the Tempo field or by tapping with the mouse button. In linked mode, the Tempo, Tap and Play buttons are disabled, and Metro follows the Pro Tools timeline.
This is a lovely little plug–in that runs rings around the standard Digidesign Click. The sounds are more pleasant to work with, and the ability to use your own samples makes it worth the price of the TL Utilities bundle on its own — so to get it free as part of Ignition Pack 2 Pro is a bargain!
TL Master Meter is a sophisticated metering plug–in that can detect inter–sample peaks. In a digital system, it is possible to have a series of samples that are at or below 0dBFS, yet the reconstructed signal from those samples exceeds 0dBFS. Many domestic CD players cannot handle these inter–sample excursions, so mastering engineers need metering that can show when this is happening. Master Meter can do this in two ways, with Real–Time or Historical metering.
The real–time meters are down the right–hand side of the MasterMeter window, and operate according to an odd law whereby the small section at the bottom covers everything below –6dBFS, the 0dBFS point is just below halfway up, and the top half only covers the 6dB over 0dBFS. The left–hand meter shows the signal level as detected at the basic Session sample rate, while the right–hand meter uses oversampling to show what is happening between the samples. The top screen overleaf shows a signal that is not clipping according to the left–hand meter, but contains an inter–sample peak that is picked up in the right–hand meter.
Master Meter's Historical list records instances where there have been 'overs', where in the track they happened and for how long. You can export this data in tab–delimited format, which can be pasted into a suitable spreadsheet. Master Meter is an excellent tool for anyone mastering CD projects who wants to be fully informed about the level status of their mixes.
Although they probably won't thank me for saying this, TL In Tune is a posh guitar tuner in plug-in form. If you're not sure the instrument you're recording is in tune, you just drop this plug–in on an insert point. You can set it to only cover the notes relating to a particular instrument, or display black notes as flats instead of sharps. It will also generate a reference tuning note if you select a tone from the tone selector and click on the appropriate note button.
It's also possible
to change the needle to a strobe indicator. This produces a strobe effect that stops when you are in tune, but it also stops when you are a semitone above or below the note, which can be confusing! It is a shame that In Tune only works on mono tracks, too — it doesn't even appear as a multi–mono option on stereo tracks. Aside from this, it is another very useful utility.
This is an emulation of the classic analogue phasing effect which also goes well beyond that remit. By picking up the tempo map of the song, it can produce phasing effects that track the tempo map, and it also has a side–chain input, so you can use other sounds in the mix to trigger the phasing effect. For example, you can route a percussion track to the side–chain input of Everyphase inserted onto a bass track. There are over 120 presets in eight categories to get you going, and again, because this is the full product and not a cut–down version, you can edit the presets and save them at will. For more details take a look at the June 2004 review.
Synchronic is an instrument plug–in designed to manipulate rhythmic audio loops, and can be controlled using the on–screen interface, Pro Tools MIDI tracks, an external MIDI controller, or Pro Tools plug–in automation. Synchronic plays back locked to Session tempo while creating modifications in playback order, speed and volume of individual beats and sub-divisions of the beat (or 'slices') in a loop. It also includes an effects processor that tracks Session tempo to tempo–based effects such as delays.
Up to 12 audio files, either mono or stereo, of any bit depth and sample rate, can be loaded at once, of which any two can be played back simultaneously. Imported files are sliced up to play in sync with the Pro Tools MIDI Beat Clock. Various aspects of their playback, such as speed, slice order and direction, are controlled by the Playback module, while the Effect module offers four concurrent effects: Gain, Noise, Filter and Delay. The two sounds being played back are then mixed in the XFade module, while the MIDI Module lets you assign and trigger combinations of sounds and presets using MIDI. You can also map MIDI controllers to Synchronic controls.
This plug–in would warrant an article on its own to go through all it can do. It supports AIFF, WAV and SDII (Mac only) files, and will import Acid loops with their slice points intact. However, it won't import REX–format loops, which is a shame.
The Ignition Pack 2, and especially the Pro version, contains a lot of very useful extras, but the experience of using it will be coloured for many newcomers by the lack of documentation, the inconsistent approach to authorisation and the amount of time it takes to install everything and get it going. Each package has a different installation and authorisation method, with some being much easier to manage than others. The point of the Ignition Pack is to help the new user start making music with their system as fast and painlessly as possible, and to that end, a common set of instructions would be helpful, a common installer would be stunning, and some form of tutorial and/or video would be really helpful.
As well as software and sound libraries, the Ignition Pack 2 also includes a number of special offers for music–related web sites. First up, Broadjam.com is a site aimed at enabling artists and bands to promote themselves to a wider audience, and the Ignition Pack 2 provides one year's free membership worth just under $100. The package seems to offer a significant range of services, including being able to sell your tracks on–line for $0.99, of which you receive $0.80.
The Sonicbids web site offers to connect you with 100,000 members from 100 countries, "making it easy for musicians and promoters to connect with each other on–line". The Ignition Pack 2 gives you free membership for one year, worth $49.95, and you are able to create what they describe as an 'Electronic Press Kit' or EPK for short. You can build up a biography, audio clips, lyrics, video, photos, press releases, set lists, technical requirements and a calendar of events, all available on–line.
Garageband.com is a web site where "music lovers" rate submitted tracks. When you have reviewed 30 tracks you can submit one song of your own, or you can pay to submit a track. As part of the Ignition Pack 2 you can submit one track for free, without going through the reviewing process, while Ignition Pack 2 Pro owners can submit three tracks.
They all seem to be interesting packages, and with free membership for a year, you have very little to lose in trying them out.
The Ignition Packs also include bundles of loops and sounds culled from some of the big names in this field. The ordinary Ignition Pack comes with the Pro Sessions LE bundle, which contains over 500MB of samples in both WAV and REX formats. There is no form of catalogue, so you just have to browse through them to see whether there is anything you fancy, which took far too long for my liking. You are also left in the dark when it comes to figuring out how to use them. I got some of the REX versions to load into the Dr REX module in Reason Adapted, and you can import the WAV versions directly onto a Pro Tools audio track, but some help for beginners would be nice.
The Ignition Pack Pro includes another four collections of sounds. There are just under 100MB of REX–format loops from Big Fish Audio, which are accompanied by a PDF file with a list of all the loops categorised by folder. From Cycling '74, there's over 1GB of loops from the Unnatural Rhythm collection, some of which are in WAV and others in REX formats, but again there is no list to help you find what you are looking for. Sonic Reality provide almost 400MB of content, also split between WAV and REX formats. Again there is no catalogue, but there is an undocumented Pro Tools Session in the 'Studio ProFile Artist Series' folder which is supposed to reference the samples. In practice, though, many of them were incorrectly named and had to be manually re–linked. Finally, there's a selection of REX files from Zero G's Total Rex collection. Although there is no catalogue data, their folder structure and naming policy makes it reasonably easy to browse through.
In general, there are a lot of resources in the sound libraries supplied with the Pro version, but they are let down by the lack of cataloguing.