Secrets Of The Mix Engineers: Justin Cortelyou & Bob Ezrin
Justin Cortelyou at Bob Ezrin's Anarchy Studios in Nashville.Photo: John Brown Photography
Searching for a crossover hit, the team behind classical tenor Andrea Bocelli turned to one of the all-time great rock producers.
"The brief," says Bob Ezrin emphatically, "was to create the 'greatest classical album of all time with all-new material'. That's not a trivial goal! I wanted to create a new classical sound, something with a touch of modern music. I called it Classica Nuovo."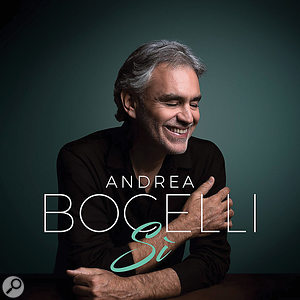 Andrea Bocelli's Si turned out to be both a critical and commercial success, and Bocelli's 10th pop album and 16th overall proved his first number one in both the UK and the US.In these slightly blasé times, the ambition to create a new sound is as laudable as it is risky. There's the danger that fans may be turned off and critics may hold their noses, but instead, Andrea Bocelli's Si turned out to be both a critical and commercial success, and Bocelli's 10th pop album and 16th overall proved his first number one in both the UK and the US.
This was a sweet victory for the 60-year old tenor from Tuscany, as Si was his first album of original material in 14 years, and ambitious in all kinds of different ways. A big-budget operation, it was recorded entirely in 96kHz 'high resolution', and featured collaborations with pop stars such as Ed Sheeran, Dua Lipa and Josh Groban. Moreover, whereas Bocelli's previous pop albums had been produced by adult contemporary music greats like David Foster and Humberto Gatica, the involvement of Ezrin hints at a deliberate change of direction.
The Canadian is, of course, best known for producing, and at times co-writing, rock classics. These include Pink Floyd's The Wall, Alice Cooper's Million Dollar Babies, Lou Reed's Berlin, Kiss's Destroyer and Peter Gabriel's first album, to mention but a few. By contrast, Si is mostly an orchestral album, with the odd bit of programming, all of which forms a sophisticated backdrop for Bocelli's voice. The whole thing is probably about as far as one can get from classic rock in popular music, but according to Ezrin's right-hand man, engineer and mixer Justin Cortelyou, it's just par for the course.
"I've worked with Bob for nearly 10 years now, and we have worked on everything from Phish to Kristin Chenoweth to Alice Cooper to Hollywood Vampires to Mongolian rock bands to Pete Seeger. In fact, we had just finished an Alice Cooper record when we started the Bocelli record! For us it is all music. There is good music and good art in all different genres, it doesn't matter whether it is hip-hop or EDM or what. And Bob is very prolific and very good at blending genres. With Si, for example, this involved combining Andrea's voice with those of Dua Lipa and Ed Sheeran. Bob is great at merging things that may look strange on paper, and the end result does not sound odd. One reason for this is that he is very good at arranging, and many of the albums he's done, for example by Pink Floyd, and Kiss's Destroyer, have a touch of classical elements."
The fact that changing genres is a non-issue for Ezrin is...
You are reading one of the locked subscriber-only articles from our latest 5 issues.
You've only read 10% of this article, so to continue reading...
Option 1: Buy and download this single SOS article in Adobe PDF format
Buy this article now and immediately download the PDF file to your computer.
Single article PDFs look identical to the printed magazine layouts (but exclude advertisements).
Note: Some shorter articles don't always have a PDF version.
Option 2: Buy the Full Issue PDF **NEW**
From the January 2018 edition onwards, it is possible to buy a Full Issue PDF 'replica magazine' (with adverts) for the price of a handful of single PDF articles, and instantly download it. More info...
Option 3: Buy a Digital subscription from our shopstore
A Digital sub can be bought from our online Shop

Store

and used immediately, or contact our Subs staff to discuss an upgrade price to add Digital access to your existing Print subscription.