Secrets Of The Mix Engineers: Tim Latham & Derik Lee
Hamilton: An American Musical is the creation of Lin-Manuel Miranda, who also took the title role.Photo: Joan Marcus
The hottest Broadway show for decades has spawned a smash hit album. But, as engineers Derik Lee and Tim Lathan explain, Hamilton is not your average 'original cast recording'.
Hamilton: An American Musical has turned the world of Broadway musicals on its head, and has even been credited with changing Americans' understanding of their own history. One critic described it as "so good that future generations will probably look back to it as the most revolutionary and influential production in the history of musical theatre", and both President Obama and Dick Cheney have declared their appreciation, as has everyone from musical legend Stephen Sondheim to hip-hop stars like Kanye West and Jay-Z. The show has won a record-breaking 11 Tony Awards, and the asking price for a ticket for the last show in which the musical's writer, Lin-Manuel Miranda, played the lead role, was a staggering $10,000. The show takes in more than half a million dollars a week, and revenues from ticket sales from the New York show alone are expected to exceed one billion dollars.
Hamilton is a musical about the life of Alexander Hamilton (1755-1804). One of the founding fathers of the US, Hamilton is mainly known as the author of most of the Federalist Papers (which promoted the US constitution), for being killed in a duel, and the fact that his portrait is on the $10 bill. So far, so high-school-boring. However, the main reason why Hamilton, the musical, went from what Miranda himself agrees was "a ridiculous pitch" to a musical revolution is its mastery of the hip-hop vernacular and use of a predominanrly African-American and Hispanic cast. The show took Miranda six years to write, and although it seamlessly integrates dozens of different musical genres, much of the content is rapped, often at rapid-fire pace. The two-and-a-half-hour performance contains a staggering 20,000 words, four times more than the average musical, at times whizzing by at a pace of six words per second, and the music has an ultra-modern, in-your-face, hip-hop/R&B feel.
The original cast recording, which has already gone platinum in the US, is the first original cast album to top the US Rap Albums chart in the US, the largest-ever streaming debut for a cast album, and in sales terms is currently second only to that of the 1996 Broadway rock musical Rent, which of course dates from a time when albums still sold en masse. It was executive produced by Miranda and two members of the Roots, drummer Ahmir '?uestlove' Thompson and MC Tarik 'Black Thought' Trotter. All three also produced, in conjunction with musical director Alex Lacamoire and Bill Sherman.
Original cast album recordings are usually quickly made, relatively unpolished-sounding affairs intended as souvenirs for those who have attended the show. Clearly, Hamilton is much more than this — but, as recording engineer Derik Lee and mixer Tim Latham recall, it was nevertheless made to tight time constraints. The pair had to record and mix 46 songs in just 34 days, and the restrictions of this schedule affected everything they did.
Derik Lee was the recording engineer charged with capturing 46 songs in two weeks.
Hamilton premiered off-Broadway on February 17th, 2015, but its immediate success forced a move to Broadway far earlier than expected, where it opened at the Richard Rodgers Theatre on August 6th. This meant, recalls Latham, "a race against the clock, because we had to deliver the finished record by a very specific date, September 17th, so it would be eligible for a Grammy nomination. To be considered an original Broadway cast recording, the show has to have officially opened before a note is recorded. So we set up Avatar Studio A for tracking on the 8th, two days after the show opened, and started recording on Sunday the 9th. I left that night with a hard drive of the band recordings of that day, and started mixing the next morning, while tracking, overdubbing and editing at Avatar continued. We mastered on September 14th-15th. We managed to pull it off because we had extensive pre-production meetings during which we came up with a schedule for these 34 days, with the tracking days timed down to the minute. So if a song was 3:15 long, we'd reserve 6:45 for two takes, and then we'd move onto the next song. We were moving at an unbelievable pace. I mixed for 18 hours per day, from 6am until midnight, every day for the entire 34 days!"
Tim Latham mixed the entire album, again in a very short time!
The team that devised, and maintained, this punishing schedule consisted of Lacamoire, Sherman, Miranda, Lee and Latham, with a central role for Lacamoire, who naturally was familiar with every note of the score. All had previously worked together on the cast recording of Miranda's previous and first musical, In The Heights, which premiered on Broadway in 2008 and won four Tony Awards. In The Heights had a strong Latin music theme, and its soundtrack was recorded using the traditional approach whereby cast and band are tracked live in a studio live over one or two days. As Derik Lee explains, things were very different for Hamilton.
"The fact that cast recordings normally are done in just one or two days is partly because the cast does eight shows a week, and has just one day a week off, and if they work on that day, they get paid for an entire week. That's not to mention the wear and tear on the players and musicians if several studio sessions are added to these eight weekly shows. Cast recordings normally are very hard on everybody, with people getting at best a couple of takes per song, and whether they nail it or not, you have to move on. Lately, with a move away from large 32-piece orchestras and scores incorporating DAWs and amplified music, you sometimes get a day with the band alone and a day with the singers. That's how we did the cast recording of Sarah Bareilles' musical Waitress [2016]."
"Sometimes, original cast recordings are done almost for archival purposes, and they typically don't sell much," continues Tim Latham. "But the record company, Atlantic, understood that something exceptional could be done with Hamilton, so they raised the budget and afforded us to make a proper record. When I first got the phone call from Atlantic, they asked me: 'Can you mix 50 songs in two weeks?' Once we had the team together we had long discussions about how to manage this, not only in terms of time, which was extended, but also how we wanted it to sound. There was a very narrow range in which we wanted the recording to land, which was to make it sound like an original cast album that people who like those kind of albums will enjoy, but at the same time to make it sound as contemporary as possible. We wanted it to sound as pop as is possible with a Broadway recording. At the same time we wanted to make the listener feel as if he or she is listening to a live performance of the play."
"We wanted to make the album sound like a record," adds Lee. "Because of the nature of the music, I approached it like recording a pop or a rock record. So we recorded the vocal ensembles with close microphones on every member, as if he or she was a backing vocalist on a pop record. We did not want the usual approach of having 20 people in a room, and putting up two room mics. We got right up close to everybody, with small gobos between the singers. We also recorded the band with close mics, particularly the drums and the percussion, because we wanted a very tight sound on the drums. I come more from a rock background, so I like heavy drums and heavy bass, and this was way more my direction in terms of how we did it. I really could flex my muscles here in approaching this as a hip-hop or pop album."
The schedule that the company set out during "lengthy, lengthy, lengthy production meetings" was to record the band over two days, August 9th and 10th. A first three-hour string quartet recording session took place on the morning of the 11th, and in the afternoon, the band came back in to record with the strings, while a harp also was laid down at the end of that session. All this took place at Avatar Studio A. Following this, the company moved to Avatar Studio C, setting up and editing the recorded material on the 12th, and recording more string quartet overdubs on the 13th and 14th.
Hamilton creator Lin-Manuel Miranda (left) and musical director Alex Lacamoire at Avatar Studios during the recording of the soundtrack.
The 15th was spent setting up for the vocal recordings and doing more editing, and the principal male singers came in on the 16th, the principal female singers on the 17th, and the male ensemble on the 18th. Jonathan Groff, the only white principal singer, sang King George's parts on the 19th, and the female ensemble sang their parts on the 20th. As he indicated earlier, Latham began mixing everything at his home studio, Invictus, in New York the day after the first band session, ie. on the 10th. Lee, Sherman and Latham moved to Atlantic Studios on August 21st, where the former two continued editing and comping while Latham mixed. Lacamoire and Miranda supplied continuous feedback throughout the entire process, while ?uestlove and Black Thought regularly dropped in to give their opinions as well.
The hectic schedule was made even more arduous because it came with two more internal deadlines. Latham: "We had to have seven of the main songs mixed for playback at Atlantic for August 25th. The songs were 'My Shot', 'You'll Be Back', 'Alexander Hamilton', 'The Room Where It Happens', 'Stay Alive', 'Helpless' and 'Dear Theodosia'. There was a second listening session on the 28th, for which we had to get another eight songs ready, including 'Non-Stop', 'Yorktown', 'One Last Time' and 'The Schuyler Sisters'. We called these songs the core seven and the big eight.
"The listening sessions were to make sure that everybody was happy with the balance between the instruments and the vocals and the balance between it being a borderline Broadway and a borderline hip-hop/R&B record. The other issue was that we wanted the band and singers, and also us, to be able to do the heavy lifting first, hence we started with the main songs with the densest arrangements, which were labour-intensive to play, record and mix. This allowed us to work on them while everyone was still at their freshest, and also made it possible for Derik and I to create the sonic blueprint for the entire show."
In addition to drummer Andreas Forero and percussionist Benny Reiner, the core band consisted of bassist Richard Hammond, guitarist Robin Macatangay, and two keyboardists, Kurt Crowley (also associate music director) and Alex Lacamoire (not only the arranger and music director, but also the conductor). These six musicians set up in more or less a circle at Avatar Studio A, in such a way that both the drums and the percussion could be entirely isolated. Lee elaborates: "The band set up differently than they do in the pit at the theatre, because the Studio A in Avatar is much larger. The drum room there also is much bigger than the space he has in the pit. Live, they are used to seeing the conductor, Alex, on a video monitor. So we put a camera on Alex, and showed him on video monitors in front of the players. This meant that sight lines weren't that important. The other thing that was crucial during tracking was that the band had played this show already many times before, so when they entered the studio they had the whole show ingrained in muscle memory. They knew their parts inside out, and also knew exactly what dynamics to play everywhere. It helps to have a singer to inspire and focus a band, but in this case the band was already locked in, and this allowed us to move through the recordings very quickly."
Derik Lee laments that the "big scoring stages in which you could put everyone, singers and an orchestra, in the same room are disappearing" in New York. To address this, Avatar offers the facility to tie two rooms together and spread larger companies between them. However, for the recordings of Hamilton, both Studio A and Studio C were large enough by themselves. The recording space of Studio A is a whopping 230 square metres, enough to hold 65 people, and Lee was only dealing with 11 in total on the last day of recording there: band, string quartet and harp. Both the capacity to screen off the drums and percussion, as well as the Neve 8088 desk in the control room, were essential features.
The famous live room at Avatar Studio A, as set up for the band recordings.
"We had the luxury of using that awesome Neve, and all the mics on the band went through that. The drummer and percussionist also had Roland SDP pads, the bassist a keyboard bass, and the guitarist was playing through a Fractal Audio unit (though Tim also wanted me to record the guitar DI in case he wanted to adjust his sound), and there were two keyboards with four outputs each. For all of these line outs I used the studio's gear, including GMLs and Millennias. My mics were a Sennheiser MD421 on the kick, and a Neumann KM84 on the snare top and a Sennheiser MD441 on the snare bottom, though Andreas used five snares in total! I had a Shure SM57s on the other snares, and an LCR overhead, consisting of two Neumann U67s and a centre Neumann TLM170, so no matter where he played, the snare could always be panned where Tim wanted it.
The work of percussionist Benny Reiner is central to the show's music.
"Other drum microphones were Sennheiser 421s on three of the toms and a Neumann FET 47 on the fourth, and I had a Neumann KM84 each on the hi-hat, the ride, and as left and right room mics. I recorded the percussionist with four AKG C451s, a Shure SM57, a Sennheiser 421, and a Neumann FET 47. I also had a Neve 33609 [compressor] on the LCR overheads. Oh, and Ahmir '?uestlove' Thompson did an overdub, playing a table, which I recorded with a Neumann U67.
Not a misprint: ?uestlove really did perform a percussion overdub on a table!
The electric bass went direct via an Avalon U5 and an LA-2A, and the upright bass had a DI, plus I also recorded the latter with a Neumann U47. The acoustic guitar and banjo were recorded with an AKG C414, and went through a UREI 1176. The strings were recorded with a Schoeps CMC5 on each of the violins, a Neumann KM84 on the viola, and a Neumann FET 47 on the 'cello, plus two AKG C24s as room mics. These were the only room mics I used. The harp went down via two Neumann KM84 mics. Everyone used the studio's Nemesis eight-channel headphone monitoring system.
The pace of the recording sessions meant that Derik Lee had to stick to a single drum-miking scheme for all the songs. Note the three overhead mics in LCR configuration.
"Moving to another room for the vocal recordings was a bit of a challenge for me. In order to keep things streamlined, I did a submix in Pro Tools of the band recordings to stereo, which helped us move more quickly when we recorded the vocals. Avatar Studio C has a Neve VR desk, and I again used that on all microphones, I didn't even think twice. All principal vocals also went through a hardware compressor, either an LA-2A or 1176. I used mainly Neumann U67 mics on the principal singers, and Avatar's custom-built A67. There was one U47, which I used on Daveed Diggs [Marquis de Lafayette/Thomas Jefferson], because his voices sounded rather harsh on a 67. I like to record vocals with the 47, but singers sometimes swapped places during the sessions, if they wanted to be in a sightline with another singer, and I wanted to give Tim a consistent sound on each singer, so it was easier to have all 67s.
"As I mentioned earlier, each of the ensemble players also had his or her individual mic, a combination of Neumann 87s and 170s — we only used tube mics on the principals. I recorded the ensemble vocalists without a hardware compressor, but did use a post-record software compressor, the Waves RCompressor, because some of them were not that well versed in microphone technique. The principal singers were for the most part used to working in a studio, so they knocked out their parts, but some of the ensemble players were new to working in a studio and weren't sure what to listen to or how to approach the mic. We had to simply give them a band mix and then ask them to take one headphone ear off if it was too loud. We simply did not have the time to create a monitoring balance for each individual ensemble singer. As long as they could hear the drums for timing and something melodically to get their pitch from, it's what they had to work with. The RCompressor helped me to control the ensemble vocals for monitoring."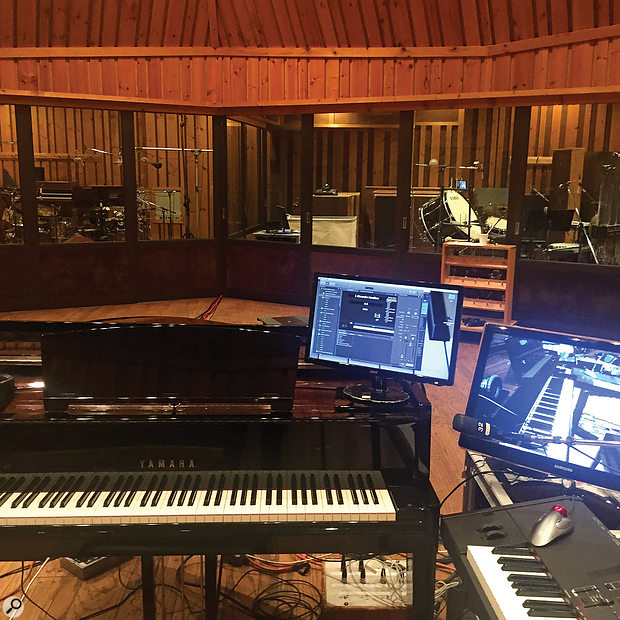 Arranger, musical director and keyboard player Alex Lacamoire also conducted the band from the piano. The musicians were used to seeing him over a video link in the pit, so the same system was employed at Avatar, meaning that players could be positioned optimally for sound without needing to worry about sight lines.
While Derik Lee gave it his best shot recording the entire cast at Avatar, Tim Latham was doing long hours fitting it all together. Unusually, his first step was to mix all the band tracks without vocals, which were added later. This to some degree echoes what he calls his "first gig", in a major studio in New York in 1989, when he helped engineer karaoke tracks, for which some of American's top engineers and musicians were busy recreating some of the biggest hits of the day. "I learnt more in those four months than at any stage in my career," recalled Latham. His earlier experiences didn't make the process of mixing just the band and adding the vocals later all smooth sailing, however.
"I first have to say that I am someone who mixes songs, in the sense that all choices and decisions I make, both technically and artistically, are guided and informed by the lyrics. My role is to present a final mix that represents the story and emotions of the song, with the mix itself being absolutely transparent and free of gimmicks and gratuitous use of effects. Because I am so focused on the lyrics, it was initially quite a challenge to mix just the band first. After I had done that I added the strings and the harp, and the vocals after that, usually first the ensemble vocals. I learned while mixing those first core songs how much room I actually had to leave for the vocals!
"My first couple of mixes were pretty unsuccessful, because I hadn't anticipated how much space 18 or 20 tracks of vocals were going to take. What worked in my favour were the arrangements. Lin and Alex had gone for six years making sure every note in those arrangements was right and that there were no conflicts, no things getting in the way of each other. But I still had to go back a number of times and redo some of the instrumental and vocal balances. One important balance, which we checked during these listening sessions, was how far the vocals floated over the music. With most cast recordings it'll be like 70 percent vocals and 30 percent instruments. In this case we wanted something like a 55-45 balance. That still meant that the vocals took up a lot of space, because there are tons of vocals, and the vocal writing itself is incredibly dense, with all the fast rapping, and things being non-stop. But as Lin explained, this reflected exactly what Alexander Hamilton was like in person.
"The other crucial aspect of these mixes was the dynamics, which tend to be very important in musicals. I have done other cast recordings, and also in this case I basically work a little bit backwards. I get the overall sounds together and the relative balances of what I call the motor. This is the rhythm section, which I wanted to be really hot and tight and together. I make sure that the mix hits the mix bus at maximum volume where it needs to, but also preserve the super-wide dynamic range. Part of the reason why the Hamilton recording works so well is that we managed to preserve that. So when it's huge, it's really big and when it's quiet, it's very quiet. So I really had to make sure during mixing that there was enough headroom for the biggest moments. From the beginning of my mixes I would reduce the volumes of the eight subgroups of everything, rather than individual tracks, because I don't want to affect the overall compression rates. This is one of the reasons why I have aux subgroups, which in this session are Ableton material, the drum kit, percussion, harp, strings, lead vocals, female ensemble, male ensemble. Of course these subgroups also allow me to adjust and automate these groups as a whole. Incidentally, the Ableton material usually consisted of non-musical ingredients, like gunshots, record scratches, and other sound effects, that had been prepared — they're being used live — and that we dropped into the sessions after the recordings."
'Non-Stop' is the final song of Act 1 of Hamilton, and in many ways a summing-up of said Act, in which Hamilton's colleague and nemesis, Aaron Burr asks, perplexed, "How to account for his rise to the top? Maaaaan, the man is non-stop!" George Washington also asks Hamilton to run the new nation's Treasury department, and the two women in Hamilton's life express their misgivings and recapitulate their lines and melodies from earlier songs, with Hamilton himself singing his motto, "I'm not throwin' away my shot." It results in a kind of free-for-all quintet that Alex Lacamoire has christened an "all-skate". Musically the song is one of the more exuberant in the show, moving from rapping accompanied by just drums to up-tempo multi-instrument multi-vocal extravaganzas, ending Act 1 on a high. (This in stark contrast to the end of Act 2, which is necessarily downcast, as it follows Hamilton dying after a duel with Burr.) According to Latham, 'Non-Stop' saw "Lin and Alex weaving together nearly the entire first act/CD into the last part of a six-minute song, which presented numerous challenges for me."
This composite screenshot shows the entire Pro Tools session for Tim Latham's mix of 'Non-Stop'. The sheer scale of the task, and the fact that similar miking setups were used throughout, meant that he could begin with a template session for most of the songs.
The exceptionally well-organised Pro Tools session for the song is a whopping 108 tracks, breaking down as, from top to bottom, a master track, nine Ableton tracks, 18 drum tracks, 10 percussion tracks, 12 instrument tracks (bass, guitars, keyboards), 11 string tracks, 11 lead vocal tracks, and 24 ensemble tracks. Each of these sections has a corresponding aux group track at the bottom. There are also eight aux effect tracks right at the bottom of the session, which are, says Latham, "part of the template of every mix session that I work in, and includes three different reverbs (a room a plate and a hall), three delays (slapback, a quarter note and an eighth note) and, depending on the genre, a stereo eighth-note repeat, a stereo ping-pong delay, and so on. They're just there, whether I use them or not."
Plug-ins on the drum bus: Slate's VMR and the Sonnox Oxford Limiter.
Latham: "It's a hip-hop album, so I had to make sure the drums are very present and prominent, particularly the kick. Thanks to Universal Audio I can now recreate my outboard signal chain in the box, and the kick drum has the UAD Studer A800, then the UAD Neve 1081, Waves Renaissance Axx guitar compressor, and the Avid seven-band EQ. The Studer and the Axx add some compression, but not very much, and the seven-band does some surgery. Most of my EQs are subtractive, and the seven-band doesn't add any colour and does surgery really well. For the rest there aren't many plug-ins on the drums, other than again the A800, 1081 and Axx on the snare top — the latter two plug-ins also are used in a few other cases, and the Avid ReVibe reverb on the tambourine, because I wanted it to sound a little distant. The drum aux has the Slate Digital Virtual Mix Rack. The screenshot also shows the Sonnox Oxford Limiter; the [now discontinued] TC Electronic Master X3 used to be my go-to limiter for drums because it added a somewhat aggressive colour that my ear really likes. It was tough to give that one up when I went for HDX."
Music: Universal Audio Studer A800, Neve 1081, LA-2A, 1176, dbx 160 & SSL Channel; Brainworx BX_digital v2; Avid Joemeek EQ, ReVibe & EQ III; Waves Renaissance Axx & API 560; Slate VMR; SoundToys Phase Mistress.
There are very few plug-ins on the percussion, so Latham continues by going straight to the musical instruments. "There's a lot going on the bass track, with again the A800 and the 1081, then the UAD LA-2A tapping it a little bit, followed by the Joemeek EQ, working around 7-800 Hz to get the bass to speak more, and then again the Renaissance Axx, compressing just 0.75dB on the output. The electric guitar has the A800, a Waves API 560, the Virtual Mix Rack and a UAD 1176. The VMR does very little: I just used the tube bus simulator to warm it up a bit. It also has a send to a reverb aux return, which has a ReVibe with a room setting. The keyboards have the BX_digital V2, a UAD dbx 160, the SoundToys Phase Mistress and UAD SSL Channel. I automated the Phase Mistress to come in when it gets to the Fender Rhodes-like part. But many of the keyboard tracks have no plug-ins at all. I am a really boring mixer!
"Towards the end of the project Derik asked to have a look at what I was doing, and he said, 'Is that it?' The individual string tracks, for example, also have nothing. On the string aux I have the UAD LA-2A to round things off a bit, the seven-band takes out a frequency in the 3.5kHz range that my ear didn't like, purely surgical, with the narrowest possible Q, and there's again the Axx for a bit of limiting, plus a send to the ReVibe plate reverb aux."
"There are quite a few plug-ins on the individual vocal tracks, and again, the main thing they're doing is surgery. Each principal singer had a particular sound to their voice, and the challenge was to make them all sound as if they're singing in the same space, and also make sure they have the same subjective levels. Some singers, like Daveed Diggs, have such a strong natural presence in his voice that you could turn him down -10dB and they'd hear them. Lin's voice also cuts through everything, but Leslie Odom's, for example, not so much. If you put both through a VU meter, they might peak at the same level, but Lin's voice would subjectively sound three times as loud. So I had to work hard to get all the vocals to sound equally loud, and to get them to sound like they were in the same space. This was all about finding the right combinations of EQ, compression and de-essing. The EQs I used were the Massenburg Designworks MDWEQ5 parametric equaliser for some gentle shaping at the top end, the Meek EQ for some more aggressive EQ, the Flux Epure EQ, which has a wonderful silky smooth top end, and the BX_digital, which also allows you to get very surgical and add some nicely rounded top end. Compressors were the Waves RCompressor and the UAD LA-2A, and I used the Waves De-esser. For the ensemble aux tracks, 'Fellas' and 'Ladies', I had similar signal chains, with the LA-2A or UAD 660 or 670 or Neve 2254 to round off the peaks, and then I used the Renaissance Axx or RCompressor for quick-response limiting. The lead vocals were sent to a ReVibe plate track, and the ensemble tracks to an Altiverb aux track for reverb."
Stereo mix: Avid Impact, Universal Audio ATR 102 & Manley Massive Passive; Brainworx BX_XL.
Latham: "My master fader at the top has the signal chain that I would in the past have used outside the box, starting with the Avid Impact, which is my replacement for the SSL bus compressor. Then there's the UAD ATR 102. Sometimes I'd automate the 'tape speed' in the middle of a song. The UAD Manley Massive Passive mastering plug-in functions like a high-pass, and adds some air, but no more than half a dB at 10-12 kHz. The BX_XL [limiter] was doing approximately what I thought Tom Coyne would do during mastering. I always sent him the versions with and without the BX, but to have it on there helped me to hear the record more or less the way it would sound when finished.
"Throughout the whole mix project we had a system for people making comments. We had a whole method worked out via Google Docs that allowed me to strike through (a) the comments I had addressed, (b) those that I did not think were necessary, and (c) those that I did not think worked after I tried them, with colour coding for each. But there's no substitute for everyone sitting in the same room together, so towards the end we had two more listening sessions. We mastered on Monday and Tuesday, September 14th-15th, and the Friday before that we had a listening session with everyone listening to Act 1 in its entirety, and I spent Saturday morning making adjustments to some individual tracks and printing everything. In the afternoon we listened to Act 2 from top to bottom and I again went through everything after that. I was up until Monday morning one o'clock, and believe it or not, Tom started mastering at 6am that morning!"
In the end, after 34 days of non-stop work that neatly symbolised Hamilton and Miranda's work ethics, the result achieved its Grammy Award for Best Musical Theater Album, and of course, far more than anyone in their wildest dreams could have imagined. When asked why he thinks the album has achieved such popularity, Latham replies: "First of all, Lin-Manuel deserves all the hype and then some for writing Hamilton's story in such a digestible and captivating manner. There were several moments during mixing when I had to stop playback to ask him: 'How the fuck did you write this?'
"People also often say that the album doesn't sound overly polished, but I can assure you that every note on this album was examined on a molecular level, particularly by Alex Lacamoire. While it's true that some of the performers aren't the most polished singers, their performances really befit their characters. I think the impression of the rawness and ruggedness of the album comes from two sources: the wide tempo changes and the very wide dynamic range within each song. That makes it all very human. It's a rarity to have these enormous tempo and dynamic variations in a popular record today. But if we had tried to go for the modern loudness-war approach, we would have killed these recordings. It would just not have worked."
Following lengthy production meetings, the first step Derik Lee took towards making the recordings was to create 46 Pro Tools sessions: one for each song. "I obviously did not have the time to open up Pro Tools sessions during the recordings. It's one thing when you are doing an album with 16 songs, but when you're doing 46 songs it's a whole other challenge. You don't want anyone waiting for you, so I created a template for all songs, and we prepped the session for each song. This included tempo maps which were built by Alex on feel. During the shows the band uses a click for most of the time, but it drops out in certain sections where the actor has to drive the momentum, while the band follows, after which the band goes back to playing to a click again.
"Although the musical was not recorded in sequence, we did want to record each song straight through, and to be able to do this it was necessary to pre-program all the tempo changes in each song. There also were a few drum loops that were in the sessions before we started, but for the rest, everything was performed live. A lot of the stuff that sounds like drum loops is Benny Reiner, the percussionist, who is like a machine. He and the drummer, Andreas Forero, really did a great job in giving the music a very metronomic hip-hop feel."
The ability to work with pre-arranged Pro Tools sessions also proved invaulable for Tim Latham. On the morning of August 10th, when he opened the results of the first day of recording, he found himself wondering: "How am I going to finish this? Having never worked like this before, I had to work out how to mix 46 songs in 34 days. Plus the material was very dense, both writing-wise and sound-wise, and I could see that many of the sessions would end up containing over a hundred tracks. These were not going to be easy, quick mixes!
"So I had to create a template for mixing the entire album. I laid out the sessions in the way I wanted, and created a plug-in scheme for the drums, the percussion, the bass, the strings, and so on. As I received more material, which always was already edited and comped and sometimes tuned by Derik and Bill [Sherman], I would input that into session templates with these plug-ins. That gave me a really good place to start from, and afforded me to move much more quickly. It took a few days to fine-tune the template. Initially I thought this was cheating a bit, but then I realised that the entire album has to sound like a continuous show, so although there are some variations on a per-song basis, overall the sound of the band and the vocalists has to be fairly consistent throughout the album."
Tim Latham grew up in New York in the 1960s, and played piano and bass from a young age. He attended Berklee College Of Music in Boston, where he switched his focus to engineering, mixing and producing. He moved back to New York in 1989, and after a spell working on karaoke tracks, was employed by Battery Studios. He quickly became the first-choice engineer and mixer for many of the producers that came to record there, including Tony Platt (AC/DC, Bob Marley, Iron Maiden) and Bob Power (A Tribe Called Quest, De La Soul, the Roots). During this time Latham also worked with innovative hip-hop artists like De La Soul, A Tribe Called Quest, KRS-One and Kid Rock, as well as anyone from Buddy Guy to Britney Spears. Latham went freelance in 1994, and has since found himself working with the likes of D'Angelo, Erykah Badu, Fun Lovin' Criminals and Lou Reed, for whom he engineered records like Ecstasy (2000) and The Raven (2003). His more recent credits include original cast recordings of musicals like In The Heights (2008), and Bring It On: The Musical (2012), and Laurie Anderson.
Latham built his own Invictus Studio at his home in Long Island in 2006, when he saw "the handwriting on the wall that everything was moving in the box. Recalls were becoming more and more important, and budgets were being slashed, and I needed to survive, so I relearned how to mix inside of Pro Tools, which had sounded terrible before HD, to be honest. But HD was a tremendous leap forwards. For a long time afterwards the plug-ins still weren't that great, so it was a challenge to achieve the sounds I had in mind. But plug-ins sound much better now and I can't say enough about how good UAD's plug-ins are. So I now work on HDX, with Avid I/O, an Antelope Isochrone OCX clock, and a UAD PCIe Octo Card and Quad Satellite. My monitors are Genelec 1031As and Avantone MixCubes, and I still have a smattering of outboard, like two Daking 91579s, and a pair of Distressors, all of which I use as drum compressors, an Avalon 747 compressor/EQ and a few other toys."
Originally from south-east Michigan, Derik Lee started out as a musician playing in punk bands, but soon became the guy who recorded everyone else. He enjoyed regional success playing in a band called Few And Far Between, but decided to go into recording.
His first step was to work as an assistant to star-producer Frank Filipetti for a couple of years, after which Lee, by now living in New York, went freelance. Allmusic.com lists credits ranging from several Broadway original cast recordings to Neil Sedaka to Bruce Springsteen. He noted that although "the majority of my credits are in musical theatre, television and movies, I also do a lot of stuff with independent bands that doesn't necessarily show on Allmusic. My passion is in indie rock and things like that. But working in musical theatre in particular has allowed me to maintain my career. They have incredibly talented musicians and singers, and there are many spin-offs into various other projects."