Secrets Of The Mix Engineers: Tim Latham & Derik Lee
'Non-Stop' is the final song of Act 1 of Hamilton, and in many ways a summing-up of said Act, in which Hamilton's colleague and nemesis, Aaron Burr asks, perplexed, "How to account for his rise to the top? Maaaaan, the man is non-stop!" George Washington also asks Hamilton to run the new nation's Treasury department, and the two women in Hamilton's life express their misgivings and recapitulate their lines and melodies from earlier songs, with Hamilton himself singing his motto, "I'm not throwin' away my shot." It results in a kind of free-for-all quintet that Alex Lacamoire has christened an "all-skate". Musically the song is one of the more exuberant in the show, moving from rapping accompanied by just drums to up-tempo multi-instrument multi-vocal extravaganzas, ending Act 1 on a high. (This in stark contrast to the end of Act 2, which is necessarily downcast, as it follows Hamilton dying after a duel with Burr.) According to Latham, 'Non-Stop' saw "Lin and Alex weaving together nearly the entire first act/CD into the last part of a six-minute song, which presented numerous challenges for me."
This composite screenshot shows the entire Pro Tools session for Tim Latham's mix of 'Non-Stop'. The sheer scale of the task, and the fact that similar miking setups were used throughout, meant that he could begin with a template session for most of the songs.
The exceptionally well-organised Pro Tools session for the song is a whopping 108 tracks, breaking down as, from top to bottom, a master track, nine Ableton tracks, 18 drum tracks, 10 percussion tracks, 12 instrument tracks (bass, guitars, keyboards), 11 string tracks, 11 lead vocal tracks, and 24 ensemble tracks. Each of these sections has a corresponding aux group track at the bottom. There are also eight aux effect tracks right at the bottom of the session, which are, says Latham, "part of the template of every mix session that I work in, and includes three different reverbs (a room a plate and a hall), three delays (slapback, a quarter note and an eighth note) and, depending on the genre, a stereo eighth-note repeat, a stereo ping-pong delay, and so on. They're just there, whether I use them or not."
Plug-ins on the drum bus: Slate's VMR and the Sonnox Oxford Limiter.
Drums: Universal Audio Studer A800 & Neve 1081; Waves Renaissance Axx; Avid EQ III & ReVibe; Slate VMR; Sonnox Oxford Limiter.
Latham: "It's a hip-hop album, so I had to make sure the drums are very present and prominent, particularly the kick. Thanks to Universal Audio I can now recreate my outboard signal chain in the box, and the kick drum has the UAD Studer A800, then the UAD Neve 1081, Waves Renaissance Axx guitar compressor, and the Avid seven-band EQ. The Studer and the Axx add some compression, but not very much, and the seven-band does some surgery. Most of my EQs are subtractive, and the seven-band doesn't add any colour and does surgery really well. For the rest there aren't many plug-ins on the drums, other than again the A800, 1081 and Axx on the snare top — the latter two plug-ins also are used in a few other cases, and the Avid ReVibe reverb on the tambourine, because I wanted it to sound a little distant. The drum aux has the Slate Digital Virtual Mix Rack. The screenshot also shows the Sonnox Oxford Limiter; the [now discontinued] TC Electronic Master X3 used to be my go-to limiter for drums because it added a somewhat aggressive colour that my ear really likes. It was tough to give that one up when I went for HDX."
Music: Universal Audio Studer A800, Neve 1081, LA-2A, 1176, dbx 160 & SSL Channel; Brainworx BX_digital v2; Avid Joemeek EQ, ReVibe & EQ III; Waves Renaissance Axx & API 560; Slate VMR; SoundToys Phase Mistress.
There are very few plug-ins on the percussion, so Latham continues by going straight to the musical instruments. "There's a lot going on the bass track, with again the A800 and the 1081, then the UAD LA-2A tapping it a little bit, followed by the Joemeek EQ, working around 7-800 Hz to get the bass to speak more, and then again the Renaissance Axx, compressing just 0.75dB on the output. The electric guitar has the A800, a Waves API 560, the Virtual Mix Rack and a UAD 1176. The VMR does very little: I just used the tube bus simulator to warm it up a bit. It also has a send to a reverb aux return, which has a ReVibe with a room setting. The keyboards have the BX_digital V2, a UAD dbx 160, the SoundToys Phase Mistress and UAD SSL Channel. I automated the Phase Mistress to come in when it gets to the Fender Rhodes-like part. But many of the keyboard tracks have no plug-ins at all. I am a really boring mixer!
"Towards the end of the project Derik asked to have a look at what I was doing, and he said, 'Is that it?' The individual string tracks, for example, also have nothing. On the string aux I have the UAD LA-2A to round things off a bit, the seven-band takes out a frequency in the 3.5kHz range that my ear didn't like, purely surgical, with the narrowest possible Q, and there's again the Axx for a bit of limiting, plus a send to the ReVibe plate reverb aux."
Vocals: Universal Audio Massenburg MDWEQ5, LA-2A, Fairchild 660 & Neve 2254; Brainworx BX_digital v2; Avid Joemeek EQ & ReVibe; Flux Epure; Waves Renaissance Compressor, De-esser & Renaissance Axx; Audio Ease Altiverb.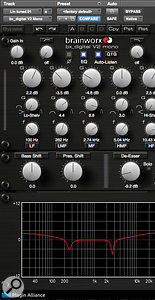 The challenge that faced Tim Latham when dealing with the show's principal vocalists was to make their performances work together. Brainworx's BX_digital EQ did much of the heavy lifting, as here on Lin-Manuel Miranda's voice."There are quite a few plug-ins on the individual vocal tracks, and again, the main thing they're doing is surgery. Each principal singer had a particular sound to their voice, and the challenge was to make them all sound as if they're singing in the same space, and also make sure they have the same subjective levels. Some singers, like Daveed Diggs, have such a strong natural presence in his voice that you could turn him down -10dB and they'd hear them. Lin's voice also cuts through everything, but Leslie Odom's, for example, not so much. If you put both through a VU meter, they might peak at the same level, but Lin's voice would subjectively sound three times as loud. So I had to work hard to get all the vocals to sound equally loud, and to get them to sound like they were in the same space. This was all about finding the right combinations of EQ, compression and de-essing. The EQs I used were the Massenburg Designworks MDWEQ5 parametric equaliser for some gentle shaping at the top end, the Meek EQ for some more aggressive EQ, the Flux Epure EQ, which has a wonderful silky smooth top end, and the BX_digital, which also allows you to get very surgical and add some nicely rounded top end. Compressors were the Waves RCompressor and the UAD LA-2A, and I used the Waves De-esser. For the ensemble aux tracks, 'Fellas' and 'Ladies', I had similar signal chains, with the LA-2A or UAD 660 or 670 or Neve 2254 to round off the peaks, and then I used the Renaissance Axx or RCompressor for quick-response limiting. The lead vocals were sent to a ReVibe plate track, and the ensemble tracks to an Altiverb aux track for reverb."
Stereo mix: Avid Impact, Universal Audio ATR 102 & Manley Massive Passive; Brainworx BX_XL.
Latham: "My master fader at the top has the signal chain that I would in the past have used outside the box, starting with the Avid Impact, which is my replacement for the SSL bus compressor. Then there's the UAD ATR 102. Sometimes I'd automate the 'tape speed' in the middle of a song. The UAD Manley Massive Passive mastering plug-in functions like a high-pass, and adds some air, but no more than half a dB at 10-12 kHz. The BX_XL [limiter] was doing approximately what I thought Tom Coyne would do during mastering. I always sent him the versions with and without the BX, but to have it on there helped me to hear the record more or less the way it would sound when finished.
"Throughout the whole mix project we had a system for people making comments. We had a whole method worked out via Google Docs that allowed me to strike through (a) the comments I had addressed, (b) those that I did not think were necessary, and (c) those that I did not think worked after I tried them, with colour coding for each. But there's no substitute for everyone sitting in the same room together, so towards the end we had two more listening sessions. We mastered on Monday and Tuesday, September 14th-15th, and the Friday before that we had a listening session with everyone listening to Act 1 in its entirety, and I spent Saturday morning making adjustments to some individual tracks and printing everything. In the afternoon we listened to Act 2 from top to bottom and I again went through everything after that. I was up until Monday morning one o'clock, and believe it or not, Tom started mastering at 6am that morning!"
In the end, after 34 days of non-stop work that neatly symbolised Hamilton and Miranda's work ethics, the result achieved its Grammy Award for Best Musical Theater Album, and of course, far more than anyone in their wildest dreams could have imagined. When asked why he thinks the album has achieved such popularity, Latham replies: "First of all, Lin-Manuel deserves all the hype and then some for writing Hamilton's story in such a digestible and captivating manner. There were several moments during mixing when I had to stop playback to ask him: 'How the fuck did you write this?'
"People also often say that the album doesn't sound overly polished, but I can assure you that every note on this album was examined on a molecular level, particularly by Alex Lacamoire. While it's true that some of the performers aren't the most polished singers, their performances really befit their characters. I think the impression of the rawness and ruggedness of the album comes from two sources: the wide tempo changes and the very wide dynamic range within each song. That makes it all very human. It's a rarity to have these enormous tempo and dynamic variations in a popular record today. But if we had tried to go for the modern loudness-war approach, we would have killed these recordings. It would just not have worked."
Following lengthy production meetings, the first step Derik Lee took towards making the recordings was to create 46 Pro Tools sessions: one for each song. "I obviously did not have the time to open up Pro Tools sessions during the recordings. It's one thing when you are doing an album with 16 songs, but when you're doing 46 songs it's a whole other challenge. You don't want anyone waiting for you, so I created a template for all songs, and we prepped the session for each song. This included tempo maps which were built by Alex on feel. During the shows the band uses a click for most of the time, but it drops out in certain sections where the actor has to drive the momentum, while the band follows, after which the band goes back to playing to a click again.
"Although the musical was not recorded in sequence, we did want to record each song straight through, and to be able to do this it was necessary to pre-program all the tempo changes in each song. There also were a few drum loops that were in the sessions before we started, but for the rest, everything was performed live. A lot of the stuff that sounds like drum loops is Benny Reiner, the percussionist, who is like a machine. He and the drummer, Andreas Forero, really did a great job in giving the music a very metronomic hip-hop feel."
The ability to work with pre-arranged Pro Tools sessions also proved invaulable for Tim Latham. On the morning of August 10th, when he opened the results of the first day of recording, he found himself wondering: "How am I going to finish this? Having never worked like this before, I had to work out how to mix 46 songs in 34 days. Plus the material was very dense, both writing-wise and sound-wise, and I could see that many of the sessions would end up containing over a hundred tracks. These were not going to be easy, quick mixes!
"So I had to create a template for mixing the entire album. I laid out the sessions in the way I wanted, and created a plug-in scheme for the drums, the percussion, the bass, the strings, and so on. As I received more material, which always was already edited and comped and sometimes tuned by Derik and Bill [Sherman], I would input that into session templates with these plug-ins. That gave me a really good place to start from, and afforded me to move much more quickly. It took a few days to fine-tune the template. Initially I thought this was cheating a bit, but then I realised that the entire album has to sound like a continuous show, so although there are some variations on a per-song basis, overall the sound of the band and the vocalists has to be fairly consistent throughout the album."
Tim Latham grew up in New York in the 1960s, and played piano and bass from a young age. He attended Berklee College Of Music in Boston, where he switched his focus to engineering, mixing and producing. He moved back to New York in 1989, and after a spell working on karaoke tracks, was employed by Battery Studios. He quickly became the first-choice engineer and mixer for many of the producers that came to record there, including Tony Platt (AC/DC, Bob Marley, Iron Maiden) and Bob Power (A Tribe Called Quest, De La Soul, the Roots). During this time Latham also worked with innovative hip-hop artists like De La Soul, A Tribe Called Quest, KRS-One and Kid Rock, as well as anyone from Buddy Guy to Britney Spears. Latham went freelance in 1994, and has since found himself working with the likes of D'Angelo, Erykah Badu, Fun Lovin' Criminals and Lou Reed, for whom he engineered records like Ecstasy (2000) and The Raven (2003). His more recent credits include original cast recordings of musicals like In The Heights (2008), and Bring It On: The Musical (2012), and Laurie Anderson.
Latham built his own Invictus Studio at his home in Long Island in 2006, when he saw "the handwriting on the wall that everything was moving in the box. Recalls were becoming more and more important, and budgets were being slashed, and I needed to survive, so I relearned how to mix inside of Pro Tools, which had sounded terrible before HD, to be honest. But HD was a tremendous leap forwards. For a long time afterwards the plug-ins still weren't that great, so it was a challenge to achieve the sounds I had in mind. But plug-ins sound much better now and I can't say enough about how good UAD's plug-ins are. So I now work on HDX, with Avid I/O, an Antelope Isochrone OCX clock, and a UAD PCIe Octo Card and Quad Satellite. My monitors are Genelec 1031As and Avantone MixCubes, and I still have a smattering of outboard, like two Daking 91579s, and a pair of Distressors, all of which I use as drum compressors, an Avalon 747 compressor/EQ and a few other toys."
Originally from south-east Michigan, Derik Lee started out as a musician playing in punk bands, but soon became the guy who recorded everyone else. He enjoyed regional success playing in a band called Few And Far Between, but decided to go into recording.
His first step was to work as an assistant to star-producer Frank Filipetti for a couple of years, after which Lee, by now living in New York, went freelance. Allmusic.com lists credits ranging from several Broadway original cast recordings to Neil Sedaka to Bruce Springsteen. He noted that although "the majority of my credits are in musical theatre, television and movies, I also do a lot of stuff with independent bands that doesn't necessarily show on Allmusic. My passion is in indie rock and things like that. But working in musical theatre in particular has allowed me to maintain my career. They have incredibly talented musicians and singers, and there are many spin-offs into various other projects."