We look at editing vocals for tighter timing, strategies for faking double‑tracked electric guitar, and much, much more...
The track 'Devil's Train' was performed and recorded entirely by Barry Martin using real guitars and basses, but underpinned by sampled drums from Toontracks' EZ Drummer. The song includes two layered guitar parts, which alternate throughout the song, to give a thicker sound. But rather than replay the part — which is the option I much prefer — Barry had copied a single guitar line to a second track and then delayed it by 12ms, to create a wider sound when panned in stereo. Barry had recorded the part using his 1981 Gibson Les Paul Studio guitar, via his Line 6 KB37 audio interface, using the Gearbox amp‑modelling software's 'Fuzzy Wuzzy' preset. His choice of overdrive tone was high on edge, but I felt it was a little lacking in low‑end punch for this particular song. Structurally, the song was very simple, because there were no guitar solos or elaborate extra sections, although Barry had included a breakdown section just past midway that had the potential to be made more interesting.
My first impression of the song was that it was attempting to mix a pop‑style vocal delivery (complete with doubling and harmony parts) and more of a metal guitar sound, with possibly some White Stripes influences showing through. I felt that there were parts of the drum line that clearly weren't working as well as they could. Barry told me that he had recorded his Yamaha bass via his KB37 interface, with the Ampeg SVX plug in to process it, adding some chorus and compression. Although the bass part itself sounded pretty good, I felt it was too clean in comparison with the guitars.
One of the keys to making this mix work was getting each section of the song to sound sufficiently different. For example, a little fuzz was added to the bass during the breakdown, courtesy of Line 6's Pod Farm, which helped it to fit better with the guitars in that section.
For a retro drum sound, Paul rolled off a little low end and compressed using a UAD Fairchild compressor emulation, followed by Waves L1 limiter to catch any rogue peaks.My first task, after playing through the various parts to familiarise myself with them, was to tighten up the timing of some of the vocal parts, where the harmony or second vocal wasn't quite in time with the first. This is a very common scenario, particularly at the ends of words finishing with a consonant — if they don't line up the result sounds very untidy. Most words started tightly enough, but where parts were too long or too short, I made edits in the middle of sustained vowels and then used Logic's Arrange Page 'Stretch' facility to massage the trimmed word fragments to the correct length before reattaching them, using a short cross‑fade where necessary
Barry's vocal pitching was pretty good but I used a gentle application of Logic's Pitch Correction plug‑in just to tighten it further on all three vocal parts. To get the vocals to sit in the track rather than sounding 'stuck on', I opted for an early‑reflections reverb ambience effect, delayed by around 90ms. This creates a powerful and lively sound that works well in the context of rock music, and it doesn't swamp the vocal in reverb, as long as you use it sparingly. Barry felt that I'd overdone this on the first mix I sent him, so I ended up backing it off a little. A gentle application of short, bright plate reverb was added to the backing vocals, courtesy of Universal Audio's excellent Plate 140 plug‑in for their UAD1 and UAD2 DSP cards.
The only creative vocal edit I did was to drop out all but the main vocal in the breakdown section, so that I could use some radical effect processing on the voice, to create a somewhat demonic feel that would match the title and subject of the song. For this, I copied the vocal onto an adjacent track and treated it with severe high‑ and low‑pass filtering, to create the now‑familiar telephone/radio voice effect. On one of the tracks I inserted a reverse reverb plug‑in set to 100 percent wet (in this case, Logic's Space Designer with the default IR reversed, but any reverse reverb with a decay time of around four seconds will work). Then I slid the track ahead of the dry vocal until the end of the reverse reverb build‑up coincided with the start of the dry vocal. You have to do this by ear, but it's pretty obvious when it's working. The result was an eerie reverse build‑up to each word, and I felt this worked so well that I copied a phrase from the reverse reverb track and pasted it first into the song's intro, and then right at the end, to enhance the general atmosphere. As the song stood, it had no properly arranged ending, but this helped me to fabricate one — and to really milk the effect, I first slowed down the vocal phrase I'd copied by stretching it to around twice its original length, again using the Arrange‑page Stretch algorithm. A bit of automated left/right panning completed the illusion, and by now we were getting well into Exorcist territory!
The drum part worried me a little, because Barry had inserted a crescendo at various points in the song, but the first bar of these was so quiet that it almost sounded as through the drums had dropped out. To my ears, it felt better if the basic drum rhythm carried on for another bar, as the crescendo then lifted out of it more naturally. Most of the drum parts were copied from EZ Drummer's MIDI rhythm library, and the fills that Barry had chosen at the end of each crescendo sounded a bit stilted in context, so I added the odd tom and snare hit and also put a straight kick‑drum all the way through the fills, to help keep them sounding solid. I also brought a four‑on‑the‑floor kick drum back, part way through the breakdown section in the middle, because having it without drums all the way through sounded a bit weak — especially as Barry had launched into some nice Keith Moon‑style fills directly afterwards.
As Barry sent me the drum parts both as audio and as a MIDI file, I determined the tempo of the song using Logic's bpm counter (which read a straight 140bpm), set the sequencer tempo to match, then lined up the MIDI file to give me chance to tweak the drum part. I opted to stick with EZ Drummer as the sound source because it gives great results with minimum messing around, but I chose the Nashville expander kit, with the top snare mic set louder than the bottom one, and a bit of the compressed room‑fader brought up to give the drums a sense of being in real space.
Getting the timing of a performance right is every bit as important as hitting the correct pitch. Paul took great care to edit the ending of the backing vocal parts so that they were nice and tight with the lead vocal.To beef up the drum sound, I used some low‑cut EQ to get rid of anything below 40Hz: this gave me back some headroom that allowed me to add a bit of 80Hz boost. The whole drum mix was then passed through a UAD Fairchild compressor plug‑in, which I set to squash by around 6dB, followed by a Waves L1 limiter to keep any over‑zealous snare hits in check. What I wanted was a slightly retro rock drum sound with just a suggestion of 'gain pumping' and I think this combination did a good job of achieving that.
As I mentioned above, Barry's bass sounded too clean and polite in the context of his angsty guitars, so I used the Line 6 Pod Farm plug‑in that I happened to have in for review, set up with the 1972 Amp 360 model, and some compression from the Line 6 Compressor rigged as an amp insert effect. This added a hint of dirt and depth, and was used throughout the song, other than for a few bars running up to the breakdown section, where I moved that section of bass to a new track before adding some fuzz to 'filth' it up a bit.
As I was planning to drop the level of the distorted guitar at this point, this trick gave the middle of the song a slightly different texture, and I also applied some tape‑style flanging to the fuzzed bass using the Waves Metaflanger plug‑in, set to give a slow, deep sweep. For the fuzz‑bass effect, I used Pod Farm again, this time with a Tweed B Man amp model and a Fuzz Pi stomp effect. Another little cheat that I used during the breakdown section, where there's a repeated guitar and bass progression, was to pick the best‑sounding couple of bars and then copy and paste that phrase to give a tighter overall effect.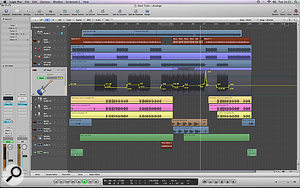 Paul used some simple level automation to bring the guitars down slightly so that they didn't fight with the more important vocal parts.
Doubling up distorted guitars to give a big sound is a proven production trick, but as I mentioned earlier, Barry's doubled lines were simply copies that were offset by a few milliseconds. This is a trick that can sound big in stereo, but it unfortunately runs the risk of sounding phasey in mono. Where possible, I prefer to use two different guitar sounds when doing this, ideally using different types of guitars and/or pickup combinations. To go some way towards emulating this effect, I took one of Barry's guitar parts and processed it via another Pod Farm amp model ('Big Bottom') to produce a deep, solid sound, with relatively little top end. I then mixed this in with his existing second part: by balancing the two, I could get an overall guitar sound that was more punchy but still cut through the mix. At the end of the breakdown section, Barry had played a nice, stuttering guitar part, that was tending to get a bit lost, and deserved bringing out a bit more, so I used a volume automation envelope to bring it up and also added a parametric EQ filter sweep to give it more interest and emphasis. Volume automation was also used to drop the guitar level of the brighter‑sounding part slightly during the vocal sections, but my processed 'big bottom' guitar part was left at the same level throughout.
A final bit of trickery was performed using the Spectrasonics Stylus RMX plug‑in. The Diego World 1 Sound Menu preset provided a nice spot effect, which in isolation sounded not unlike a spring reverb unit being kicked. I used one hit every two bars during the eight‑bar intro to add energy without being too obvious, and also layered the sound on the last note of the song, where I'd trimmed Barry's existing material to create an abrupt end. I used panning to separate the differently processed guitar parts and the backing vocals, but the drum kit already had a plausible stereo image, so I left it alone. To process the overall mix (and you wouldn't do this if handing over to a professional mastering engineer), I used PSP's Vintage Warmer, with only 2dB of drive, a hint over 2dB of low boost at 100Hz and the compression knee‑control set to around 5. This added a bit more level and warmth to the mix without crushing the life out of it, and its own internal limiter prevented any 'overs'.
Although the drum part could probably use a bit more work, and the guitar parts would have sounded better had they been doubled rather than copied and delayed, I think we managed to create a bigger, punchier sound, with a better sense of the elements gelling. As always, much lies in the realms of artistic taste, and perhaps Barry wouldn't choose to approach the mix in exactly the same way I did — but then individual interpretation is what makes mixing such fun!  
We've posted some before and after audio files on the SOS web site at /sos/jan09/articles/mixrescueaudio.htm so that you can hear exactly what changes were made to the individual tracks and to the mix as a whole.
Barry Martin: "It all happened a little quickly: one moment I was posting on the SOS forum about the thousands of pounds I've spent on great plug‑ins and VST instruments to make my home 'in a box' studio the best one in Potters Bar, but not seeing the results; the next Paul White was doing a mix of my track. I thought it might have been Comic Relief month on Mix Rescue, but apparently not!
"I'm the first to admit that I'm no producer or mix engineer, although I really want to be: I'm a guitarist who sings a bit, plays bass and really uses Cubase SX3 as an ideas recorder. It frustrates me not being able to get out of my PC what I hear in my head.
"'Devil's Train' was meant to have an upbeat bluesy‑rock feel with fuzz guitars and simple, but driving drums, but I'm not really into 'genres', and when Paul said he felt the vocal mix and effects didn't match the heavy rock guitar, I could understand it. I'd thrown many a plug‑in at the vocals to make them fit more with the feel of the track, but struggled to get them spot‑on.
"Listening to Paul's work has really opened my eyes, and like most really good producers he has made it sound so good so simply. He cut through the crap and got my track rocking with some great work on the drums, which sound solid and pumping. The bass now really drives the track along, and tidying up the guitars and vocals helped to pull it all together. Thanks to Paul and all those at SOS, I've got the impetus to go on a further journey of discovery — to immerse myself in the correct theory, via some courses in sound engineering and mixing, rather than simply buying more kit. Maybe you guys should stop reviewing all that lovely gear in your publication! What is that old saying about a fool and his money?"