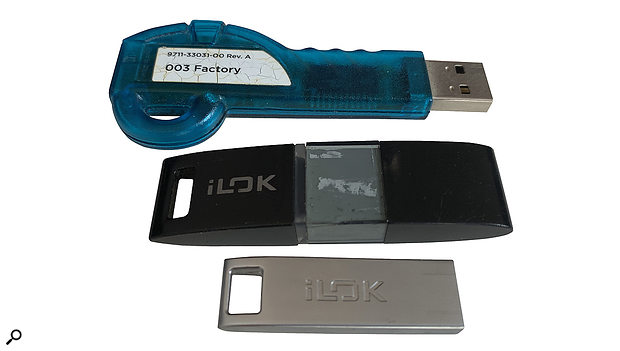 Three generations of physical iLok are now made optional by cloud and network licensing.
The iLok system is here to stay, but there are now more alternatives to a physical dongle.
iLoks have been a compulsory part of the Pro Tools experience since Pro Tools 9 broke the link between using Pro Tools and using Digidesign/Avid hardware back in 2010. Since then, there have been multiple improvements to address the inconveniences of the system, notably the launch of the iLok License Manager application which replaced the original web-based interface — I still remember entire afternoons lost to hundreds of page loads when setting up rooms full of multiple Pro Tools machines. Sometimes we forget how much better things are today! The iLok key itself has also been upgraded, from the supremely snappable first–generation blue iLok, through the much–improved iLok 2 with its ungrippable but very crackable lid, to the excellent all-metal iLok 3.
Despite these improvements the iLok remains much maligned, particularly by a very vocal group of people who insist it is an unacceptable system. I'm sure many of these detractors are people who dislike iLok because it protects things they would prefer not to have to pay for, and my own opinion that iLok does a very good job and is preferable to the alternatives is supported by the results of a recent survey by Nugen Audio, who found that 46 percent of respondents preferred iLok to the alternatives.
Since January 2018, moreover, Pro Tools users have no longer had to use a physical dongle, thanks to iLok Cloud. This provides a means of licensing Pro Tools and the associated stock plug-ins to a Cloud Session rather than to a specific computer or key. One machine at a time may be connected to each Cloud Session via an active Internet connection. Operation of a Cloud Session across machines is relatively...
You are reading one of the locked Subscriber-only articles from our latest 5 issues.
You've read 20% of this article for free, so to continue reading...
Buy & Download this single article in PDF format

£1.00 GBP

$1.49 USD


For less than the price of a coffee, buy now and immediately download to your computer or smartphone.

Buy & Download the Full Issue PDF
Our 'replica SOS magazine' for smartphone/tablet/desktop. More info...