Avid Pro Tools Tips & Techniques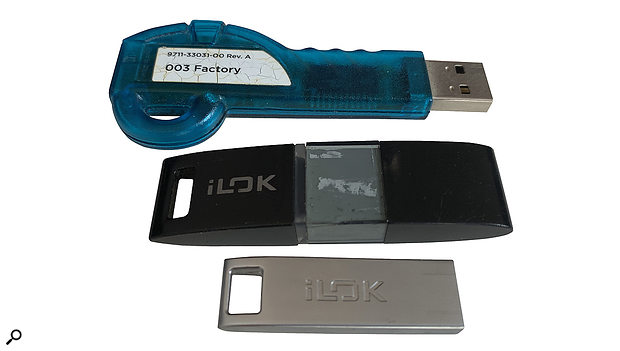 Three generations of physical iLok are now made optional by cloud and network licensing.
The iLok system is here to stay, but there are now more alternatives to a physical dongle.
iLoks have been a compulsory part of the Pro Tools experience since Pro Tools 9 broke the link between using Pro Tools and using Digidesign/Avid hardware back in 2010. Since then, there have been multiple improvements to address the inconveniences of the system, notably the launch of the iLok License Manager application which replaced the original web-based interface — I still remember entire afternoons lost to hundreds of page loads when setting up rooms full of multiple Pro Tools machines. Sometimes we forget how much better things are today! The iLok key itself has also been upgraded, from the supremely snappable first–generation blue iLok, through the much–improved iLok 2 with its ungrippable but very crackable lid, to the excellent all-metal iLok 3.
Despite these improvements the iLok remains much maligned, particularly by a very vocal group of people who insist it is an unacceptable system. I'm sure many of these detractors are people who dislike iLok because it protects things they would prefer not to have to pay for, and my own opinion that iLok does a very good job and is preferable to the alternatives is supported by the results of a recent survey by Nugen Audio, who found that 46 percent of respondents preferred iLok to the alternatives.
Since January 2018, moreover, Pro Tools users have no longer had to use a physical dongle, thanks to iLok Cloud. This provides a means of licensing Pro Tools and the associated stock plug-ins to a Cloud Session rather than to a specific computer or key. One machine at a time may be connected to each Cloud Session via an active Internet connection. Operation of a Cloud Session across machines is relatively seamless, with the option to create a Cloud Session that persists all the time: when you switch between machines, the new machine trying to use the cloud licence takes over the licence which was being used by the first machine. If the other licence is currently being used, the Cloud Session will force the first system to log out. Pro Tools will prompt the user to save changes and quit.
Avid were early adopters of iLok Cloud, but any development like this also relies on widespread uptake by third parties. After all, if you still need your physical iLok for your third-party plug-ins, then your Pro Tools licence might as well have stayed on the physical iLok with them. Unfortunately, uptake from plug-in developers has been frustratingly slow so far, but with Slate Digital, McDSP, Sonnox, Synchro Arts and LiquidSonics now on board, the list of third-party plug-in manufacturers is growing all the time. When the majority of major plug-in manufacturers have moved there will be a viable alternative to the physical iLok dongle for individual users who wish to share a Pro Tools licence between multiple computers.
However, this cloud system isn't suitable for and isn't designed for institutional users who wish to share licences across multiple users. Only one Pro Tools cloud licence can be available in an individual iLok account, and even if that wasn't the case, the fact that a new user joining a cloud session ends the session for the older user would result in terrible problems in a post-production facility or educational establishment. For these users, a new system of network licensing was introduced with the release of Pro Tools 2019.5.
Network licensing is ideal for administering shared resources, for example in educational institutions, though larger facilities like post houses with many editors are an equally good example. In these cases, multiple licences are purchased, with an iLok plugged into a computer set up as a licence server, which can be in a secure location. Client machines needing a licence can be set up to temporarily access one of the available licences from the server up to the maximum set by the number of seats purchased and installed on the licence server. These licences are more secure, particularly in environments which run Macs — which, since the demise of the cheese-grater-style case of the old Mac Pro, don't offer anywhere for an iLok to be installed internally. They are also more flexible in that, with a standard disk image pushed out to all the computers in a facility, any of those computers can access a licence as long as they are on the correct network.
Perhaps the biggest operational difference for many users is that in Pro Tools 2019.5, a number of actions can now be carried out without interrupting playback.
Servers can be configured to be Public, in which case there is effectively no setup to be done at all, or Private. Private servers don't broadcast their presence on the network, so access can be restricted. Both public and private servers can be set up so that user names, email addresses and phone numbers have to be supplied before access is granted. Access can be password-protected, but doesn't have to be.
Network licences are going to answer the prayers of many users, particularly in education — though, again, provision of third-party network licences for plug-ins will have to follow for this to be a complete solution. It would be ideal if everything used the same network licence system, but of couse that's not yet the case. Some third parties are already on board, like Sounds In Sync, who offer iLok network licences for their post-production oriented products; other developers such as Nugen Audio offer alternative network-based licensing systems. Hopefully the release of Pro Tools 2019.5 will see some momentum gathered, as the commercial advantages in terms of sales for plug-ins which can be administered over a network are clear.
What else does Pro Tools 2019.5 offer beyond the necessary but rather dry subject of licensing? Well, top of the list has to be the equally unexciting but necessary Mojave support. Pro Tools has been in the difficult position of being unsupported on the current Mac OS for some months and this has now been officially addressed, though many people have been unofficially running Pro Tools on Mojave for some time.
Some Pro Tools Ultimate users now benefit from 50 percent higher voice counts.The increases in voice count announced at Winter NAMM 2019 were discussed in April 2019's Pro Tools column (www.soundonsound.com/techniques/pro-tools-voice-choices) and have become available with this release. All Pro Tools Ultimate users receive an additional 50 percent in their voice allocation, up to a maximum of 1152. The original plan was that HDX users too would receive an additional 50 percent per card, but this hit some late technical problems and at the time of writing there is no increase in voices available to HDX users. Ultimate users without HDX cards can purchase additional voice packs. HDX users cannot use voice packs and the only way for them to access extra voices is through buying additional HDX cards.
There is a new addition to the New Tracks dialogue: as well as number, type, timebase and channel width, there is now a track name field. This new field does away with the need to create tracks in one operation and then name them afterwards.
Pro Tools First has had the limit of three Projects changed. Bearing in mind that this free version of Pro Tools doesn't support conventional Pro Tools Sessions, the limitation of a maximum of three Projects for collaboration previously meant that starting a fourth project necessitated deleting one of the previous three Projects. Now unlimited local Projects are supported, but only the three that are sync'ed with the cloud can be worked on at a time.
Perhaps the biggest operational difference for many users is that in Pro Tools 2019.5, a number of actions can now be carried out without interrupting playback:
Create or delete tracks.
Make changes to I/O.
Record-enable and –disable tracks.
Enable or disable tracks.
Add a preset to a track.
Insert, move, or remove plug-ins.
Insert, move, or remove sends.
Move an entire loop or timeline selection.
Adjust start and end points of a loop or timeline selection.
Pro Tools 2019.5 also introduced some minor new features such as a couple of new editing shortcuts for snap to next or previous edit, and some tweaks to the application of arrow key shortcuts in MIDI, as well as enhancements in an area that doesn't receive as much attention as it should from many software companies: accessibility for visually impaired users. Pro Tools 2019.5 includes improvements for users of Voice Over.
In addition to the increases in voices available to Ultimate users, the maximum number of MIDI tracks has been increased from 512 to 1024 for Pro Tools and Pro Tools Ultimate users. What hasn't been changed is the 32 I/O limit for non-HDX versions of Pro Tools, which remains firmly in place in spite of the little–publicised exception of the Avid S3L and S6L live consoles — with the appropriate E6L hardware selected as the playback engine, 128 tracks can be recorded over AVB. I'm sure many Pro Tools users would love this facility without having to have an S6L, which, if you aren't already familiar with it already, costs far more than an HDX system. Unfortunately it's a long way from being a cheap alternative to HDX!
information