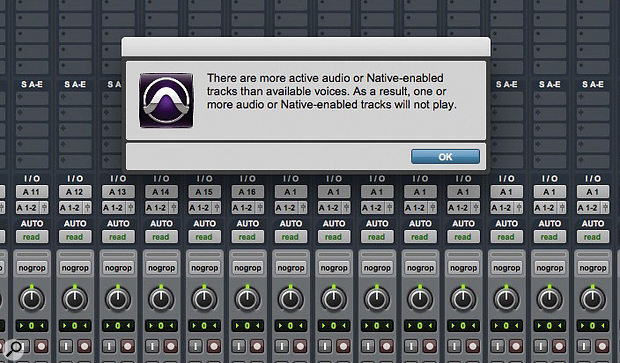 If track count exceeds the number of available voices, you'll see this warning.
Understanding the voice count of your Pro Tools system can avoid nasty surprises on large projects.
At NAMM 2019 Avid announced changes to the voice counts available in some versions of Pro Tools. At the time of writing these changes are still earmarked for a future release, but the plans are in the public domain, and the easing of restrictions for users of both hardware and host-based versions of Pro Tools will be welcome news for those who push their systems to the limit. We'll look at these changes, but before we do, it is worth explaining how the voice count system works, as many users find this is something that only comes to their attention when they have exceeded the capabilities of their particular system.
A 'voice' is an audio stream in Pro Tools. Voices can be routed to and from tracks, or inputs and outputs, and there is an upper limit on the number of voices available in any Pro Tools system. This number is independent of the number of tracks in a session. A mono stream uses one voice, stereo uses two, 5.1 uses six, and so on. People who are used to thinking in terms of tape tracks and mixer channels will probable get the distinction between the audio streams and the routing of those audio streams. Having 512 voices in a Pro Tools system doesn't necessarily mean you'll be able to work with 512 tracks with impunity, and there are several things to be aware of that will eat into your quota of available...
You are reading one of the locked Subscriber-only articles from our latest 5 issues.
You've read 20% of this article for free, so to continue reading...
Option 1: Buy and download this single SOS article in Adobe PDF format
For less than the price of a coffee shop drink, buy this article now and immediately download the PDF file to your computer or smartphone.
Single article PDFs look identical to the printed magazine layouts (but exclude advertisements).
Note: Some shorter articles don't always have a PDF version.
Option 2: Buy a great value DIGITAL subscription (or Print+Digital) and open ALL web articles & Full Issue PDFs instantly!
It opens ALL premium web articles, plus our Tablet edition App, and now includes your monthly FREE Full Issue PDF download (worth

£3.99

$5.99

each).
Or contact our Subs staff to discuss an upgrade price to add Digital access to your existing Print subscription.
Option 3: Buy & Download TODAY the Full Issue PDF
From January 2018 edition, we began selling a FULL ISSUE PDF 'replica magazine' for the cost of a handful of single PDF articles. More info...
Try these FREE sample FULL ISSUE PDFs on us!