The Practical Craft Of Recording
The band set up to perform in fiddle player Angie's front room. My compact portable recording rig was based around a MacBook Pro, Logic Pro recording software and a multi-channel PreSonus audio interface.
Our engineer figures out the best way to capture a dozen songs in a single afternoon.
Malvern-based tango band Los Compadritos wanted, largely for promotional purposes, to record a dozen songs in an afternoon in the front room of one of the band members. Our plan was to record the band playing together, capturing two or three versions of each song. Then we'd pick the best version and edit in better sections from other takes, if necessary.
Violinist Angie's instrument has an LR Baggs pickup system, which allows it to be DI'd directly into an audio interface. Like many such pickups, it captures a sound that's somewhat brighter than the instrument's acoustic sound, but that's nothing a little EQ can't beat into shape, so we opted to use this. Alan's Takamine acoustic bass guitar also sports an under-saddle pickup, so we decided we'd hook this up to his Vox AGA70 acoustic guitar combo. This would provide Alan with monitoring, and I'd be able to record the amp's balanced XLR DI output. Having experienced a lot of string-squeak and finger-noise problems when using the pickup, he'd tried various string types; on our session, he was using stainless-steel, flat-wound strings, which both reduce finger-squeak and produce the warm bass sound required for this music.
On auditioning the setup, I decided I could simply EQ when mixing if I needed to round-off any offending high frequencies that remained. Alan preferred to overdub his vocal parts so he could focus on the bass parts during the main performance. Still, we decided he'd sing unamplified to help the band navigate the songs. Tony played his 1950s Gibson guitar through a Fender Blues Junior amplifier, which I decided to mic up. Adrian would rely on the built-in speakers in his V-Accordion for monitoring, and would send me a stereo line-level feed, with no added effects.
I chose a compact recording system: a MacBook Pro running Logic Pro and recording via a PreSonus AudioBox 1818VSL audio interface to an external USB drive. The interface's eight mic inputs are perfectly adequate and it's a versatile box: line/instrument inputs are available via the first two channels' combi input sockets, and line inputs are similarly available on the remaining channels.
Before the session, I prepared a Logic project template, comprising a stereo track for the accordion, a track each for bass, guitar and violin, and two further tracks for the guide vocal and a room mic. The tracks were linked/grouped in such a way that any edits would involve all eight tracks, so there'd be no possibility of upsetting the relative timing of any parts. As in most DAWs, the grouping can easily be switched off for work on individual tracks.
Finally, the tracks were named and icons put in place to help me identify the different instruments quickly.
On the day, I set up my recording kit on a coffee table at one end of the room, which meant I could see everyone and communication would be easy. At this stage, my monitoring consisted of closed-back headphones.
And so I turned my attention to the performers. My first aim was to achieve a realistic acoustic balance in the room. That would allow use of an ambience mic and give the performers the best chance of hearing each other without headphones, helping them to deliver a better performance. In some musical styles a click track can be really stifling, and nobody here wanted to be tied to a click — the band play mainly at dance events, where I'm told a little speeding up is deemed to be perfectly acceptable! The lack of a click makes editing a touch more difficult, but I always defer to how the artists want to perform.
The electric guitar was recorded via a DI output from the amp, with the amp acting as a monitor speaker.
So that Tony could hear what he was playing while keeping his guitar balanced for everyone else, I moved his amp onto the sofa and built a wall of cushions at one side, just to attenuate what everyone else would hear of it. As that worked well enough, I set up a mic on a short boom, a few inches back from the grille. I tried my Roswell Mini K47 (a capacitor mic I built from a kit a year or two ago) in cardioid pattern, and it turned in a good result; very little adjustment of the mic position was needed. I set it up slightly off-axis to the Blues Junior's 12-inch speaker, and close enough that the proximity-effect bass boost balanced the slightly 'forward' voicing.
For the guide vocal, I used a Prodipe TT1 dynamic mic, and for room ambience I pointed a Rode M5 pencil mic at the ceiling to capture some reflections, juggling this mic's position to capture the best overall balance.
After setting the levels to leave plenty of headroom, the recording proceeded without a hitch, other than a few of the usual 'expected' issues, such as false starts, the odd dodgy ending and Angie's occasional cry of "I played a wrong note"! In most cases, we captured two or three full takes of each song, but for a couple of the more challenging pieces we recorded individual sections again too.
PSP's Nexcellence spring reverb emulation was used on a number of sources in these mixes.Later, in my studio, I created a Logic Project for each song. As most tunes required similar treatment, my plan was to set up the EQ and compression for each instrument in the first song, saving each setup as a channel-strip preset for quick recall later. I also set up PSP's Nexcellence spring reverb, fed from Aux Send 1; I felt this might produce a more organic-sounding result than the more conventional reverb options.
One of the first things I noticed was some audible hum from Tony's guitar. That's a common issue when recording guitars fitted with the great-sounding but notoriously hum-prone P90 pickups. I turned to Soundness SoundSoap, using only its hum filter section. This plug-in allows the user to choose from 50 or 60 Hz hum and to decide how many harmonics of that frequency to notch out along with the fundamental. Set to 50Hz, this produced a much cleaner result with no obvious detriment to Tony's guitar sound. Other than that, the guitar only needed a little compression, to even out the level, plus a dash of reverb.
The violin needed EQ'ing, as the sound from the pickup was much brighter and thinner-sounding than the instrument as heard in the room. I added EQ boost at around 350Hz to add warmth, and used a steep low-pass filter to shave off the unwelcome highs. I also put in a notch at around 2.5kHz to take away some of the bowing harshness.
I addressed some of the characteristic scratchiness of the violin's piezo pickup with EQ, and added just a gentle touch of automatic pitch-correction, along with compression to even out the levels, and some level automation.
Occasional pitching issues also showed up when the fiddle and accordion were playing a line together, so I used Logic's Pitch Correction plug-in, set to a fairly relaxed speed but automated to increase the correction speed for notes or phrases that needed more tightening. The violin parts included a lot of slides, so I left the pitch corrector in chromatic mode, rather than the scale used in the song, and only used a very fast correction speed on staccato sections. The pitch corrector worked much more smoothly when placed after the EQ than before it, presumably because the fundamental pitch was easier to identify without all the harmonic clutter.
Some gentle VCA-style compression (2.5:1) with a fast attack time evened out the levels nicely, and just enough reverb was dialled in to take away the dryness. That PSP spring emulation sounded really sweet on the violin. Some odd bow noises between notes and during pauses had to be chopped out, and there were a couple of notes in Angie's solos that needed attention. Sometimes just removing the note made the phrasing flow better, other times I had to find a replacement note or phrase from another takes. On one occasion, I used a destructive pitch-shift edit to move an errant note by the required semitone, and in one of the sections where a note was removed, I time-stretched the preceding note to fill the gap. Finally, level automation kept the fiddle nicely balanced; it otherwise sounded too quiet in some sections and too loud in others.
Alan played acoustic bass guitar and sung vocals on some tracks. We opted to capture guide vocals only via an inexpensive dynamic mic, in order that he could concentrate on the bass performance — but some of those vocals made it on to the finished tracks.The V-Accordion's stereo out places the left-hand 'button' notes on one side and the keyboard notes on the other, and I'd recorded this to a stereo track. Listening back, Adrian decided the keyboard was a little too quiet, so I altered the levels using Logic's stereo balance control. The default left/right panning of the stereo track created the unhelpful illusion of a 20-foot wide accordion, so I used Logic's Direction Mixer to narrow the stereo image. This also allowed the overall sound to be panned a little left or right. Some gentle compression kept the level a little more even and, once more, a hint of PSP Nexcellence helped the sound sit in the mix. Only a little EQ was needed, taming a little excess reediness at around 2kHz, and adding a little low-end warmth at around 100Hz.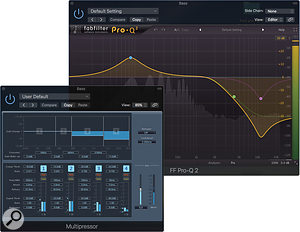 Alan had solved his finger-squeak issues, but a little fretting noise remained. This was tackled with a combination of multiband compression and EQ (mostly subtractive high-frequency).The bass DI from the Vox amp sounded rather thin and, while finger squeaks weren't problematic, quite a lot of fretting noise was still evident. I used a few tactics to fix this. Multiband compression helped, but couldn't tackle the job all on its own, so an instance of FabFilter's Pro-Q2 EQ beefed up the lows and shaved off the highs quite steeply above about 1.5kHz. The multiband compressor was set so that most of the time only the top two bands (covering 500Hz and above) came into play, the thresholds adjusted so the high-pitched string noises triggered the most gain reduction. If you listen to the result in isolation, some characteristic piezo bridge-pickup string noise is still audible, but all that really matters is what it sounds like in the full mix — and the bass sounds reasonably deep and 'rounded', just as Alan wanted.
The band play with no percussion and their music invariably includes improvised parts, and given this, their timing was pretty good. There was a tendency to speed up slightly, but I'm told that dancers don't mind this. There were several places, though, where the accordion left-hand notes and the bass didn't quite lock as they should. Fortunately, both these parts in tango tend to be played fairly staccato, so it's usually easy to edit the offending note to slide it forward or backwards in time.
Various parts were edited for time and pitch, but only to sort out noticeably errant timing, as it was important to retain an authentically live feel.Where the accordion needed fixing, isolating the errant bass note could have meant also cutting into the right-hand part — in hindsight, it would have been easier if I'd recorded the instrument on two mono tracks rather than a stereo one. Luckily, I only needed to move bass notes that didn't coincide with the right-hand melody line! In a couple of places where a phrase started out of time but ended in-time, I used Logic's Flex Time to stretch or shorten the section. I only treated obvious timing issues with such detailed edits, though, as the band were keen that the recordings didn't sound too obviously 'polished'.
Alan liked the sound of his guide vocal on a couple of songs, despite the mic having been a low-budget dynamic model. All that was needed to deliver the sound he wanted was a little low-cut filtering, a touch of compression and a dusting of reverb. I also used Logic's automatic pitch corrector, set to a medium correction speed. Most of the time this didn't need to do much, but it did prove its worth in places.
In some sections where Alan wasn't entirely happy with his performance, we also took phrases from other parts of the song, and I shifted the odd phrase a fraction to improve timing, but in general the recordings presented no real problems. No doubt that an hour or two spent with Melodyne would have enabled me to put more of a polish on the vocals and some of the fiddle parts, but as the band recorded 12 tracks rather than just the odd one or two, this really wasn't practical — or necessary, given that the recordings were intended as 'real life' examples for getting gigs.
I wasn't certain that I should use the ambience mic, but it did help to create a homogenous sound, so I eventually chose to. I processed it via a 100-percent wet diffuse hall reverb, and faded it into the mix at a fairly low level. Only when there was an obvious clash with a phrase we'd edited or replaced did this need to be pulled down in level.
In terms of panning, I aimed for a simple, well-balanced live-band image, moving the fiddle slightly to one side and the accordion a similar amount in the opposite direction using the Direction Mixer plug-in. Tony's guitar was placed just one side of centre, and the bass was left smack in the middle, as you'd expect.
All the tracks needed some careful trimming at the start and end of the song, especially as certain musicians (I'll mention no names...) had a habit of commenting on the take before the final note had died away! In most cases, I added a slight fade to the end of each track to ensure a noise-free ending. There were also sections that should have been silent but weren't, which is why you can see gaps in some tracks on the arrange screen.
For mastering-style processing, I used my trusty Drawmer 2476 rackmount unit to add some split-band saturation and gentle overall compression. The saturation was mainly in the low band, to help fatten up the sound a touch. This was followed by a UAD Precision Limiter plug-in and Logic's Loudness Meter. The amount of compression overall amounted to no more than 3-4dB, and the limiter was set only to act on the very highest peaks. This type of music doesn't require a 'louder than everybody else' approach, and I aimed to bring the mixes to a broad target of around -17 LUFS. I also thought it might be fun to see if some tape emulation could add a vintage vibe — a UAD ATR-102 preset sounded nice, so I left that in the chain directly before the limiter.
As we were recording and mixing 12 tracks, I really didn't want to take the 'massage every note with Melodyne' approach, and it could be argued that this style of music needs to retain a slight raw edge anyway if it's to sound 'authentic'. Though I had to use quite a lot of subtractive EQ, especially at the high end, to get the DI'd fiddle and bass sounding close to how I felt they should, the recordings presented no real mixing challenges. By tackling only the obvious timing and tuning problems, and gelling things together with the spring reverb and room mic, the mixes sounded significantly tighter than the initial recordings without the life having been polished out of them. Most importantly, the band members thought that the end result sounded good and genuinely represented the way they sound when playing live.  
I've prepared a number of audio examples to give you an idea of the results that I captured on the day and refined later in the studio. While 'Derecho Viejo', the tune the band and I have picked to share with you as an example, doesn't include any vocals, I felt it was more representative of the band's overall style. It also serves to demonstrate some of the fix-up techniques that I've discussed in the main text.
You will find them in the ZIP file: Download
Los Compadritos feature Angie Goddard-Webb on violin, Alan Hoida on Takamine GB72CE acoustic bass guitar and vocals, Tony Beech on a 1952 Gibson ES150 arch-top electric guitar, and Adrian Malbon on a Roland V-Accordion. There's no percussion section, the rhythmic foundation of the performances instead being laid down by the bass guitar and the accordion's left-hand bass notes.