Two-way monitor equipped with AMT tweeter
EVE Audio have announced the release of the SC2070, a new studio monitor that features the same technology found in the company's larger SC3070 and SC4070 models, but in a more compact two-way design aimed at mid-sized professional and home studios.
The headline feature of the SC2070 is the inclusion of a newly designed Air Motion Transformer RS7 tweeter, which is the largest AMT used in any two-way monitor, boasting a diaphragm area that is 1.5 times the size of the version used in the SC207. Designed specifically for the SC2070, the unit achieves a crossover frequency of 1.8kHz, which EVE say allows the system to reproduce high and upper mid-range frequencies with unparalleled precision and resolution, and to exhibit a mid-range imaging quality usually associated with three-way designs.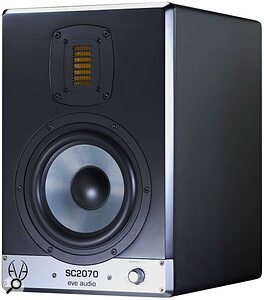 The SC2070 features the largest AMT tweeter currently used in a two-way design. Low-frequency content is then taken care of by a 6.5-inch SilverCone driver, which is driven by a low-distortion copper cap magnet system with a 1.5-inch voice coil. The construction of the enclosure itself has been optimised to minimise resonances, and features a reinforced front baffle which offers increased mechanical stability, along with bevelled cabinet edges that help to combat diffraction.
All of the monitors' frequency response parameters are controlled by EVE Audio's trademark SMART-knob system. The on-board DSP utilises a high-quality Burr-Brown A-D converter, and provides latency-free filtering whilst helping to protect the drivers from overheating. Adjustments to system volume, as well as low- and high-shelf filters and mid-range EQ settings, can all be made directly from the front panel control, with an LED ring offering a visual indication of the current setting values.
Some helpful additional features have also been implemented, such as a slow fade to the currently set volume when powering up the monitor, allowing for quick adjustment if the input source is too loud, and an adjustable brightness control for the control knob's LED ring.
Key Specs
Dimensions: 230 x 345 x 304 mm (width x height x depth)
Frequency Range: -3dB at 38Hz and 25kHz
Maximum SPL per pair: 116dB
Output Power (Woofer): 140W
Output Power (Tweeter): 100W
Balanced Input: XLR
Unbalanced Input: RCA
Power Supply: Internal - IEC Inlet
Pricing & Availability
The SC2070 is available now, priced at $1199€1199 / £1299 each including VAT.
https://eve-audio.de/index.php?page=SC2070