Eurorack-compatible single-VCO synth announced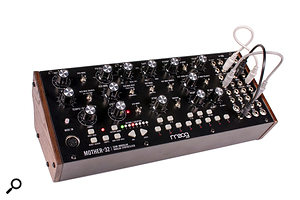 The announcement of a new instrument from Moog is always going to be big news, and the latest addition to the venerable synth stable is no exception. As Moog Music bid farewell to their Minimoog Voyager line, they welcome the new Mother-32, Moog's first tabletop semi-modular synth. What's arguably of greater significance is the fact that this new unit can also be mounted directly into Eurorack cases. Featuring a built-in, highly capable step sequencer, this monosynth is set up for instant music-making with no patching required, but a full complement of inputs, outputs and patch points means that modular enthusiasts can get creative and easily connect with other gear.
With full-sized knobs and a wooden-ended aluminium enclosure, the Mother-32 boasts plenty of familiar Moog features, including a single VCO with simultaneous sawtooth and pulse wave outputs, a white noise generator, a wide-range LFO, two voltage-controlled mixers and the celebrated Moog ladder filter, switchable between high-pass and low-pass modes. The 32-step sequencer can store up to 64 sequences and offers both step- and keyboard-based programming modes. The Mother-32 also features a front-panel MIDI input and a MIDI to CV converter. Meanwhile, the 32-point patchbay introduces the potential for more complex synthesis. An assignable CV output can draw from one of 16 sources, while an audio input allows you to process external sound sources. 
Moog are also selling rack kits and empty wooden-ended aluminium enclosures to house other Eurorack modules.The fact that the Mother-32 is Eurorack-compatible will cause quite a few synth fans to prick up their ears. Moog see the Mother-32 as a complete, all-in-one synth voice that will let new Eurorack users get up and running right away and provide a starting point for building a larger system. To that end, Moog are selling the empty wooden-ended enclosures, which are each 60HP (horizontal pitch) wide, for £74.99$89. Paired with a power supply such as the uZEUS from Tiptop Audio, users can have a second or third enclosure for other Eurorack modules and then lock them all together using one of Moog's attractive rack kits, available in two-tier and three-tier versions for $49£49 and $69£59 respectively. You can also buy five-packs of 6- or 12-inch Moog greyscale patch cables for £11.99$13.99 per pack. If you're already a paid-up member of the Eurorack club, you'll be pleased to hear that the Mother-32 doesn't need a great amount of power either, only drawing 230mA, which is relatively modest for the format.
Moog also suggest that the Mother-32 would be an ideal companion to the Minitaur bass synth and Werkstatt 01 patchable synth kit. With a street price of £509$599, including the attractive wooden-ended enclosure and power supply, interest in this latest move from Moog will be intense.
http://www.moogmusic.com/news/introducing-mother-32