Updated sound modules and upgraded kits
Roland have announced multiple upgrades across their award-winning V-Drums product range, with updates to their TD-17 and TD-27 sound modules, improved cymbals and snare pads for TD series V-Drums and significant hardware upgrades for their Acoustic Design Kits.
Sound Modules
Both the TD-17 and TD-27 sound modules have been updated, with Version 2.0 of their software introducing a range of new features. The TD-17 has gained 10 new preset kits, and 10 kits that were previously exclusive to the module in the VAD306 V-Drums Acoustic Design set. New Reverb and Kit Comp effects have been added, as well as 11 more FMX types for shaping drum tones. The modules also have support for content from Roland Cloud, where users are able to explore an ever-growing range of artist kits and more.
The TD-27 has also gained 10 additional preset kits along with newly enhanced versions of the three most popular kits form the original release and new pre-loaded samples. Layering features have been expanded, and even greater control over sounds is now possible thanks to enhancements to the module's parallel compression and transient shaping options. The interface has also been improved to allow faster sound selection and drum customisation.
New kits based around the modules will ship with the Version 2.0 updates, and Roland say that owners of existing TD-17 and TD-27 modules will be able to download the updated software for free via Roland Cloud later in 2022.
V-Drums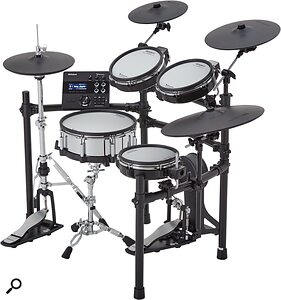 The V-Drums TD-27KV2 kit promises to offer premium playability at an affordable price.Along with the improvements to the sound modules, the TD-17KVX2 and TD17KV2 kits benefit from thin V-Cymbal pads that Roland say offer more natural movement and improved stick feel. The TD-17KVX2 features two 12-inch CY-12C-T crash cymbals, whilst the TD-17KV2 comes supplied with one. Both kits also come equipped with a 14-inch CY-14R-T ride cymbal which features three-way triggering for edge, bow, and bell sounds.
The TD-27KV2 aims to provide serious drummers with premium playability and flagship-level expression at an affordable price. A spacious layout and large, comfortable pads allow players to use all of their standard acoustic drum techniques without compromise. Expanding on the digital snare and ride pads included with the previous model, the TD-27KV2 now features a VH-14D digital hi-hat, which mounts on a standard acoustic hi-hat stand for an authentic look and feel. The kit also includes 12-inch CY-12C-T and 14-inch CY-14C-T crash cymbals with thin profiles to further enhance the acoustic playing experience. 
Acoustic Design Kits
The latest addition to the V-Drums Acoustic Design Range, the VAD307, features cut-down shells and upgraded hardware.Introduced in 2020, the V-Drums Acoustic Design series combines the look and feel of an acoustic drum kit with Roland's electronic drum technologies, with each kit featuring wooden shells and chrome hardware. The VAD507 and VAD504 models both now feature the updated TD-27 module and a VH-14D digital hi-hat, and both have also been upgraded with heavy-duty tom and cymbal stands inherited from the flagship VAD706.
A new VAD307 kit has been introduced, offering the same club-sized configuration and cutdown shells as the previous VAD306 model. It is paired with the updated TD-17 module and comes equipped with thin V-Cymbal pads, including two 12-inch CY-12C-T crash cymbals and one 14-inch CY-14R-T ride. The kit has also been upgraded with the same heavy-duty stands included with the VAD706. 
Pricing & Availability
The new TD-17, TD-27, and V-Drums Acoustic Design models will be available in the US in October 2022, with worldwide availability yet to be announced. Pricing is as follows:
TD-17KV2 - $1599
TD-17KVX2 - $2099
TD-27KV2 - $3499
VAD307 - $2899
VAD504 - $4299
VAD507 - $5399
https://www.roland.com/global/categories/drums_percussion/