Limited edition version of flagship microphone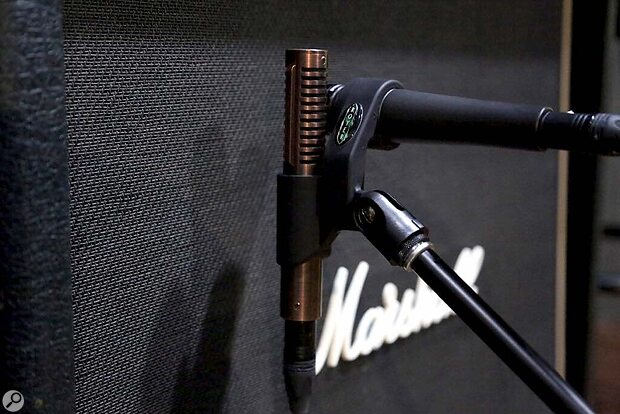 Having recently unveiled the R-10 Hot Rod as part of their 25th anniversary celebrations, Royer Labs have now announced the release of the R-121 25th Anniversary, a limited edition version of their flagship microphone.
Royer Labs R-121 25th AnniversaryOriginally released in 1998, the R-121 is the company's most popular microphone, and has become a go-to choice for engineers around the world on a wide range of sources including electric guitar amps, brass instruments, drums, acoustic guitars, percussion, string instruments and more.
The model offers a flat frequency response, promising to deliver a realistic, natural-sounding tone, and is built using Royer's offset ribbon transducer approach. A patented technology, the arrangement provides the ribbon with more room to move within the prime magnetic field, maintaining its full frequency response whilst being exposed to high SPLs.
The new version of the microphone is provided in a new 'Distressed Rose' finish, which the company say offers a variety different of looks depending on the level of light. Unlike the R-10 Hot Rod, which has been fitted with a different transformer, the R-121 25th Anniversary is exactly the same underneath the new finish, with Royer stating that they "would not, and could not" modify its classic design and functionality.
Watch our Royer Labs Video Report from NAMM 2023 to learn more.
Key Specs
Polar Pattern: Figure-of-eight
Frequency Response: 30Hz to 15kHz (±3dB)
Sensitivity: -47dBv Re. 1V / pa
Output Impedance: 300Ω @ 1K (nominal)
Maximum SPL: >135dB @ 20 Hz
Dimensions: 155.7 x 25mm (Length x Width)
Weight: 244g
Pricing & Availability
The R-121 25th Anniversary is available now, priced at $1600. Royer say that they will only be manufactuing 500 units.
https://royerlabs.com/r-121-25th-anniversary