New colours for podcasting mics, plus accessories unveiled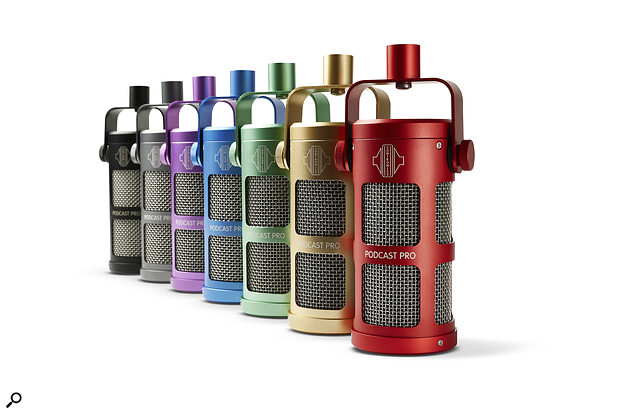 In last year's Bumper Podcasting Edition, we reviewed Sontronics' excellent Podcast Pro, an affordable dynamic mic designed specifically for capturing the spoken word. To celebrate its first year of production (and after building an astonishing 10,000 of them!), Sontronics are introducing them in a range of colours. So, in addition to the original black and red models, you can now buy the Podcast Pro in purple, blue, green, gold or 'Cosmic Grey'.
XLR-USB, plug-and-play 'interface in a cable'.At the same time, Sontronics have boosted their podcasting range with two new products: the XLR-USB, a plug-and-play 'interface in a cable'; and the Elevate, an anglepoise desktop microphone stand.
The XLR-USB (£19.99 including VAT) is a combined audio interface and microphone preamp, designed for mics that don't require phantom power (including the Podcast Pro, of course). Sontronics say it yields minimal latency while providing high-quality A-D conversion, and as it's a class-compliant device it'll be happy to work on all manner of devices, from Microsoft and Apple computers to iOS phones and tablets.
The Elevate, meanwhile, costs £95 including VAT, and allows you to position your podcasting microphone wherever its needed. It clamps to the back of pretty much any desktop, and features a channel along its length for keeping microphone cables out of the way.
The new Elevate anglepoise desktop microphone stand.
Founder of Sontronics Trevor Coley is fundraising for Dorset MIND mental health charity by undertaking a sponsored 500km bicycle challenge in March 2021, so anyone wishing to donate to a worthy cause, here's the link:
www.justgiving.com/fundraising/trevor-coley
Further info about Podcast Pro and other Sontronics microphones is available from:
http://www.sontronics.com/