Reader Tracks commercially evaluated
Business End enables you to have your demo reviewed by a panel of producers, songwriters, musicians and managers. 
Kevin Paul (KP): "Can we hear 'Visions of Custard'?"
Joff Gladwell (JG): "'Visions of Custard'?"
KP: "Yeah. The names of the tracks are great, aren't they? 'Classically Trained Groupie'!
"These guys have absolutely no doubts about what they're trying to do. I mean, the title of the demo is A Demonstration Of How Distortion Is A Good Substitute For Talent. Brilliant."
Joe Vanags Fleming (JF): "You could never have gotten away with something like this even a few years ago — it's very modern."
JG: "You can see a bit of a Digital Hardcore, Atari Teenage Riot influence. You can imagine poeple who are into that going mental for something like this."
Liz McCudden (LM): "I hate distortion. This sort of thing would drive me out of a room."
KP: "I actually really like this."
JG: "Yeah, me too."
JF: "I think it's alright as well — I really like the drums."
LM: "I think I'm just really sensitive to noise."
KP: "I really like this but it's hard to comment on the production when it's this distorted."
JG: "Well it's just suposed to sound all f**ked up, isn't it?"
KP: "I love the way the CD channel on the desk is so overdriven — this has been mastered really, really loudly."
JG: "It is a bit like having knitting needles stuck in your ears."
KP: "Yeah, but in a good way."
JG: "It's still got a really good groove though, it's not just noise."
KP: "The drum programming is really good, there's some really nice ideas in here. This is a bit of sonic terrorism — I like that!"
JG: "You kind of hope that their gigs are really violent and bloody."
LM: "They're probably like the Chemical Brothers or something — you know, a couple of nerds."
JF: "They've obviously got a real problem with guitars — the picture of an acoustic guitar with a bar through it on the inside cover kind of says it all."
LM: "Maybe at their gigs they have kids smashing up guitars at the front of the stage and pissing in pint glasses and throwing it at each other."
KP: "Or lots of people sitting down watching really politely."
JF: "Yeah, and stroking their chins."
LM: "I never listen to this sort of stuff — do you think it's original?"
JG: "Yeah, I think it is."
KP: "I think so too. I tell you what, if you watched this live you'd move to it, even if you moved out of the room. It would definitely get a reaction."
LM: "So, 'Usedtobecool', maybe they're two old geezers who used to be in other bands?"
KP: "I don't know, they look really young in the pictures on the sleeve — the top one looks like he's about 15."
LM: "There's definitely a place for this sort of thing, I'm sure people would buy this.
"I think I quite like it now actually. The noise is quite off-putting to me but there is something about it."
KP: "There's definitely a few people in this building who would like this."
LM: "The feeling when it finishes is great. I can kind of still hear it though. It's like I've been on an aeroplane."
JG: "Does anyone else think that the name Usedtobecool doesn't really go with their music? I think there's something slightly cheesy about the name but the music's really brutal, it's really f**king tough. It doesn't fit."
JF: "They've set out to achieve something here and I think they've achieved it."
JG: "When you compare this to that guy we had earlier who was stuck in the '90s [see last month's column] — this is just so inventive and original."
KP: "This is really well put together, very cleverly done. I'll be amazed if he ever gets it released though, with the amount of samples.
"It reminds me of Mylo actually, it's kind of similar to the sound he's got."
JG: "It reminds me of the Avalanches or the Go! Team, something like that."
KP: "Yeah, like the cut-and-paste specialists."
LM: "You can just imagine everybody dancing to this over the summer and it becoming this shock number one."
KP: "It's the most commercial thing we've heard today by about a mile. It's easily the most accessible but that's obviously what he's going for. It's even got a sticker on the cover saying 'now even cheesier!'."
LM: "It's very well presented. I really like the cover and the titles on the back done with a labelling machine."
JF: "Yeah, I like the packaging. I know it's not the most important thing with a demo but it can really help them to stand out when there's a huge pile of them. It kind of shows that a bit more thought has gone into it."
JG: "I always think packaging helps. Generally the best demos come in the most interesting packaging. It doesn't have to be brilliant quality or expensive, just innovative. It's like the Ascoltare demo in the plain envelope we had earlier — it wasn't that interesting in itself but it was different and it seemed to fit the style of the music quite well."
LM: "I think if it comes packaged really well it just shows that you've got a more complete idea about what you're trying to do."
KP: "He's done everything right though — three tracks on the CD, best song first, all that sort of thing.
"The production's pretty good. The mix is good, a couple of slight imbalances here and there but generally I think he's done pretty well to be honest."
JG: "It's all samples basically, isn't it? But I think he's put them together really well."
LM: "It's shockingly catchy. I'll have that first track going round in my head all day."
JG: "You can imagine students really going for this. You know, lagered-up on a Saturday night — they'd love it."
JF: "I think he's got some nice ideas though. There's a lot of people doing this sort of thing and it's hard to make something stand out."
JG: "He's never going to get this released with all those samples on it. It'd take him years to get them cleared."
KP: "I really like the third track, it's got a more minimal sort of feel to it and I like the groove. Number one was obviously just packed full of everything he's ever wanted to put in a record."
JG: "It's pretty big sounding, the first one. It would work really well as, you know, that sort of dance track."
KP: "I think all three tracks would work well for that. Like Liz says, this could be the surprise hit of next summer. You can imagine it being really popular in Europe."
JF: "I like the part towards the end of the first track where it sounds like the CD's skipping and then the drum beat comes back in over the top of it."
KP: "Yeah I really like that — we were all looking around trying to figure out if the CD player was broken. Really cool idea."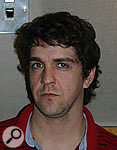 Kevin Paul began his career in audio engineering as a tea-boy at Ray Davies' Konk Studios. He joined the Instrument at Mute in '94 and became Head Engineer there in '97. Over the course of his career he has worked with David Bowie, the KLF and, of course, a host of Mute artists, including Goldfrapp and Nick Cave and the Bad Seeds,
Recently Kevin has been concentrating on 5.1 mixing and is about to release the debut album by his band AGK (www.agkmusic.com).
Joff Gladwell
is an A&R scout for Mute Records. His daily routine involves listening to demos, going to gigs and talking to people about bands — which is very nice work if you can get it.
He's probably earned it though: Joff started his own record label, Bad Jazz, when he was 16 and spent the next seven years releasing diverse and eclectic music by acts like My Morning Jacket, Lone Pigeon and James Yorkston. He joined Mute in his current position in 2002.
Joe Vanags Fleming is Assistant Publisher at Mute Song, Mute Records' publishing division. After graduating from university Joe worked for the Performing Rights Society (PRS) before going on to join Mute.
His job as Assistant Publisher involves liasing with Mute's international sub-publishers, processing royalties and occaisional A&R work with urban and dance music.
Joe is also a DJ and has recently began producing his own music.
Liz McCudden is Product manager at Mute Records, a job which involves organising the scheduling, production and promotion for the many different acts on the label.
Liz's career in music began in the live industry where she worked as Stage Manager at Shepherd's Bush Empire and in some of Londons' other larger live venues.
After a spell working for record label City Slang she went on to join Mute in 2003.
Many thanks to MJ and The Instrument at Mute Records (www.the-instrument.com) for organising and hosting the session.
Published September 2005