The SOS team pick their hardware and software highlights from the last 12 months.
SSL The Bus+
SSL The Bus+
The people who made the VCA stereo mix bus compressor famous recently gave the concept a thorough reworking — and added an interesting dynamic EQ stage to boot. The SSL The Bus+ hardware oozes class, and the digital control is all about precision, while the analogue signal path sounds as great as ever. There's a huge range of options and clever secondary control functions on board, so it's hats off to SSL for managing to make it all accessible without compromising operation of the essential parameters. Matt Houghton
Royer dBooster2
Royer Labs dBooster2Royer Labs, famed for their splendiferous ribbon microphones, are not a company that cuts corners. This was made abundantly clear in their first inline gain‑boosting product, the dBooster, which contained an extraordinary amount of sophisticated circuitry and delivered superb technical specifications, setting the benchmark for devices of this type.
This year the company produced the dBooster2, effectively combining two dBoosters into one unit for convenient stereo applications while improving the technical specifications even further. Additionally, by fitting combi XLR input connectors and additional high‑impedance FET circuitry, the unit can now be used as a high‑quality recording DI unit for electric (and electronic) instrument inputs, with a deliciously musical character.
Four paralleled pairs of discrete transistors at the front end guarantee exceptionally low noise for microphones, and the highly capable OPA1692 op‑amp drives the output with a generous headroom margin. A considerable portion of the surface‑mount electronics is given over to providing a clean and quiet power supply for the audio circuitry, too, which is more evidence of Royer's exacting attention to detail. For me, Royer's dBooster2 represents the state of the art when it comes to high‑quality gain boosters, and it is the perfect partner for low‑output passive ribbon mics. Hugh Robjohns
https://sosm.ag/royer-dbooster-2
Sonnect Audio Sound Bullet
Sonnect Audio Sound BulletWe all know that cables and audio equipment choose the least convenient time to break down, and speedy identification of most problems typically requires some basic test equipment which we rarely have to hand when we're rushing about on a dark stage or in a crammed studio trying to resolve the issue as quickly as possible.
Professional live sound engineer David Scorteccia was all too familiar with this scenario, and so designed and built the Sonnect Audio Sound Bullet — a masterpiece of engineering that combines a basic signal generator, signal checker (with meter and speaker), phantom power checker and cable tester, all in a compact and rugged box with rechargable battery, which sits neatly and inconspicuously in a belt pouch when not in use.
The clever design allows direct connection to cables and equipment with XLRs or quarter‑inch jacks, to serve as a convenient sound source or for monitoring outputs. It can also test XLR cables for constant or intermittent problems, and establish the presence and status of phantom power. The built‑in speaker is surprisingly powerful, but it can also be used with headphones or an earpiece. Such a sophisticated and specialised device is naturally expensive, but will earn its keep and I wouldn't be without mine! Hugh Robjohns
https://sosm.ag/sonnect-sound-bullet
Wes Audio Rhea
Wes Audio RheaPolish manufacturers Wes Audio have long been at the head of the pack when it comes to digitally controlled analogue hardware, and the stereo vari‑mu Rhea didn't disappoint. As with their other ng500 modules, there's two‑way communication between the front‑panel controls and the associated DAW plug‑in — so not only do you get to decide how you use it, but there's zero risk of it turning into an expensive doorstop as DAWs and operating systems evolve. Most importantly of all, it sounds wonderful. Matt Houghton
Heritage Motorcity Equalizer
Heritage Audio are well known for their recreations of Neve gear, but for their Motorcity Equalizer they looked to the States, and Motown's celebrated (and extremely rare!) inductor EQ, for inspiration. Its fixed bands might at first appear limiting, but in practice I found I could achieve things that would have been difficult or impossible with a more surgical EQ. There seems to be more going on than just boosting and cutting at different frequencies, and whether I was adding presence to a bass guitar, 'opening up' drum tracks with a mid cut, or massaging a complete mix, the Motorcity Equalizer was inspiring to use. Neil Rogers
https://sosm.ag/heritage-motorcity
Heritage Audio Motorcity Equalizer
Rode RodeCaster Pro II
Rode RodeCaster Pro IIDespite having a few reservations, I very much enjoyed using the original RodeCaster Pro. In the RodeCaster Pro II, which is a from‑the‑ground‑up redesign, those reservations have been obliterated, in no small part that's thanks to some seriously upgraded mic preamps, but there are bags of other interesting features on here that will appeal to podcast producers, such as the ability to connect to two USB devices simultaneously. And the best part? It's easily good enough to act as your main audio interface, whether you're into making podcasts, music or anything else. Matt Houghton
https://sosm.ag/rodecaster-pro-ii
SSL BiG SiX
SSL BiG SiXSSL have done a phenomenal job of keeping up to date with the changing landscape of mixing technology. The BiG SiX, a more fully featured version of their highly successful mini‑mixer, feels like the perfect mixer/soundcard amalgam.
Its flexible design and built‑in 16‑channel soundcard combine modern needs whilst giving the feel and sound of a big console. Whether you're tracking, analogue summing, DAWless jamming, podcasting, or enduring another endless Zoom meeting, the BiG SiX handles it with style. Its impressive headroom, musical EQ, built‑in bus compressor and superb sound have made it my favourite addition to the home studio this year. Rory Dow
Arturia Efx Fragments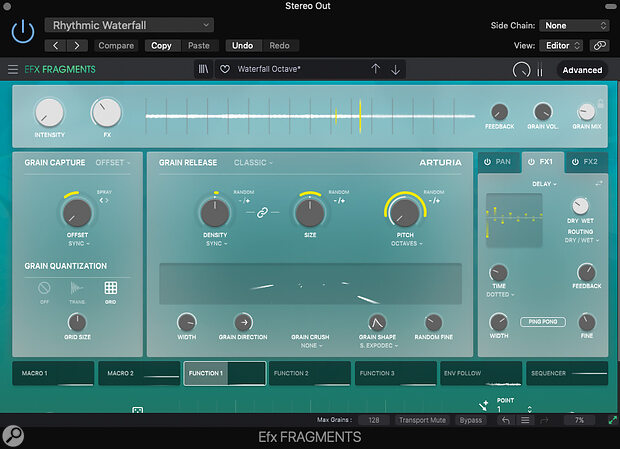 Arturia Efx Fragments
Arturia's Efx Fragments is a granular delay effects plug‑in equipped with a comprehensive modulation section, and it stacks up well against existing granular plug‑ins such as Output's Portal and Unfiltered Audio's Silo. It is capable of gentle, dreamy enhancement at one end of the spectrum and glitchy stuttering at the other, with applications that include spicing up drum loops, turning non‑rhythmic sounds into rhythms and adding shimmering clouds of texture to pad sounds. Its modulation section makes it easy to add movement to the sound, and it is certainly seeing a lot of use in my own compositions at the moment. Paul White
https://sosm.ag/arturia-efx-fragments
Sub 51 & Soundtrax Drop Pad
Sub51 & Soundtrax Drop PadI've tested some impressive sample‑based instruments this year, with offerings from Zero G warranting an honourable mention, but the one that stands out for me is Drop Pad, co‑developed by German company Soundtrax and UK sound designers Sub 51. It satisfies my desire to achieve musically interesting results without making my brain ache, and as an ex‑Yorkshireman, its very low price also appeals to me!
Essentially Drop Pad is a four‑layer sample player equipped with modulation options for dynamic fading between the layers, followed by filters and effects that may also be modulated, either freely or in sync with the DAW project. Its included library has an impressive selection of loops, toppers, pads, leads and basses that can be combined in different permutations, and its architecture makes it ideal for creating moving pad sounds, shifting rhythms, drones and organic textures.
Importantly, the four sample pads support Kontakt's drag‑and‑drop import so that user samples can be dragged directly onto the interface to create new sounds. NI's Komplete Kontrol is also supported. Drop Pad is easy to use, it is capable of some great sounds that evolve over time and it is cheaper than a takeaway curry for two. Paul White
https://sosm.ag/sub51-soundtrax-droppad
Steinberg Cubase 12
Steinberg Cubase 12
While Cubase has been my personal DAW of choice for many years, I do think Steinberg knocked it out of the park with Cubase 12. The release combined a whole host of general improvements with some stand‑out new features. Top of my personal highlights list would be the very slick new MIDI Remote system that makes integrating almost any hardware control surface into your Cubase workflow a breeze. Equally eye (ear?) catching is the new Audio To MIDI Chords feature, which will analyse any audio recording and attempt to extract the chords from it before adding said chords to the Cubase Chord Track. Esoteric jazz aside, it does an impressively good job. The addition of the Scale Assistant within the VariAudio system is also incredibly useful. With a slick workflow, allied with powerful and transparent pitch‑correction for monophonic audio, VariAudio is very difficult to beat. These additions would have been enough for me but, amongst a bunch of other things, Steinberg also added a brilliantly simple creative effects plug‑in in FX Modulator, a very cool new sample‑based piano in Verve, powerful new editing features within AudioWarp and the flexible new Raiser limiter plug‑in. Oh, and removed the licensing dongle while also adding M1 support. Awesome stuff. John Walden
Toontrack EZdrummer 3
Toontrack EZdrummer 3
What is almost certainly the best‑selling virtual drum instrument ever created received a refresh that delivered bigger, better, more on every front. The new 18GB core library gives EZdrummer 3 users access to some truly fabulous acoustic drum kits; they are incredibly versatile and would grace any commercial recording project. Enhancements within EZdrummer's mixing environment provide more control than ever before. An impressive new library of MIDI grooves is included, alongside the superb suite of user‑friendly tools that let you quickly adjust the playing style and intensity of any groove. However, the highlight addition in this element of the software is the new Bandmate window; drag and drop existing MIDI or audio parts from your project into Bandmate and it will find grooves from your library that provide the best musical match. For non‑drummers, this is a massive songwriting assist. And, of course, Toontrack also brought Superior Drummer 3's excellent Grid Editor — a full‑blown MIDI editing environment — into EZdrummer 3. Combined with the Song Track and Song Creator, you can now craft every aspect of your drum performance within EZdrummer itself; it's a big deal in terms of workflow. Toontrack are going to sell fewer copies of Superior Drummer, because EZdrummer 3 is simply brilliant. John Walden
Neumann ND30
Neumann ND30We're spoiled for great headphones nowadays, and several impressive designs have crossed my desk this year, with the Rode NTH‑100 setting a new value‑for‑money benchmark. For pure sound quality, though, the Neumann ND30 shows it's not only planar magnetic designs that can deliver low distortion, balanced sound and exceptional clarity. Sam Inglis
https://sosm.ag/neumann-ndh-30
PSI A21-M
PSI A21‑MAnother win for expensive monitors, but in the case of the PSI A21‑M, the high cost is undoubtably justified. Boasting impressive proprietary technologies and employing PSI's own impressive in‑house drivers, the quality and fundamental accuracy of the A21‑M extends all the way through the audio band. It's a great example of what can be achieved when you build a speaker without cost‑driven compromises. Phil Ward
ReProducer Epic 55
ReProducer Epic 55ReProducer Audio Labs are one company who aren't afraid to do things differently, but despite its otherworldly looks, the design of the Epic 55 is firmly rooted in sound electro‑acoustic principles.
From its ABR‑loaded bass to its overengineered cabinet, the Epic 55 is capable of genuinely high‑end performance. Phil Ward
https://sosm.ag/reproducer-epic-55
PMC 6-2
In my job I get to listen to a lot of different monitor speakers. Obviously, the expensive models tend to be more capable, but it's rare that I'm surprised by what a new speaker offers. Yet the PMC 6‑2 genuinely caused me to sit open‑mouthed, wondering how on Earth the PMC boffins managed to get such a huge and impressively accurate and informative sound from such a compact box. The inherent weakness of smaller speakers is always low‑end power and extension, but this sophisticated design — with only a pair of 6‑inch bass drivers working in PMC's latest ATL enclosure iteration — reaches down smoothly to 33Hz, and maintains an even and detailed response at both quiet and silly volumes, achieving the latter completely effortlessly. At the same time, the midrange is beautifully revealing and unnervingly natural, while the high end is clean, open and precise. A stereo pair delivers stable imaging that portrays scale and depth in a tangible 3D image.
The PMC 6 series also incorporates versatile DSP correction facilities to for room optimisation. Accessed over a network connection, full system integration and alignment is amongst the best and easiest I've used to date. The PMC 6‑2 is one of those rare monitors that truly raises the standard of what is possible. Phil Ward
PMC 6‑2
Milab VIP-60
Milab VIP‑60It's been a vintage year for microphones, in every sense of the word. I've reviewed excellent models from Audix, Alder Audio, Earthworks, Hohm, Manley and Vanguard, all of which I'd be very happy to have in my studio; and Neumann's reissue of the M49 is the ultimate 'bucket list' mic. But you can't nominate them all, and so I've grudgingly limited myself to three models that made a particular impression on me.
The brutalist visual aesthetic of the Milab VIP‑60 stands in perfect contrast to its sound, which is as smooth and balanced as any capacitor mic I've heard. It's one of those mics that just seems to tune out the bad qualities of a source, without resorting to cheap tricks like exaggerating the top end. As a studio all‑rounder, it's easily up there with the Neumann U87s and AKG C414s of this world. Sam Inglis
Austrian Audio OC16
Austrian Audio OC-16The OC18 and OC818 were already two of the biggest bargains in the quality mic world, so I was mighty impressed by the Austrian Audio OC16. They've taken the same Vienna‑made, AKG‑derived capsule that's used in the OC18, made cost savings elsewhere in the design, and brought it to market at an incredibly competitive price. As a value‑for‑money proposition, it's hard to beat. Sam Inglis
https://sosm.ag/austrian-audio-oc16
Warm Audio WA‑CX12
Warm Audio WA-CX12Warm Audio's approach of picking a classic microphone, identifying what made it special and then recreating those qualities in an affordable mic has been a huge commercial success, and this year they perfected it with their take on the AKG C12. The CX‑12A captures the essence of the C12 very well, but more importantly, it sounds exceptional in its own right, and produces excellent results on a variety of sources. Neil Rogers
Mojave MA-37
Mojave MA-37A modern take on the classic Sony C‑37A, but not a slavish recreation of it, the Mojave MA‑37 excels most of all in roles where you wouldn't usually dream of using a capacitor mic, let alone a valve model. Jammed against a cranked 4x12, close up on a snare drum or staring down the loudest brass player, this is a mic that will take everything you throw at it. Sam Inglis
Oberheim OB-X8
It's been an interesting year in SOS land, and I have reviewed some exceptionally good software (M‑Tron MkII sticks out in my mind), the best Hammond clone I've yet played (the Hammond SKX Pro), and a lovely‑sounding modern workstation (the K2700). But the guys at Sound On Sound tell me that I can only choose one product here, so I think that it has to be the Oberheim OB‑X8. Why? Because of its purity of vision. If you love the OB sound and design, it's exactly what it ought to be — a large 1980s analogue polysynth reborn as a large 2020s analogue polsynth. It's not for everyone. Far from it, in fact. But for aficionados, it's remarkable. Gordon Reid
https://sosm.ag/oberheim-ob-x8
Oberheim OB‑X8
ASM Hydrasynth
I bought a Yamaha CS80 in 1985 and played it pretty much every day for over a decade. In a moment of madness (probably after yet another custom IC randomly died), I sold it, and for the last 20 years I've been seeking a replacement keyboard offering a similar level of expressive playability.
With its poly‑aftertouch keyboard, ribbon controller, innovative sound engines and clever macro control system, the original ASM Hydrasynth ticked most boxes for me, but its bizarrely short keyboard was a total deal‑breaker. However, when the Hydrasynth Deluxe model was announced earlier this year it didn't take me long to quote credit card numbers down the phone! Not only does the Deluxe have a performance‑oriented 6‑octave keyboard, it adds note‑release velocity control for even more expressivity and squeezes a second, complete Hydrasynth engine into the box, allowing 16‑note polyphony with layering or splits for even more luscious sonic capability.
I've owned and played a lot of synths over the years, but the Hydrasynth stands out for me as one of the easiest and most flexible polysynths to program, with extraordinary flexibility and creativity, and it's a real joy to play, with as much real‑time fingertip expression as the CS80 pioneered over 40 years ago. And the most amazing aspect of the Hydrasynth Deluxe is its astonishing value for money — there's nothing else that comes close to matching the sound, performance or price! Rory Dow
https://sosm.ag/asm-hydrasynth-deluxe
ASM Hydrasynth Deluxe
Moog Mavis
Moog MavisAffordable is a relative term, but the Mavis is certainly more affordable than most Moog synths. What I really like about the Mavis, though, is that in making an 'affordable' synth Moog haven't taken the easy route. Yes, Mavis makes that famous Moog sound more affordable, but the carefully chosen controls and patch points make it a surprisingly deep and expandable synthesizer, capable of sounds no Moog has made before. Mavis is not a cut‑down version of another synth, but an instrument in its own right. That it's cheaper than the average Moog is just a bonus. David Glasper
Akai Pro MPC Key 61
Unusually, the best production workstation of the year is not a squarish panel filled with drum pads — it's a keyboard. Yes, the Akai Pro MPC Key 61 does also have the iconic 4x4 grid, and does all the things that MPCs do, but this one is set up perfectly for composers, and live and session keyboard players. A new front‑end user interface makes sound browsing, tweaking and layering much more approachable, and is backed up by a host of new virtual instrument engines running independently on the device. Simon Sherbourne
https://sosm.ag/akai-mpc-key-61
Akai MPC Key 61
IK Multimedia X-Space
IK Multimedia X‑Space
Of all the pedals I've looked at this year, my final choices boiled down to the Boss Space Echo RE‑202, the Line 6 DL4 Mk II, IK Multimedia's X‑Space and Red Panda's Particle II. It was a tough call but I finally went with the IK Multimedia X‑Space, part of IK's X‑Gear series. X‑Space is a sophisticated stereo reverb pedal and is one of the few devices that bears comparison with Strymon's flagship reverbs. As a sweetener, when you buy one, you also get its plug‑in equivalent free of charge. It covers all the obvious reverb types, delivering high‑end studio rack reverb quality, but it also includes some lovely 'trick' reverbs in the form of two Shimmer options, Bloom, Magnetic, Etherial, Extreme and Swell. It also has an amp/cab simulator section with a choice of five impulse responses as well as four guitar amp/speaker IRs. New patches created in the software version can be transferred to the hardware via USB and there's also full MIDI support. Paul White
https://sosm.ag/ik-amplitube-x-space
Zoom B6
Zoom B6
Zoom's B3 was an impressive device, and solved a number of my gigging problems (including the need to switch instruments and EQ settings mid‑set), but I wasn't always convinced by some of its effects. The Zoom B6 is a completely different kettle of fish, because everything I tried sat somewhere between genuinely interesting and creatively inspiring, and the fact that the B6 makes using the effects so intuitive is really impressive. You can't ask much more of a multi‑effects box. Phil Ward
UAFX Amp Emulator Pedals
UAFX Guitar Amp Emulators
It is not always the case with products that authors initially love, but six months on from testing and reviewing the UAFX Amp Pedals, if anything, I find I appreciate what they can do even more. And despite working in a room full of vintage and classic tube amps, I have come to rely on them for more of my recording work than I ever imagined possible. It is probably fair to say that UA's amp emulation pedals — Ruby 63 (Vox AC30), Dream 65 (Fender Deluxe Reverb) and Woodrow 55 (Fender Tweed Deluxe) — rather polarised opinions in the guitar world. Whilst most digital modellers offer at least a few amps and often hundreds of presets, UA offered just a single virtual amp per unit and nothing in the way of effects other than those that might be found on the original amplifier, and a room simulation. Whilst other control apps allowed deep‑level editing, UA just offered the ability to load a single preset and tweak some footswitch options. Doesn't sound like a winning formula... until you hear them. Or, perhaps, until you feel the touch responsiveness under your fingers. Mine now stay in 'live mode' all the time: I don't even fire up the app anymore. If I want to change the sound, I'll turn the knobs and, crucially, be able to hear the same things happening as I would expect in the real thing.
Digital amp modellers have come a very long way from the initial designs that made it to the mass market, and most of today's class‑leading products are all capable of pushing the boundaries of new sounds as well as rehashing vintage tones. But if, like me, you grew up with classic tube amps, and love to use them for that thing that only those amps can do, nothing else that I've heard in the modelling world comes closer than the UAFX amp pedals. Dave Lockwood