The SOS team pick their hardware and software highlights from the last 12 months.
SSL The Bus+
SSL The Bus+
The people who made the VCA stereo mix bus compressor famous recently gave the concept a thorough reworking — and added an interesting dynamic EQ stage to boot. The SSL The Bus+ hardware oozes class, and the digital control is all about precision, while the analogue signal path sounds as great as ever. There's a huge range of options and clever secondary control functions on board, so it's hats off to SSL for managing to make it all accessible without compromising operation of the essential parameters. Matt Houghton
Royer dBooster2
Royer Labs dBooster2Royer Labs, famed for their splendiferous ribbon microphones, are not a company that cuts corners. This was made abundantly clear in their first inline gain‑boosting product, the dBooster, which contained an extraordinary amount of sophisticated circuitry and delivered superb technical specifications, setting the benchmark for devices of this type.
This year the company produced the dBooster2, effectively combining two dBoosters into one unit for convenient stereo applications while improving the technical specifications even further. Additionally, by fitting combi XLR input connectors and additional high‑impedance FET circuitry, the unit can now be used as a high‑quality recording DI unit for electric (and electronic) instrument inputs, with a deliciously musical character.
Four paralleled pairs of discrete transistors at the front end guarantee exceptionally low noise for microphones, and the highly capable OPA1692 op‑amp drives the output with a generous headroom margin. A considerable portion of the surface‑mount electronics is given over to providing a clean and quiet power supply for the audio circuitry, too, which is more evidence of Royer's exacting attention to detail. For me, Royer's dBooster2 represents the state of the art when it comes to high‑quality gain boosters, and it is the perfect partner for low‑output passive ribbon mics. Hugh Robjohns
https://sosm.ag/royer-dbooster-2
Sonnect Audio Sound Bullet
Sonnect Audio Sound BulletWe all know that cables and audio equipment choose the least convenient time to break down, and speedy identification of most problems typically requires some basic test equipment which we rarely have to hand when we're rushing about on a dark stage or in a crammed studio trying to resolve the issue as quickly as possible.
Professional live sound engineer David Scorteccia was all too familiar with this scenario, and so designed and built the Sonnect Audio Sound Bullet — a masterpiece of engineering that combines a basic signal generator, signal checker (with meter and speaker), phantom power checker and cable tester, all in a compact and rugged box with rechargable battery, which sits neatly and inconspicuously in a belt pouch when not in use.
The clever design allows direct connection to cables and equipment with XLRs or quarter‑inch jacks, to serve as a convenient sound source or for monitoring outputs. It can also test XLR cables for constant or intermittent problems, and establish the presence and status of phantom power. The built‑in speaker is surprisingly powerful, but it can also be used with headphones or an earpiece. Such a sophisticated and specialised device is naturally expensive, but will earn its keep and I wouldn't be without mine! Hugh Robjohns
https://sosm.ag/sonnect-sound-bullet
Wes Audio Rhea
Wes Audio RheaPolish manufacturers Wes Audio have long been at the head of the pack when it comes to digitally controlled analogue hardware, and the stereo vari‑mu Rhea didn't disappoint. As with their other ng500 modules, there's two‑way communication between the front‑panel controls and the associated DAW plug‑in — so not only do you get to decide how you use it, but there's zero risk of it turning into an expensive doorstop as DAWs and operating systems evolve. Most importantly of all, it sounds wonderful. Matt Houghton
Heritage Motorcity Equalizer
Heritage Audio are well known for their recreations of Neve gear, but for their Motorcity Equalizer they looked to the States, and Motown's celebrated (and extremely rare!) inductor EQ, for inspiration. Its fixed bands might at first appear limiting, but in practice I found I could achieve things that would have been difficult or impossible with a more surgical EQ. There seems to be more going on than just boosting and cutting at different frequencies, and whether I was adding presence to a bass guitar, 'opening up' drum tracks with a mid cut, or massaging a complete mix, the Motorcity Equalizer was inspiring to use. Neil Rogers
https://sosm.ag/heritage-motorcity
Heritage Audio Motorcity Equalizer
Rode RodeCaster Pro II
Rode RodeCaster Pro IIDespite having a few reservations, I very much enjoyed using the original RodeCaster Pro. In the RodeCaster Pro II, which is a from‑the‑ground‑up redesign, those reservations have been obliterated, in no small part that's thanks to some seriously upgraded mic preamps, but there are bags of other interesting features on here that will appeal to podcast producers, such as the ability to connect to two USB devices simultaneously. And the best part? It's easily good enough to act as your main audio interface, whether you're into making podcasts, music or anything else. Matt Houghton
https://sosm.ag/rodecaster-pro-ii
SSL BiG SiX
SSL BiG SiXSSL have done a phenomenal job of keeping up to date with the changing landscape of mixing technology. The BiG SiX, a more fully featured version of their highly successful mini‑mixer, feels like the perfect mixer/soundcard amalgam.
Its flexible design and built‑in 16‑channel soundcard combine modern needs whilst giving the feel and sound of a big console. Whether you're tracking, analogue summing, DAWless jamming, podcasting, or enduring another endless Zoom meeting, the BiG SiX handles it with style. Its impressive headroom, musical EQ, built‑in bus compressor and superb sound have made it my favourite addition to the home studio this year. Rory Dow
Arturia Efx Fragments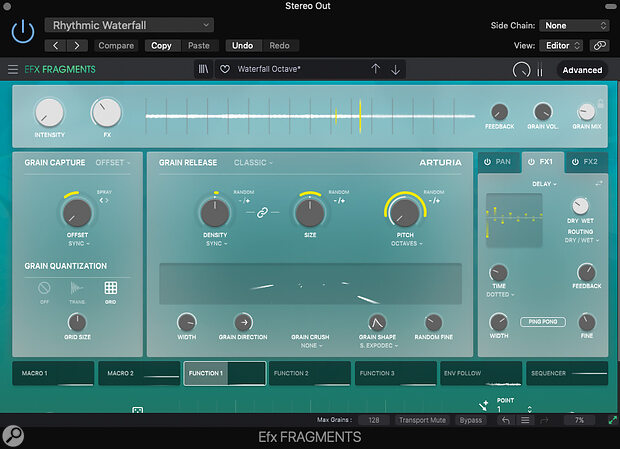 Arturia Efx Fragments
Arturia's Efx Fragments is a granular delay effects plug‑in equipped with a comprehensive modulation section, and it stacks up well against existing granular plug‑ins such as Output's Portal and Unfiltered Audio's Silo. It is capable of gentle, dreamy enhancement at one end of the spectrum and glitchy stuttering at the other, with applications that include spicing up drum loops, turning non‑rhythmic sounds into rhythms and adding shimmering clouds of texture to pad sounds. Its modulation section makes it easy to add movement to the sound, and it is certainly seeing a lot of use in my own compositions at the moment....
You are reading one of the locked Subscriber-only articles from our latest 5 issues.
You've read some of this article for free, so to continue reading...
Log in - if you have a Subscription you bought from SOS.

Buy & Download this Single Article in PDF format

£1.00 GBP

$1.49 USD


For less than the price of a coffee, buy now and immediately download to your computer or smartphone.

Buy & Download the Full Issue PDF
Our 'full SOS magazine' for smartphone/tablet/computer. More info...

RECORDING TECHNOLOGY: Basics & Beyond
Claim your FREE 170-page digital publication
from the makers of Sound On Sound — CLICK HERE