How does the new version of Apple's entry-level laptop fare in a music and audio-based environment?
Last year, Apple began a long-overdue refresh of the company's laptop range, starting with the announcement of a 16-inch MacBook Pro. Accommodating up to 64GB of memory and 8TB of storage, aided by an advanced thermal design and arguably the best speaker system yet heard on a laptop, the 16-inch MacBook Pro replaced the previous 15-inch model, putting the 'Pro' back into the MacBook Pro. But with the base model costing £2399$2399, not everyone has the budget, or perhaps even the requirements, to justify such a MacBook. Mindful of this, Apple next turned their attention to the opposite end of the company's laptop line-up, unveiling a new MacBook Air in March.
The design of today's MacBook Air remains concordant with the model introduced by Steve Jobs in late 2010, which I reviewed back in SOS January 2011 issue. The form factor has subtly evolved since then, and the latest model retains the same sleek appearance from the last significant upgrade in 2018, with tighter corners and a smaller bezel around the screen. With a footprint of 11.97 x 8.36 inches and the recognisable wedge shape starting at 0.63 inches and resolving to a 0.16-inch depth, the MacBook Air weighs in at 1.29kg. It's available in either Gold, Silver, or Space Grey finishes — aesthetically, there's something about the foreboding Space Grey that appeals to my visceral predilection every time.
The new MacBook Air features what Apple are calling a 'Magic Keyboard', first seen on last year's 16-inch MacBook Pro. This new keyboard sees the return of the inverted-'T' layout for the cursor keys, making them easier to navigate, and reintroduces a scissor-based mechanism. This provides an infinitely better typing experience than the 'Butterfly' alternative Apple had been adopting since the launch of the too-little, too-soon 2015 MacBook. And even if you don't type that much, using the new keyboard just for shortcuts and naming in your music or audio application of choice elicits a more pleasurable reaction.
Retaining the Touch ID button for certain kinds of authentication, such as logging in, the MacBook Air's Magic Keyboard also continues to use physical function keys instead of adopting the MacBook Pro's Touch Bar. While the Touch Bar is kind of neat, it lacks significant support from third parties and can often interrupt workflows rather than enhance them. So I quite like the fact that the MacBook Air preserves the physical past in this case.
These three screens illustrate the track and channel counts you'll see using the different display scaling settings when running Logic Pro X, Cubase and Pro Tools on a MacBook Air. For context, the larger black area illustrates the extra display real estate available with the highest scaled resolution on the 16-inch MacBook Pro.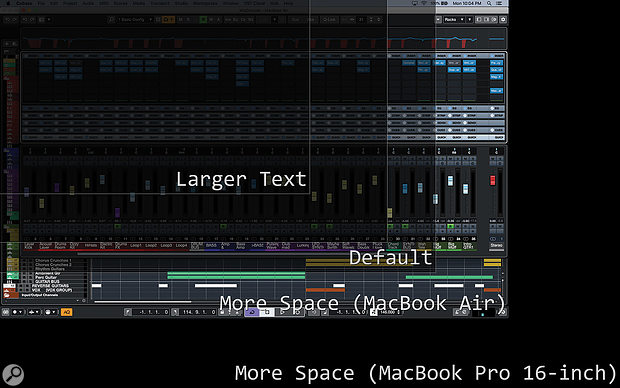 The screen remains the same as the previous generation, featuring a 13.3-inch Retina display with a native resolution of 2560 x 1600 that provides four scaled resolutions: 1680 x 1050, 1440 x 900, which is the default, and two lower resolutions for those preferring Brobdingnagian proportions. True Tone technology is present (as introduced in a modest MacBook Air update last year), but the display lacks the P3 Wide Colour gamut and 500 nits of brightness offered by the Pro models. However, these can be considered a luxury rather than a necessity for running music and audio software.
If you need to use an external screen, the integrated Intel Iris Plus graphics now supports a 6K display, meaning you can connect Apple's Pro Display XDR to a MacBook Air. I have a feeling the need for this would be more common in video-oriented scenarios, but you never know. As before, it's also possible to use either a 5K display, or two 4K screens.
The audio hardware is essentially the same as the previous generation, which already offered speakers with a wider stereo soundfield, twice the bass response, and a 25-percent volume increase when compared to earlier, non-Retina models. The quality isn't terrible by laptop standards, but you'll hear a big difference compared to a 16-inch MacBook Pro.
In terms of connectivity, you'll find the familiar 3.5-inch headphone jack on the right-hand side and two USB‑C ports on the left, which each support charging, DisplayPort, Thunderbolt 3 and USB 3.1 Gen 2. I couldn't help feeling that only having two USB‑C ports isn't ideal, because it means you're definitely going to need an additional array of hubs and adaptors, especially if you want to keep the laptop plugged into a power source when not on the move.
It would help to have a USB‑A port, since most flash drives and dongles — not to mention audio and MIDI peripherals — still use USB‑A connectors. But I think Apple have put a stake in the ground on this decision, gradually migrating products and power supplies from USB‑A to USB‑C; so you stand more chance of seeing rocking horse fecal matter than a MacBook with a USB‑A connector.
The new MacBook Air is available in two base configurations, with further options on offer for the processor, amount of memory and the storage capacity (see box). As with other MacBooks, these options must be chosen at the time of purchase as you won't be able to upgrade them later, which obviously has pecuniary implications.
Intel's 10th generation Core 'Ice Lake' processors power the new MacBook Air, providing improved graphics, which is useful since the Air isn't available with a dedicated GPU, and offering better overall performance thanks to the 'Sunny Cove' microarchitecture. Three flavours are available, depending on how much performance you need:
Dual-core 1.1GHz Core i3-1000NG4 with Turbo Boost up to 3.2GHz and a 4MB Level 3 cache.
Quad-core 1.1GHz Core i5-1030NG7 with Turbo Boost up to 3.5GHz and 6MB of L3 cache.
Quad-core 1.2GHz Core i7-1060NG7 with Turbo Boost up to 3.8GHz and an 8MB L3 cache.
Given this is the first time Apple have made quad-core chips available in a MacBook Air, I opted to test an i5-based model for this review, after concluding it probably represents a good balance between price and performance. I ruled out the i3-based option due to the number of cores, but I also felt the additional performance afforded by the i7 model wouldn't make enough of a difference to justify the extra cost. While the i7 has slightly faster base frequencies for the CPU and GPU, and offers higher dynamic clock speeds with 2MB of extra L3 cache, that's about it. And if you look at the differences between the Multi-Core scores on the Geekbench graph, my hypothesis that the i5 is the sweet-spot processor seems to be roughly borne out.
This graph illustrates the single- and multi-core Geekbench Pro results for a number of related MacBooks, along with the fourth generation iPad Pro. The i5-based MacBook Air (2020), 16-inch MacBook Pro (Base) and iPad Pro results were from my own tests, whereas all the other scores are from the Geekbench Browser.
In terms of memory, as with the previous generation, the MacBook Air comes with 8GB as standard and can be configured with 16GB, which I would highly recommend if you plan on running a reasonable number of sample-based instruments. Unlike its predecessor, which used 2133 MHz LPDDR3 SDRAM, the new MacBook Air employs faster 3733MHz LPDDR4X memory, which theoretically offers more bandwidth than the 2666MHz DDR4 memory used in the 16-inch MacBook Pro.
The minimum amount of storage for the two MacBook Air base models has been doubled, now starting with either 256GB or 512GB. This is a welcome change, since it's far too easy to fill 128GB with a music creation application and its default content, even before you consider installing other plug‑ins and libraries. I think 512GB is the more practical size, and you can also order a MacBook Air with either 1TB or a new 2TB capacity option.
To test the speed of the internal storage I turned to AJA's faithful System Test Lite utility, and the MacBook Air performed admirably with read and write speeds of 2129 and 2717 MB/s respectively with a 256MB test file size. For comparison, the read and write numbers for the basic 16-inch MacBook Pro model under the same conditions were 2931 and 2644 MB/s.
The MacBook Air remains a good and capable choice that balances design, price and performance in all the right ways.
The new MacBook Air felt as snappy as any other recent Mac I've disported with, so the real question is how well it runs music and audio applications. To this end, I fired up Logic, Cubase and Pro Tools, creating some test projects as I've done in the past, each running at 44.1kHz with a buffer size of 256 with the built-in audio hardware. While the results don't mean much by themselves, aside from giving a general guide to performance, you should be able to recreate them easily enough on any other system to perform your own comparisons. And, in the case of Cubase and Pro Tools, this would also apply for Windows-based systems.
For Logic Pro 10.5, I turned to a footnote on the web page for the MacBook Pro, recreating (at least to the best of my understanding) the test Apple used to calculate the company's performance improvement figures. I created a series of stereo tracks, with each one playing back the same audio file, and with Amp Designer running as an insert with the Brit Reverb preset. I could play back 96 such tracks before overloading the system; by comparison, a base 16-inch MacBook Pro reached 183 tracks before giving up.
Here we can see Intel's Power Gadget utility illustrating certain processor-related metrics when Cubase is playing back the test described in the main text. Notice the power to the whole chip (the package) is drawing its maximum 10 Watts of Thermal Design Power, while the required frequency graph shows we need the full 3.5GHz Turbo Boost clock speed. This perhaps explains why the package temperature is at the boiling point of water! And the fact Cubase can achieve nearly 80 percent core utilisation is actually quite impressive.
One thing I immediately noticed performing this and other tests was the way in which the noise from the fan became audible as I started to push performance. When the CPU was operating at 100 degrees centigrade, the fan was quite obviously doing its best to keep the processor from melting! If you've ever used a Dyson fan, the difference was audibly akin proportionally to going from the minimum to maximum amount of air flow. I think this would be a problem if you had a demanding project and were recording a solo acoustic instrument in a quiet room with the performer and engineer in close proximity to each other — bouncing the project to a stereo file for overdubbing would be a solution here. The fan noise might be less audible if you're working on your own with headphones or nearfields.
Turning to Cubase Pro 10.5.20, I decided to keep the guitar amp theme and created stereo tracks playing back the same file, as with Logic, but using VST Amp Rack as an insert on each channel. To give the processor something to do, I loaded the Big Clean Reverb preset, which employs all manner of additional EQ, reverb and dynamics algorithms to the signal. I was able to play back 26 tracks in this scenario, noticing that Cubase was particularly good at squeezing out every last drop of performance possible. With the same test on a base 16-inch MacBook Pro, the system peaked at 42 tracks.
Finally, I performed a similar test with Pro Tools Ultimate 2020.5.0, again using stereo tracks playing the same file. In this case I used Eleven Lite as my guitar amp plug‑in with the factory default preset, placing it as a multi-mono insert across all channels. Eleven is a demanding plug‑in, because I was only able to play back 10 tracks simultaneously. I didn't have access to the same MacBook Pro in this case for a comparison.
The 2020 MacBook Air is obviously the most powerful yet, thanks to Intel's 10th generation Core architecture, whilst remaining as thin and as light as ever. And that's really the trade-off: for a computer to be thin and light, there are thermal limits on what's possible in trying to provide the best of both worlds. The chip that powers the 16-inch MacBook Pro, for example, has a Thermal Design Power of 45 Watts as opposed to 10 Watts for the i5 variant used in the Air — but then, the Pro has a 0.64-inch depth and weighs 2kg.
Some will prefer the MacBook Air for ease of mobility, and the price is certainly easier to swallow. However, aesthetics and economics aside, the MacBook Air is also adept at running modern versions of music and audio applications like Logic, Cubase and Pro Tools, as I found when writing this review. Like any computer, there are performance limitations; but if your requirements are anything below what might tax a more powerful laptop, the MacBook Air remains a good and capable choice that balances design, price and performance in all the right ways.
There are two base configurations available, which can be customised on Apple's online store with the options listed below. Note that all models include 8GB memory, as mentioned in the main text, which can be upgraded to 16GB for an extra £200$200.
Base model (Intel Core i3, 256GB): £999$999.
Processor: Core i5,

£100

$100

; i7,

£250

$250

.
Storage: 512GB,

£200

$200

; 1TB,

£400

$400

; 2TB,

£800

$800

.
Base model (Core i5, 512GB): £1299$1299.
Processor: Core i7,

£150

$150

.
Storage: 1TB,

£200

$200

; 2TB,

£600

$600

.
Fully loaded model (Core i7, 2TB, 16GB): £2249$2249.
Now that the iPad has an established keyboard workflow with official and evolving trackpad support in iPadOS, many have wondered whether an iPad Pro or a MacBook Air would better suit their requirements. After all, the equivalent options aren't dissimilarly priced and, if anything, the iPad Pro configuration can end up being more expensive.
For example, starting with a 12.9-inch iPad Pro, which offers the largest display on an iPad and is therefore closest to the MacBook Air's 13.3-inch display, you'll spend £969$999 — nearly the same as the cheapest MacBook Air, which offers twice the storage. An iPad Pro with 256GB adds £100$100, and if you factor in a Magic Keyboard (also included with the MacBook Air as standard), you're spending £1418$1448, which is around 45 percent more. Alternatively, you could save £350$350 by opting for the smaller 11-inch combination with 128GB of storage for £1068$1098.
However, it's worth noting that we're not comparing apples with apples here, so to speak. We're looking at the most expensive iPad alongside the cheapest MacBook, and this is underlined by the fact the iPad Pro offers considerably more raw power. The A12Z chip has six CPU cores and this clearly gives the iPad Pro an advantage in the Multi-Core Geekbench results (see graph) — and there's no fan.
Looking at numbers for a meaningful comparison, though, is perhaps the wrong way of answering such a question. As noted in the iPad article last month, it's all about experience, making such a decision more personal since it's hard to quantify experience. For some, the iPad Pro is an alternative, but for others it's a companion; and certainly if you want to run an application like Apple's own Logic Pro X, there's no current functional comparison between what's possible with a MacBook running Logic versus an iPad.
In thinking about this, I was reminded of a reply given by the late Bill Moggridge, who is the designer regarded as the father of the modern laptop, when he was asked whether the laptop would survive the 21st century. "I think it will last forever," he commented. "It's a form that is very practical: a large display that's the right distance from your eyes and an input setup — a keyboard plus a track pad or whatever it might be — right in front of you. And, it is very portable. We will continue to see new devices like the iPad... Some people will use that instead of their laptop. But I think these trends will exist in parallel with one another. I can't see the laptop ever being completely replaced."
Pros
A good balance between price, features and performance.
The keyboard no longer feels like you're playing a harpsichord.
Can now be ordered with 2TB of storage.
Cons
The world still isn't ready for USB‑C-only laptops with just two ports.
Noticeable fan noise when pushed hard.
Summary
The MacBook Air retains its status as an eligible member of Apple's laptop family. Its thin and light design coupled with it being the most affordable MacBook are appealing qualities, although you're likely to notice fan noise when taking advantage of the performance.
Test Spec
MacBook Air with 1.1GHz Intel Core i5 processor (Turbo Boost up to 3.5GHz), 16GB memory and 512GB storage.
Mac OS Catalina 10.15.5.