Arturia's budget 88-note controller offers tremendous value for money.
Arturia have a long history of producing MIDI keyboards that can take on many general controller duties as well as offering tight integration with their Analog Lab virtual synth compendium. The hardware/software tie-in technology is mature now and bears comparison with Native Instruments' NKS system and S-series controllers, albeit generally coming in at a lower price and with a somewhat less ambitious scope.
The new KeyLab Essential 88 on test here continues that tradition, with the combination of an 88-note synth-action keyboard and a handy software bundle that includes the latest version of Analog Lab. It's a pleasingly affordable package, a big brother to the existing 49- and 61–note models, but how many compromises are being made compared to the more expensive MkII KeyLabs?
The 88 velocity-sensitive keys, which Arturia describe as having a hybrid synth/piano action, employ a full-size octave span but are a bit shorter (at 14cm) than those of a typical decent hammer-action controller or a real acoustic piano. The white key dip is a chunky and positive 12mm with a fairly light resistance into a hard keybed. It's not as plush as something like a Fatar TP/9S (found in many Sequential synths and the Studiologic Sledge) but it's a long way from a flyaway budget action, and a lot better than some KeyLabs of yesteryear. It's a shame not to see aftertouch, but you can't have everything at this price, and at least release velocity is transmitted.
The eight pads are small but good, firing reliably wherever you hit them, and with good velocity response. They also transmit Poly Pressure from aftertouch manipulation, so with compatible synths you get a taste of what a full-blown MPE controller is like. Nine endless encoder knobs and accompanying 30mm faders fulfil real-time control duties, alongside the compact mod and pitch wheels. The central grouping of display, knob and buttons are dedicated to control of Analog Lab and other Arturia soft synths: at other times the LCD reports controller values but the accompanying buttons and the dial are disabled.
The back panel is home to a full-size MIDI Out socket, a quarter-inch sustain pedal input, a USB port and a socket for the external power supply.
On the rear panel there's the ubiquitous USB‑B computer connection, a DIN MIDI output, a sustain pedal input and an inlet for a 500mA 9V power supply. There's also a security slot at the right-hand side. It's unfortunate Arturia couldn't squeeze in even a single expression pedal socket, but that (and many more hardware connections besides) are what differentiates the full-price KeyLab MkII models.
Dimensions are 126 x 26.2 cm and the height is about 8cm including knobs. The unit weighs 8.5kg and I must say the build quality, largely from a matt, compact plastic, seems excellent. The faux-wood ends in the otherwise smart white case are a cute touch.
Connected via USB to a computer the KeyLab Essential 88 is class-compliant and appeared on my Mac as a MIDI interface with two ports suffixed 'MIDI' and 'DAW'. The former handles playing and real-time control input to the computer, while the latter is for the DAW control features: it can emulate both a Mackie Control Universal and HUI, ensuring broad compatibility.
In normal use, then, the KeyLab runs either in a dedicated Analog Lab or DAW control mode, or using one of six programmable User memories which generate standard MIDI message types from the controls.
Let's start with what for many will be the main attraction: Analog Lab integration.
Running on your computer, either stand-alone or as a plug‑in, Analog Lab sees the KeyLab as a dedicated control surface. You'll now see preset names in its LCD display, and the nearby buttons allow filtering sounds by Instrument/synth, Type (bass, pad, etc), Style (think adjectival tags) and/or Bank name. Turning the main dial steps through your filtered subsets of patches and pressing it loads the patch. The blue parameter labelling of faders and encoders will often now be correct, for many synths, and in any case operating a control confirms its associated parameter in the LCD. Working with an Analog Lab window open on your computer gives you a further 'heads up' confirmation of parameter mapping. There's not quite the level of hardware integration offered by NI's latest S-series controllers, but you'd be wrong to instantly assume it's inferior: in fact Arturia pips NI in the number of hardware controls available at any one time, and by having any faders at all.
DAW mode, meanwhile, activates the Command Center cluster of buttons, which all do exactly as their labels suggest. Assuming you've set up your DAW correctly (which is a quick, one-time affair), faders and encoders will now control levels and pans in your software mixer, and the accompanying buttons cycle through banks of eight tracks/channels in bigger mixes. The faders are not motorised of course, nor touch-sensitive, and control of plug‑ins and aux sends (for example) are not in its remit: this is not a state-of-the-art DAW control experience. However, it can be useful for some mixing jobs.
All programming of the KeyLab 88 takes place in the Mac OS/Windows app MIDI Control Center: there are no onboard facilities, nor currently any iOS or Android options. Ease of use is excellent though: just click on a real-time control to access all its parameters.
Generally, all configuration of the KeyLab is done with Arturia's MIDI Control Center app, available for Windows and Mac OS, and there are no facilities on the unit itself other than basic MIDI channel selection. Once you've configured any of the six user memories, though, they can be recalled with the KeyLab untethered from the computer.
Drilling down into the MIDI control features, most buttons (and the pads, and indeed the sustain pedal) can be configured to generate Note, CC, patch change and MMC Start/Stop/Record messages. A variety of associated options (momentary/toggle, patch change bank LSB/MSB values, specific MIDI channels per control) should fulfil most users' needs. There are some unexpectedly nice features too: Hammond organ folk will enjoy the option to invert fader polarity so they act like drawbars, and you can also optionally constrain faders' maximum and minimum values. The encoders also have several modes and acceleration options to help them work with a broad range of hardware and software instruments. Only the lack of flexibility for the mod wheel came as a disappointment: that's always CC#1, full value range, non-negotiable.
While this sort of deep programmability is welcome, it's a shame (for hardware synth nuts) that there is no way to set up keyboard splits and layers to control multiple MIDI devices independently, on different channels. You can't even choose to address the USB and DIN MIDI outs separately. I'll also add here that the rear panel DIN MIDI output only ever carries data generated in real time by your playing. It seems like it should also be addressable by a DAW, to use as a general MIDI out for your computer, but all my attempts to get it working in that way failed.
Back to more mainstream DAW-tethered use... I liked that the blue backlit LCD keeps you updated with the most recent controller events, but piano-centric people could get fed up with constantly seeing 'Sus-Ped: CC:64' flashing at them when ballading away. Perhaps it would be good to be able to defeat that one. The +/- three octave and semitone transposition works perfectly intuitively and reliably, though, as does the Chord memory, which lets you play stacks of up to 10 notes (built one note at a time if necessary) from a single key press.
For an 88-note controller it's nice and compact, and in use feels quick and uncomplicated.
I'm going to start here by saying that I very much enjoyed having the KeyLab Essential 88 around during the test period. For an 88-note controller it's nice and compact, and in use feels quick and uncomplicated, both as a generic DAW-focused MIDI controller and a dedicated front end for Analog Lab and the individual synths of V-Collection 7. Also, while good hammer action keyboards will always be sought after, light action controllers are just as useful for different kinds of work. The 88-note compass isn't just for pianists: many sample libraries, of all types, assume you'll be using a controller this size and have articulation and other special keyswitches placed in the outer octaves. The system of configuring things using MIDI Control Center is sensible too, and is both straightforward and easy to understand.
Not everything was rosy though, and my greatest concern is about keyboard velocity response. It's not that it isn't well graded and controllable, but black keys are more sensitive than white and generate higher velocity values for the same perceived playing force. The difference is not colossal, but I noticed it within seconds of use, and Arturia subsequently confirmed that the behaviour is inherent in the key design. Now, if you only play analogue synth emulations and trigger loops, it's a non-issue. But I personally would struggle to live with it long-term if piano was a main focus of my playing. Arturia told me that a fix may be possible in firmware, and I sincerely hope that comes to fruition at some stage.
Another criticism concerns DAW control mode, and the way that a reliable connection between physical and on-screen faders is not always quickly established. The underlying problem is that as you begin working in this mode it's extremely unlikely the KeyLab's physical fader positions will match those of your DAW mixer channels. Working in latest versions of Studio One and Digital Performer, and tested with both Mackie Universal and HUI emulation modes, I found initial KeyLab fader moves had to be surprisingly slow for the DAW faders to 'pick up', and even then it was difficult to do without the DAW mix being changed a little in the process. Thereafter the hardware/software sync could still sporadically fail if I operated several physical faders at once.
The fundamental issue here is that simple 30mm faders are nowhere near as well suited to DAW mixing as their costly touch-sensitive motorised equivalents. Something as simple as toggling back and forth through banks of eight faders/channels threatens to blow the whole hardware/software relationship out of the water, and co-ordinating things alongside DAW automation is likely to be a headache. Of course, we can be thankful there's a serviceable DAW control mode at all: I certainly found that with patience, for simple jobs, I could live with the limitations. And actually the rotary encoder behaviour was always rock solid. However, a Mackie Control on the cheap this ain't.
One last quirk: you can't turn the KeyLab off. It has neither a physical nor virtual power switch. It's especially noticeable because after some period of inactivity, with default settings, a flashy front panel light show starts up that might make you think someone has installed a small slot machine in your studio. This so-called 'Vegas Mode' can be disabled in the MIDI Control Center, but to fully shut down the unit you'll have to physically disconnect a powered USB connection or the power adapter. Arturia once again suggested a potential firmware tweak, to provide a 'soft' power switch.
The KeyLab 88 Essential isn't a flagship product, but it's a supremely useful one to have around, even if you own a controller or two already. The focus is unashamedly DAW-centric, the compatibility broad, and the software package is genuinely valuable. Just that black key velocity issue stands in the way of an unreserved recommendation, but as I mentioned, for some users it won't be a deal-breaker.
By far the KeyLab's closest competitor is the Nektar LX88+, which has a very similar feature set though obviously no Analog Lab integration or equivalent. For similar money Nektar's new GXP88 sacrifices pads, display and almost all real-time controls, but adds in aftertouch and support for several pedals at once.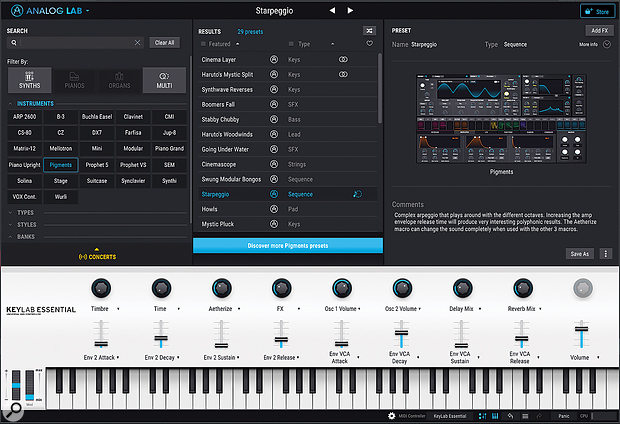 Analog Lab is a prodigious soundbank showcasing all of Arturia's virtual instruments from long–established analogue synth favourites to more recent releases like Pigments. Parameters in the 'heads-up' display, which mirrors the physical controls of the KeyLab, are completely up for grabs, and edits can be saved.
In the software bundle stakes, Arturia's KeyLabs are front runners. Analog Lab 4 offers over 6500 presets drawn from the entire range of Arturia software synths, and would cost you €199$199 to buy by itself. It's arguably at the cutting edge of virtual synth tech, has genuinely useful Mainstage-like setlist features, is expandable, and is still useful even if you trade up to the full V Collection.
Similarly, Ableton Live 10 Lite is a powerful thing, with the maximum of eight audio and MIDI tracks and scenes being the only obvious limitation. UVI's Model D is not a Minimoog but a sampled Steinway and, despite its small installation size, sounds classy: it runs in the free-to-download UVI Workstation.
Pros
Equally useful as a controller for Analog Lab and more generic DAW control tasks.
Simple and straightforward in use.
Good provision of programmable sliders and encoders.
Light, compact and well made.
Cons
Velocity response differs between white and black keys.
Not well equipped for hardware MIDI setups.
Control surface emulation somewhat crude and far from infallible.
Summary
One of the best budget 88-note controllers out there currently: equally well suited as a front end for Arturia's virtual synths, Mainstage or a DAW.