Guitar Synth & Effects Pedal
As iconic and extensive as it is, the Boss range of pedals has never included a proper guitar synth — until now.
While others have come and gone, Roland — the company behind the hugely popular Boss guitar effects brand — have continuously supported guitar synthesizer products for over 40 years. Yet the new GP–10 is the first product to draw on Roland's guitar-synth expertise and bear the Boss name. The GP–10 could loosely be considered a multi-effects pedal (hence, presumably, the Boss branding) but it offers much more.
Under the hood of the mustard–yellow floor unit is a sophisticated polyphonic processing system that requires a hex pickup to be installed on your guitar. Hex pickups produce a separate output for each string, so each string can be processed independently. This makes possible a wide range of effects, such as glitch–free pitch-shifting, polyphonic MIDI, guitar synthesis, and guitar modelling.
Roland offer the GK–3 hex pickup in a bundle with the GP–10, and this can be installed on a wide variety of guitars, but if you already have a hex piezo–equipped guitar (such as a Godin LGXT or Carvin SH–575) you can opt to purchase the GP–10 without the pickup. The hex pickup connects to the GP–10 using a special 13-pin cable, which is included with the GP–10-plus-GK–3 package.
With the hex pickup installed, the GP–10 opens up a whole host of possibilities. You can, for instance, transform your guitar, through Roland's COSM modelling, into different types of guitar. The COSM models track with extremely low latency and very high accuracy because they're based on your actual guitar sound, rather than on MIDI. The models include various acoustic guitars, Strats, Teles, humbucking pickups, hollow bodies, dobros, a banjo, and even an electric sitar. You can change tunings at will, and add a tunable 12–string version to any guitar model.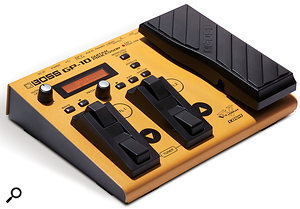 The GP–10 also includes polyphonic effects, such as the Crystal metallic sound, a Slow Pad for string-synth–like effects, and Polyphonic Distortion. This last one produces 'singing' distortion that you can use to play complex intervals on the guitar without generating the audio hash that typically occurs when you play chords and intervals through a traditional distortion. Fans of Roland's GR–300 '80s guitar synth should be pleased to find a complete emulation of that unit. Finally, the GP–10 throws in the proverbial kitchen sink — a dual–oscillator polyphonic synth that generates fat leads or retro–cool pads, reminiscent of synths of the '70s and '80s.
The GP–10 is blessed with versatile connectivity, including guitar In and Out jack sockets, mono/stereo line outputs, expression/footswitch input, hex pickup input, headphones output, auxiliary input and, last but not least, audio/MIDI interfacing via USB. However, there's no direct MIDI output.Add to this already rich feature list the various multi–effects, amp- and cabinet-modelling options, a computer interface, and the fact that the whole thing occupies little more space than a typical compact multi–effects unit, and you have a tiny terror of a pedal!
The unit includes two dual–mode footswitches along with an assignable expression pedal. The footswitches, used to select from different patches, include assignable switches for effects and features. In addition, there's a jack on the back of the unit to cater for an external expression pedal or dual–footswitch.
The USB port operates as an audio and MIDI interface, and Windows/Mac driver software is provided. To get MIDI data from the unit you must use a computer with its own software or MIDI interface: the GP–10 USB output is not MIDI class–compliant, and neither is there a five–pin MIDI output jack, so you can't hook it up directly to a hardware synth. The pitch–to–MIDI conversion on the GP–10 performed noticeably better than on previous Roland units, though. Soft synths tracked with good accuracy and low latency — not quite as good as what I consider the current gold standard for guitar–to–MIDI (the Fishman Triple Play), but very usable.
Tone Studio software, which allows detailed editing of patches on the GP–10 directly from a Windows or Apple computer, is provided. Unfortunately, you must have the GP–10 connected to use the software, but there are some useful functions. Tone Studio gives you access to Boss's Tone Central online repository of patches, which offers a range of patches in different styles. These can be used as they are, or simply as useful starting points for your own ideas.
Boss's driver provides multiple modes of USB routing, which can be useful when working with your DAW. You can record each string separately if you choose, with or without any signal processing or modelling. Thus, you're able to 're–guitar' the audio, by which I mean that you can record the 'raw' sound and tweak the settings on the GP–10 for playback, or you can manipulate the signal as you wish in your DAW before running it through the GP–10 for additional processing later. In theory, this opens up an entirely new universe of tonal possibilities for adventurous players. It's very impressive.
The COSM guitar voices represent a significant improvement over earlier generations. A good test for guitar-modelling products is to listen very carefully to the pitch–shifted guitar models, such as 12–strings and high–strung 'Nashville' tunings — and on that basis, the GP–10 has better-sounding pitch–shifted guitars than I've heard from any unit to date, including Roland's own flagship products. The acoustic guitars are also stellar, with bright, ringing tones that are easily adjustable for both body characteristics and overall tone. The electric guitars, while less dramatically improved to my ears than the acoustics, nonetheless sounded clearer and more dynamic than on earlier units.
The COSM synth voices sound very good too, although some might be disappointed by the limited editing capabilities. I would have liked to shorten the attack on the Slow Pad, for example, but couldn't adjust this parameter. In fact, the GR–300 simulation is the only COSM synth to offer a wide set of editable parameters.
The Tone Studio editing software gives the user much greater control over patch editing than is available via the hardware unit, and offers access to an online library of presets.Moving away from the COSM modelling, another synth, called Osc Synth, sounds gorgeous and is reminiscent of classic old–school analogue synthesizers. Sadly, I could never get this to track notes cleanly with my piezo–equipped guitar. Even with meticulous tweaking, I had to play deliberately and with great precision to keep from getting either mistracked or missing notes. Despite the good sound, therefore, I'm only likely to use the Osc Synth occasionally.
To be honest, Roland's amp simulations in their earlier products left me a bit cold. Even amps that you'd expect them to have nailed, such as their own JC–120 Jazz Chorus, have never sounded quite right to me. Happily, along with the improved COSM sounds, I found the amp simulations to be better than what went before too. It's perhaps a bit strange to describe an overdriven and distorted amp as having greater clarity, but the GP–10 seems to pull off this trick by increasing the authenticity of the various amps.
The Boss effects sound and feel like, well, Boss effects. In other words, they are all good, although perhaps not 'hand–wired-boutique' good. I did sorely miss the Slow Gear volume envelope effect, which would have expanded the versatility of the COSM voices by making it easier to pull off pedal–steel and slow–attack synthesizer sounds.
The Boss GP–10 is a very powerful pedal, which offers great guitar modelling, synth effects, and tonal-shaping options in a cost–effective and compact unit. The COSM guitar voices are outstanding — and in my opinion they're currently 'best in class' for pitch–shifted and acoustic guitar sounds. Add to this the powerful software–editing capabilities within the Tone Studio editor software, and the ability to process each string individually in your DAW, and the whole package is very appealing indeed.
The only real alternatives to offer anything like the range of functions and sounds come from Boss's parent company Roland. For guitar–to–MIDI systems, you could also consider Fishman and Graph Tech, and for guitar synthesis the rather different approach of Electro-Harmonix is now bearing interesting fruit.
Pros
Outstanding COSM acoustic and electric guitar sounds.
Good amps and effects.
Powerful software.
Cons
Requires an external computer for MIDI.
Poor tracking on Osc Synth.
Summary
Despite a couple of minor gripes, the Boss GP–10 is a very impressive guitar synth/effects unit, which packs an awful lot into a compact footprint and even out-performs the flagship models of parent company Roland in some respects.
information
Without GK–3 hex pickup £339; with GK–3 hex pickup £435.
Roland UK +44 (0)1792 702701
Without GK–3 hex pickup $399; with GK–3 $499.