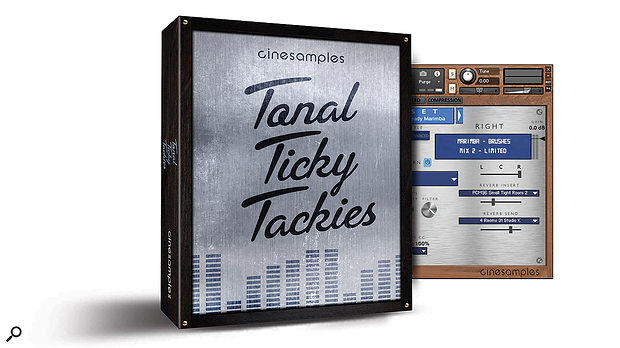 Steeped in LA's musical and film culture, Cinesamples built their reputation on the acclaimed CineSymphony orchestral series. Having also brought us the excellent Hollywoodwinds library, Voxos choirs, a bunch of grand pianos, wild, processed electric cello phrases and the inevitable 'cinematic' thunderous drums collection, this enterprising company's latest offering is Tonal Ticky Tackies, which combines multisampled tuned and unpitched percussion with a set of rhythm patterns. At 5.7GB installed, the library requires the full version of Kontakt 5.5.0 or higher.
Tonal Ticky Tackies (known to its friends as TTT) is designed to produce light, mobile grooves that bubble and percolate, creating rhythmic momentum without dominating the sonic landscape. To achieve this, the library focuses on smaller, colourful sounds such as marimbas (including glass and stone variants), crotales and ethnic cowbells. In a more esoteric vein, there's a Hang drum (an increasingly popular and haunting soundtrack sonority), a Hapi steel tongue-drum and tuned 'Boomwhacker' plastic percussion tubes. African balafon, Indonesian angklung tuned rattles and Appalachian dulcimer add an exotic world-music flavour. Rather than being struck with conventional sticks and mallets, the instruments are played with brushes, hot rods and hands: this softens and diffuses the attack, creating an overall lightness of touch which is a distinguishing feature of the library.
While you can play each instrument individually, TTT really comes to life when you load its all-in-one master patch; this houses 50 presets, each containing a pair of instruments with individual volume and pan controls (though no individual tuning setting). Twenty of the presets incorporate a built-in rhythm pattern, with the remainder divided into 'one shot' instrument patches, pads and effects. The patterns (which can be played in any tempo or key with no adverse effects) are based on repeated single notes programmed in a variety of rhythmically hip styles, with a corresponding set of MIDI files which you can load into your DAW and edit to taste.
I enjoyed the gamelan-like tones of 'Stardust', a hypnotic, chiming 3/4 pattern which blends song bells (whatever they might be) with tuned metal plates. For more earthy settings, you can dial up the urgent, clacking 'Woody Groove' and 'Jungle Chase', while the bustling 'Hang Drum Groove' takes you straight into James Bond chase-scene territory. In the sound design department, the 'Voices In My Head' pad creates amazing, ethereal outer-space soundscapes.
The instruments are enhanced by a range of excellent reverbs, a powerful compressor, six mix treatments (including an effective small-speaker 'Radio EQ') and a crazy '3-D' autopan feature, which I was only able to audition in two dimensions due to government cuts. While a larger sound set would have been nice, this idiosyncratic and characterful library does exactly what it sets out to do; in short, give its users instant, toe-tapping light percussion grooves and interesting sonic textures at the touch of a key.
$149
Published April 2018