Firewire Recording System [Mac/PC]
If you fancied the well-specified, Firewire-based I/O of Digidesign's Digi 002 but didn't need its control surface functions, you now have a cheaper alternative in the shape of the Digi 002 Rack.
When it comes to the higher end of the audio production world, there is no doubt that Digidesign's Pro Tools systems, combining quality hardware/DSP and software, are the dominant platform. Indeed, those who read Mark Wherry's Nuendo 2 review in the September 2003 issue of SOS will have got a sense for how difficult it is for Steinberg to break Digidesign's dominance, despite the very impressive functionality of Nuendo as a music production system.
In recent years, Digidesign have done their best to bring the essence of the Pro Tools environment to the project and home studio market — and one aim of the strategy has presumably been to get users started with a basic Pro Tools setup with the hope that they will upgrade to one of the more sophisticated Digidesign systems. Therefore, over the last few years, users have seen Pro Tools Free (a cut-down software-only introduction for no cost!), the USB-based M Box (software plus audio/MIDI interface with a sub-£400 price tag) and the Digi 001 (software plus a PCI card/external rack).
More recently, Digidesign have added the Digi 002. As with the other home/project studio products, this system depends upon host-based processing but does feature high-specification multiple ins and outs, MIDI and a hardware control surface. All this is connected to the computer via Firewire and comes bundled with the Pro Tools LE software. In their SOS December 2002 review of the Digi 002, existing Digi 001 users Derek Johnson and Debbie Poyser were extremely impressed with the audio quality, flexibility of I/O and the well-designed mixer control surface.
While representing good value for money, the Digi 002's £2000-plus price tag might be more than some potential users could bear. Enter, stage left, the latest addition to the Digidesign product line: the Digi 002 Rack. At about half the price of the Digi 002, this essentially provides the same Pro Tools LE software and I/O hardware, without the control surface. As the name suggests, it is housed in a very sturdy 2U rack case, making it easily portable.
The Digi 002 Rack supplied for review included the 2U hardware unit, CD installers for both Mac and PC, a printed Getting Started manual and a 12-foot, 6-pin to 6-pin Firewire cable. The recommended specifications for both Mac and PC are listed in the 'Hardware Requirements' box, but potential purchasers would also be advised to visit the Digidesign web site, as this contains further information on computer systems that have been tested with the 002 Rack and are therefore known to be compatible. Given that most previous SOS reviews of Digidesign/Pro Tools systems (see the 'Reading Matter' box for a list of the more recent reviews) have been Mac-based, in looking at the 002 Rack it seemed time to give the PC a run out. In fact, as described below, I used two PC systems, a P4 desktop and a relatively new Dell laptop — the latter obviously of interest if the 002 Rack is to be used as part of a mobile Pro Tools system.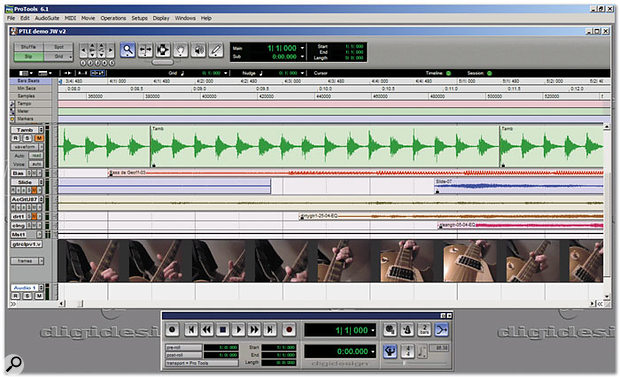 Pro Tools software is based around two main windows: this is the Edit window.
Summary specifications of the 002 Rack are provided in the 'Numbers Game' box. However, if you compare the photographs of the Digi 002 from the December 2002 review with those of the 002 Rack here, the parentage of the 002 Rack hardware is easy to see. With the exception of a slight repositioning of the power supply, the rear-panel connectivity of the 002 Rack would appear to be identical to that of the Digi 002, in terms of both specification and layout. To the right are inputs 1-4, on both XLRs and quarter-inch balanced jacks. Two small switches engage the 48V phantom power to inputs 1+2 and 3+4 respectively. Next up are inputs 5-8, again on balanced quarter-inch jacks, each of which can be switched between +4dBu (professional level) or -10dBV (consumer/semi-pro level). These are followed by the Alt Src inputs (RCA connectors operating at -10dBV) intended for bringing CD or cassette audio sources into the 002 Rack for recording or monitoring.
The upper left of the rear panel features all the analogue outputs: the Monitor Output pair, eight analogue outputs and an Alt Mon RCA pair for sending the main output to a cassette deck, for example. The Monitor Outputs mirror the signal send to the headphone output and Main Outputs 1+2. As the supplied Pro Tools LE does not support surround sound mixing (which is a great shame), perhaps the most obvious application of the multiple outputs is as sends for integrating external hardware processors into a session.
In terms of digital I/O, both optical (Toslink connectors, giving eight channels of ADAT I/O) and two-channel co-axial S/PDIF I/O are provided, and the optical connectors can also provide two-channel S/PDIF I/O if required. Bit depths/sample rates up to 24-bit/96kHz are supported for S/PDIF I/O. Standard MIDI In and two independent MIDI Out ports are also present and, aside from a footswitch jack for hands-free punch-in/out, the only other connectors are a pair of Firewire (IEEE 1394) ports. The Getting Started manual is perhaps a little vague about the best sequence of daisy-chaining the 002 Rack with other Firewire devices for data pass-through — but the hint is that any Firewire drive used for audio ought to be connected directly to the host computer, so presumably the 002 Rack might have to be at the end of a chain on computers with only one Firewire port.
The layout of the controls on the front panel of the 002 Rack is very similar to those found along the top strip of the Digi 002. To the left, this features four large Gain knobs used for inputs 1-4. Above each of these is a pair of switches which select between Mic and Line operation and engage a high-pass filter that rolls off 12dB/octave below 75Hz. The right-hand side is dominated by output level controls for the main outputs and a headphone output — the only jack socket on the front panel. Usefully, there are also Mute and Mono switches for the outputs. The Mono switch is an excellent touch, given how important mono compatibility still is in audio for broadcast. The two other buttons can be used to route the RCA Alt Src input pair to either inputs 7+8 (for recording into Pro Tools) or directly to the Monitor and headphone outputs. A number of small LEDs are present to give useful feedback of sample rates and activity on the MIDI and Firewire ports.
A summary of the hardware specifications of the Digi 002 Rack make for good reading:
Firewire connectivity.
Eight analogue inputs and eight analogue outputs, all balanced.
Inputs 1-4 have mic preamps with 48V phantom power, switchable in pairs.
Eight channels of ADAT optical I/O or two channels of S/PDIF I/O.
MIDI In and two MIDI Outs.
A-D and D-A: 24-bit at 44.1, 48, 88.2 and 96kHz sample rates.
Outputs 1 and 2 mirrored on quarter-inch TRS monitor outputs and RCA outputs.
Alternate Source input on RCA connectors for monitoring tape players, CDs and so on.
Maximum input levels: mic +3dBu, line +18dBu.
I/O frequency response: +0.15/-0.5 dB, 20Hz-20kHz.
Input dynamic range: 101dB A-weighted on inputs 1-4; 108dB A-weighted on inputs 5-8.
Output dynamic range: main outputs 114dB, Monitor outputs 112dB, outputs 3-8 114dB, Alt outputs 98dB (all A-weighted).
The review unit was supplied with both Mac and PC versions of Pro Tools LE 6.1. Simon Price reviewed version 6 of Pro Tools in both its full and LE incarnations in the SOS May 2003 issue, so there is little point in revisiting that ground in too much detail here. In summary, LE now provides playback of a maximum of 32 tracks of 24-bit/96kHz audio and up to 256 MIDI tracks. Usefully, version 6 now allows up to 128 audio tracks to be opened in an LE session, using a voicing system for selecting which 32 tracks are actually audible. This does add to flexibility and also means that a large project can be moved from a full TDM Pro Tools system to an LE system.
Other key features that appeared with v6 include some of the Digibase functions, providing improved project management facilities, and Groove Quantise for MIDI. As Simon mentioned in his review, Rewire support was promised and, for music production, is perhaps the most significant addition to v6.1 — more on this below.
While LE retains all the elegance of the Pro Tools user interface it does, of course, have some limitations when compared to a top-of-the-range Pro Tools system. Aside from reduced audio track counts, one obvious limitation is the lack of surround sound support. Given that the likes of Logic and Cubase SX both now include good software support for surround sound mixing, I do wonder how much longer Digidesign will be able to leave this out of LE. It would certainly make the multiple outputs of both the Digi 002 and 002 Rack desirable to a wider group of potential users.
My studio desktop PC features a PCI-based Firewire card (made by Datavision), which I regularly use with an external Canopus ADVC100 video capture device for digitising analogue and DV video footage. I duly connected the Digi 002 Rack to one of the PC's Firewire ports and followed the installation instructions for Pro Tools LE. The Getting Started documentation includes some useful instructions on particular BIOS and Windows XP tweaks as part of the installation process, so I also checked each of these.
Pro Tools LE allows full control of all the I/O options provided by the 002 Rack.
While LE installed and ran first time, it was soon pretty clear that something was not as it should be. I received a regular supply of errors with both the supplied demo Sessions and new Sessions created from scratch. Having experimented with various BIOS, OS and LE settings, the issue appeared to be one of communication between the 002 Rack and the PC. While I cannot be absolutely certain, I suspect that the problem lies with the Datavision PCI Firewire card rather than the 002 Rack. This card is a couple of years old (it was one of the early IEEE 1394 PCI add-on cards available) and it is certainly not on the fairly limited 'approved' list given on Digidesign's web site. I tried moving the card to a different PCI slot but this did not seem to improve matters.
Fortunately, I happened to have available a relatively new, Firewire-equipped Dell laptop. This specific model (the Inspiron 8500), while not as well-specified as my desktop PC in terms of pure hardware grunt, did happen to be a model that Digidesign had tested and approved for use with the 002 Rack. Repeating the install process with the Dell gave instant and trouble-free operation. Even the busiest of the demo Sessions (containing some 20 audio tracks, a few MIDI tracks and a dozen or so plug-ins) played back without the machine breaking into a sweat.
Unfortunately, I was not able to get hold of an alternative PCI Firewire card for the desktop PC, to confirm if this was the actual source of the problem. Clearly the review unit itself was in perfect working order — but given how careful Digidesign are in publishing lists of 'approved' computer hardware for use with their systems (and they are to be commended for doing so), it would perhaps be advisable for anyone whose hardware includes different components to try and arrange a suitable demo. I did all further testing on the laptop.
Potential purchasers of the 002 Rack will probably be most interested in four key areas of performance. First and second on that list would come the quality of the audio hardware and how well the 002 Rack/LE combination works together. However, the new Rewire capability is also likely to be of wide appeal, and finally, as Digidesign also supply an ASIO driver for Windows XP, users of other MIDI + Audio sequencers might consider the 002 Rack as a 'hardware-only' purchase if it fits their particular I/O needs.
In looking at the first of these issues, I can only reinforce the views of Derek Johnson and Debbie Poyser when they looked at the Digi 002 in December 2002. Quite simply, the quality of the analogue I/O is excellent. Even at 16-bit/44.1kHz, testing with a range of audio sources (electric guitars, acoustic guitars and vocals) and microphone types (AKG, Audio-Technica and Shure) quickly demonstrated how faithfully and cleanly the 002 Rack was able to capture whatever was thrown at it. Subjectively, things got a little clearer, with just a bit more top-end detail, at 24-bit/96kHz. Within this area of the market, I cannot see why anyone would have serious complaints about the audio quality of the 002 Rack.
The 002 Rack features optical digital I/O that is switchable between the eight-channel ADAT format and stereo S/PDIF.
While I'm not a regular Pro Tools user, whenever I have used either Free, LE or the full version, I've always been impressed by the elegance of the interface. In one sense, the lack of clutter in terms of MIDI functionality contributes to this feeling. With almost all editing and mixing jobs being done in either the Edit or Mix windows, the workflow never seems to get obstructed.
Integration of the 002 Rack with PTLE is very good, and routing audio to/from the various inputs and outputs is relatively straightforward. The Setup / Setup I/O dialogue allows the default I/O routing to be adjusted if required, and particular I/Os can be renamed. This is useful if, for example, a particular pair is being used as a send to an external effects processor. Routing audio into or out of a particular Pro Tools track is most easily achieved via the Input and Output buttons above the Pan control in each channel of the Mixer window. Clicking on any one of these reveals the full range of the 002 Rack's I/O options to select from.
The bottom line is that there is little difference in the absolute functionality available from the 002 Rack in comparison with the Digi 002 — users who feel they can manage without the Digi 002's hardware control surface can therefore get the same audio quality and array of I/O options for around half the price with the 002 Rack. My only qualifier to that would be that the PC plug-in bundle supplied with the review unit was not as extensive as that described by Derek and Debbie for the more expensive Digi 002. There was, for instance, no RTAS Maxim loudness maximiser — just a 30-day trial version.
I was able to test the new Rewire functionality using Propellerhead's Reason v2.5. Essentially, Pro Tools now includes a Rewire plug-in that can be inserted into a suitable audio track. Pro Tools automatically detects any Rewire-compatible application on the host system, and displays it by name within the plug-in list. Selecting this automatically opens the application, and this worked first time with Reason. Any Reason devices created then automatically appear as possible destinations for MIDI tracks within Pro Tools. All this seemed to work very smoothly and, on the Dell laptop, I was able to run a modest session containing about 10 audio tracks plus five Reason NNXT sampler devices playing fairly busy MIDI parts with the CPU running at about 50 percent. Throughout, the system stayed very responsive and the connectivity between LE and Reason seemed very solid. (See this month's Pro Tools Notes for more on the Rewire support in Pro Tools 6.1.)
Results using the Digi 002 Rack with the supplied ASIO driver were perhaps only a qualified success. In testing with Cubase SX (version 1.0.6), the system response slowed to a crawl and, in particular, anything requiring a screen redraw was very sluggish even with an empty project. Despite considerable experimentation, I couldn't improve on this. In contrast, running Reason as a stand-alone application was absolutely fine — I was able to use the lowest 256-sample buffer size, and real-time playing of devices in Reason was very responsive. A further constraint of the 002 Rack as a generic ASIO-based device is that the MIDI I/O is currently not functional in this mode. To be fair to Digidesign, this limitation is very clearly stated in the documentation but it is a shame — perhaps a future driver update could solve this?
A more comprehensive list of compatible computer hardware is provided on the Digidesign web site. However, the following list summarises the recommended systems for using the Digi 002 Rack.
Mac
Best performance achieved with OS X and a dual-processor Mac. Single-processor systems will work but with lower track/plug-in count.
Recommended: Power Mac G4 (AGP graphics) dual-processor/single-processor, Powerbook G4 (2003 and some 2002 models), iMac (1GHz).
Mac OS 10.2.6.
384MB RAM minimum.
Suitable Firewire interface.
Digi 002 Rack will not function with Digidesign PCI cards installed in the host computer.
PC
Recommended CPUs: Intel Pentium 4 or Xeon at 2GHz or faster, or AMD Athlon XP 2000+.
Suitable Firewire interface.
Chipsets: Intel 850/850e/845/845e/845pe/875p (with P4) or VIA KT266A/NVIDIA nForce (with Athlon).
RAID not supported.
XP Home or Professional with Service Pack 1 installed. Other Windows operating systems are not supported.
384MB RAM minimum.
Dell Inspiron 8500 and 660m, Gateway 400 series, Toshiba Satellite 1900 series and IBM A- and T-series laptops are recommended.
Given my experiences during testing, right now I'd perhaps be cautious about the 002 Rack as a generic, multi-channel ASIO-based audio interface. If this was the primary reason for purchase, I would certainly want to arrange a test of the 002 Rack with my own computer hardware. This qualification might also apply if you are using hardware components that are not currently on Digidesign's 'approved' list — test before flexing your plastic.
However, the Digi 002 Rack is primarily designed to be used with Pro Tools LE and should really be judged in this context. In this regard, with the right computer hardware, there's no doubting the excellent audio quality, flexible I/O connectivity and ease of use of the Digi 002 rack/Pro Tools LE combination. The addition of Rewire support in Pro Tools is also a major plus for computer-based music production and ought to attract the interest of new potential purchasers.
Pros
Excellent complement of high-quality I/O.
All the connectivity of the Digi 002 at half the price.
Rewire support now included in Pro Tools.
Cons
LE still features a limit of 32 audio tracks.
No surround mixing support in LE, despite plenty of audio outputs.
Some work still needed on the ASIO driver?
Summary
For those looking to adopt a Pro Tools platform, the Digi 002 Rack/Pro Tools LE combination provides a very professional system and would be at home in either a fixed studio setup or a mobile rack.
information
£1057.50 including VAT.
Digidesign UK +44 (0)1753 655999.